London's best Italian restaurants
From rustic plates of pasta to finely crafted regional specialities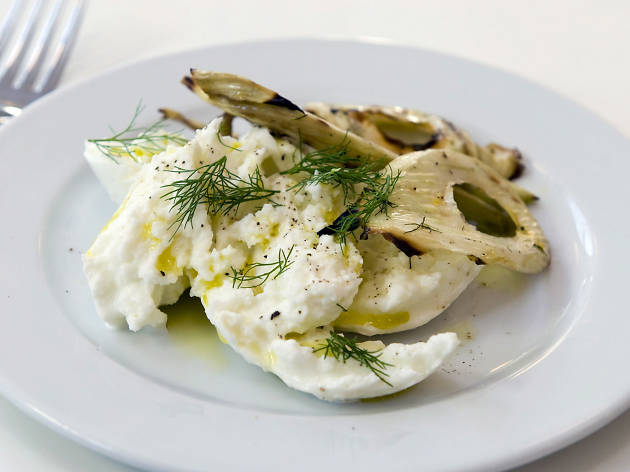 From crusty sourdough pizzas to Venetian small plates, from Michelin star restaurants to rustic eateries, tap into London's vibrant Italian restaurant scene. Do you agree with our choices? Use the comments box below or tweet your suggestions.
Just south of Richmond Bridge, this traditional Italian local was half full with a mix of families and dowdyish couples on our Sunday lunchtime visit. It isn't a particularly romantic spot – our booth table was too wide for intimate banter, the dark decor a little gloomy – but the generous, mostly reliable food makes up for it. A Cena's owners, Tim and Camilla Healy, are spreading their net and are now co-owners of Orso and Joe Allen in Covent Garden.
Book now
Read more
The buzz is as important as the food at Jacob Kenedy and Victor Hugo's enduringly popular Soho restaurant. Dine at the bar and you're in for a fun night, or afternoon – especially if you're by the window. It's the perfect perch from which to watch favourite actresses swan in. Staff reassuringly affirm, 'It's sooo good,' to virtually everything you suggest – and sometimes they're right. We have fond memories of buttery brown shrimp on soft, silky white polenta (the Venetian preference), and a deep-fried mix of calamari, soft-shell crab and lemon.
Read more
In keeping with its name, Enoteca Turi has a particularly strong all-Italian wine list packed with treasures – our recommendation, an elegant pecorino, was spot-on. The decor feels a little dated, but the restaurant's plus points – a convivial atmosphere, great wines, faultless service and a warm heart – are proving a winning formula in a neighbourhood overrun with soulless chains.
Book now
Read more
Venue says: "For this week only 50% off your food dinner bill on Thursday, Friday and Saturday"
Opened by lifelong friends Luca and Giovanni, Il Cudega is the place to drop in for a chat, drink a few glasses, inhale a plate of mixed salumi (a generous heap of meat for £12) and polish off an expresso. With simple black-and-white decor, an intriguing wine list and a mouthwatering deli counter, it's packed with simple pleasures - specifically the best organically-produced cheese, meats and wines from their home district of Lombardy. Open only during the day, this is a small and affordable piece of Italy's gastronomic culture in one of London Fields' most unassuming railway arches.
Book now
Read more
If a restaurant is named after the cured back fat of a pig, you can expect that charcuterie is among its specialities – and so it is here. But lardo itself isn't on the menu at Lardo, except as a pizza topping, so our charming, clued-up waiter bought a plate specially. It was excellent, as was the paper-thin fennel pollen salame. Other small plates on the short menu are divided into 'cold' (simple but satisfying puréed cannellini beans with black olives), 'warm' (an unctuous bowl of braised chicory and melted fonduta cheese topped with speck) and 'hearty' (Venetian lamb's kidneys).
Read more
One of London's most highly regarded Italian chefs, Giorgio Locatelli was recently seen on BBC2's Italy Unpacked communicating a deep connection to his country's food and drink with engaging brio. It shows in the menu here, which ranges voraciously through styles, regions and ingredients (some little known). There's technique aplenty, but it's food made to be relished as well as admired.
Read more
Padella, the sleek express-lunch pasta bar from the duo behind Islington's Trullo does dishes small enough – and, at around £5-9, cheap enough – to let you to order three between two. Bring extra friends so you can order a bit of everything. There's a changing mix of classics and lesser-spotted varieties like tagliarini (skinny tagliatelle), and Trullo fans will be pleased to see the signature eight-hour beef shin ragu (served over pappardelle).
Read more
The clue's in the name: Sardo excels at Sardinian specialities. To come here for eat-anywhere dishes, such as grilled tuna steak, misses the point. But it's largely thanks to the popularity of Romolo Mudu's relaxed, welcoming ristorante that characteristic Sardinian ingredients such as fregola and malloreddus are finding their way on to other restaurants' menus.
Book now
Read more
Federico and Max Sali opened Tinello in 2010, after a firm grounding at Locanda Locatelli, where the former was head chef and his brother the sommelier. Here, great produce is treated with skill and respect for tradition, but dishes still have the capacity to surprise. The pared-back elegance of the place – bare brick, dark wood, metal and mirrored tiles – reflects the simple perfection of the food and wine on offer.
Read more
Show more
Find more Italian restaurants
Sponsored listing
Stoke House
A modern British carvery set within Victoria's Nova complex. The vibe here is swish: curved wooden benches swerve smoothly around a multicoloured feature wall, and the food comes on wooden boards, metal trays and in tin bowls. The menu involves meat in various forms (ribs, steak, burgers, whole roast chicken), with salmon posing a lighter alternative, and a variety of green beans, cous cous and avocado sides. The bar offers wine, beer, cider and cocktails.