Heads up! We're working hard to be accurate – but these are unusual times, so please always check before heading out.
Nine London dishes that'll boggle your brain
Looks like a doughnut. Actually it's your starter. Here are our favourite London foods that aren't quite what they seem
It isn't enough for London's food wizards to serve you something that makes your tastebuds do cartwheels. For our city's culinary experimentalists, a great dish is one that also blows your mind by looking completely different to how it tastes. Scroll through for nine of our fave foods in disguise served in London's best restaurants and quirky pop-ups.
Looks like… a lovely tangy mandarin.
Tastes like… chicken liver terrine.
Is it a palate-delighting appetiser, or is it a cruel prank against fruitarians? No-one knows.* Either way, Heston's 'Meat fruit' blends up port, chicken livers and shallots into a creamy parfait, coats a ball of it in a citrussy, orange-hued jelly then, in the equivalent of a 1950s spy trying to hide their face with a trilby, uses a genuine mandarin stalk for a fruity implication. A mainstay of Michelin-starred restaurant Dinner since its 2011 opening, this is the classic London dish gone undercover. It's the Jack Bauer of food.
* They do. It's the first one.
Available as a starter for £17.50.
Looks like… a classic female beauty product.
Tastes like… berries.
Women, you know how every time you apply blood-red lippy it's all you can do to stop yourself from suckling at it like it's a Push Pop? You don't? Well, you might wanna tell Harrods. Modern restaurant Chai Wu's just started serving this piece of imitation make-up as part of a 'Ladies' Lunch Menu'. It's actually a strawberry and raspberry sorbet inserted into a Perspex lipstick case so that in order to eat it, you have to twist it out of its shell as though you're about to pucker up in front of a mirror. It's zingy, sweet and delicious. And also actually very much like a high-class Push Pop.
Available as part of a £70 'Ladies Lunch Menu'.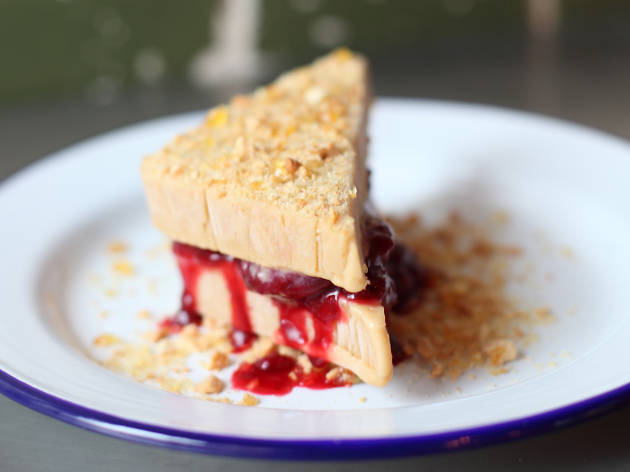 Looks like… the USA's favourite sandwich.
Tastes like… the USA's favourite sandwich. Made from ice-cream!
If there were ever a dish that's intrinsically misleading even when done properly, it's this classic sweet/savoury US sandwich and its jelly-based false advertising. But dinky NYC-style eatery Spuntino has cranked the 'gotcha!' vibes up to 11 by turning it into a dessert. The slices of 'bread' are slabs of peanut butter ice cream, they're topped by peanuts and the 'jelly'? That's not what it claims either. It's jam. But then that's just Americans being Americans.
Available as a dessert for £6.
Looks like… poached eggs, chips and ketchup.
Tastes like… a tropical fruit paradise.
Okay, okay: as a rule, gags involving things you have to put into your mouth don't exactly say 'comfortable dining experience'. But then most people's idea of comedy doesn't involve tickling your taste buds with delicious tropical fruit. The joke is that whilst this looks like brunch, it's actually dessert: the egg whites are coconut, the yolk's made from mango (as are the chips), the black pepper granules are crushed Oreo and the ketchup bottle's filled with tangy ice cream made from strawberry and tamarillo (a bright-red South American fruit that tastes a bit like kiwi). If all this restaurant's chef's attempts at comedy are this delicious, we're encouraging them to go into stand-up – and booking front-row tickets.
Available as a dessert for £7.50.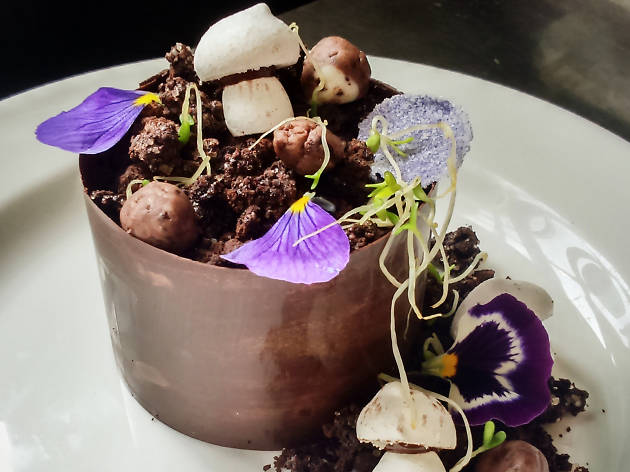 Looks like… a gardening accident.
Tastes like… death by chocolate.
You know the mud pies you made as a kid? Well, this is how you dreamed they'd taste. The dainty 'edible garden' dessert, created by pop-up chef extraordinaire Jimmy Garcia, features 'mushrooms', 'pebbles', 'soil' and a few flower petals for decoration. When popped on your tongue, you realise the tiny fungi are in fact melt-in-you-mouth meringue, the pebbles are creamy chocolate baubles and all that realistic-looking earth is delicious chocolate crumbs piled high on a 'flower pot' that turns out to be an Oreo cheesecake. And the flowers, well they're still flowers, but the fragrant, edible type rather than a few pansy petals snatched from your parents' flowerbed.
Available as a dessert for £7.50 until September 13. www.jimmyspopup.com.
Looks like… a quartet of Borrower-sized meat sweets.
Tastes like… a quartet of Borrower-sized sweetmeats.
Veggies, look away now: there's carnivorous treachery inside these little rings. Sure, they might seem to be tiny little white chocolate doughnuts, but they are in fact little hoops of foie gras pâté that have been dipped in white chocolate and dusted in cardamom – and which are served with a glass of apple juice to cleanse your palate between bites. Looks like a dessert, tastes like a starter: feels like a great idea.
Available as a bar snack for £12.
Looks like… a Victorian lighting system.
Tastes like… the juices from a roast dinner.
Normally if a waiter makes your starter burst into flames, they're not getting a generous tip (unless it's 'seriously dude: applying hairspray at candle-lit tables is not a good idea'). But a little low-level fire-starting is a key part of this piece of brain-fuddling culinary trickery. The waiter plonks down a candle-stick, sets it alight, then as it melts, you realise it's not made from wax, but delicious beef dripping, and that the candle-stick holder is in fact a juice-collecting dish into which you're meant to dip a hunk of freshly baked bread to recreate that post-Sunday roast feeling of wiping your plate clean of stonking meat juices. Nom.
Available as part of a £75 'Half Story' or £95 'Full Story' dinner.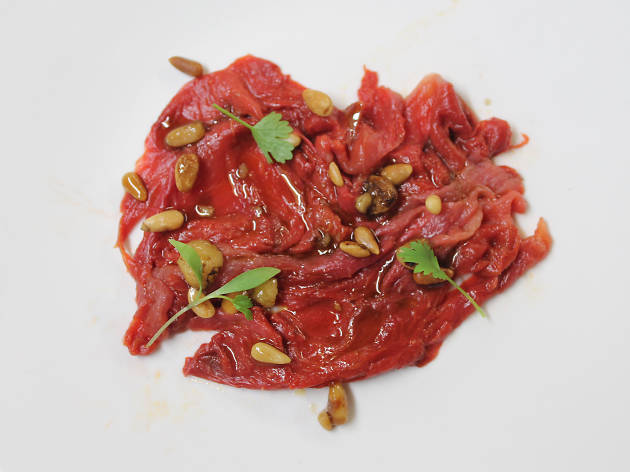 8. Watermelon carpaccio at POPDown
Looks like… slivers of raw beef.
Tastes like… fruit.
There's more than meats the eye to this starter. Served as part of a four-course menu at the latest pop-up from 'luxury gastronomy' crew Cuisson – whose head chef Pedro Passinhas trained at The Fat Duck for a year – it's slices of watermelon that've been vacuum-packed and slow-cooked for two days until they've lost most of their water and are a delicately flavoured, palate-baffling treat that looks like raw beef. Oh, and just in case it wasn't tricksy enough, you see those little bits of what look like parmesan crisps? Yeah, they're made from lentils.
Available as part of the £39 four-course menu until the end of August.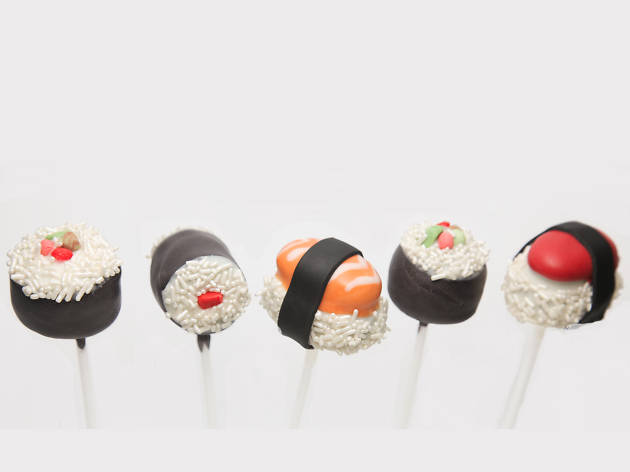 9. Sushi pops by Molly Bakes
Looks like… raw seafood and rice.
Tastes like… chocolate cake.
Here at Time Out we know when something smells fishy and it isn't these pretty little treats. Rather than nori-wrapped salmon they're intricately decorated cake pops from Molly Bakes – a London market stall holder who's currently selling from her website rather than getting out and about. The rice grains are white sprinkles, the fish is a light sugar icing and the centre is a moist, rich chocolate cake on a stick. Whatever you do, don't add soy sauce.
Available for £2.50 from www.mollybakes.co.uk.
Find more spectacular dishes in London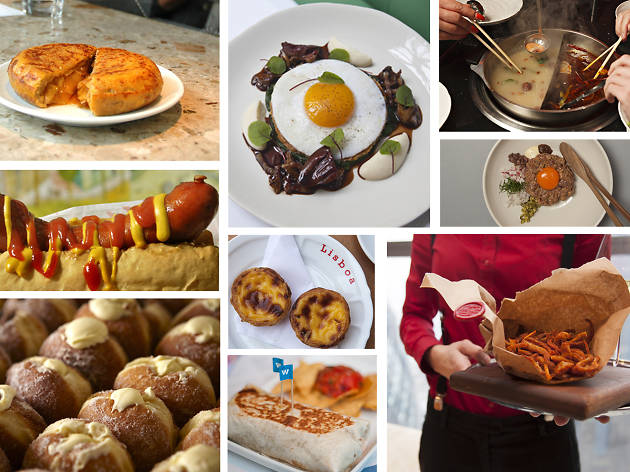 Here it is, a countdown of the capital's most coveted plates. No more need to agonise over the menu; dive straight in as we reveal dishes to die for at London's best restaurants and street food markets stalls.