London's best hairdressers
Time to get your mop chopped? Treat your tresses with our round-up of the best salons London has to offer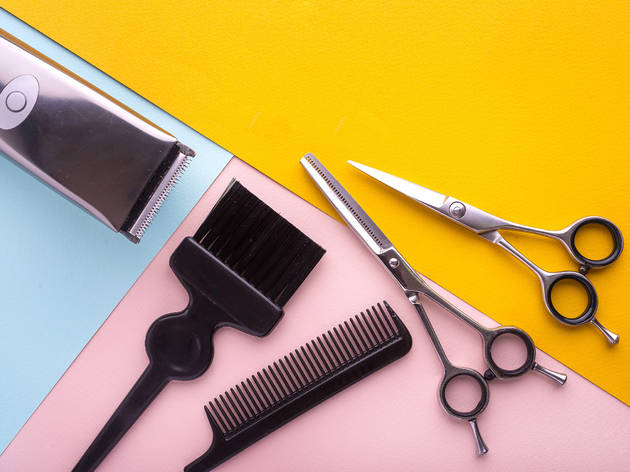 Bad hair day? No biggie. When a quick at-home conditioning treatment just doesn't cut it, there's a mind-boggling line up of salons in London ready and waiting to tackle the (ahem) root of the problem.
And these are a cut above your usual hairdressers – ever since trendy salons started serving alcoholic drinks with your cut and dry, things have just got better and better in the world of hairdressing. From new and quirky to downright fancy, we bring you the best hair salons in London to tame your mane, all tried, tested and reviewed by Time Out writers.
RECOMMENDED: London's best barbers
London's best hairdressers
Best for
Cruelty-free colour
Nearest tube
Haggerston Overground

This vegan-friendly Dalston salon was a trailblazer of the dip-dye trend, as seen on the famous barnets of Lady Gaga and Alexa Chung. Founded by colourist-of-the-moment Alex Brownsell, and her agent and friend Sam Teasdale, Bleach has a client list that reads more like a who's-who of London party people, including Pixie Geldof, Daisy Lowe and Alice Dellal. You'll also find salons in Brixton and Soho.
Best for
Friendly stylists
Transport
Hackney Central Overground
From the cactus-covered walls to the chilled out playlist, this Hackney hairdresser oozes relaxed vibes. Stylists Melissa and Luke are super friendly and attentive – taking their time to understand what you want and making spot-on suggestions if you're unsure – they don't call them the horse whisperer for the hairdresser phobic for nothing. On our visit, Luke snipped and teased our frizzy mane into bouncy natural curls in no time at all, adding the lovely Italian sustainable brand Davines for extra sheen. The duo shares the space with the quirky A/Side-B/Side Gallery, so you can get your art fix post-haircut. And if you arrive early for your appointment, you can pass the time filling in phallic colouring books, cheeky!
Best for
Effortless styles

Nearest tube
Liverpool St
In any other salon, it might be disconcerting to be entertained with stories of how the hairdresser currently cutting your hair has previously left clients bald, scorched or with a mop 'tightly permed into pubes'. But 25 years have passed since celebrity stylist Adam Reed first cut his teeth as an apprentice. In that time, Reed and business partner Paul Percival have built a boutique hair styling empire with a Marylebone salon and a prettily packaged eponymous product line. Both now attract a ritzy clientele.
Best for
An airy aesthetic
Nearest tube
Shoreditch High St Overground

Occupying renovated premises on the corner of Swanfield Street, Radio is a stylish, light and spacious environment where you can relinquish tonsorial control to a team of premier league stylists and colourists. Cool often comes with attitude (this is east London, after all), but Radio is hip, highly professional and friendly, offering everything from dip dyes to Brazilian blow-drys. Saturdays are super-busy, but the blonde wood floors, pale paintwork and high ceilings make relaxing a doddle.
Best for Chic cuts
Nearest tube South Kensington
Just a few minutes' walk away from South Kensington tube is Larry King's gorgeous hair emporium. If you've had a bad cut in the past that needs fixing, this is where you should head. Stylists will listen carefully to what you want and come up with a solution that's realistic yet effective. Expect to be so delighted with your trim that you will exit the place with a sassy hair flick worthy of a 90s beauty advert. Rosie Akenhead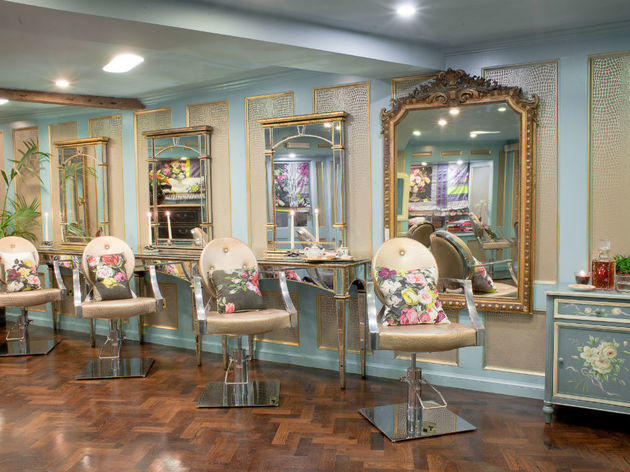 Best for
Boutique glamour
Nearest tube
Shoreditch High St Overground

Complete with a bar, cupcakes, pretty vintage china and a liberal dose of quirky charm, this Parisian-style salon is so good they named it twice. The staff are friendly and knowledgeable, and offer a full range of hair services. Other equally pretty salons can be found in Portobello and Liberty's in Soho.
Best for
Eco-friendly outlook
Transport
Hoxton
Hackney Road's hair scene just got a whole lot hipper, and eco-friendly. Butchers (the joint project of Susannah Jones – a former director at Aveda – and art school-trained editorial stylist Katie Knox) offers fashion-forward cuts in a minimalist, industrial-chic setting; think concrete walls and massive windows. As well as cutting-edge snips (from £55), great colour jobs are a speciality here (full-head colour tint starts at £70). Shampoos, conditioners and styling products come from natural haircare specialists Aveda.
Best for easy luxury
Closest tube Covent Garden
It's one of life's more costly pills to swallow that, in a lot of cases, you do get what you pay for. And so, while Charles Worthington's Covent Garden 'House of CW' – one of a handful of London outposts of the well-known hair brand – doesn't come in at a snip of a price (a women's cut ranges from £50 to £125 for a principle stylist), it does make for the kind of easy luxury that treat-worthy hair experiences are made of. From the townhouse-style location to the glasses of bubbly on offer, everything here comes inbuilt with a quiet sense of class; there's no pumping music (a strange quirk of a lot of salons) or ostentatious décor, the rooms are small with only a few clientele at a time and the service impeccable. I opt for a root touch-up and a restyle; I'm getting a fringe cut back in and I'm a little unsure whether that's a terrible decision. But Gorka, my stylist, is exactly the right level of confident – able to guide you into being a little brave, whilst assuring you that you're in safe hands. I've done my time getting value dye-jobs in training academies, so the fact that I'm in and out with a new do and a fresh colour in around 90 minutes seems something akin to witchcraft, but that's all part of their sleek, slick package. Savvy modern women with shit to do don't have time to spend five hours in a hairdressing chair; they do, however, have time for a swish new wig that makes them strut down the street like Beyonce. And by 'they', I mean 'me'. Obviously. Lisa Wright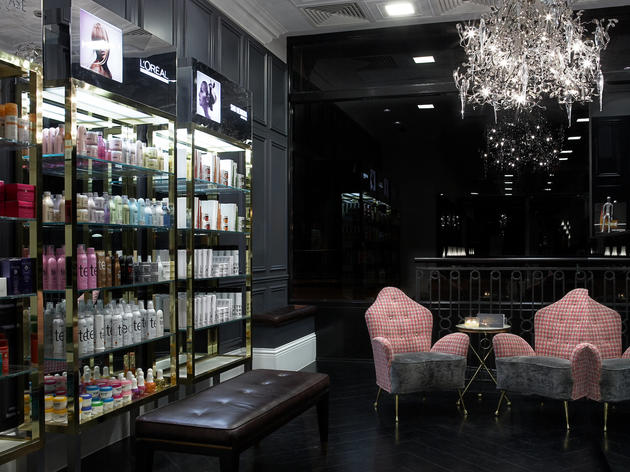 Best for
Unapologetic luxury
Transport
South Kensington
For a glimpse at how the other half have their hair done, head to the unapologetically luxurious Paul Edmonds salon. Located in a Georgian-style townhouse near Harrods, it's decorated with opulent black lacquer and design classics. Edmonds has worked his magic on the locks of many a celeb, from Emma Thompson to Penelope Cruz, and is universally considered one of the best in the business. It's a jaw-dropping £300 for a cut and finish with the man himself, but considering he trained Errol Douglas and Richard Ward, you can expect something truly special. Graduate stylists are more of a snip, at £40 for men and £65 for women. Edmonds trained for three years at the College of Psychic Studies as a healer (stay with us!), and the holistic approach used by all members of the 40-strong team ensures a calm atmosphere and individually tailored service.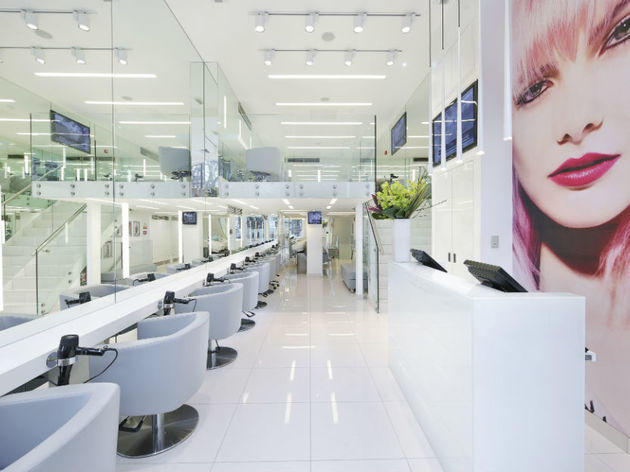 Best for
A safe pair of hands
Transport
Sloane Square
For the original Toni & Guy experience, visit the Sloane Square salon. The light and airy salon has been here for 35 years and harks back to the family roots of this global super brand, boasting a fiercely loyal clientele. A ladies' cut and blow dry starts at £57 and will set you back £80 if you opt for one of the art directors.
Treat yourself to some spa-time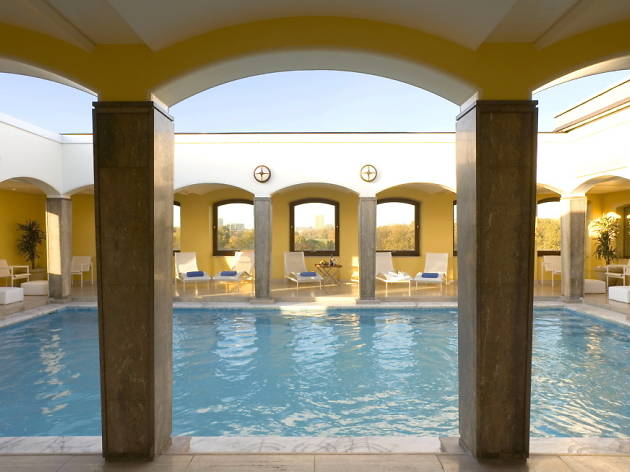 London is vibrant, varied, exciting, seductive, sprawling... and just a little bit exhausting. At some point, you're probably going to need to pause to unwind.