The best spring day trips from London
From cheese-chasing to an asparagus festival – cast off your woolly jumper and set off on these spring day trips from London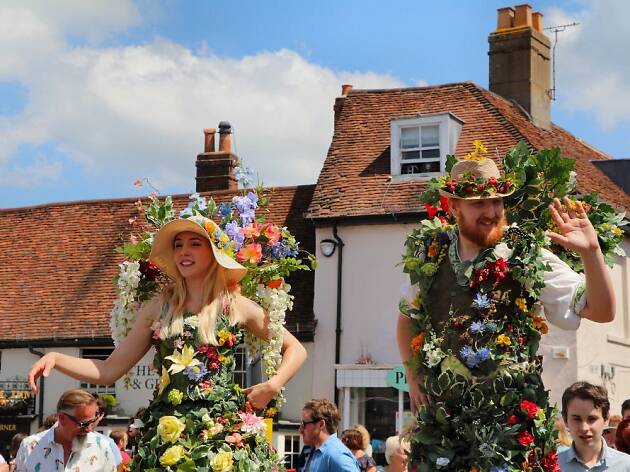 The days are lighter, the air warmer and the coats fewer – and it can only mean one thing: SPRING. We've been counting down the days for some time, and now it's here, what are we going to do with all that extra daylight? From a long walk in the park to a pint in a beer garden, there's plenty to keep a spring chicken entertained in London. But to really celebrate the arrival of our favourite season, we recommend getting out of the city for one of these sweet, if not slightly strange, spring day trips from London.
If you still find yourself at a loose end, check out our round-up of the best things to do in London this spring, packed full of the latest art exhibitions, new theatre shows, the best gigs, restaurant openings and lots more. If that doesn't put a spring in your step, we don't know what will.
RECOMMENDED: The best day trips from London
Spring day trips from London
1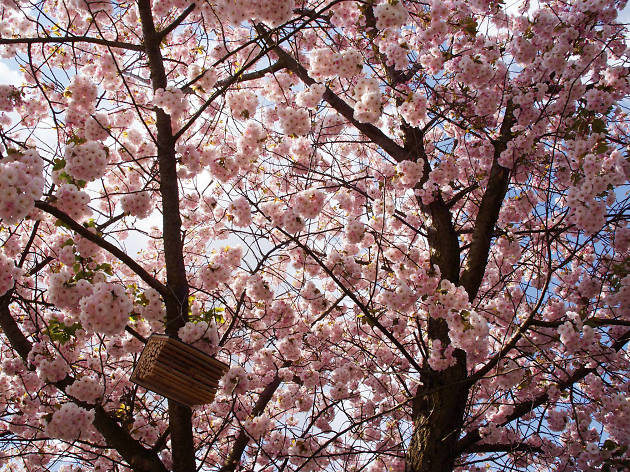 The picnic under cherry blossoms
When the tree branches are full of pale pink cherry blossoms, there's only one thing for it: a picnic. Hardcore flower fans should head to Kent to find a sea of bloom-laden boughs at the Brogdale Collection. The orchard in Kent has more than 4,000 varieties of fruit trees (apples, quince, cherry, plums, pears and much more) in 150 acres of farmland, and visitors can roll out their tartan blankets and toast with prosecco beneath them. Called the Hanami Picnics, the event is inspired by the Japanese celebrations where people party day and night under cherry tree blossoms.
Brogdale Collections. Faversham, Kent. Hanami Picnics are on April 7, 10, 11, 12,17,18, 24, 25, 26 and 27. £11.50. Hanami Festival is on April 14. £7.20.
Get there One hour by train from London St Pancras International to Faversham, then a 30-minute walk to Brogdale; around one hour 30 minutes by car.
2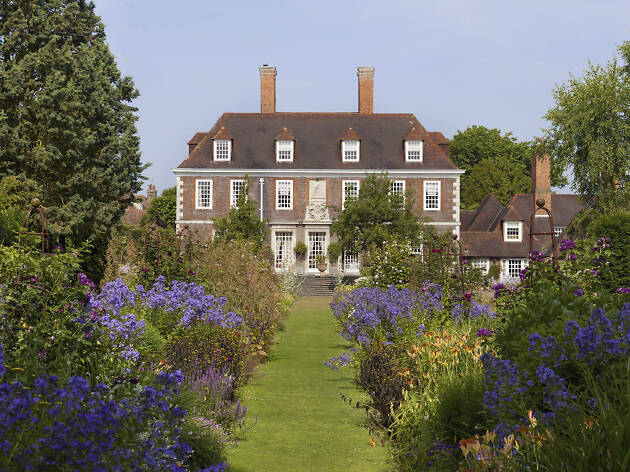 The gardening skills workshop
If you're lucky enough to have a garden in London (and you haven't already put a tent in it and let it out on Airbnb), chances are you'll want to grow stuff. But where to start? The head gardener at The Salutation Hotel in Sandwich knows a thing or two about plants, and is happy to pass on knowledge as a part of the hotel's How To Be A Gardener series. Pop in to one session, or sign up for all nine to give Titchmarsh a run for his money.
The Salutation. Sandwich, Kent. First session on Thursday March 28, 10am-4pm. £90.
Get there One hour 30 minutes by train from London St Pancras International to Sandwich; around two hours by car.
3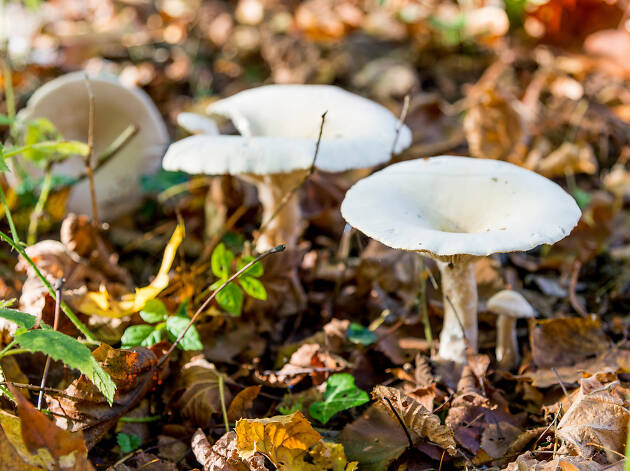 The forage for mighty mushrooms
If you've checked your mushroom calendar recently, you'll know that the season is nearly upon us for the likes of bearded fieldcaps and deer shields. Come April, the eagle-eyed might even spot the mighty morel, considered by some to be the queen of mushrooms (they're notoriously hard to find and we hear they like growing around dead trees). Of course, growing seasons depend on a shedload of variants, so best to go foraging with an expert. They'll tell you where and when is best to go, and steer you away from any poisonous varieties. Check out Wild Food UK for a list of foraging courses near to London.
Wild Food UK. Across the UK, around £45 pp.
4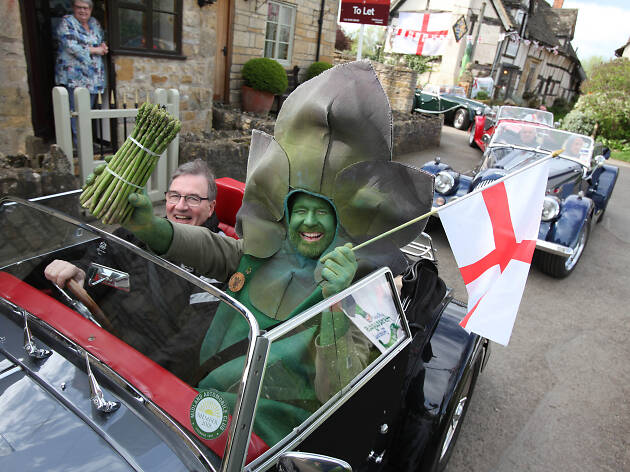 Stuart Purfield
The festival dedicated to asparagus
Lovers of spring veg will do well to visit Evesham in April, when the town turns green in the name of asparagus. The British Asparagus Festival 2019 features a huge crop of ways to get involved, from meeting Gus the asparagus man and hopping on board the asparabus tour to digging out the green face paint and joining the 5k fun run. Founded in 2006 to big up the area's booming asparagus harvest, it's now a hugely popular event, and one of the funnest ways to get your five-a-day.
British Asparagus Festival. Evesham, Worcestershire, April 23 to June 21. Asparabus, £15. Fun run, around £6.
Get there Two hours by train from Paddington to Evesham; around three hours by car.
5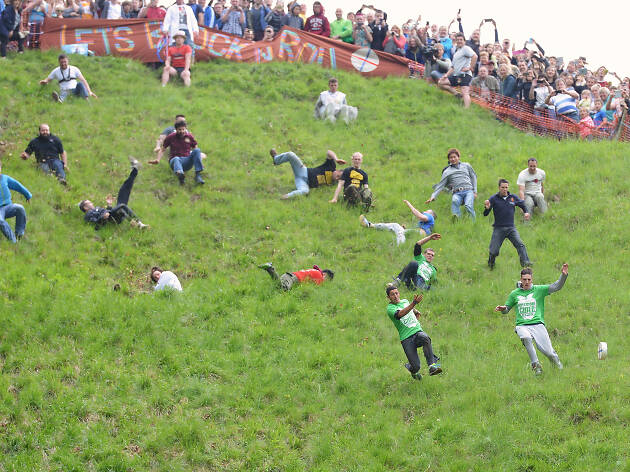 1000 Words / Shutterstock
The serious, high-stakes cheese chase
Gloucestershire's annual Cheese Rolling Festival might sound like a sleepy, pastoral affair, but the reality is far from it. After chucking their cheddar down the hill, contestants then hurl themselves down after it at ridiculous speeds, sometimes resulting in some serious injuries. Bruises, fractures and broken bones? You feta believe it. If you don't give edam about health and safety then try your luck in the competition, but we'd recommend supporting safely from the sidelines.
Cheese Rolling Festival. Coopers Hill, Gloucester, Gloucestershire. May 27. First race starts at around noon and is free to attend.
Get there One hour 50 minutes by train from London Paddington to Gloucester, then bus or taxi; around three hours by car.
6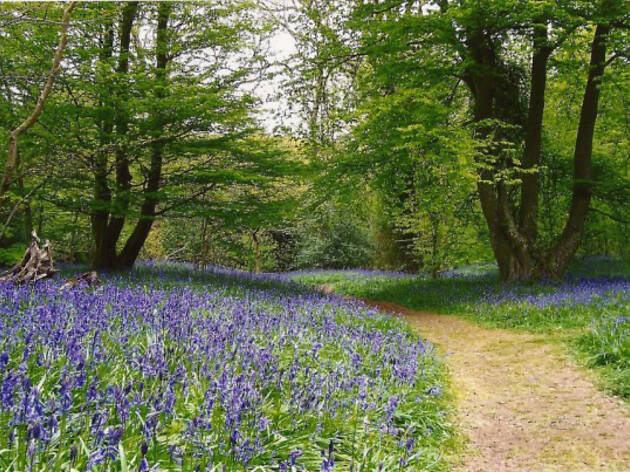 Photograph: Arlington Bluebell Walk
The walk through a sea of bluebells
There is no greater sign that spring has sprung than when the flowers bloom, and there are plenty of places to cop an eyeful of petals near London. One of the most sensasional is Arlington Bluebell Walk – a series of stunning trails through woodlands carpeted with seemingly endless bluebells. The routes – one of which is wheelchair-friendly – wind through a series of working farms, so when visitors aren't marvelling at the flowers, they're watching cute farmyard animals going about their business. When will the bluebells blossom? It's the question everyone's asking. The walks are open from April 11, but check their blog for regular updates on #bluebellwatch.
Arlington Bluebell Walk. Bates Green Farm, Arlington, East Sussex. April 11 - May 19. Adults £6, child £2.50.
Get there One hour 30 minutes by train from London Victoria to Berwick; around two hours 30 minutes by car.
7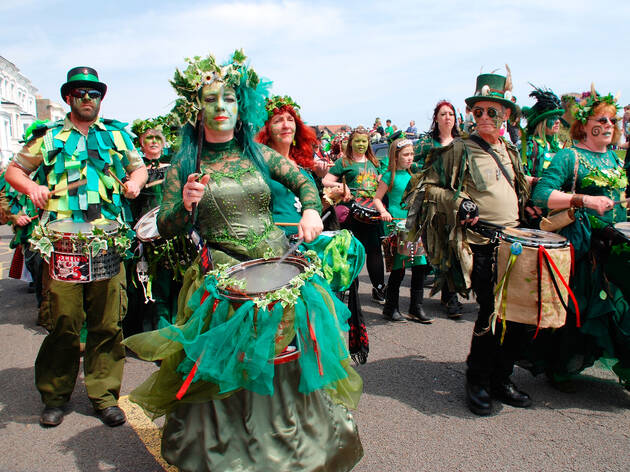 © David Fowler/Shutterstock
Boisterous and bonkers, Jack in the Green Festival is a perfect slice of village May Day madness. The bank holiday weekend sees Hastings locals paint themselves green, don their ivy crowns and cut loose in the same way pagans have been doing there for centuries. Start off your day with a 'morris dancer breakfast' (we can only imagine) then get merry at Monday's high street procession, when Jack – essentially a giant walking, dancing tree – goes wild amongst a troupe of drummers, musicians and folk groups.
Jack in the Green Festival. Hastings, East Sussex. May 3-6 2019. Free.
Get there One hour 40 minutes by train from London Bridge to Hastings; around two hours 40 minutes by car.
8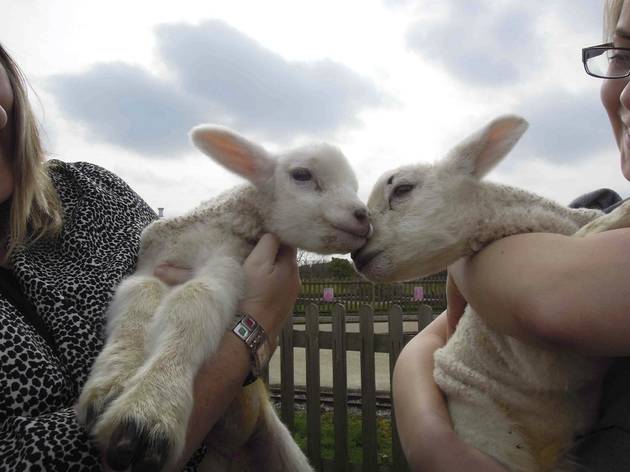 The excuse to cuddle tiny lambs
Lambing season is here, meaning that soon the pens at Baylham Farm will be bustling with little woolly cuties. Lamb-cuddling sessions are available throughout the Easter holidays, from April 6 to April 22. The rare-breeds farm is open from Tuesday to Sunday for your farmyard animal fix.
Baylham House Farm. Baylham, Suffolk. Adult £7.50, child (4-16) £3.50, under 4s free. Tuesday to Sunday, 10am until 5pm.
Get there Two hours 30 minutes by train from London King's Cross to Needham Market, then bus; around two hours 30 minutes by car.
Located in the beautiful woodlands of the Sussex Downs, the 26-acre grounds of the CASS Foundation are home to an ever-changing display of sculptures. Around 50 pieces of contemporary art are hidden amongst the bluebell-carpeted woodlands and gardens – the perfect place for culture vultures who love a good walk.
CASS Sculpture Foundation. Goodwood, Chichester, West Sussex. Adult £12.50, child £6.50.
Get there One hour 30 minutes by train from London Victoria to Chichester, then taxi; around two hours by car.
10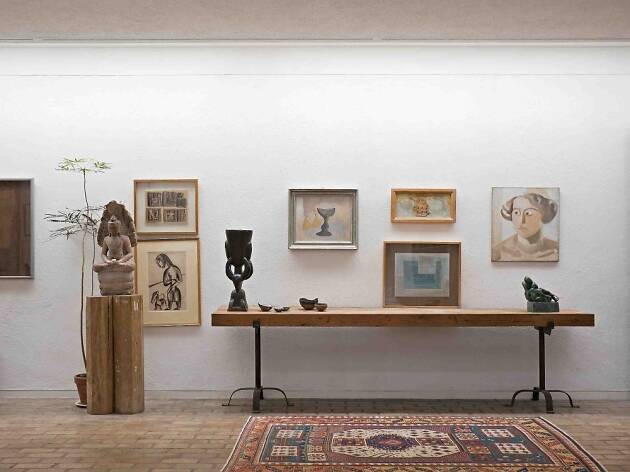 The serene exhibition space
Possibly one of the cosiest contemporary art museums in the UK, Kettle's Yard is the University of Cambridge's gallery housed in a modest collection of cottages. The houses have been knocked through to create a space almost as beguiling as the exhibitions themselves. Decor is pared back, but with enough carefully curated furniture to make it welcoming and warm. This spring, look out for an installation from Cornelia Parker and work from Louise Bourgeois, as well as a series of live string quartets and piano performances.
Kettle's Yard. Cambridge. Free.
Get there 50 minutes by train from London King's Cross to Cambridge; around one hour 30 minutes by car.
11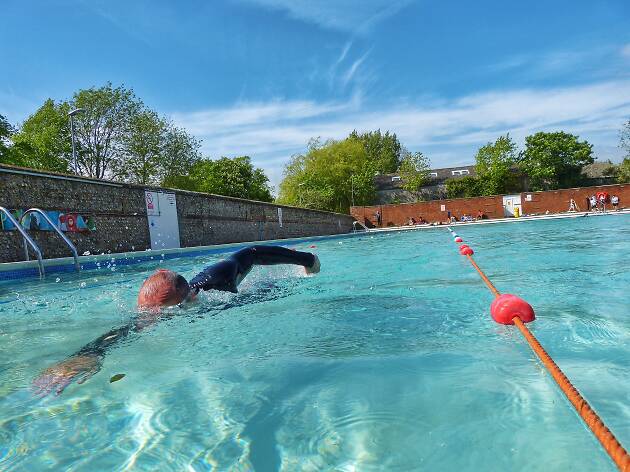 Rob Read
This 46m, award-winning lido has clocked up more than 150 years of waterlogged fun times, making it the oldest documented freshwater pool in the UK. Reopening for the season in May, there's also an impressively vast lawn where you can roll out your picnic blanket. All that food got you feeling sleepy? Slap on the factor 50 and rest your eyes on the sun terrace.
Pell's Pool. Lewes, East Sussex. Opening in May, check their Facebook page for up to date opening hours. £4.50, £2.20 child.
Get there One hour 10 minutes by train from London Victoria to Lewes, then a 10-minute walk to Pell's Pool; around two hours by car.
12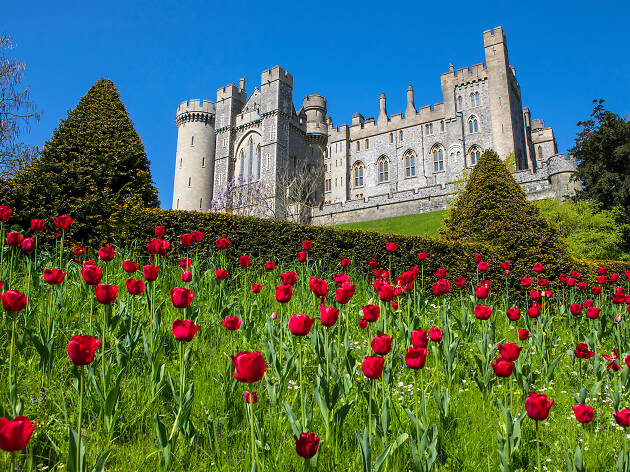 Photograph: chrisdorney/Shutterstock.com
From mid April to early May, the grounds of Arundel Castle explode into colour as over 60,000 tulips bloom. Keen beans can try and spot all 120 varieties of tulip, including Apeldoorn's Elite, Black Parrot and the beautiful soft-pink Angelique. And if the weather turns, head inside the eleventh-century castle to eyeball the tulips from the perfectly-preserved bedroom windows.
Arundel Castle, Arundel, West Sussex. From £13.
Get there One hour 20 minutes by train from London Victoria to Arundel; around one hour 45 minutes by car.
13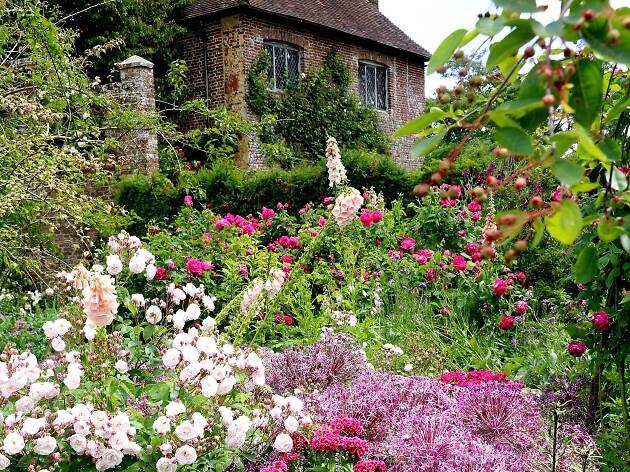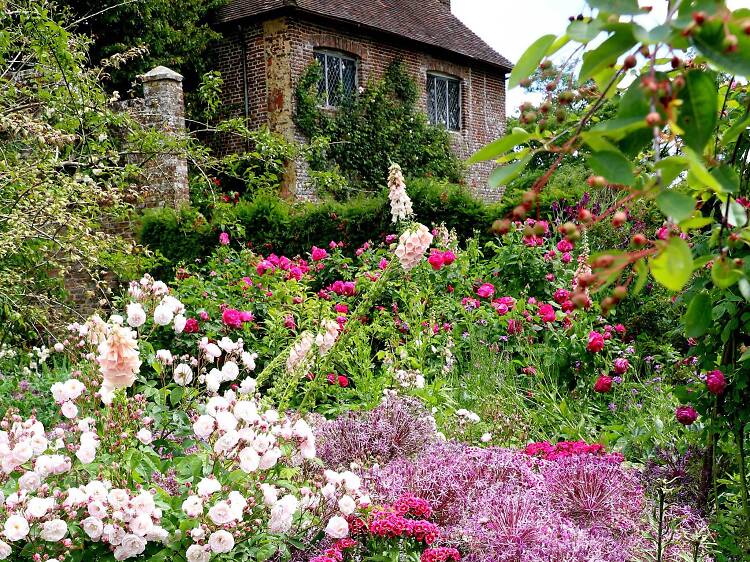 The guided wildflower walk
The Elizabethan and Tudor buildings of Sissinghurst Castle are stunning enough, but they take on a whole new level when the garden flowers blossom. And if you don't know your honeysuckle from your hyacinths, join one of the guided walking tours around the planted and wild flowers that surround the estate. Best of all, the ticket price includes a cream tea in the restaurant – sign us up.
Sissinghurst Castle. Cranbrook, Kent. April 28 at 2pm, £12.50.
Get there 50 minutes by train from London Bridge to Staplehurst, then bus or taxi; around one hour 30 minutes by car.
14
The dawn chorus breakfast
Make the trip to this dawn chorus event in Essex's Abberton Reservoir and be rewarded with a sea of birdsong as our feathered friends cut loose in the small hours. The event – which starts at an eye-wateringly early 4.30am – is geared up for hardcore early birds only, but perhaps the prospect of a full English afterwards (veggie option also available) will be enough to tempt reluctant bird-spotters from their slumber.
Abberton Reservoir. Colchester, Essex. Dawn Chorus and Breakfast: May 4, 4.30 to 6.30 am, £13.50, call 01206 738172 to book.
Get there 45 minutes by train from London Liverpool Street to Colchester, then bus or taxi; around one hour 45 minutes by car.
15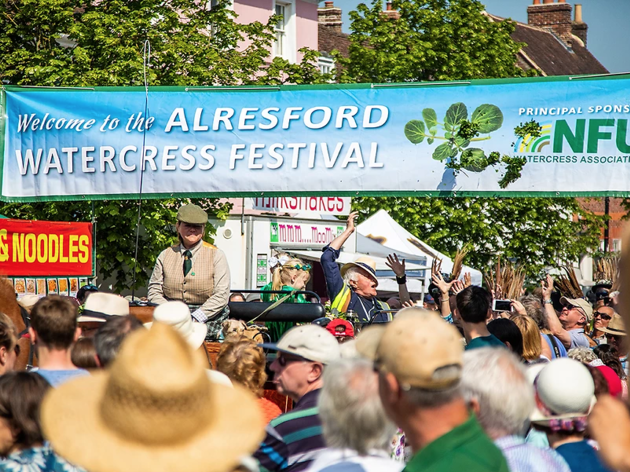 Shannon Lee Robinson/SLR Photography
The town that's taken over by watercress
On the third Sunday of May, something strange happens to Alresford. The pretty streets in Hampshire fill with stalls and people, as the locals go wild for the town's speciality: watercress. They have an entire festival dedicated to the stuff, which draws thousands of visitors every year. At this year's Alresford Watercress Festival, expect more than 80 food and drink stalls (with a watercress-heavy menu), a watercress-eating competition, and live music (we can't wait to see how they incorporate watercress here).
Alresford Watercress Festival. New Alresford, Hampshire. May 19. Free.
Get there One hour 10 minutes by train from London Waterloo to Winchester, then a 20-minute bus journey to Alresford; around two hours by car.
Rather be in London?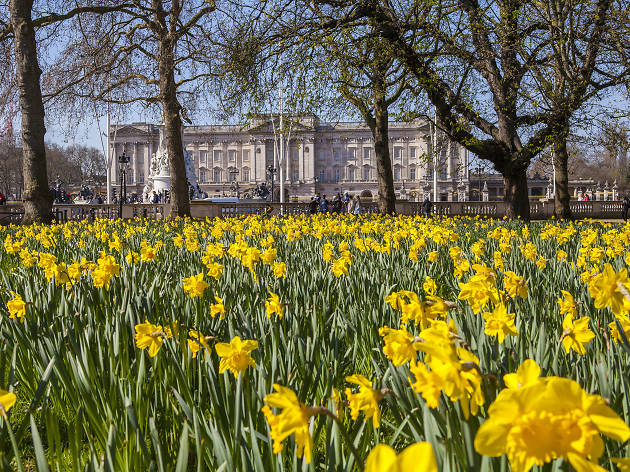 Our spring round-up will keep your social calendar as fresh as a daisy
Snap up exclusive discounts in London
Time Out's handpicked deals — hurry, they won't be around for long...