Heads up! We're working hard to be accurate – but these are unusual times, so please always check before heading out.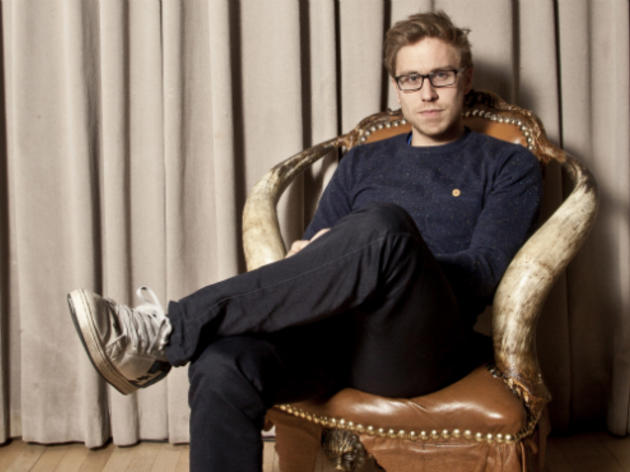 1/8
© Rob Greig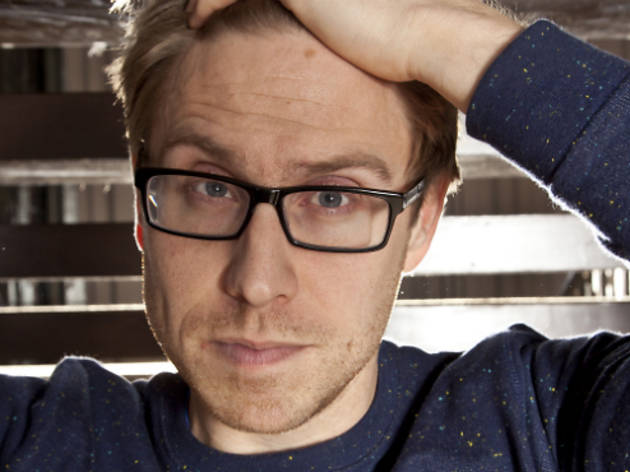 2/8
© Rob Greig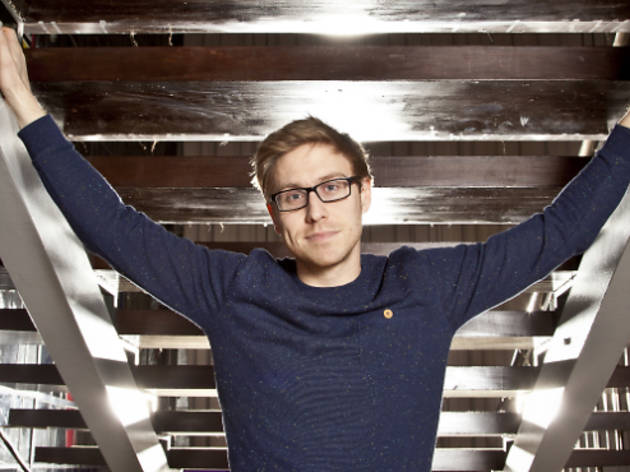 3/8
© Rob Greig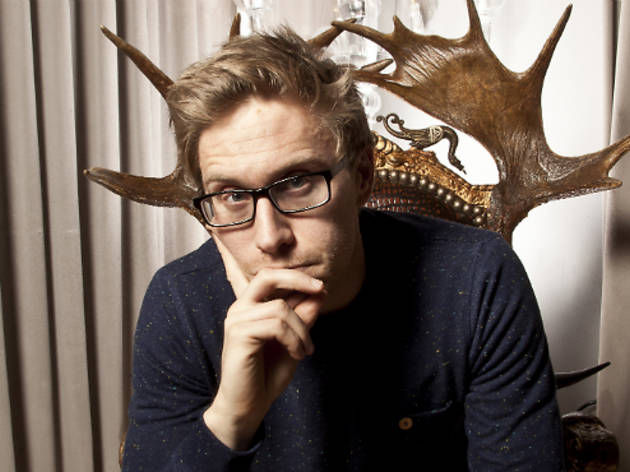 4/8
© Rob Greig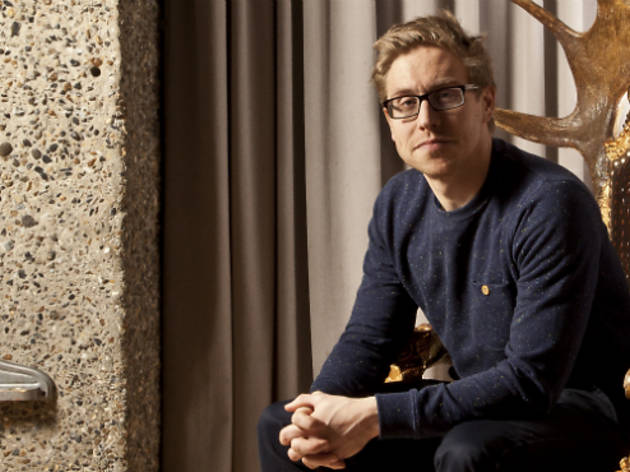 5/8
© Rob Greig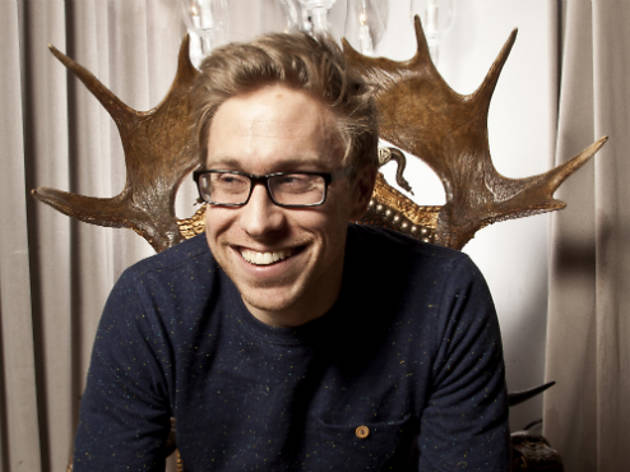 6/8
© Rob Greig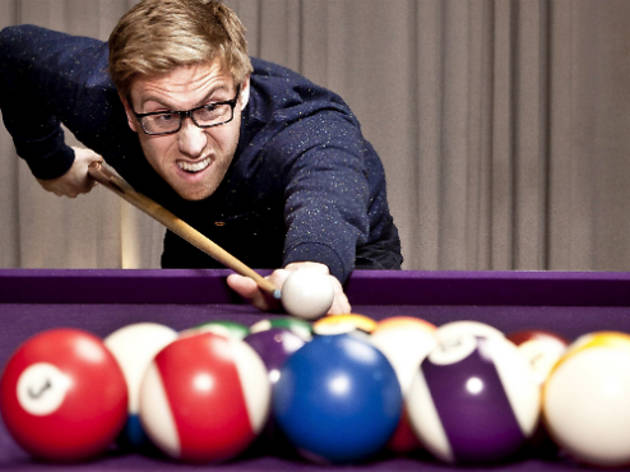 7/8
© Rob Greig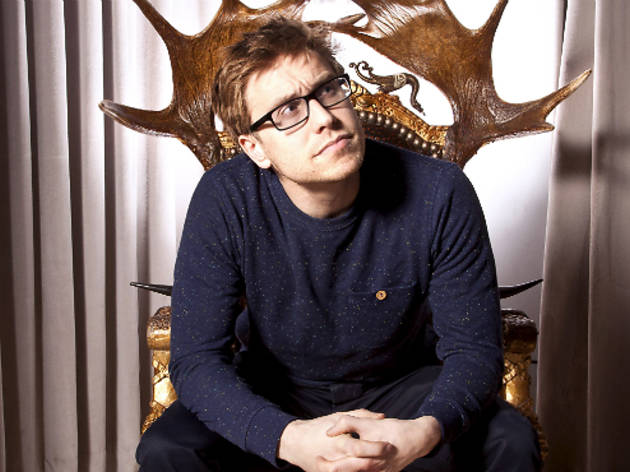 8/8
© Rob Greig
Russell Howard: 'I assume a lot of people hate me'
As the comedian prepares for a global tour and a new series of his TV show, reluctant sex symbol Russell Howard reveals his serious side
Russell Howard squints down the shaft of his pool cue and exhales. Frowning, he takes aim – once, twice, three times for practice – then connects with a mighty thwack. The white ball lurches sideways, skids past its target, and settles apologetically in an empty corner of the table. 'I'm shit at pool,' he says.
Or maybe he's just tired. It's past 4pm on a pale Tuesday in late March, and the 33-year-old comedian has been talking to journalists at Fitzrovia's Sanderson Hotel for seven straight hours, stirring up a buzz for a four-night stint at the Royal Albert Hall next year and promoting a new series of 'Good News', which starts this Thursday.
It's the kind of PR pincer movement usually reserved for pop stars and the wildest dreams of politicians. But these days – with more than 2.5 million fans on Facebook, the most successful entertainment show in the history of BBC Three and his 2014 'Wonderbox' world tour spanning three continents – the comedian is a cultural force, even if he'll never admit it. 'I just write jokes,' insists Howard, who is dressed in jeans and a bicep-hugging blue jumper, and making sustained eye contact through a pair of black rectangular-rimmed glasses.
He first came to semi-prominence in 1999 while studying economics at the University of West England. The Bath native had been writing jokes since the age of 15, reluctantly abandoning a doomed future in football, but it wasn't until three years later that he first performed on stage. Success came almost immediately. Aged 19 and with five gigs under his belt, Howard shot to the final of Channel 4's 'So You Think You're Funny?', losing to Irish musical comic David O'Doherty.
'My first gig went great and the next few were all right,' he remembers. 'Then the sixth died. I was properly awful. It was a real moment of fight or flight.' Howard fought for six gruelling years on the national club circuit, before landing his next big gig as a guest on BBC Two's 'Mock the Week'. Since then, he says, 'I'll grant you I've been lucky.' But he's also earned his luck. Now, with 58 'Mock the Week' appearances, three bestselling DVDs and a string of sold-out stadia later, he finds himself flirting with new, rarefied heights, having recently topped Heat magazine's Weird Crush 2013 poll.
'Whenever the word "weird" is mentioned it can only be an insult,' he says, half-jokingly. 'What's really interesting is the guy from 'Man v Food' came seventh. He doesn't eat food gently on that programme – he virtually headbutts dead animals. The idea that these women are sitting watching him gnaw on dead beasts saying, "God, he's all right!" – it says a lot about them.'
At the risk of further annoying him, we should note it's not just readers of Heat who fancy Howard. Last year, Radio Times called him a 'pan-generational sex symbol'. In 2011, students from 60 British universities crowned him their top 'secret sex symbol' opposite Emma Watson. And
www.russell-magic-cock-howard.tumblr.com
– home to such throaty entries as 'Oh Christ I so would' – is one of many fan sites (though arguably the fruitiest).
Surely all that female attention has its upsides? Howard, nine years into his relationship with girlfriend Cerys, shifts in his seat. 'I'm not a sex symbol. Ask me something else.' Well, is there another name he's been called over the years? '"Lazy-eyed twat"', he fires back. 'And I got "dickhead" a lot at school. It was never "sex symbol" then.'
A waitress arrives with tea, and Howard stands up to take the tray. I mention the reactions of friends and colleagues I've told about today's interview. Ninety, 80, maybe 70 percent are chuffed, I say, and the remainder '…despise me? Yeah, sure,' he finishes. 'It's not something I take personally; I just assume a lot of people hate me. You just have to suck it up. My friend Mario has a great joke about it: "You can't please all the people all the time or there'd be spunk everywhere."
'I think you just have to be comfortable in your own skin, and when I do stand-up or the show I'm in a really good mood. I'm not, as you can see, as animated in real life, but it would be silly of me to get up there and pretend to be dark. I'm genuinely pleased to be there.' How about when offstage – is he genuinely pleased then? 'Not really. I'm happy when I'm working.'
This Thursday (Apr 25) at 10pm sees the premiere of the eighth season of topical show 'Russell Howard's Good News' on BBC Three. The format, if you're unacquainted, is simple: air clip of absurd news item; intersperse with jokes and the occasional Lolcat (or dog, or koala); repeat. 'Good News' is hugely popular, reaching as many as 5 million viewers a week while claiming the BBC iPlayer's top spot across all channels as a matter of routine. Starting this year, viewers in Australia, New Zealand and Denmark will add to the tally.
'I think the reason why the show has gone on so long is because we've been able to find so many strange stories, the kind you'd chat about down the pub with your mates,' says Howard. 'We found one the other day about this guy who lives in Serbia who'd had a vagina carved into his wife's tombstone. She died at like 70 and it was her wish!'
Tombstone vaginas aren't easy to come by. That's why Howard employs a team of ten researchers to watch some 300 hours of telly, taken from 60 international news channels, and read more than 140 newspapers a week. The 200 most pub-worthy stories are whittled down to 50 before Howard takes over, culling the list to about 12.
The news gods have been generous since 'Good News' last aired in December – the Pope's resignation, BoJo's on-air spanking, Bieber's meltdown – and Howard admits it can be 'brutal' watching stories slip past in the off-season. But after seven series of bumbling presenters and irascible Americans, he knows one thing with absolute certainty: there will always be more.
'Twenty years ago you couldn't do "Good News". Now you've got 24-hour news in pretty much every country in the world, and people scrabbling to fill it. The scrabbling is where you find the good bits,' he says professorially. 'There was a story a while ago on Sky News that said half the horses in the UK are obese. We don't really need to know that, but there's this thing of, "Fuck, we have to fill 24 hours!"'
Howard, meanwhile, is working to fill 90 minutes of his own as he prepares for his 'Wonderbox' tour, which stops in Australia, the US and Canada, along with cities throughout the UK. 'I reckon at the moment I've got 40 minutes, 20 of which are good,' he says. 'It's exciting, because right now I'm trying out loads of new material at small gigs where I'm not getting paid, so I can just rock up and throw shit against the wall.'
It's in that jaunty spirit that Howard returns to the pool table and picks up the ball. Circling into position, he plops it back down, aims and shoots. 'Shit,' he says. He's missed again.
Russell Howard plays the Royal Albert Hall Apr 14 to Apr 17 2014. 'Russell Howard's Good News' returns Thursday Apr 25, 10pm, BBC3.