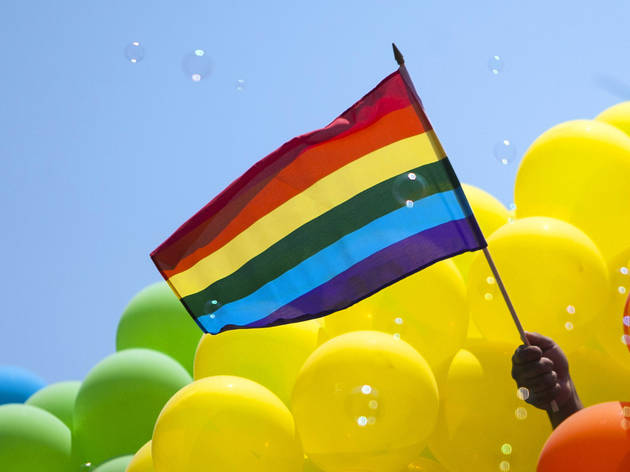 60 amazing things happening in L.A. this June 2018
Posted: Tuesday May 29 2018, 6:28am
Plan out your month with the city's best concerts, culture, cuisine and more.
THINGS TO DO
June 1
First Fridays at the Natural History Museum; Natural History Museum
Dance among the dinosaurs at this seasonal finale of the monthly party and lecture series.
June 1–3
Lummis Day Festival; Various locations
Celebrate the arts, history and ethnic diversity of Northeast Los Angeles at this annual music, dance and art festival.
June 3
Los Angeles River Ride; The Autry Museum
Bike one of five different routes along the L.A. River, from a two-mile kids' ride to a 100-mile push to the ocean and back.
June 9, 10
A Ticket to Explore JPL; Jet Propulsion Laboratory
Cross your fingers for last-minute ticket availability to this coveted NASA open house.
June 9–11
EA Play; Hollywood Palladium
Get your hands on some of the biggest upcoming releases in the gaming world as publisher EA hosts this public-facing fan event.
June 9, 10
LA Pride; West Hollywood Park
Party with Kehlani, Tove Lo, Icona Pop and a few hundred thousand proud Angelenos at this gay festival and parade.
June 12–14
E3; L.A. Convention Center
Fend off multi-sensory overload at this massive video game convention, now open to the public.
June 16, 17
Pasadena Chalk Festival; Paseo Colorado
Watch where you step as dozens of chalk art masterpieces cover the sidewalks during this Father's Day tradition.
June 22–24
Bloom Los Angeles; Griffith Park
This interactive, pop-up art show is set to bring a dozen large-scale flowery installations to Griffith Park.
June 22-Sep 7
Dance Downtown; Grand Park
Brush up on your samba steps during the opening night of this free Downtown tradition.
June 23
World Naked Bike Ride Los Angeles; Various locations
Let it all hang out as the "bare as you dare" bike ride comes to town.
June 24
CicLAvia: The Valley; Various locations
Pedal your way through Panorama City, Arleta and Pacoima during the bike-friendly fest.
Find more things to do in our June 2018 events calendar.
FOOD & DRINK
Through Aug 31
Friday Night Wine Tastings; Barnsdall Art Park
Roll out a blanket and sip on pours of wine on the Hollyhock House's front lawn.
June 2
Adam Fleischman Umami Talk; Pacific Food & Beverage Museum
Join the chef and Umami Burger founder for a gallery talk on cooking with umami-rich ingredients.
June 2
CBD Dinner & Cocktails at Grub; Grub
Have an "elevated" evening of CBD-infused fried chicken, cocktails and more at this three-course dinner.
June 2, 3
LAWineFest; ROW DTLA
Raise a glass to one of L.A.'s top wine festivals, a two-day extravaganza featuring over 30 wineries, food trucks, music and more.
June 2, 3
Los Angeles Bread Festival; Grand Central Market
Slip into a carb coma at this two-day event filled with unabashed bread guzzling, specialty loaves, workshops, demos and Feel the Churn Butter Aerobics.
June 16–24
L.A. Beer Week; Various locations
Drink your weight in beer over the course of nine days as the city celebrates craft breweries across Los Angeles with different activities, special brews and seminars.
ARTS & CULTURE
Through July 6
"Beyond the Streets"; Werkartz
Explore a massive Chinatown gallery filled with works from Shepard Fairey, Retna, Guerrilla Girls, Invader, Takashi Murakami and more
June 1–Aug 18
Grand Performances; California Plaza
Scope out a diverse mix of music, live scores, films, poetry and theater at this water-encompassed stage.
June 1–Sept 2
"The Jim Henson Exhibition: Imagination Unlimited"; Skirball Cultural Center
Immerse yourself in the world of the Muppets creator with classic clips, costumes and historic puppets, including Kermit the Frog, Rowlf and Bert and Ernie.
June 1–Oct 29
"Line & Color: The Nature of Ellsworth Kelly"; Norton Simon Museum
The Norton Simon pairs two complementary series of lithographs: Kelly's delicate line drawings of plants and his bold, abstract color-field pieces.
June 2
"Night Life LA"; Location TBA
Step into a dreamlike environment in Northeast L.A. that's illuminated by a pool of glow-in-the-dark plankton.
June 3–Sept 2
"Made in L.A."; Hammer Museum
The fourth in the Hammer's ongoing series of biennial exhibitions focuses on work created by 32 emerging and under-recognized L.A. artists.
June 16
Bloomsday; Hammer Museum
Celebrate the date on which James Joyce's Ulysses is set with Irish food, music and pours of Guinness, along with dramatic readings.
June 26–Oct 21
"Icons of Style: A Century of Fashion Photography, 1911–2011"; Getty Center
The Getty examines how photographers have influenced the course of fashion and style through 200 photos as well as a selection of costumes, advertisements and magazine covers.
June 29
Friday Flights at the Getty; Getty Center
Ride the tram to the Getty for the first seasonal performance of this art-centric take on a tasting flight, featuring live music and a book fair.
June 30–Feb
"A Journey That Wasn't"; The Broad
The show inspired by the passage of time includes works from the likes of Gregory Crewdson, Andreas Gursky, Glenn Ligon and Anselm Kiefer, as well as the return of Ragnar Kjartansson's The Visitors.
FILM
Ongoing
Rooftop Cinema Club; NeueHouse • LEVEL
Continue the outdoor movie season at the Hollywood and Downtown rooftop series.
Through Sept 15
Eat|See|Hear; Various locations
The outdoor screening series travels to different locales throughout the city each Saturday during the summer.
Through June 28
Melrose Rooftop Theatre; E.P. & L.P.
Sink into a beanbag for film screenings atop the ultra-chic Melrose rooftop bar.
Through Oct 27
Street Food Cinema; Various locations
Follow the food trucks to this seasonal, outdoor screening series.
June 2–23
Last Remaining Seats; Downtown L.A.
Catch a month's worth of vintage crowd-pleasers in some of Broadway's most impressive movie palaces.
June 15
Outdoor Movies at the Skirball; Skirball Cultural Center
Pair the Skirball's Leonard Bernstein retrospective with a screening of West Side Story.
June 19–Aug 21
Moonlight Movies on the Beach; Granada Beach
Pack up your folding chairs and head to Long Beach for this unique screening series on the sand, starting with The Sandlot.
June 21–Sept 13
Silver Lake Picture Show; Sunset Triangle Plaza
Liven up your Thursday nights at this Eastside screening series, beginning with Dirty Dancing.
June 21–Aug 9
Skyline Sound + Cinema; The Bloc
Though Downtown L.A.'s Alamo Drafthouse is still under construction, you can catch an alfresco sampler of its film programming during this inaugural series.
MUSIC & NIGHTLIFE
June 2
Lord Huron; Greek Theatre
The local band plays campfire-ready, harmony-laden folk-pop with echoes of the Old West.
June 2-Aug 25
KCRW Summer Nights; Various locations
Bust a move as this beloved live music and DJ series returns with nights in Pasadena and Chinatown.
June 2
Wango Tango; Banc of California Stadium
See Ariana Grande, Shawn Mendes, Meghan Trainor, 5 Seconds of Summer, NF, Miguel, Janelle Monáe and Marshmello with a special guest performance by Logic.
June 7
Kevin Hart; Hollywood Bowl
Hart's consistent positivity and high-energy comedy make him irresistible to most audiences.
June 8–10
Splash House; Palm Springs
Party by the pool with tunes from top DJs at this multi-hotel bash.
June 8, 9
Yo La Tengo; Teragram Ballroom
The beloved indie-rock institution performs in support of its latest release.
June 16
Diana Ross; Hollywood Bowl
The supreme Supreme runs through her immeasurable and iconic Motown and disco hits.
June 16, 17
A Ship In The Woods Music and Arts Festival; Felicita County Park
Built To Spill, No Age, Bill Callahan and Shabazz Palaces headline this inaugural music fest in Escondido.
June 17
Flying Lotus + Little Dragon; Hollywood Bowl
Avant-hip-hop producer FlyLo shares an evening with the dreamy, dancy quartet Little Dragon.
June 20
Yann Tiersen; The Theatre at Ace Hotel
The brilliant French composer and multi-instrumentalist plays his somber piano compositions.
June 21, 22
Ted Leo and the Pharmacists; The Echo
The witty pop-punk performer plays through Hearts of Oak during this two-night stint.
June 23
Off the 405; Getty Center
Enjoy a free outdoor concert from the Peaking Lights Family Band and evening views of the city at this summertime series.
June 24, 25
Arroyo Seco Weekend; Brookside Country Club
Neil Young, Jack White, Kings of Leon and Robert Plant top the return of Pasadena music and food fest.
June 24
Father John Misty + Gillian Welch; Hollywood Bowl
The onetime Fleet Foxes drummer has a knack for stringing together songs of beautiful despair.
June 27, 28
Post Malone; Hollywood Bowl
The "White Iverson" rapper rides into town with 21 Savage.
See more concerts in our June 2018 concert calendar.
THEATER
Through June 10
Soft Power; Ahmanson Theatre
The contemporary comedy reconsiders recent U.S. political history through the lens of a Chinese executive.
Through June 17
The Color Purple; Pantages Theatre
The brutal, lauded story continues to attract awards and devoted audiences.
June 5–July 1
Henry IV; Japanese Garden at VA West LA
Tom Hanks plays liar and thief Sir John Falstaff in this Shakespearean production.
June 14–Aug 18
Shakespeare by the Sea; Various locations
Expand your mind on breezy summer nights by listening to the words of the Bard for free.
June 19–24
Rodgers + Hammerstein's Cinderella; Pantages Theatre
In this musical, the classic tale gets a luminous retelling with wickedly modern gender politics.
June 21–23
"Cthulhu: the Musical!"; Hobgoblin Playhouse
This Lovecraftian puppet shows arrives in L.A. via Oregon for a three-day run as part of the Hollywood Fringe Festival.
SHOPPING & STYLE
June 7–10
Los Angeles Design Festival; Various locations
Take advantage of tours, exhibitions, panels and parties during this design-focused fest.
June 15
Odd Nights at the Autry; Autry National Center
Head to the latest installment of this monthly market, nighttime dance party, happy hour and shopping extravaganza.
Share the story