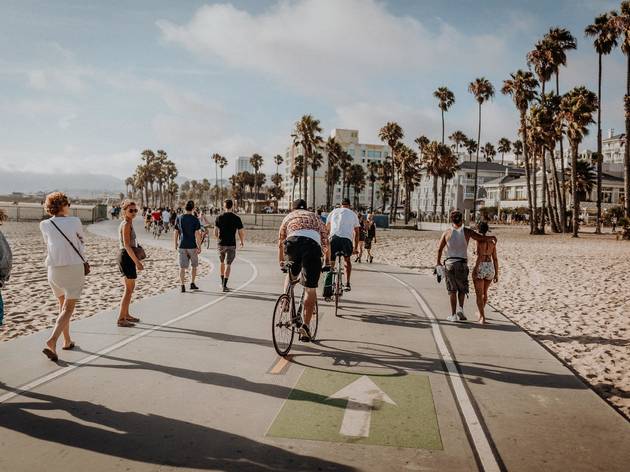 The best bike trails in L.A.
Pedal your way along the ocean, through a valley or around the city on one of the best bike trails in Los Angeles
You've tackled all of the best hikes in L.A. and want to cover more ground on wheels instead—but a scenic drive seems just a tad too lazy. So it's time to hit the city's best bike trails. The Los Angeles streetscape is slowly but surely becoming more friendly to cyclists, while the rugged wilderness surrounding the city presents endless mountain biking opportunities. But somewhere in the middle, you'll find paved paths and designated trails that hug the beach and tour L.A.'s best parks. So get your helmet, pack a few snacks and start pedaling along these routes, the best bike trails in Los Angeles.
Ride along one of these bike trails
Rather kayak the L.A. River instead of biking it?
Summer in Los Angeles isn't complete without a trip to the Pacific, a drink on a rooftop bar and… kayaking the L.A. River? It may not be as pristine as the best beach in L.A., but the river is increasingly becoming a worthwhile outdoor destination. Before you head out on the L.A. River, though, here are a few important things you need to know.