LA city guide: The best food, drink and shopping on Abbot Kinney
From restaurants and bars to boutiques and galleries, here's your essential LA city guide to eating, drinking, shopping and playing on Abbot Kinney.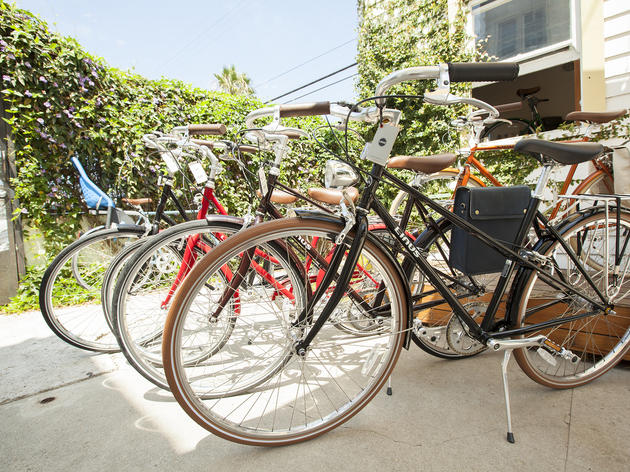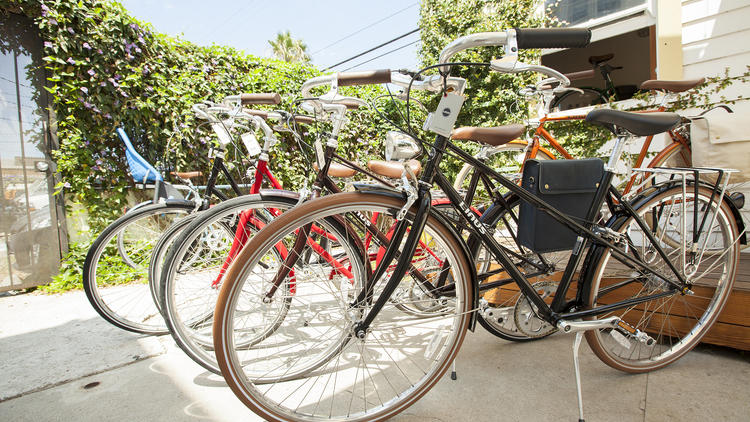 1/7
Photograph: Jakob N. Layman
LA city guide, Abbot Kinney: Linus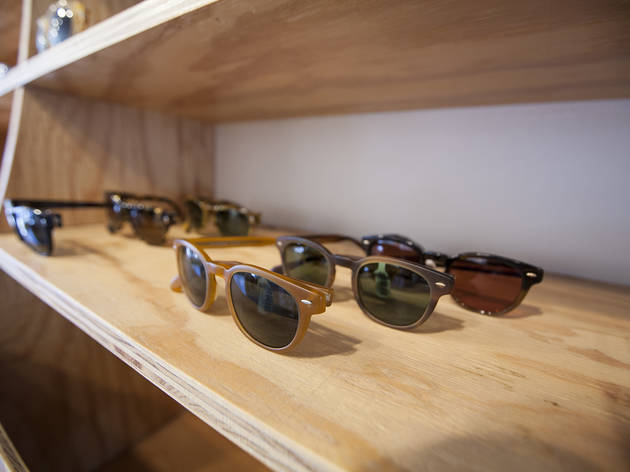 2/7
Photograph: Jakob N. Layman
LA city guide, Abbot Kinney: A. Kinney Court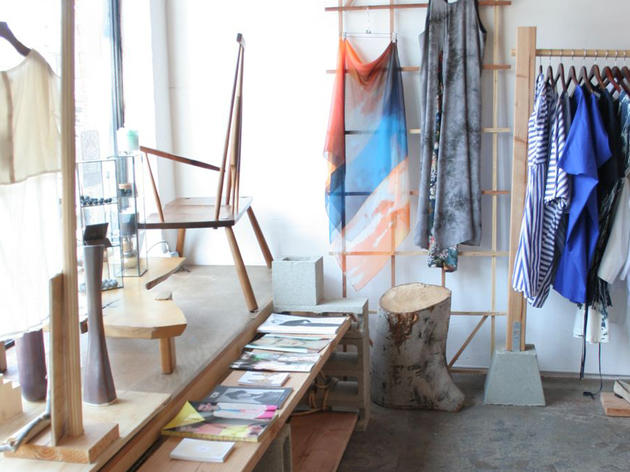 3/7
LA city guide, Abbot Kinney: Weltenbuerger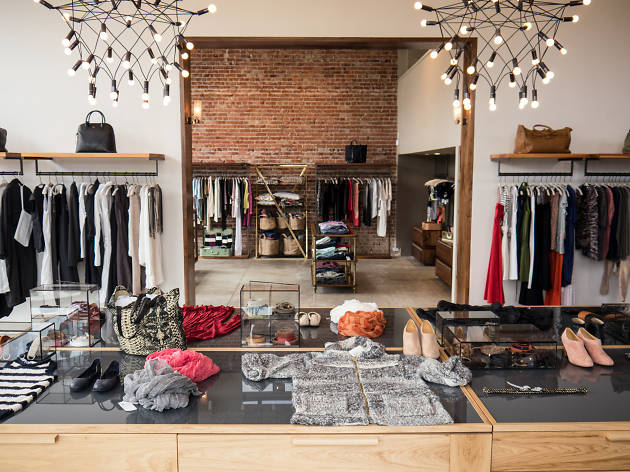 4/7
LA city guide, Abbot Kinney: Heist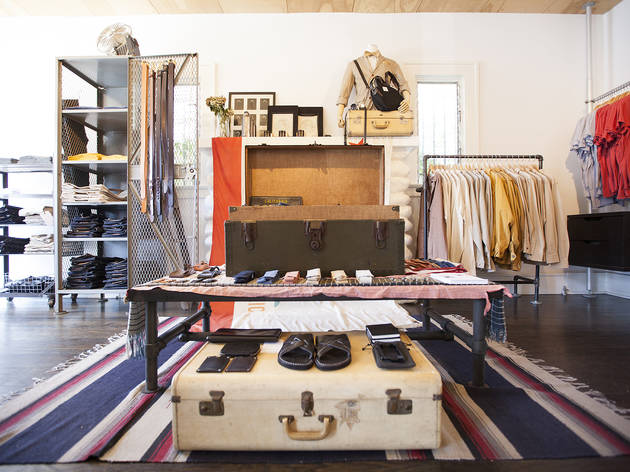 5/7
Photograph: Jakob N. Layman
LA city guide, Abbot Kinney: Milkmade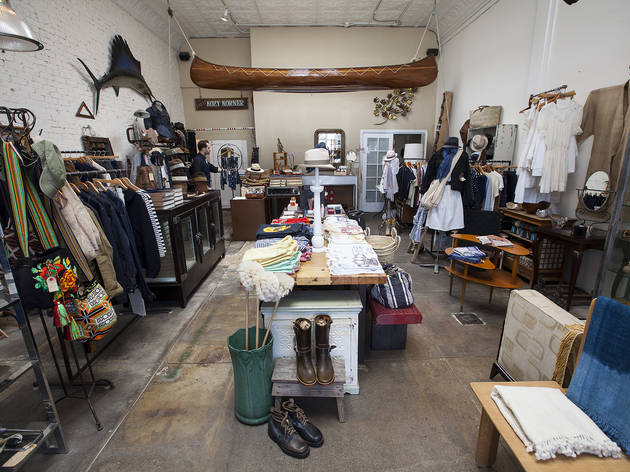 6/7
Photograph: Jakob N. Layman
LA city guide, Abbot Kinney: Bazar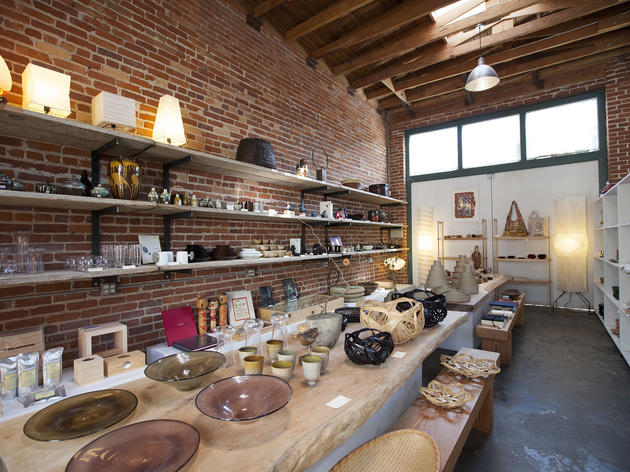 7/7
Photograph: Jakob N. Layman
LA city guide, Abbot Kinney: Tortoise General Store
While Venice's claim to fame may be its beach culture from Dogtown to the Boardwalk, the 'hood's most stylish block, Abbot Kinney, has some of the city's best boutiques, galleries, restaurants and bars. Accessorize in your best beachside casual and hop on your cruiser. Here's your LA city guide and to Abbot Kinney's best places to shop, eat & drink and play.
Shop
Your first stop on Abbot Kinney—where biking is both the mode of transportation and the accessory of choice—is Linus, specializing in bikes that combine form and function. European vintage-inspired cruisers and 8-speeders come in colors like gold and Kelly green. Follow the narrow path into the store's tiny back bungalow and browse the Brooks leather saddles and waxed cotton saddlebags to accessorize your two-wheeler.
Bike in tow, pick up some shades to complete the Venice cool look at A. Kinney Court where owner and AK local Garrett Leight continues his family's legacy—namely Oliver Peoples—in eyewear. Shades and specs include Graz, Thierry Lasry, Leight's own name brand, and yes, Oliver Peoples. Becca Moon and Mark McNairy round out the boots for sale.
Another store that's perfected the effortless boho style is Guild. Father and son Christopher and Michael Rosen's vintage-inspired, white-tiled space carries men's and women's clothing and accessories from designers like Ann Demeulemeester, Haider Ackermann, Rick Owens and Mihara Yasuhiro. Other esoteric names can be found at Weltenbuerger, which features men and women's threads from German designers like Boessert Schorn and Ermie. The Westside outpost of the Silver Lake boutique also carries vintage one-of-a-kinds.
Fashionistas looking for more mainstream labels like Rag & Bone, Alexander Wang and Vanessa Bruno can hop over to Jeannie Lee's follow-up to her 3rd Street boutique Satine. The Venice outpost feels like walking into a friend's dressing room—a small bungalow with a cozy, back seating area—that's perfect for pre-dinner shopping until the store unofficially closes at 8:30pm.
Accessory whores can let their colors shine at Mona Moore where sky high Margielas line the walls alongside Marni bags and Ann Demeulemeester jewelry. A few doors down, Heist stocks a well-curated selection of accessories—Jerome Dreyfuss bags, Golden Goose shoes, and a French-bent closet that every girl would be envious of—think: Isabel Marant prints and Pas de Calais knits. The store's annex Undiscovered has luxe objects for the home—candles, towels, coffee table books and a rack of VPL lingerie.
Guys can outfit themselves from head-to-toe in well-tailored cottons (Apolis, Bedwin & the Heartbreakers) and leather sandals and espadrilles at Milkmade. A proper man's closet wouldn't be complete without ties (skinny knits) and scarves (linen to wool) and a full collection of Aesop bath products.
For vintage denim, Bazar carries jackets and coveted indigo-dyed and hand-spun fabrics. There is also vintage furniture and jewelry largely from Japan and a selection of Santa Maria Novella products and Laguiole knives.
For the home, check out Huset—the word translates to "the house"—where owner Holly Hollberg makes regular trips to her native Sweden to find LA's best selection of Scandinavian furniture, housewares and kitchenware.If Nordic design aesthetic won't work in your rustic farmhouse kitchen, Tortoise General Store carries Japanese goods for the home—from ceramic kettles and bento boxes to gardening tools and stationary. The store has expanded with a back room of pottery and kitchenware as well as a nearby store Tortoise. The gallery-like space keeps with the Japanese theme with Comme des Garcons wallets, out-of-print books, furniture and art. For more irrelevant items for the kitchen—who doesn't need grill tweezers or a potted plant turned outdoor grill—A + R stocks modern knickknacks from kitchen to office for design geeks.
Eat & Drink
Your day starts at Intelligentsia where you'll join locals who queue up for single origin pour-over coffee and expertly-prepared espresso. Snag one of the few seats inside the industrialspace or at one of the communal benches on the front patio. Looking for late night eats? If you're in need of something more virtuous, mini food emporium Local 1205's front juice bar makes raw, organic juices and smoothies with fresh coconuts and homemade almond milk. There's also a deli inside that pays homage to owner Craig Weiss's NYC roots with sandwich meats from New York City's Second Avenue Deli and Katz's.
Axe may look new with its modern minimalist space, but it's a longtime neighborhood favorite for healthy offerings like umami-filled brown rice bowls and the giant, 9-grain pancake for brunch. For more wholesome grains, the dinner-only Shima specializes in brown rice sushi. While traditionalists may scoff, locals saddle up to the sushi bar for buttery wild salmon, red snapper carpaccio with black truffle yuzu vinaigrette and homemade tofu.
Those looking for drinks pack into the Tasting Kitchen where expertly made cocktails are shaken and stirred using seasonal ingredients and rare spirits. For noshing, chef Casey Lane offers housemade charcuterie, handmade pastas and rustic, wood oven-baked meats.
For late night eats, Gjelina serves those wanting to see and be seen until midnight. No substitutions here, but you can't go wrong with one of the wood-fired pizzas and plates of seasonal veggies and salads to share. During the day, the coveted seats are on the back patio where you're likely to spot a celeb or two. For those seeking a more casual option (i.e. milk crates as seating) the restaurant's next-door take away GTA also offers pizzas and sandwiches like the killer BLT made with Niman Ranch bacon and griddled sourdough bread.
Play
Every first Friday of the month, the street comes alive on First Fridays. Art galleries and stores open late and restaurants and bars open their doors for a neighborhood block party. Food trucks—Kogi, Coolhaus, Grilled Cheese, Flying Pig—line the streets as live music sets the mood. Parking is impossible, so get there early—although the party isn't in full swing until 10pm—or find a spot behind Abbot Kinney on Electric Avenue.
Sunday and Monday nights (8-11pm, 9pm-midnight, respectively) are when locals stop into Hal's Bar & Grill for live jazz. Come for the music and stick to the bar menu and beer list.
Venice has historically been home to artists and the block's galleries feature locally crafted furniture, jewelry and fine art. Altered Space has an indoor-outdoor space that features jewelry, furniture, sculptures and paintings from local artists. A more formal gallery space from former director of New York's Milk Gallery, Kana Manglapus Projects features rotating exhibits of mixed media from emerging talent.
Locals only
The street's business owners share their Abbot Kinney favorites
Tina Wakino, owner of Bazar
"There's a real sense of community in Venice and transportation is by bicycle, skateboard, or foot. So, it's impossible to travel even a block without bumping into one or two people you know. Everyone's out and about in the streets and interacting with each other."
Favorite cup of java: Intelligentsia
Hans Röckenwagner, Chef/Owner, 3 Square Café/Röckenwagner Bakery
"What initially drew me to Abbot Kinney in the '80s and then again 6 years ago [when 3 Square Café and Röckenwagner Bakery opened] was its creative, independent streak. It's one part West Village with its fantastic boutiques and its au courant design shops and one part Berlin's Mitte with its irreverent pop-up stores, art studios and eclectic food scene. Plus, we have the weather and the beach. There's no other street in the world quite like Abbot Kinney."
Favorite stores: Tortoise and A+R
Craig Weiss, Owner, Local 1205
"Abbot Kinney is my home. I put my future and heart here. There are a lot of soulful people here who live their lives with integrity and want to improve their lives."
Favorite restaurant: Shima. "It's the only place I know of in LA that makes homemade tofu."
Christopher and Michael Rosen, Owners/Designers, Guild
"Abbot Kinney is the only place in LA where you can park your car, eat, shop and spend a whole day here if you wanted to."
Favorite Restaurant: Tasting Kitchen. "I've never had a bad meal there. The quality of ingredients is incredible. I will rarely eat pasta outside of Italian restaurants, but I will eat their homemade pasta."
Rose Avenue: the new Abbot Kinney?
A few blocks from the famed Venice hot spot, Rose Avenue is enjoying a moment. The beautiful people have arrived and flocked to eateries like the vegan, raw NorCal import Café Gratitude—following up its Larchmont location with an expansive, light-filled indoor/outdoor space—and Superba Snack Bar which evokes an Argentinian hacienda, albeit one that has the block's best people-watching.
Join the brunch and happy hour crowd at Oscar's Cerveteca, which offers an extensive selection of beers on tap and by the bottle, along with beer-battered Baja fish tacos and LA Street Dogs that pay homage to the city's bacon-wrapped dog.
Forget the usual list of cold-pressed juices. Moon Juice's menu may seem intergalactic—and prices exorbitant—but hardcore juicers find a home with the offerings of bee pollen, probiotics and anti-inflammatory maca in their smoothies.