The best laneway bars in Melbourne
Some of Melbourne's best bars are hidden away in the colourful and malodorous laneways of the CBD. Here are a few of our favourites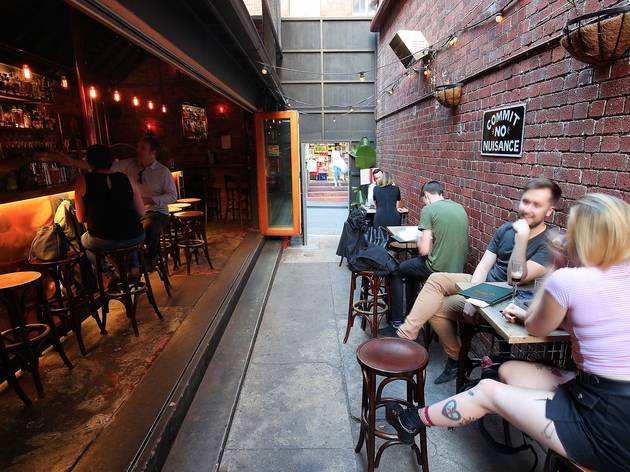 It's pretty safe to say that the more difficult a Melbourne bar is to locate, the better it is (once you're finally in there, that is). Knowing where to find drinking institutions like EDV and Lily Blacks is pretty much a prerequisite for all cocktail-loving locals.
For an even closer look into the city's bar culture, browse our guides to Melbourne's best wine bars, whisky bars and cocktail bars.
RECOMMENDED: Time Out's guide to the best laneways and arcades in Melbourne.
The best laneway bars in Melbourne
1
Friends can be flaky, partners can get mean, but a good cocktail bar can make you fall in love with it over and over again, which is why we're still hopelessly enamoured with Romeo Lane. The bar has struck that perfect balance of comfort and class: all your cocktails come in beautiful cut glassware; Tom Waits is on the stereo, followed by a little Stones and Levon Helm covering Springsteen; and on a chilly night staff will fire up the open fireplace to turn the charm offensive up to 11. And we haven't even got to the impeccable drinks list yet, under the steady hand of Joe Jones, whose palate is responsible for the best drinks in the city right now.
2
Unlike its older, slightly more formal counterpart, Bar Tini is inspired by the Spanish bodegas you stumble upon by accident: where sherry and vermouth flow freely, cured legs of Iberico pigs are an acceptable meal, and premium seafood comes out of a can. The cheers here focus on fortifieds, with a big selection of sherries (six by the glass, 13 by the bottle) and a hefty wine list you'll have to ask for, formatted by regions in Spain, with helpful description of the geography and what to expect from wines in those areas. On the food front, there are obligatory croquettes, tortillas and smallgoods, but keep an eye out for daily seafood specials.
3
A nondescript, dumpster-strewn alley no more, Mornane Place has finally borne fruit with the arrival of a very late night bar with some seriously good eats. It has long marble bar, seating for 40, clever lighting and a good part of the Grossi cellar stored behind glass like a votive offering to the god Bacchus. The wine list is as Aussie-Italian as the Grossis themselves, with plenty you'll recognise and a subset that will have you plugging grape varietals into Google. A push into the world of cocktails has enlisted Grossi neighbour Joe Jones of Romeo Lane to the cause.
4
If you like cocktails, whisky, blues, good service and eating Reuben sandwiches at 2am, Beneath Driver Lane is your heaven. Occupying an old bank vault in the CBD, this bar has a Harry Potter feeling that's rare in a city whose subterranean spaces are sorely underused. John Lee Hooker grinds his twelve bar over the soundwaves, combining with the fit-out and the sharp service to give this place a feeling that's equal parts Melbourne, Chicago and Diagon Alley. The folks behind the bar are all practised professionals; personable, knowledgeable and looking sharp in black chef coats.
5
A grande dame of the Melbourne bar scene, this louche, basement-level cocktail lounge has been keeping people loose and liquored for just shy of 20 years. The default drinking spot among the city's post-shift bartenders, plus tie-loosened office workers and huddles of tourists, Vernon Chalker's enigmatic speakeasy is at its hedonistic best as the night wears on. With a few drinks under your belt, the swathes of velvet, tapestry and animal print take on a bordello-chic vibe.
6
You could almost fly a paper plane from Ferdydurke's balcony over to bar/restaurant Belleville. Accessed via Globe Alley, this expansive space fills the entire first floor of the former Globe Hotel. Snacks are Asian-inspired (kim chi quesadilla with bulgogi beef, or mushroom san choy bow), but the main event is the chicken. The rotisserie is firing from 11am to 1am, seven days a week. The drinks list boasts a substantial wine selection with accompanying terroir map and encourages patrons to play cocktail bingo.
7
Laneway bars are synonymous with Melbourne, and Union Electric has effortlessly woven itself into the fabric of the city. Owners Huw Griffiths and Shane Whiteley have been part of institutions like Madame Brussels and the Royal Saxon, so when they struck out on their own, it's no surprise they captured the hearts of city drinkers. Fresh produce is serious stuff at Union Electric. While many bars may avoid using too many raw ingredients, Union Electric use daily pressings of fruits, micro herbs and housemade vinegars and syrups to bring their menu to life.
8
This is a venue that refers to itself as "pretty much the best rock'n'roll bar in the world"; a venue that an infatuated Noel Gallagher once offered to buy; that turned away Lady Gaga's request for an after party because a local band had already been booked. In its 17 years, this rough-and-ready dive bar has shaped Melbourne's live music culture, pushed for positive change in the music industry and pulled more pints for off-duty rock stars than we could drink in a lifetime. Seven nights a week, the bar's soft red glow illuminates the graffiti on AC/DC Lane and ensnares young revellers and weathered rock dogs making their Cherry pilgrimage.
10
Bar Americano, if you can get in, is a proper Italian-style bar, where you can get an Americano (as in a long black), an Americano (as in a cocktail of sweet vermouth, Campari and soda) and an Old Pal (that's rye, sweet vermouth and Campari in the international language of tasty drinks).
11
Gently lit by lamps and candles, this easily missed little bar offers a cosy hideaway from the fuss and noise of the big, mean city. Part of Murmur's attraction has to do with the friendly, skilful staff, but the bar itself embodies old-fashioned charm and the drinks menu is thicker than War and Peace.
12
Prop up the three sided bar or settle into a dark leather booth amongst the art deco lamps and potted palms to give their list a workout. It's all twisted pre-30s classics and custom cocktails here, and you'll be served by a wisecracking crew who rock slicked back quiffs and waistcoats, make their own bitters and hand cut ice to order.
13
This jazz-infused shrine to the cocktail on Malthouse Lane stands for inevitable moral destruction – and one hell of a good time. It boasts science lab gadgetry, casual good-time vibes and one helluva whisk(e)y collection, all rolled into one dark-hued leather-bedecked den of fine drinks.
More of Melbourne's best bars
Time Out's editors tortured their brains (and destroyed their livers) to bring you this: the definitive guide to drinking in Melbourne.