The best Sunday roasts in Melbourne
Sundays are for long lunches over a comforting pub roast and a cold pint. Here are some of the best around Melbourne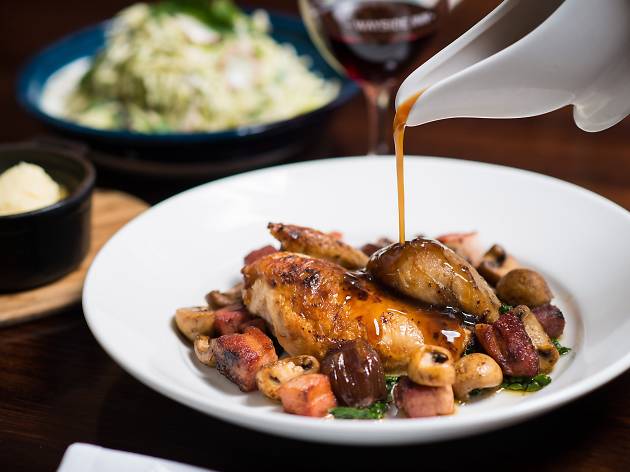 Melbourne pubs do long, weekend lunches very well, especially when hearty roast meals are involved. We've rounded up some of the best around town, from classic dishes with all the trimmings to gastropub takes on old favourites.
1
Weekend lunches doesn't get any better than this. For $30, you get a glass of house Shiraz or Chardonnay at Middle Park from noon to 10pm. The best part is, the deal is available on both Saturday and Sunday. Get in early, especially if you want to score a view of the telly to watch some sport.
Check prices
Read more
3
You may have heard about their amazing steaks, but the Wayside Inn's juicy rotisserie chooks also hit the spot when you need a fixing of comforting food. Beautiful cuts of chicken, which are slow roasted whole in a rotisserie cabinet oven are cooked daily. Available from noon, the roast chicken are is served with all the trimmings and plates start from $38.
Read more
4
Sunday roast at the Auburn is served in the sophisticated Wine Room or the cozy Dining Room. Available from 1pm, the roast of the day is served with all the trimmings for just $19.
Read more
5
The Exchange's weekly Roast Collection offers three different kinds of roasts every Sunday, which is served with roast vegetables, potatoes and trimmings. Priced from $20, Sunday roast meals are available from noon until sold out. Locals love long lunches at The Exchange, so book in early.
Read more
6
This historic South Melbourne gastropub do weekend lunches right, and people know it. The pub fills up on weekends as people flock in for their roast of the day served on Saturday and Sunday. For $37, diners get one hell of a pub meal with all the trimmings. Bookings recommended.
Read more
7
The $20 Sunday roasts at Golden Gate comes with a pot of James Squire or a glass of wine. A stone's throw away from the South Melbourne Market, this pub is an ideal destination for a leisurely post-shop lunch.
Read more