The best hot chocolate in Melbourne
What better way to warm the cockles than with a rich, deep mug of hot chocolate?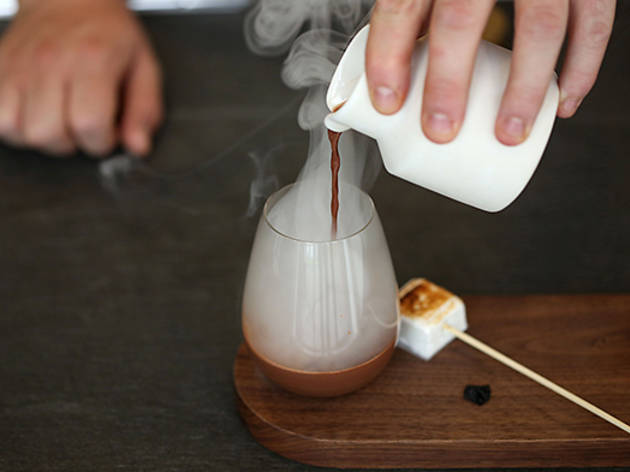 The humble hot chocolate has come a long way from the days of Nestle powder. We're particularly spoiled here in Melbourne, with venues taking to mugs of gooey, molten chocolate with the same sort of all-consuming fixation usually applied to coffee. Head to one of these venues for Melbourne's best hot chocolate; or, if you're looking for other ways to escape the gloom, why not try Melbourne's best dumplings or pubs with fireplaces instead?
The best hot chocolates in town
Staff roast and winnow raw cacao at this chocolate factory, so no surprise the hot choc is a serious affair – served in an appropriately serious-looking terracotta vessel. If in doubt, go for the ultra-rich 70 per cent Monsieur Truffe couverture hot chocolate.
Home of the #HashHotChocolate, an Instagram-friendly beverage consisting of a flask of Mörk hot chocolate poured into a cup piled high with milk-flavoured fairy floss. When chocolate meets floss, the impressive white bouffant evaporates into the chocolate river.
This artisan chocolatier sticks the better part of a block of their finest dark choc into your mug here. And because it's winter, and why the hell not, they can whack in a good pinch of chilli to cut through the rich chocolate if you want. Hot in every sense of the word.
Who says you can't take hot chocolates to the next level? Order the Campfire Chocolate at the Mörk's concept store and you'll get a smoke-fogged stemless wine glass, served with a little beaker of hot chocolate, plus smoked salt and a toasted marshmallow. This is everything but classic.
Maybe this is more your cup of tea...
Can we tempt you with a mini-cupcake while you decide from a list of 20 different varieties of tea? One of the best things about taking high tea is the undeniable feeling of old-world luxury – not to mention justifying a meal of comprised mainly of cakes.