The best places for a Friday work lunch
Dining with co-workers doesn't have to be awful. Here Time Out's top picks for a Friday work lunch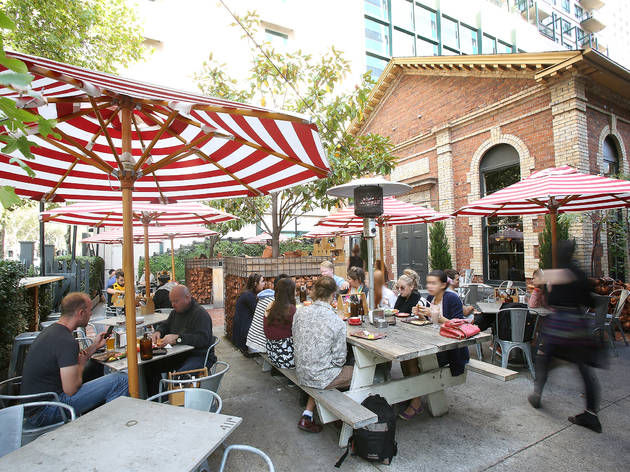 Dining with co-workers can be awful or awesome, and a lot of it has to do with picking the right venue. Where you go will depend on where you work but here are our tips to point you in the right direction.
The cardinal rules of the work lunch
Don't pick somewhere expensive, unless someone's got a company card and either has permission to use it, or is kamikaze quitting.
Do pay for your interns. You can use it against them when they complain about being under-appreciated.
Don't be exclusive. You want a courtyard for tobacco fans, and a menu that caters for vegos, lactose-fearers and glutenorexics.
Do set the agenda. Are you drinking? How much? Are you going back to work? When?
Don't go somewhere with slow service – spreadsheet chit-chat runs out fast.
Do make sure there's good beer and cheep beer in case you get stuck in rounds.
Don't go to a titty bar.
Do go to a schnitty bar.
Where to have a Friday work lunch
1
The George crew don't even flinch if everyone asks to pay separately. Try and get the big table out the back and go the chicken burger.
Read more
2
They have a courtyard and serve everything from chicken parmas to deep-dish pies in double-plus-size with a good selection of craft beers on the side.
Read more
4
Team Movida turned a shipping container into a taco hut, which means you can claim the sunny terrace outside Movida Aqui for fish tacos, tunes and cervezas smack bang in the middle of the CBD.
Read more
5
It's a quick, cheap, high-variety option where everyone can drink tea and get back to work. Pick an order-boss and go hard on a mix of dumplings, steamed broccoli and pork buns.
Read more
8
This ski lodge-esque house of crumbed goods caters to vegetarians and carnivores alike, and is built for big groups. It's a pricier option (expect to pay $20 for your parma), but the little Victorian craft beer selection is killer.
Read more
More of Melbourne's best meals
Here's to sandwiches, champagne and Sunday roasts. Lunch, we salute you and all of your delicious possibilities.
Read more