The best pizza in Melbourne
A list that's guaranteed to make'a you happy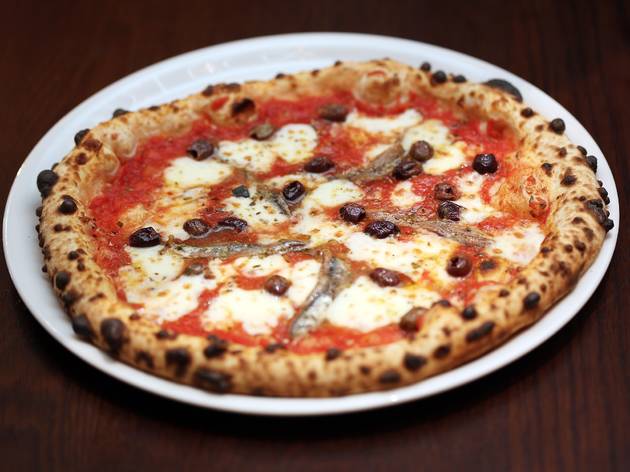 Light crusts, rich tomato bases, fresh toppings: that's amore, pizza-lovers. We've eaten our way around Melbourne to find the best slices; in no particular order, here are ten restaurants worth crossing town for. Still hungry? We can also give you the low-down on Melbourne's best pasta, burgers and dumplings. Prego!
Melbourne's top pizza joints
1
Don't dial +39, dial 03 to book a place. Yes it's loud, but you won't be doing much talking when these doughy delights hit the table, which boast a particularly beguiling and buttery-tasting base. The 'sole et luna' is pure genius: half ham and cheese calzone and half margherita.

Our pick: The Plus 39 (sausage, mascarpone, prosciutto, fior di latte)
Read more
2
As winner of the World Pizza Championships, you'd expect 400 Gradi to know what they're doing. And they do. With the pizza oven cranked up to 400 degrees, the bases are chewy and puffed up around the edges. It's a beautiful canvas for the 'Frutti de mare', where scallops, prawns and mussels unite harmoniously on a tomato base.

Our pick: The Margherita
Read more
3
Expect a queue and charismatic Italian staff at DOC – the flagship to outposts in Albert Park and Mornington. Thin crust pizzas are pumped out promptly: the verdant 'Salsicca' is an interesting combination of broccoli mash, mozzarella and sausage. Fresh and perky salads are no afterthought.

Our pick: The San Daniela (prosciutto, mozzarella)
Read more
4
Compass might not be an award-winning pizza joint, but its old-school charm (and prices) makes it the sort of place you'd rely on for a quick takeaway or a mid-week dinner down the road. The menu is classic to its bones, save for a few contemporary touches, like the option of vegan cheese and gluten-free bases.

Our pick: The potato pizza (potato, caramelised onion, rosemary, leek, taleggio)
Read more
5
The aptly named Pizza Meine Liebe has taken the hearts and bellies of Northcote locals. They top their thin and crispy bases with radical ingredients (broccoli, silverbeet, braised lamb) and use choice ingredients like air cured meats, seasonal vegetables and delicious cheese combos for the ultimate stretch. Local's tip: you can order a pizza from Joe Shoe Store next door if you're after a cocktail.

Our pick: The New Romantic (buffalo mozzarella, anchovies, rocket, truffle oil)


Read more
6
A caped pig for a logo, a boisterous atmosphere and a disco ball — Lazer Pig is a lot of fun. The pizza comes out big with puffy bases (perhaps a little too burnt on some edges) and some quirky combinations. The 'Prawn Fraser' has lemony-chilli spiked prawns while the 'Broc Steady' keeps the vampires (and possibly your Tinder date) at bay with a heady dose of garlic.
Our pick: The Ronny J (pork and fennel sausage, fior di latte, roast jalapenos, Hurstbridge honey)
Read more
7
According to A25, "Pizza is sexy" and we're certainly not going to argue. Owner Remo Nicolini has pizza running through his veins – his brother Tony Nicolini owns the D.O.C. restaurants. Remo shakes things up a bit by experimenting with alternative flours like kamut and spelt for his base, and toppings are likewise unorthodox with date cream, Italian sausage and licorice dust on the L.S.D. pizza.

Our pick: The Bunga Bunga (tomato, mozzarella, Italian sausage, porcini, parsley, parmesan)
Read more
8
Lucky south-east suburbanites who get to worship at Pizza Religion. While there are the classics – say, a pumpkin and pesto or a mushrooms and taleggio – there are also more curious and unconventional toppings. The chorizo, prawn and chipotle is one such mash-up. And yes, there's a ham and pineapple for those who bat for Team Pineapple.

Our pick: The Lamb (pulled lamb shoulder, olive tapenade, fetta, oregano)
Read more
10
It's time to face the brutal truth: pizza by the slice is an enabler. At SPQR, four pizzas offer themselves up by the $5 slice on the kitchen pass like a beautiful guilty conscience. Go on, they whisper… just one. And add a Peroni for a $10 meal deal. At which point it is prudent to accept that your fate is an orgiastic love-in of carbohydrates and cheese, and promise yourself that the activated almond-paleo-superfood diet will begin tomorrow.

Our pick: The cotto (fior di latte, smoked leg ham, mushroom, artichoke and basil)
Read more
11
This is a pizza joint that's been doing god's work every weekend by offering Fitzroy's late-night stragglers with warm slices of pizza past midnight. Open until 3.30am on Friday and Saturday, Shawcross's by-the-slice pizzas are just the right amount of greasy, and there's even a vego/vegan option for the meat-averse. Ask for local favourites like their take on the Margherita dubbed the Fat Tony. Planning a party? Order the 22-inch monster pizza, available in half-and-half.
Our pick: The USA Today (pepperoni, mozzarella, oregano)
Read more
12
For those who cannot stomach gluten, relief comes in the form of Pizza Farro. They cover all bases here with a low gluten organic spelt base, as well as a completely gluten-free dough. The 'Osso Bucco' is – you guessed it – slow cooked osso bucco, rocket and parmesan, artfully plonked on a pizza. Vegans even get their own specialised menu here.

Our pick: The Osso Bucco
Read more
Show more
Looking for pasta instead?
Sample the flavours of Tuscany to Sicily at Melbourne's finest Italian eateries
Read more