The best restaurants on Smith Street
From fine dining to cheap eats, Smith Street is one of the most searingly-hot dining destinations in Melbourne. Here are the eateries you need to know about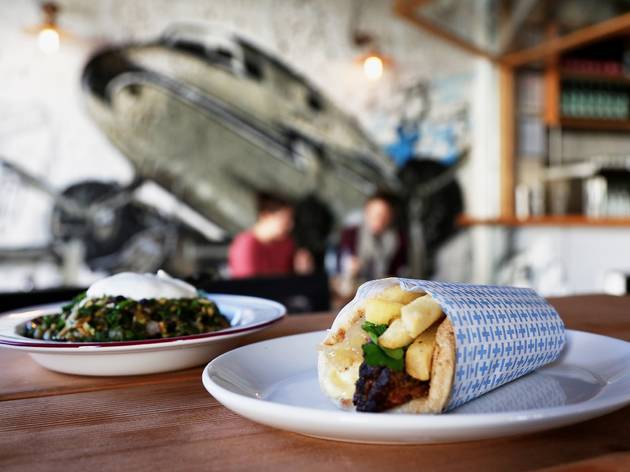 Smith Street's gentrification in the last few years isn't all bad news. The late night kebab shops of old are still there for your 3am hot chips, but you can now pre-empt your bar hop through Collingwood with some of the best food this side of Victoria Parade. Thirsty? Follow up your meal with a bar crawl through Smith Street.
For more dinner ideas, check out the best restaurants on Flinders Lane and Lygon Street.
You probably haven't heard of Peter Gunn but here's a tip: remember that name. Ides represents not only the long-time Attica sous chef's first restaurant but a Platonic ideal of modern fine dining. Ides is a minimalist operation with only 36 diners a night, only a six-course degustation, representing pretty decent value at $110 a head. Expect fun fine dining.
With so many culinary stunners on Smith Street, it's easy to forget other restaurants who have been going at it without the continued hype that surrounds other establishments like Messina and Huxtaburger. White Kimchi is one such restaurant. The Korean eatery doesn't have a website or a Facebook page, but they're dishing out some of the tastiest Korean food this side of Smith Street with their simple and classic Korean fare.
The Collingwood/Fitzroy area isn't short of late-night kebab and souva joints, but Shane Delia's Biggie Smalls will shake up your late night kebab game. The Maha head chef and owner's kebab store is named after the late Notorious B.I.G and, naturally, the menu references rap's golden age.
Before you ask, there are no veggie burger options, no chicken fillets, teriyaki sauces or wholemeal buns at Huxtaburger. No sir, the slogan here is 'hot beef, cold beer' and that is what you get.
It seems George Calombaris's new favourite thing is making souvlakia (If you haven't had one at Gazi, go now), and in a few weeks he'll be giving Yah Yahs fans a new last port of call.
Sometimes your best dish can become your worst enemy. At Rockwell and Sons, Manu Potoi (ex-Attica) and Casey Wall (ex-Cutler and Co) may want you to be all about their share plates but everyone's lining up for the 'double patty smash burger' and fried chicken burger and there's not a damn thing they can do about it.
This excellent restaurant by chef Scott Pickett (co-owner of the Estelle) and Joe Grbac (ex-Press Club) takes on both chefs' fine dining experience and plates it up in a more affordable and casual setting. Try their sharp two- or three-course set menus where local produce are championed.
Owners Pat Breen and Lydia Wegner'are ramen renegades, who make their buckwheat noodles in-house and are pushing an eclectic mix of Japan's favourite soup, Chinese-style pork buns, frosty shakes and dessert pies. If you're wondering whether smashing a bowl of soup and a milk drink is a good idea, it's not. But do it anyway.