The best takeaway lunches in Melbourne
You're onto a good thing with snacks-to-go in this city. Here are our top picks to put in your lunch pail...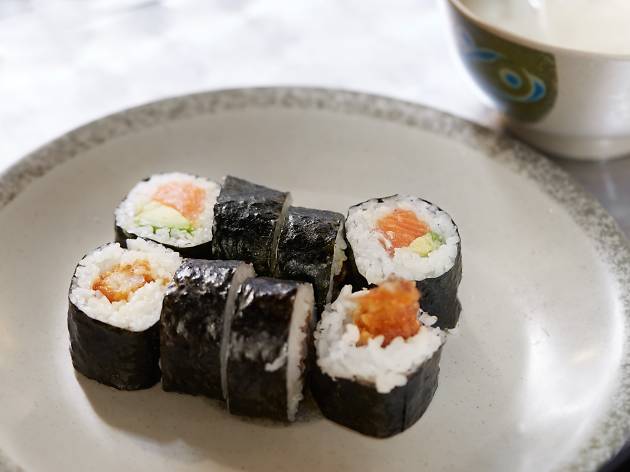 Salad for lunch in Melbourne
Sandwiches for lunch in Melbourne
1
Follow the lead of the local constabulary and make a beeline for The Grain Store's 'table of inspiration'. It's an enormous kitchen island laden with chicken sandwiches, pies, quiche and salads. There's a plate of the world's tiniest bacon and scrambled egg sambos but for our money the fish finger sarnie is the pick of the table.
Read more
2
Earl Canteen disrupts the simple sandwich by taking restaurant-quality ingredients and putting them between two slices of bread for made-to-order lunches. Think tender pork belly, smashed meatballs, beer battered flathead fillets and harissa lamb in soft, Turkish-style rolls.
Read more
4
The perfect place to get an unpretentious sandwich to eat on the Flagstaff Gardens lawns. The owner, Jerome Dadon, has been supplying his own signature blend of coffee beans to Melbourne cafés for three years now, so you're guaranteed a great brew too.
Read more
Sushi for lunch in Melbourne
2
Purple Peanuts does excellent brown rice sushi – fresh, tightly wrapped nori rolls with added vitamin B. If that's too healthy for you, check out the Japanese take on a burger, a slab of fried chicken marinated in soy, ginger and sake and whacked in a Turkish bread bun.
Read more
Soup for lunch in Melbourne
More of Melbourne's best meals
Here's to sandwiches, champagne and Sunday roasts. Lunch, we salute you and all of your delicious possibilities.
Read more