Things to do in Melbourne in April
April's best events in one place – it's your social emergency saviour for fun things to do in Melbourne in April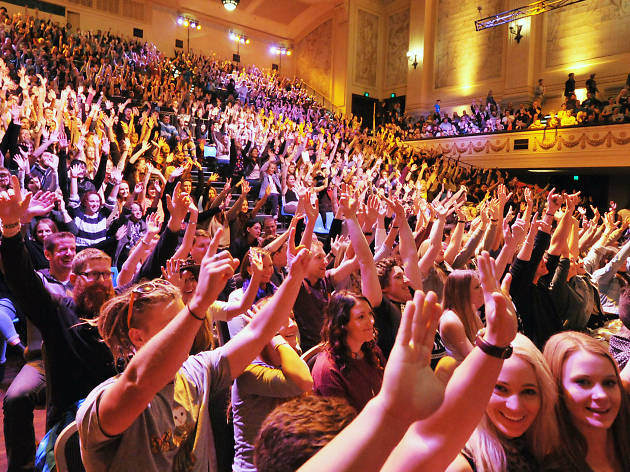 Wondering what to do in Melbourne in April? We can help. Check out our guide to all the fun things to do in Melbourne, from free events to exhibitions, theatre shows, live music and more. For rainy days, consult our guide to Melbourne's best indoor activities instead.
Shopping
Peanut Farm Reserve, St Kilda
The volunteer-run Veg Out Community Garden's farmers' market, open the first Saturday of each month, overflows with local organic produce, jams and preserves, handmade bread and sundry delights to fill up your basket. This blue-eyed bloke's name is Rod Blake, but his customers know him as Blakey. On any given Veg Out Saturday market, you'll find him swapping stories with a young couple while weighing bendy zucchinis, or talking footy with the 10-year-old son of a long-term customer. "Nearly everything here – kale, capsicum, gem squash – were all picked yesterday," explains Blakey. Along with his wife Meg, Blakey's been growing organic produce at their Grampians farm for over two decades, ever since he parted ways with pesticides ("nasties!"). At 10am, the Bellellen Grampians Organics stall is buzzing over the sound of a busker playing acoustic guitar. Stocks are depleting, but the two never falter in their back-and-forth energy and banter, despite getting up at 1am. "I'm staying in Melbourne tonight because I've got a little party to go to!"
Each Saturday and Sunday the Rose Street Market gathers some of Melbourne's most exciting artists and designers to display their wares and talk all things handmade. Weave your way through the crowds and duck into the warehouse to check out the handmade fashion, food and curios for sale. The artists are usually on hand to compare crochet needles and discuss their work, so drop in for a squiz, a chat and a haircut from the resident hairdresser.
Shopping, Markets
Gasworks Arts Park, Albert Park
If all you sell is raspberries (or olives, or rhubarb, or honey), then you've got to have a pretty strong passion for them. Every third Saturday of the month, enthusiasm for high quality local produce runs like electricity at this Port Melbourne arts space, and your tastebuds will feel it too.Grab a fresh, crusty baguette to go with your market haul salad for later, stock up on seasonal produce and a treat or two for afternoon tea (handmade chocolate biscuits, anyone?).The Gasworks Farmers' Market is plastic free so make sure to bring your reusable bags, baskets and coffee cups.
See what's on this weekend in Melbourne
Music, Music festivals
Rochford Winery, Coldstream
Wine Machine returns to the Yarra Valley in 2019 for another epic celebration of all things booze, tunes and dancing. Rochford Estate will provide the picturesque festival backdrop and there will, of course, be barrels of wine and food trucks to keep you moving and grooving. There will also be handpicked Australian bands performing to further assault your senses. Last year saw the likes of Sneaky Sound System and Hot Dub Time Machine on the line-up. Grab your sunnies, sunscreen and your mates and get ready for Wine Machine on April 6. Register using the 'buy tickets' button above for further announcements and ticket releases on Wine Machine's website.
See what's on this weekend in Melbourne
Tick off our Melbourne bucket list
Introducing your Melbourne bucket list: 50 awesome boxes to tick in Melbourne before you die. Ready, set, go!