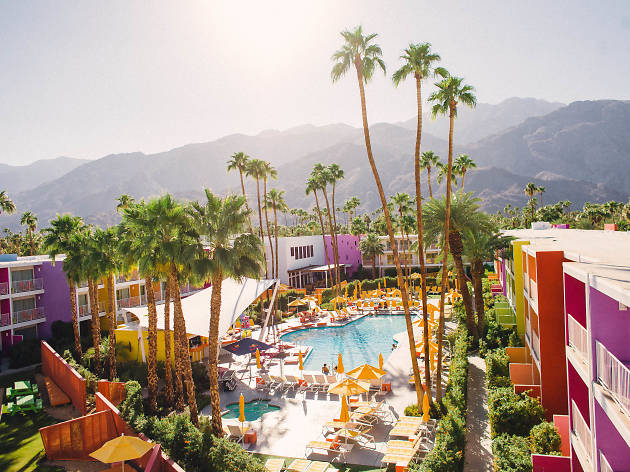 Palm Springs: travel tips for California's hip desert town
Cactus gardens, cool hotels and pool parties: here's how to make your friends jealous while travelling in Palm Springs
Two hours outside Los Angeles is Palm Springs, a Californian desert town that feels ripped from 1960s Hollywood. It's been beckoning visitors with its handsome mid-century vacation homes, arid landscape and perpetual pool vibes for years, so it's high time you took a peek at what all the fuss is about.
Whether you're making the trip for Coachella or just looking for an out-of-the-box getaway from Los Angeles, here's our guide to navigating this resort town with ease.
Looking for more international escapes? Read our guides to Austin, Santiago and New Zealand's North Island.
Things to do in Palm Springs
Head towards Tramway Road by car, and you'll arrive at this canyon-hugging gondola ride. Board a car and take the 10-minute ride up to the top, where you'll be rewarded with an incredible view over the Coachella Valley (there's also an intense temperature drop up there, so come prepared). Pro tip: this gondola car rotates, so don't worry about snagging a spot by the front windows. You'll get a good view wherever you stand.
This is the desert, so it won't be too out of the blue to see a cactus or two during your stay in Palm Springs. But here at the Cactarium at Moorten Botanical Garden, you'll find more than 3,000 different desert plants from around the world. The family-owned garden dates back to the 1930s and is packed with prickly varieties of cacti. Be sure to poke your head in the greenhouse too.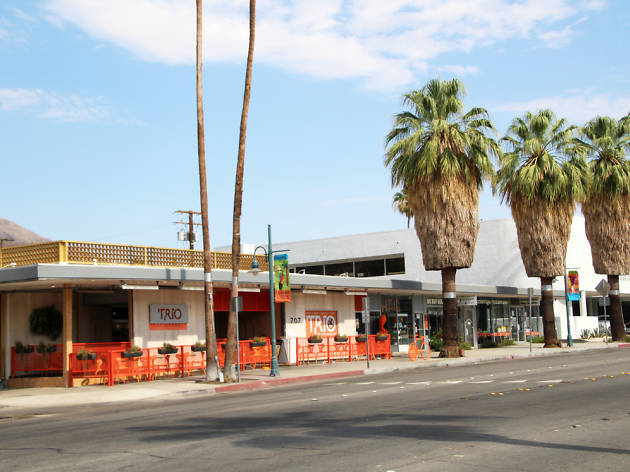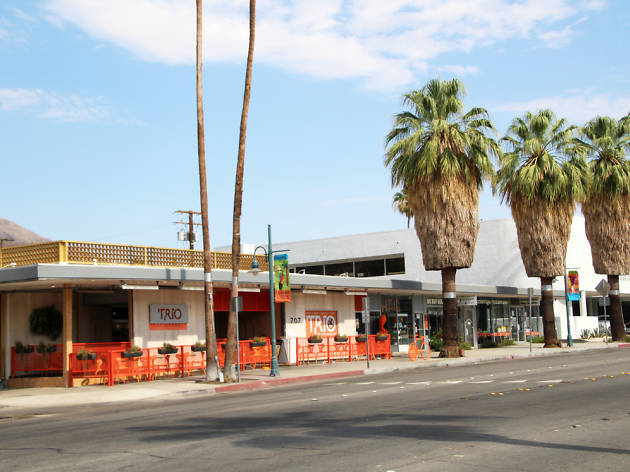 Photograph: Supplied
3. Cruise and shop along Palm Canyon Drive
One of Palm Springs' main drags is Palm Canyon Drive. It's here you'll find retro galleries, furniture stores and antiques showrooms selling gorgeous mid-century goods. Thanks to its huge floor-to-ceiling shop windows, it's prime for window shopping. Keep in mind though that it might cost you an arm and a leg to ship that authentic 1976 corner couch and matching lampshade, so it's best not to bring your wallet if you tend to be a little impulsive.
Palm Springs is an icon for mid-century modern architecture, and architecture enthusiasts and local historians have worked extremely hard to maintain this status since the style popped up during the 1950s and '60s. While many of the homes you'll drive past during your Palm Springs stay are private abodes, if you hop on one of Palm Springs Mod Squad's 90-minute architecture tours, you'll get an all-access pass into these fabulous homes. Their Martini and Mid Century Architecture Tour takes you past the homes of some of the biggest stars of the '60s Rat Pack, including Frank Sinatra, Dean Martin and Marilyn Monroe. In true Hollywood fashion, you'll even stop for a Martini on the way.
Speaking of drinks, you've gotta head to Melvyn's. Known as a hangout for Frank Sinatra, this old-school lounge bar slings strong drinks well into the night. Be sure to request a song from the bar's pianist, who plays anything from Ol' Blue Eyes to Debussy.
This bright, colour-blocked hotel is way less cheesy than it looks. Located close to the action, The Saguaro is a massive hotel that boasts ample amenities, nice staff and a ripper spa and pool. Park yourself in a yellow lounge chair and 'gram the hell out of it. Honestly, it'd be rude not to brag about this place.
Fifty minutes north of Palm Springs is Joshua Tree National Park, one of America's most striking national parks (especially if you're a U2 fan). Whether you're here for the hikes, the camping or just some straight-up nature porn, J-Tree delivers. The stargazing is choice, and in March you'll see tiny wildflowers blooming all over the lower elevations. Short on time? Head out on an Adventure Hummer tour, which will take you to the upper desert and into the heart of Joshua Tree to learn the park's natural history and climb the rock formations.
Looking for something closer to home?
These day trips from Melbourne are paved with cool things to see and do, and driving means you won't miss a thing along the way.