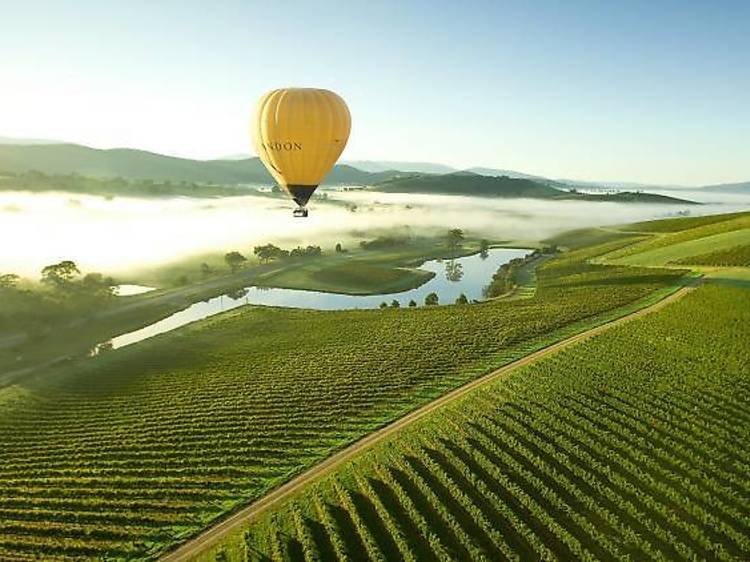 Photograph: Visions of Victoria
If you're an early riser (or you can convince yourself to be one, just this once), book a sunrise flight over the valley from Global Ballooning. As you drift over the rolling hills and verdant vines, drinking in the vistas while thinking about the sparkling wine breakfast awaiting you when you touch down, the early start will have been well worth it.
Feeling arty? At TarraWarra Estate you'll find TarraWarra Museum of Art, the region's top gallery, which features Australian art from the second half of the 20th century. The gallery has an ever-changing program of temporary exhibitions, so you'll always find something new and thought-provoking.
A mandatory stop is at Yarra Valley Chocolaterie and Ice Creamery. The modern-day Willy Wonka shop is a colourful wonderland, filled with chocolate of all shapes and varieties. Perhaps best of all, chocolate drops of milk and dark varieties are available for in-store snacking while you browse.
In the picturesque Healesville Village, you'll discover shopping, cafés and food producers – pack a cooler bag to take some of the local delights home from Kitchen & Butcher.
One of the highlights of the region is, of course, Healesville Sanctuary, which focuses its conservation efforts on native animals. Arguably the most thrilling experience at Healesville Sanctuary is the Spirits of the Sky show. Free with the cost of admission, the show is a spectacular demonstration of the beauty and power of Australia's birds of prey and parrots.