The best New York pizza for families
Bring on the cheesy goodness! These delicious New York pizza slices (and pies) are sure to please kiddos of any age.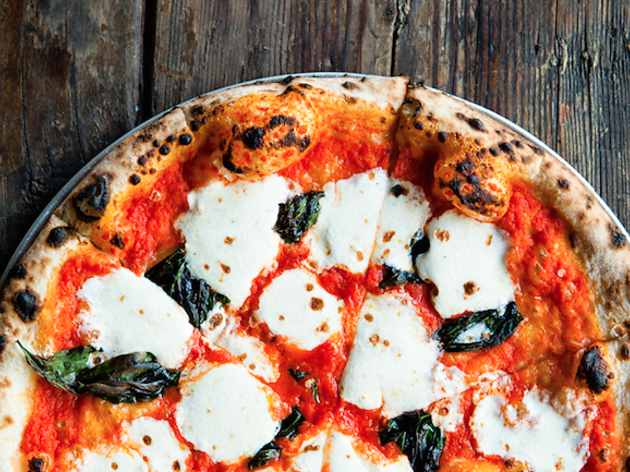 Try this amazing New York pizza on for size! Whether you love it decked out in buffalo chicken, cheesy as humanly possible or simply in the form of classic margherita pizza, one thing's certain: Nothing beats a slice of New York's best. Try the amazingly tasty picks below for a guaranteed great slice (and feel free to share your other favorites in the comments).
For more delicious picks, try our favorite make-your-own-pizza spots, ramen in NYC and fun family dinner ideas you can make yourself.
The best New York pizza for families
1
The painstakingly crafted Neapolitan pies—cracker-thin crust with a pleasing char and a subtle Parmesan zing—are widely considered among the city's best; dough is made fresh several times a day. There are also cheesy calzones and plenty of specialty toppings on offer. To keep kids occupied during the wait at this classic pizza joint, point out the window boxes full of herbs used to flavor the sauce.
Read more
2
Pizza hobbyist turned pro Paul Giannone produces truly original pies at this rustic Greenpoint eatery. The best pizzas here are mixed-media masterworks with gorgeously blackened crusts covered in crispy nooks and pillowy bubbles. The Honey Jones—a frequent special featuring honey from a Brooklyn beekeeper, Gorgonzola, mozzarella, cherries and wispy prosciutto—beautifully balances sweet and salty. The Rooftop Pie includes crunchy Brooklyn-grown kale, gorgeously singed atop mozzarella and sausage. Ask for a seat in the back for a view of the roaring oven—a custom-built, while-tiled dome that burns up to 1,000 degrees.
Read more
3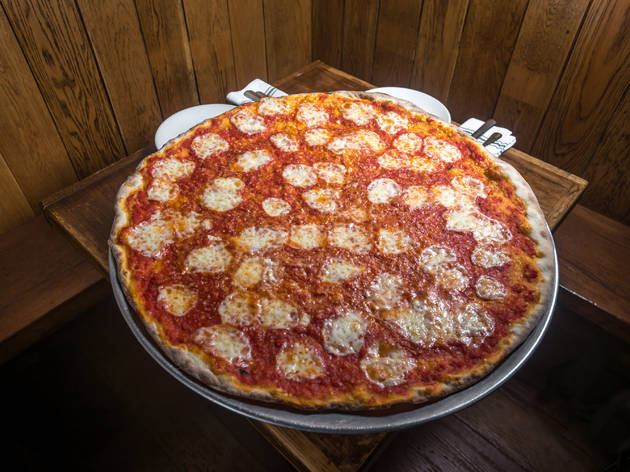 Rubirosa Ristorante
For irresistible thin-crust pies, head to this family-owned pizzeria on the outskirts of Little Italy. Load up on house-made mozz, vodka sauce and roasted peppers, because —whatever your fancy, the dough—the recipe of which is a 50-year-old family secret—can definitely handle it (it's a 50-year-old family secret and magical enough to handle a smorgasbord of add-ons). You're gluten free? No problemo! Any classic option is available on sans-gluten dough, so you can inhale all the carbs your pizza-loving heart desires. 235 Mulberry St (212-965-0500, rubirosanyc.com). Pies $18–$28, additional toppings $2–$4/additional topping
4
The husband-and-wife team behind this popular Park Slope restaurant truly prioritizes the quality of ingredients that go into its pizza. The produce and dairy is largely local or organic, and the meats are from sustainable sources, so you can trust that you're serving the kids wholesome slices. Neighborhood families fill the tables regularly to chow down on wood-fired, Neapolitan-style pies with light, airy crust that's complemented by flavorful homemade sauce and loaded with just the right ratio of toppings. Expect some noise during your dinner, because Franny's is packed with pint-size patrons. 348 Flatbush Ave (718-230-0221, frannysbrooklyn.com). Pies $20–22.
Book now
Read more
5
Got show tickets? Make a night of it and head to this spacious midtown spot, whose custom-made pies are big enough for little pizza lovers to share (or take home for tomorrow's lunch). With a menu full of Italian staples, John's makes it easy for tykes to delve into generous servings of baked ziti or eggplant parmigiana, both dripping with melted mozzarella. A slice of traditional New York cheesecake (a cliché, of course, but this is Times Square) is the perfect pretheater sweet-tooth fix. Remember your server—she just might be the next player you see on Broadway.
Read more
6
Though the restaurant's industrial look and tight seating area might not seem welcoming to families at first, this ultra-popular Bushwick spot will surprise you. Roberta's makes great use of its layout with long tables and bench-style seating, and once-long waits have been slashed thanks to the takeout and delivery operation next to the dining room as well as outdoor dining in the courtyard during warmer months. Pizza options change with the seasons, but favorites, like the Bee Sting and Speckenwolf, can often be ordered even if they're not on the menu on a given date. 261 Moore St (718-417-1118, robertaspizza.com). Pies $12–$19, $1–$5/additional topping.
Read more
7
When it comes to great pizza, consistency is key! Many Staten Island families have been getting their slices here since 1951, and from the decor to the dynamite pies, not much has changed decades later. The crumbly sausage is a customer favorite, but adventurous eaters might like to try seafood spins with clams or shrimp, or the mysterious-sounding Garbage Pie (with sausage, meatballs, pepperoni, mushrooms and onions). If you're not in a rush, dine in to show the kids the old-timey photos of Staten Island that decorate the restaurant's walls. 524 Port Richmond Ave (718-442-9401, deninossi.com). Pies $13.50–$22, additional toppings start at $2.
Read more
8
This Forest Hills favorite doesn't have a century-old coal brick oven to brag about, but it doesn't need one. The pizza—charred to perfection in a simple gas-fired number—speaks for itself. Nick's provides high chairs for your half-pints, plus a straightforward roster of pizzas to suit everyone's fancy. You can go half red, half white to get a taste for two styles or dig into calzones stuffed with fresh mozzarella. Come hungry (Nick's sells whole pies only), and bring cash! 108-26 Ascan Ave (718-263-1126). Pies $15.50–$18.50, $3–$4.25/additional topping.
Read more
9
There's a pie for everyone at this laid-back Neapolitan wood-fired pizza joint, which has locations in the East Village and Williamsburg. Picky tots can go for the classic Margherita ($15), while parents may want to try the Brussels sprout pie with pancetta ($16). Stop in for a midday meal with the kids and get the prixe-fixe lunch special (Mon through Fri; 11am–4pm) including their choice of pizza, plus a green salad ($17.07).
Read more
10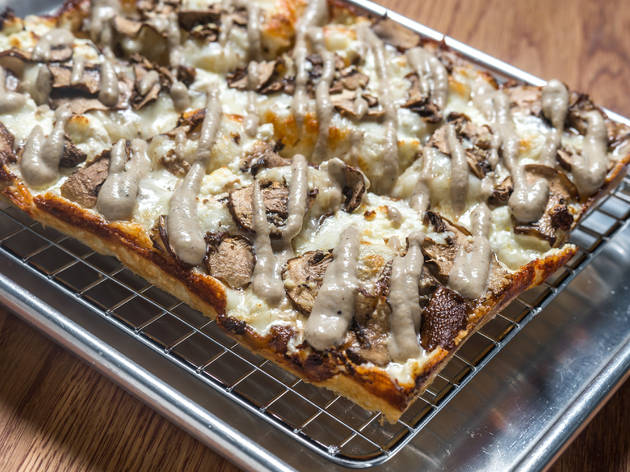 Emmy Squared
Branch out and try (gasp!) a Midwestern-style pie—even if it's only once. The flour-dusted couple behind Clinton Hill's Emily (919 Fulton St; 347-844-9588, pizzalovesemily.com) embraces Detroit's square, deep-dish–esque pies at this Williamsburg joint. Youngsters who usually leave their crusts for Mom and Dad will have no problem finishing off slices of the red-sauce smothered Roni Supreme or the white-sauced Marn Blanc. The shatteringly crisp outer edge of caramelized, cheesy crust that gives way to a soft and chewy inside will have your tykes totally hooked, though it's best to leave your tiniest tots at home since the long and narrow layout isn't ideal for strollers. 364 Grand St (718-360-4535, pizzaloveemily.com/emmy-squared). Pies $15–$21, additional toppings $2–$5/additional topping.
11
The pies served at Eataly's La Pizza & La Pasta restaurant are made with the freshest Italian ingredients…even your pickiest eaters might be tempted to try new things! This talented culinary crew ensures everything reflects the way it's done in Naples, from stretching the dough to making the sauce to getting that perfectly charred crust. The red and white pies are designed to feed just one person, while the oval-shaped Fru Fru is perfect for indecisive families—one third is classic Margherita, one third has prosciutto and arugula, and the last has ricotta and ham. 200 Fifth Ave (212-229-2560, eataly.com). Pies $15–$22.
Read more
12
Dollar-slice spots are everywhere in the East Village, but this cozy restaurant is the go-to place for real-deal Neapolitan pies. If you want authentic, you've got it! Pizzaiolo Michele Iuliano emigrated from Italy to NYC, bringing knowledge of the craft straight from his hometown of Naples. Families will appreciate the old-world decor and the energy of this cool spot: Luzzo's definitely doesn't deliver a passive dining experience, since kids get to watch round, mozzarella-studded pies make their way out of the coal-fired oven in the back. To change things up from typical choices, try rolled-up pizza a frusta (it's like stromboli…so how can you go wrong?) or a pizza cone, stuffed with toppings like prosciutto and arugula. Make sure to bring bills, since credit cards are not accepted. 211–13 First Ave (212-473-7447, luzzosgroup.com). Pies $17–$25.
Read more
13
This Bensonhurst standby, famous for its thick Sicilian slices, has been in the same spot since 1939, and it's still going strong among the young-gun joints that dominate the borough. Make sure the kids come hungry—the square pies, built atop pillowy dough with a crunchy crust, are swiped with sweet tomato sauce, layered with sliced mozzarella and dusted generously with Parmesan. Round pies are also on offer, but nothing beats eating a hefty corner slice of the classic square on the patio, followed by spumoni or Italian ice for dessert. 2725 86th St (718-449-1230, spumonigardens.com). Square pie (12 slices) $21, full tray (24 slices) $40, round pie $15, $4.25–$5.95/additional topping (whole pies only), $2.75/slice.
Read more
14
Swerve around the famously long lines at Grimaldi's in Dumbo and find fine pies just a few feet away. When Patsy Grimaldi sold his namesake joint, he opened Juliana's and started slinging his famous coal-fired pies right next door. The place has a concise menu of blistered Margherita, marinara and white pizzas for diners to top as they please, plus special pies, simply labeled No. 1 through No. 6. Grab counter seats so the bambinos can watch the pizzaiolos at work. 19 Old Fulton St (718-596-6700, julianaspizza.com). Classic pies $18–$21, $2–$6/additional topping, special pies $21–$32.
Read more
15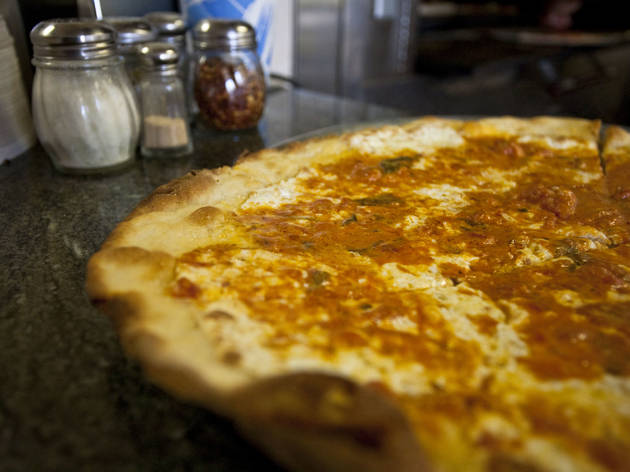 Joe & Pat's
The pizza dough at this family-owned parlor is patted down by hand, instead of stretched, to keep it thin and bubble-free, and every pie nails that perfect collage of tangy sauce and melty mozzarella. Tempt young taste buds with typical white and red to square Sicilian or slices slathered with vodka sauce or even topped with some tasty fried calamari. Bring cash because credit cards are only accepted for dine-in customers on select days, so things can get a little complicated. There's also a $2 fee for delivery, but that includes use of the warming ovens that keep the pies super toasty on their way to your door—and who can argue with that? Hot pizza is the best pizza. 1758 Victory Blvd (718-981-0887). Pies $10–$16, $2–$3/topping; $2.50–$3.40/slice, .75/topping.
16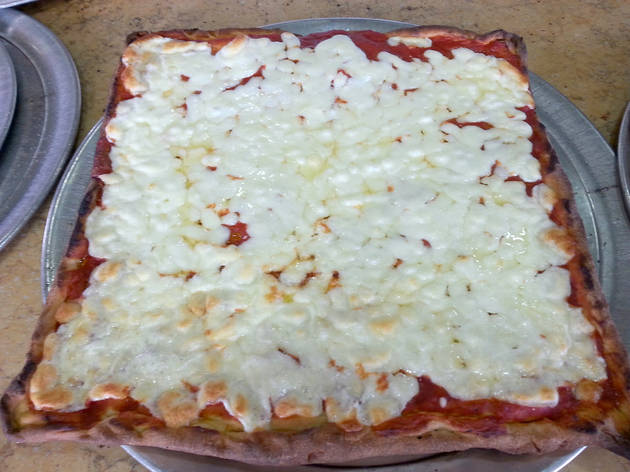 New Park Pizzeria
If Howard Beach is merely a transfer point on your way to JFK, you might want to consider a pit stop on your next trip. This joint, located off the Belt Parkway, has been in business for more than 55 years, cementing its spot in the community and hearts of pizza lovers; the owners even offered free slices when many locals were suffering post–Superstorm Sandy. Regulars know to ask for their slice "well done," which means it gets popped into the oven until the cheese is extra bubbly and starting to brown. 156-71 Cross Bay Blvd, (718-641-3082, newparkpizza.com). Pies $17.50, $3.50/additional topping; $2.75/slice, $.75/additional topping.
17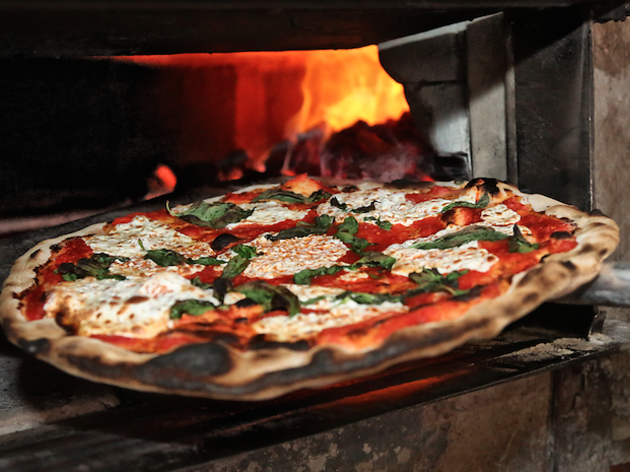 Patsy's Pizzeria
Visit the dinosaurs at the American Museum of Natural History, and work up a mammoth appetite before stopping in for a bite at the Upper West Side outpost of this legendary pizzeria. The first shop opened in East Harlem in the '30s, serving Sicilian, coal-oven–fired pies. Grab a booth and share a large pie: they come in old-fashioned–square, thin-crust pie, or round varieties, dappled with toppings like mushrooms, sun-dried tomatoes, sausage and meatballs.
61 W 74th St (212-579-3000, patsyspizzeria.us). 13" pies $18, 17" pies $21, square pies $23.50, $1–$3.95/additional topping.
18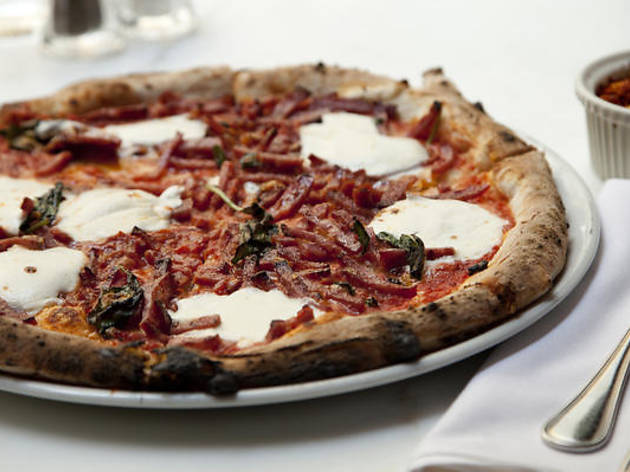 Zero Otto Nove
Cap off an afternoon of wandering through the New York Botanical Garden or checking out awe-inspiring exotic critters at the Bronx Zoo with dinner in the borough's own Little Italy: Arthur Avenue. The Belmont neighborhood has long been home to many Italian eateries, and this high-ceilinged spot will make your brood feel like they're dining at a real-deal trattoria. The Salerno, Italy–born chef serves mouthwatering thin-crust pies with a crispier texture than Neapolitan-style, which sometimes gets deliciously soupy in the center. 2357 Arthur Ave (718-220-1027, 089bx.roberto089.com). Pies $8.95–$17.95.
19
Nicoletta
Don't be intimidated by the no-reservations policy at this modern pizzeria; it's a hidden gem that's still easily accessible, even with its dedicated following. Hand-tossed house pies like Calabrese—which is loaded with thick-cut pepperoni, sausage and onions—are family favorites. Let budding chefs get creative and build a custom pie (at lunch you can even design your own slice) with their choice of veggies, meats and cheeses. On Mangia Mondays, the Classic pie is just $10, plus parents can take advantage of all-night happy-hour deals. Build your own gelato sundaes to satisfy your sweet tooth. 160 Second Ave (212-432-1600, nicolettapizza.com/new_york). Pies $18–$24, $.50–$2.50/additional topping, $2.50–$3.50/slice (lunch only).
20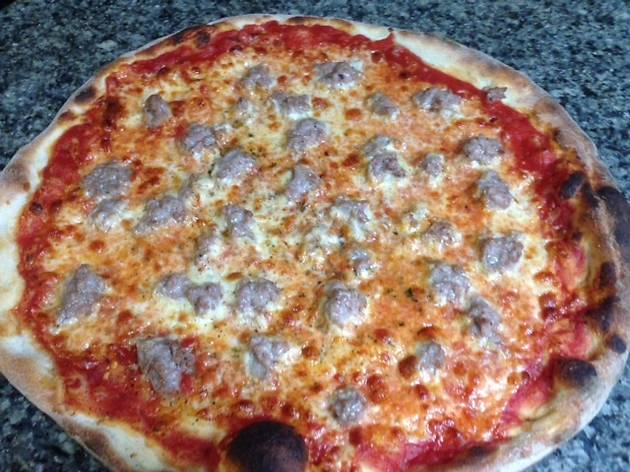 Louie & Ernie's Pizza
No matter how many artisanal pizzerias pop up, it's tough to compete with time-honored favorites like this family-owned Bronx spot. Louie & Ernie's aces the basics, whipping up round and square pies with golden-brown crust, textbook sauce and gobs of mozzarella. Regulars swear by the sausage pie that's loaded up with fennel-studded chunks made fresh by a butcher just down the street. The brick-arched shop is in the lower level of a Schuylerville home, and the no-frills decor only adds to the laid-back, old-school vibe. 1300 Crosby Ave (718-829-6230). Pies $14–$16, $3–$4/additional topping, $3/slice.