Things to do with kids in NYC this Sunday
Discover the best family-friendly events for making the most of your Sunday with the kids
Sunday, April 30
You might think you're suddenly in Japan at the BBG's legendary spring festival celebrating the peak of the cherry blossom season. The Japanese tradition of Sakuri Matsuri (cherry blossom festival) celebrates spring, the arts and the great outdoors with a slew of cultural arts and general merry making. All ages.
Read more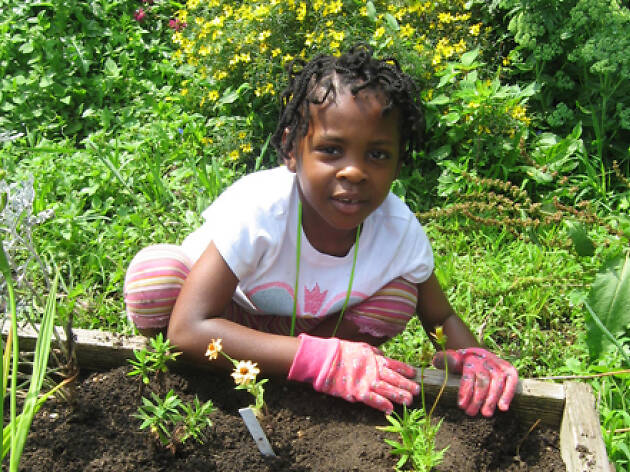 Arbor Festival
Eco enthusiasts can do more than just hug a tree at the garden's festival: They'll get the chance to plant one as well. Nature specialists and seasoned gardeners will be on hand to guide kids through the gardens, plus families can check out craft vendors, meet zoo animals, get their faces painted, listen to live music, participate in workshops and go on a bird walk. Parents can also indulge in the beer tent. Check the website for the full schedule. All ages.
Wave Hill celebrates Arbor Weekend by inviting families to take a closer look at its trees. Through bark rubbings, burlap, cheesecloth, leather and other materials, participants will created their own projects centered around the textures provided by the woods. All ages.
Read more
Let you kids enjoy some screen-time guilt-free with BAMKids' selection of excellent kid-friendly films that everyone in the whole family can appreciate. On April 9th see the story of a pig who marches (and herds sheep) to the beat of his own drum with Babe or go on April 23 for Studio Ghibli's phenomenal animated adaptation of The Borrowers, The Secret World of Arrietty. If you're family wants to see what's new in film come to the Best of BAMKids festival on May 7th and see the "Bammie" Award-winner for best short film. Screenings take place on Sundays. Ages 2 and up.
Read more
If your kids are fans of the Emmy-nominated PBS animated series Wild Kratts, they're sure to be blown away by this real-life theatrical show. Brother duo Martin and Chris Kratt step out of the screen and onto the stage to take audiences on an educational and comical adventure through the animal kingdom. Learn some Wow Facts! on large multimedia screens before the brothers take off on a mission to recover a stolen invention from the clutches of villain Zach and his Zachbots. Ages 4 and up.
Read more
Watch the classic tale of Alice in Wonderland revamped in vaudeville aesthetics circa 1915 by the New York Theatre Ballet. See old friends like the White Rabbit, the Mad Hatter, the doormouse, the card-playing Queen of Hearts and of course, the flaxen-haired heroine herself, Alice performing a wide range of dance forms (think Irish step dancing, African dance and ballet). Ages 3 to 8.
Book now
Read more
The Rubin Museum hosts Family Sundays every month with a line-up of free family-friendly activities revolving around a monthly theme. Throughout April, families will explore all there is to know about sound through a variety of art workshops. This month's theme will coincide with OM Lab, an interactive project that asks families to offer recordings of their "Om's" to be included in upcoming summer exhibition "The World is Sound." Ages 3 and up.
Read more
This performance from the Golden Dragon Acrobats includes high-wire balance acts, feats of contortion, jugglers and acrobats known around the world for their jaw-dropping tricks. All ages.
Read more
The story of The Three Billy Goats Gruff gets a new twist as it takes on the issue of climate change. Goats have trashed their world and it's up to a young goat named Gruf to make the others realize the importance of turning their toxic habits around. With the elder goats set on drilling for fuel through the last bit of green land left, it's a story that's very relevant and eye-opening. Children will learn about earth preservation through puppetry, comedy, laser effects, and songs. Ages 4 and up.
Read more
It's the first day of flight school where birds are taught to leave their nests, but Penguin is told that he isn't built to be a flyer. With some help from his friends, Penguin will find his wings and join the others in the sky in this theatrical performance. Ages 2–7.
Read more
Show more
See all Sunday events