Heads up! We're working hard to be accurate – but these are unusual times, so please always check before heading out.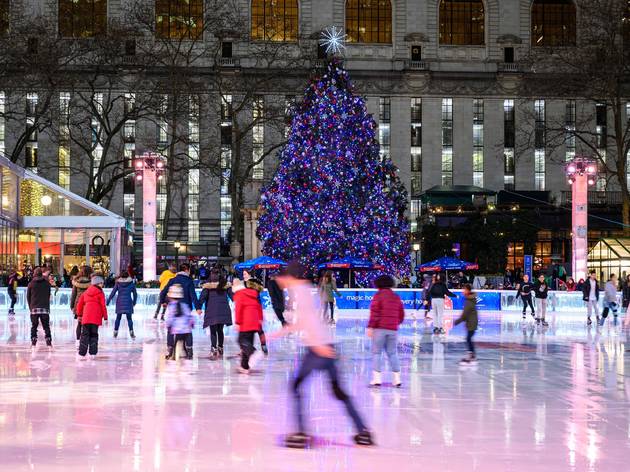 Cool things to do with kids in NYC this winter break
Online classes, drive-thru shows, exhibits—they're all on the list of things to do with kids in NYC this winter break!
School's out, and you'll want to make the most out of your time off. Our list of things to do with kids in NYC this winter break can certainly help.
A combo of online classes, Christmas events and museum exhibits have made the list! If you'd like to venture out at a distance, these options are great. If you'd prefer to stay in, we'll make sure your time at home is engaging.
When is winter break?
Winter break for New York City public school students runs from Dec 24–Jan 1. See our guide for the rest of the 2020–2021 NYC school calendar.
Winter break activities
Winter Village is on its way to Bryant Park! Every year, the midtown green space transforms into a holiday wonderland, complete with shops, sweets, ice skating, a Christmas tree and more. Things will look a little different in 2020: The event will be spaced out appropriately, everything will take place outdoors and timed skating sessions will be required. (Tickets open at the end of October.) Visit the Bryant Park website for more details. All ages.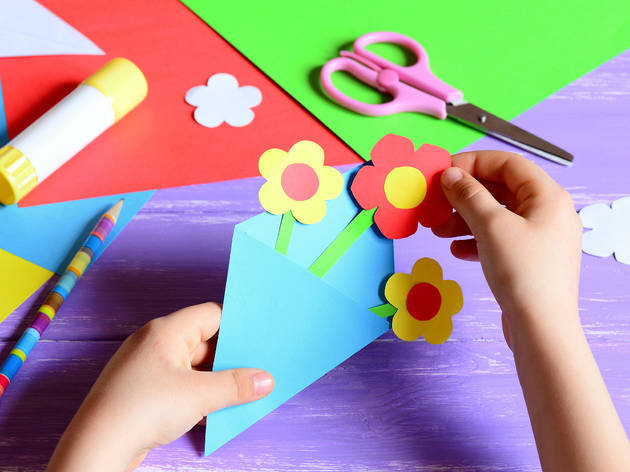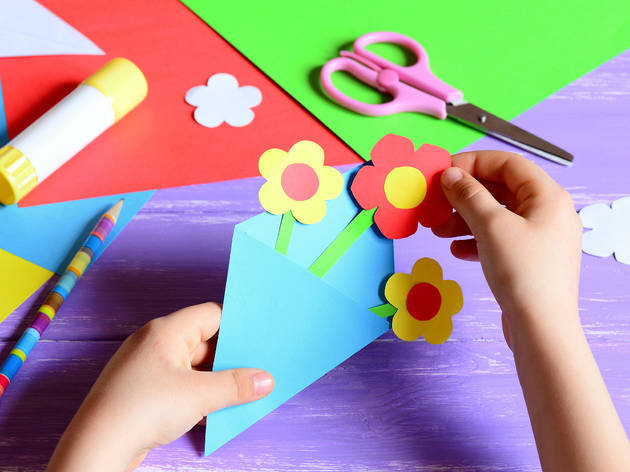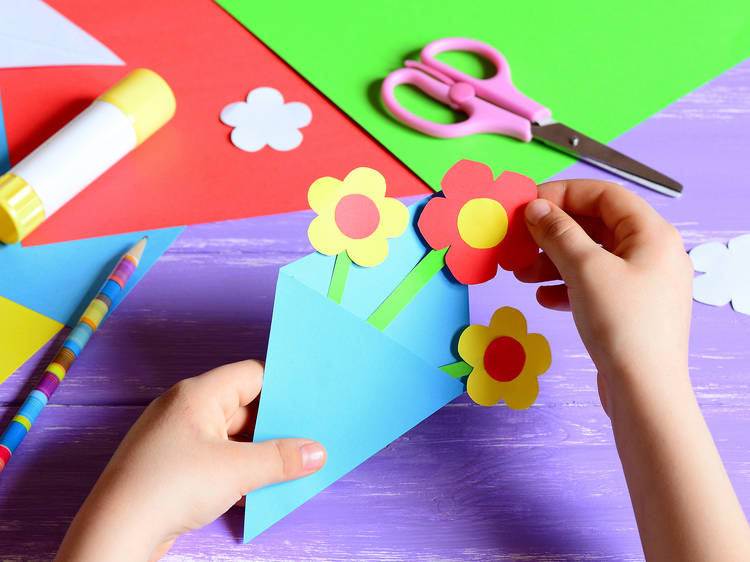 Photograph: Courtesy Shutterstock
2. Check out classes on Sawyer
From cooking and crafts to dancing and singing, Sawyer makes classes accessible to all children. There are virtual or in-person options to peruse, and plenty of cool options to choose from while the kiddos are off from school!
From online classes and small, in-person pods to art kits (think dream catchers, beads, paint, etc), Private Picassos has something for everyone this break. Go online or call ahead to see what's happening and when. All ages.
School's out, but the kitchen's open. Taste Buds is holding winter camps for those ages 6–15 both virtually and in-person (at a distance). All recipes are vegetarian and many can be adjusted to be gluten-free, dairy-free or egg-free! Book as soon as you can!
Techies can tinker with a bunch of cool projects while they're off from school. December Break Fundays include themes such as: Let's Party, Puppy Party and Party Like It's Not 2020, all of which are a combo of games, crafts, project and—of course—robots. Learn more about safety requirements and register by Dec 23. If you'd rather take a class with Mom and Dad, Family Club: Remote Edition will be on Saturday, January 2. All ages.
The GIANT Room is an innovation space for tiny New Yorkers with big dreams. "It's kids' ideas that are GIANT," says Dr. Azi Jamalian, Founder and CEO of The GIANT Room. "We simply give them the space, mentorship and all sorts of tools and equipment they need to bring those ideas into reality." The hub is geared toward visitors ages 3–12 who are curious about STEAM studies and art classes for kids. Arguably one of the main draws to the space is the "Blank Canvas," where participants help piece together a new monthly exhibit for The GIANT Room's gallery.
Update: Call your location before making a visit, as some stores are just operating with pick-up options while others are offering in-person and virtual gaming.
These kid-friendly board game cafes have awesome picks and delicious snacks to keep hunger at bay while you're working toward victory and bragging rights. Whether you're searching for the perfect word in Scrabble or keeping the stakes high with Jenga, you won't be able to say no to all of these exciting challenges...or treats like milkshakes, hot dogs and tater tots.
Think you have what it takes to beat the bomb? Fingers crossed you're ready for the challenge! This escape room-like activity encourages participants to disarm a giant paint ball in an immersive video game-like setting before time runs out. Learn more about the new safety measures online.
More winter break fun for families
Time to bundle up for the best ice skating in NYC! From Rockefeller Center and Bryant Park to Wollman Rink and Chelsea Piers, these amazing venues let you beat the cabin fever that comes along with a cold NYC winter. Once you and the kids lace up your skates, chances are you'll be having too much fun to get off the ice. RECOMMENDED: Full guide to Christmas for kids in New York Get ready for gorgeous city views, family fun, one-on-one lessons and so much more when you visit these kids' ice skating spots. Which one will you hit first? While you're at it, have a look at our favorite winter activities for kids, sip on some hot chocolate and enjoy these fun indoor activities for kids. If you're interested in booking a holiday-themed tour, click here.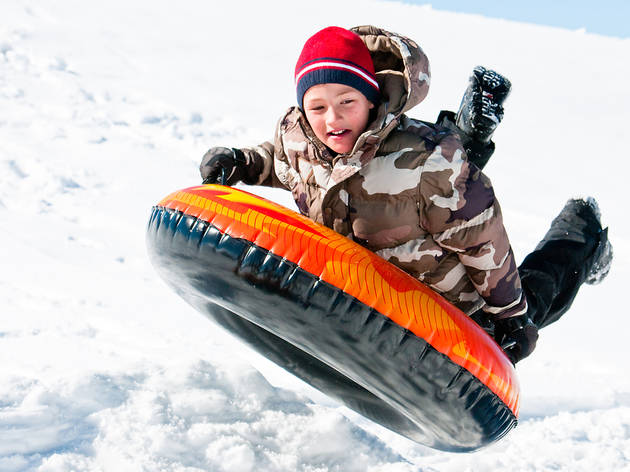 Want to find a great place for snow tubing? These sweet snow tubing parks near NYC are a great way to get your kids'w blood pumping and their pint-sized butts outside in the fresh winter air. Snow tubing in NY and NJ tops our list of the best winter activities for kids because it's also something everyone can enjoy together—and it's a fun opportunity to stay active during a family vacation, too. Looking for more fun things to do with your crew Check out our list of 101 things to do with kids in NYC plus the best free things to do with kids.
There's no doubt about it—the best holiday markets in NYC truly make December the most wonderful time of the year. After you've made the rounds at Rockefeller Center and embarked on the annual Dyker Heights tour, visit the markets to browse unique vendors, indulge in some tasty treats and participate fun family-friendly activities. RECOMMENDED: Your guide to Christmas for kids in New York City As much as we love Dec 25, we can't help but swoon over the fun we experience the weeks before thanks to the best holiday markets in NYC. Make the experience extra festive with a cup of hot chocolate, a trip to NYC's best toy stores and a few loops around the best kids' ice skating rinks in NYC.
When the weather outside is frightful, a mug of the best hot chocolate in NYC is oh-so delightful. The chilly season is simply incomplete without a cup (or two) of your favorite cocoa, and it's time to indulge. Make a pitstop at City Bakery, Serendipity 3 and other can't-resist confectioneries to refuel with the good stuff. Try a new flavor, add whipped cream and enjoy seasonal happiness in a cup (even if the temperature outside is less than pleasing). We've rounded up the top locales with the best hot chocolate in NYC, and you'll have plenty of time to try them all! After you're done snacking, check out the best indoor activities for kids, the most epic kids' play spaces and the coolest indoor playgrounds, which allow kids to have fun year-round, no matter what the weather is like.
There's no reason to save the traveling for warm weather. These winter weekend getaways from NYC are wonderful ways to embrace chilly temperatures (just make sure you're packing warm clothes). Trust us, the action-packed offerings are worth a family vacation. From the Winter Olympics at Woodloch Pines Resort to a day exploring the ins and outs of Mystic Connecticut, our roundup will appeal to all interests. RECOMMENDED: Full guide to the best family vacations Want more? Explore our guides to the best family ski resorts near NYC, as well as our favorite sledding hills and best hot chocolate in NYC too.