NYC events in January 2018
Start the new year on a high note with our list of the best NYC events in January 2018 including concerts and art shows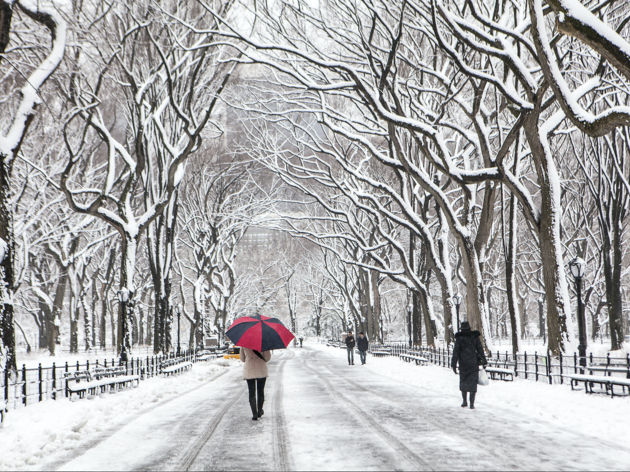 Our NYC events in January calendar is the perfect tonic for a holiday hangover. Start the year off right by checking out the best events at popular New York attractions, including the best NYC concerts in January and new theater performances. From taking a chilly dip in the ocean at the Polar Bear Club New Year's Day Swim in Coney Island to celebrating Martin Luther King Day, or freeing your legs from the tyranny of trousers at Improv Everywhere's No Pants Subway Ride, there are so many wonderful things to do in the winter here.
RECOMMENDED: Full NYC events calendar for 2018
Featured events in January 2018
Theater events in January 2019
Theater review by Diane Snyder For seven Harry Potter novels, the mediocrities of the Hogwarts house Hufflepuff lived in the shadow of their overachieving schoolmates. Matt Cox's Puffs, or: Seven Increasingly Eventful Years at a Certain School of Magic & Magic gives them their due. In this funny and affectionate homage to J.K. Rowling's world of wiz kids, Harry, Hermione and Ron take a back seat to average American wizard Wayne (Zac Moon), goth gal Megan (Julie Ann Earls) and math genius Oliver (Langston Belton), who is stuck at a school that doesn't even teach his subject. They may not be at the top of the class, and they're not wild about Harry, but they persevere through adversity and find power in friendship. A press release asks that the word parody be avoided in describing Puffs, but much of the show's comedy is clearly aimed at Potterphiles. The 11 cast members play an assortment of characters, from a mumbling potions master to a squeaky house elf, and some of the jokes will be lost on those with no knowledge of the films or books. But even Potter virgins will enjoy the show's witty wordplay and well-executed physical comedy. At times, the pacing is so frenetic that jokes can't find a place to land, but there's heart as well as humor here. In the past two years, Cox and director Kristin McCarthy Parker have shepherded their silly, subversive show from the People's Improv Theater to Off Broadway's New World Stages. Like its main characters, Puffs illustrates the heigh
Theater review by Adam Feldman Ah, the joy of watching theater fail. The looming possibility of malfunction is part of what makes live performance exciting, and disasters remind us of that; the rite requires sacrifice. There is more than schadenfreude involved when we giggle at, say, a YouTube video of a high-school Peter Pan crashing haplessly into the scenery. There is also sympathy—there but for the grace of deus ex machina go we all—and, often, a respect for the efforts of the actors to somehow muddle through. Mischief Theatre's The Play That Goes Wrong takes this experience to farcical extremes, as six amateur British actors (and two crew members who get pressed into service onstage) try to perform a hackneyed whodunnit amid challenges that escalate from minor mishaps (stuck doors, missed cues) to bona fide medical emergencies and massive structural calamities.  Depending on your tolerance for ceaseless slapstick, The Play That Goes Wrong will either have you rolling in the aisles or rolling your eyes. It is certainly a marvel of coordination: The imported British cast deftly navigates the pitfalls of Nigel Hook's ingeniously tumbledown set, and overacts with relish. (I especially enjoyed the muggings of Dave Hearn, Charlie Russell and coauthor Henry Lewis.) Directed by Mark Bell, the mayhem goes like cuckoo clockwork.  If you want to have a good time at this show, chances are good that you will; there are many funny sequences, and I laughed a lot. But you may find it
Tom and Betsy Salamon's unique adventure—part interactive theater, part scavenger hunt, part walking tour—draws participants into an amusing web of puzzles and intrigue. You can choose between the three-hour New York tour, which takes participants through various neighborhoods of lower Manhattan, or the two-hour Village tour, which travels through quirky Greenwich Village on Saturdays. Groups of as many as 11 are booked every half hour. 
Music events in January 2018
The turntable whiz hits Brooklyn Bowl to ring in 2018 with his dense, party-fueling beats. He was last heard on the 2016 soulful sixth album, Dame Fortune, in which the "Mad Men" theme producer lays out his ominous hip-hop production behind contributions from artists including R&B guitarist Son Little and spitfire North Carolina rapper Phonte.
As Moor Mother, Philly artist Camae Defstar makes music that bespeaks a punk ethos—sonic chaos and a revolutionary spirit—but relies on noise instrumentation: field recordings, analog sequencers and distorted drum machine collaged into witchy lo-fi "dark rap." Here she pairs with anarchic local noise-maker Dreamcrusher and a special guest.
Halal is a creative overachiever in music, video and event production and anything and everything in between. Devoted to New York's underground scene, she is the creator of the party series Mutual Dreaming and stages the annual weekend festival Sustain-Release. Catch her darkly hued, hallucinatory techno at this eight-hour set.
Few sounds in rock are more loaded with promise than the shrill feedback drone that precedes this band's every gig. The New Orleans sludge-metal group started three decades ago as a bad joke and slowly evolved into an institution, amassing a global following and even turning up on Treme. Here, the masterful riff wranglers, soldiering on after vocalist Mike IX Williams's recent liver transplant and the death of longtime drummer Joey LaCaze, turn up in support of their fine 2014 self-titled comeback LP.
Brooklyn composer-songwriter Ellis Ludwig-Leone's San Fermin touches down to deliver sweet, brass-fangled baroque folk—like Dirty Projectors jamming with DeVotchKa. Prepare yourself for an circuitious journey through Leone's nimble, expansive story-telling, chock-full of grand epiphanies and subtle truths.
Each January, Winter Jazzfest offers a crash course for anyone interest in exploring NYC's jazz scene. Its signature two-night Greenwich Village marathon brings vets and up-and-comers, hordes of music fans and a palpable air of excitement to an array of cozy downtown venues. The shows aren't individually ticketed, so a wristband grants you access to any of each night's shows—as long as a given club doesn't hit capacity, that is.
On his project's debut album, The End of Comedy, musician Michael Collins creates mind-bending, lysergic pop with contributions from Ariel Pink and Weyes Blood, the latter of which joins him at this show.
This annual international-music showcase takes over three stages with represented genres including Indian hip-hop, Iranian folk, Mexican mariachi and Brazilian Tropicália.
For more than a decade, frontman-songwriter Max Bemis has transformed his neurotic woes and exceedingly dirty thoughts into an ongoing alt-rock opera that's brash, barbed and frequently hilarious. Tonight you'll get the best of both worlds, as Bemis presents SA tunes new (heard on its latest LP, I Don't Think It Is) and old.
Show more
See more NYC concerts in January
Looking for more things to do?
Discover the best things to do in NYC with the ultimate insider's guide to restaurants, bars, clubs, museums and more