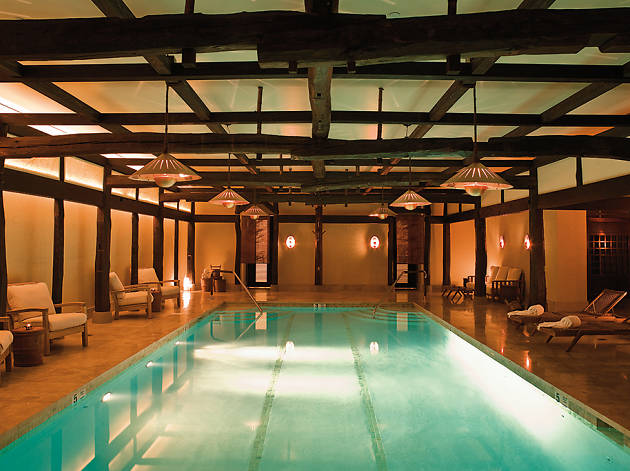 The best affordable spa treatments in NYC
Ready to unclog your pores and de-kink your neck? These affordable spa treatments at wallet-friendly spas make it easy.
New Yorkers are constantly on the go, and it's no shock that stress in our lives can throw a major roadblock on our quest to find peaceful places to relax. But ask yourself this: When was the last time you actually took a spa day? Sure, you can rely on Spa Week for discounted treatments twice a year, but you deserve to treat yourself at a day spa all the time. The best spas in New York can be downright expensive, which is why we scoured the city for affordable facials and massages, so you can get your mug and back in check. And while trying something cheap and under the radar can sometimes be sketchy, trust us—these affordable spa treatments are worth every penny.

RECOMMENDED: Find more spas in NYC
When you just need to escape for a few minutes, book a session in the Himalayan salt cave at this Hell's Kitchen spa. Bricks of pink salt line the walls of the room, and a mild, infrared heat keeps it pleasantly warm. The salt particles in the air are purported to have detoxifying benefits, but if nothing else, the silent room works as a relaxing form of sensory deprivation. Half an hour in the pale pink room typically costs $65, but Floating Lotus is currently offering the service for two on Groupon for just $89.
The fancy former Spa Castle annex offers plenty of ways to calm your mind without having to set foot in those infamous hot tubs. Relax in one of five saunas—including a 14-karat all-gold sauna and igloo—designed to clear out toxins and help you breathe easily. Step into the meditation and sleeping rooms for quiet time to yourself. Best of all, if your introspection leaves you peckish, grab a smoothie or noodle bowl—or even a cocktail.
Based on the five elements of Chinese medicine, The MJ Treatment specialized on holistic healing, wellness and balance by offering a wide range of treatments, including massages, facials, body scrubs and mud wraps, detox, waxing, Reiki, spa parties, belly and body casting and much more. The five-room spa is known for its great customer service, too. Right now you can get a 50-minute CBD foot and leg scrub and massage with complimentary hot stones for $100.
Looking for more pampering?
The city is chock-full of the best nail salons for nail art in the world, so there's no excuse for your digits to go unpolished.