Heads up! We're working hard to be accurate – but these are unusual times, so please always check before heading out.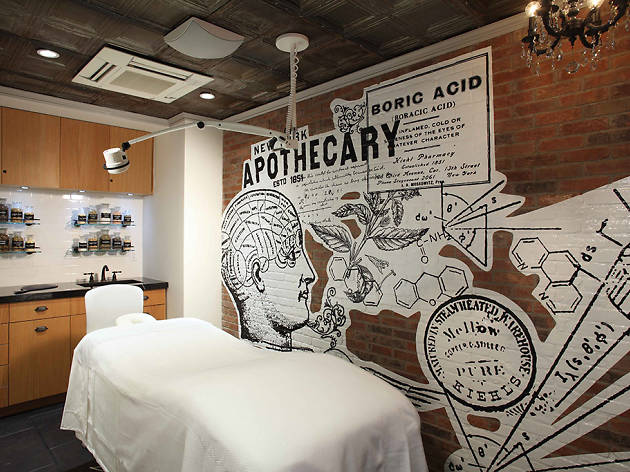 The best affordable spa treatments in NYC
Ready to unclog your pores and de-kink your neck? These affordable spa treatments at wallet-friendly spas make it easy.
New Yorkers are constantly on the go, and it's no shock that stress in our lives can throw a major roadblock on our quest to find peaceful places to relax. But ask yourself this: When was the last time you actually took a spa day? Sure, you can rely on Spa Week for discounted treatments twice a year, but you deserve to treat yourself at a day spa all the time. The best spas in New York can be downright expensive, which is why we scoured the city for affordable facials and massages, so you can get your mug and back in check. And while trying something cheap and under the radar can sometimes be sketchy, trust us—these affordable spa treatments are worth every penny.

RECOMMENDED: Find more spas in NYC
When you just need to escape for a few minutes, book a session in the Himalayan salt cave at this Hell's Kitchen spa. Bricks of pink salt line the walls of the room, and a mild, infrared heat keeps it pleasantly warm. The salt particles in the air are purported to have detoxifying benefits, but if nothing else, the silent room works as a relaxing form of sensory deprivation. Half an hour in the pale pink room will typically cost you $65, but Floating Lotus is currently offering the service on Groupon for just $35.
What this bare-bones East Village bathhouse lacks in frills, it makes up in tradition. Locals have been sweating it out here for the last 100 years, and the famed oak-leaf platza scrub and massage is as authentic as it gets. A technician will escort you into one of the spa's hottest saunas where you'll be doused in hot water, swatted all over with a fragrant bundle of oak leaves and finally rubbed down with oil. The leaves are said to work as a natural astringent, sloughing off dead skin and impurities. Though you typically have to pay both the $45 entrance fee for the spa and an additional $40 for the 15-minute treatment, bargain seekers can usually better deals online, like a recent Groupon priced at $39 for both.
Haggard, overworked New Yorkers might want to book themselves a session in one of YeloSpa's signature nap pods for a sleep therapy session. Before you go down for your nap, a staff member will ask you which sounds and aromatherapy scents you prefer. Then you'll hop into to a fluffy "zero-gravity" bed that lifts your legs above your head to slow your resting heartbeat. Though the space-age spa might sound bougie, but it's actually very reasonable priced at just a dollar a minute (20mins, $20).
Looking for more pampering?
The city is chock-full of the best nail salons for nail art in the world, so there's no excuse for your digits to go unpolished.