The best spots for oyster happy hour in NYC
Your love of bivalves meets your love of cheap eats at these restaurants hosting the best oyster happy hours in NYC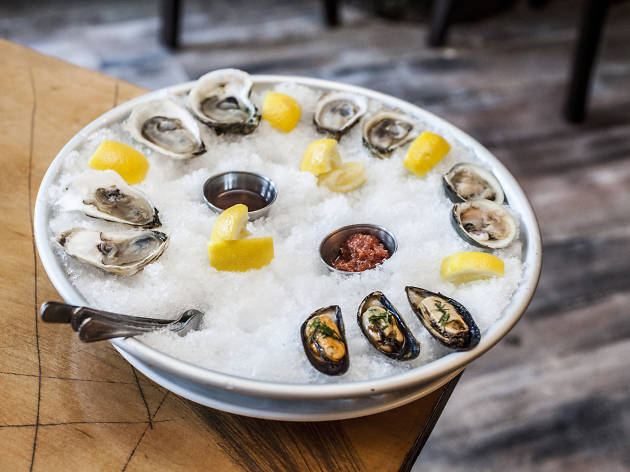 Even when it's not oyster season (that'd be any month that ends in R, FYI), New Yorkers are always down for an oyster happy hour. After all, what's a better romantic date idea than sharing sensuous oysterswith your bae at one of the city's best seafood restaurants? The next time you're craving something indulgent that won't break the bank, get out to one of the best oyster happy hours in NYC. After all, the city is your oyster.
RECOMMENDED: Full guide to the best restaurants in NYC
Best oyster happy hours in NYC
1
The cozy, casual vibe, excellent playlists (plus occasional live music), and deliciously creative cocktails make this East Village gastropub a hit even when it's not happy hour. But of course, the bar's happy hour—hosted Monday through Friday from 4pm to 7pm—sweetens the deal by offering $1 East Coast oysters. Wash it down with cocktails, which include chefly ingredients like peppercorn syrup, apple-spice bitters and chipotle-infused agave nectar, for only $7 a pop.
Read more
2
There is something very special about the ambiance at this breezy Williamsburg spot. High windows and beautiful wood tables, floors and walls fill the restaurant with natural light and a balmy airiness. Go for the dollar oysters during happy hour—available Tuesday through Sunday until 7:30pm—and throw in one of their delightful cocktails while you're at it.
Read more
3
This is not your average raw bar. If you're feeling a bit jaded with the same old oyster deal, step into this East Village gem to try offerings like Sichuan tea-smoked oysters, or bivalves pepped with green-apple mignonette. Happy hour runs Tuesday through Saturday from 6pm to 8pm, and all day Monday and Sunday.
Read more
4
There are three reasons why this is a perfect date spot. Firstly, its interior is incredibly romantic, with lighting that's neither too bright nor too dim and wooden tables and accents that make the dining experience feel like an intimate cabin retreat. Secondly, it has solid wine list to get your buzz on. And lastly, of course, oysters—their raw-bar menu offers East Coast and West Coast varieties as well as a number of other seafood delicacies.
Book now
Read more
5
The dark, sexy atmosphere of this Lower East Side winebar is an apt setting for slurping down the aphrodisiac duo of oysters and wine. Happy hour offers $1 oysters and $15 carafes of wine every day until 7 pm—their lengthy wine list has something for every budget, as well as uncommon natural wines.
Book now
Read more
7
This gorgeous, NOLA-inspired haunt brings in the crowds, and all the more so during happy hour, which happens 4 to 7pm Monday through Friday and 11am to 1pm Saturday and Sunday. We can't think of a better way to spend brunch than sampling from the salon's 30 different varieties (based on market availability) of oysters for $1 each. Oh, and that special includes all clams, too.
Read more
8
Going here for oysters is like going to Willy Wonka's Chocolate Factory for chocolate—it's a no-brainer. April Bloomfield and co. make it even no-brainier (it's a word!) by offering a daily happy hour from 5 to 7pm (noon to 3pm on Saturdays and Sundays), including $2 oysters (and clams!), plus half-off deals on Captain Lawrence Kolsch beer, on-tap sparkling wine and sherry and $5 oyster shooters. The $2 price is a little steeper than other places, but the booze deal makes it worth it. Plus, the more you drink, the less you'll care.
Read more
9
This longtime fish shack has stood the test of time—it remains one of our go-tos for oyster happy hour. Danny Abrams's Upper West Side eatery (which also has locations in the East Village and West Village) serves up chef's choice, East Coast bivalves for $1 a pop every night between 5pm and 7pm. You can also score some fried oysters for $3.50.
Book now
Read more
10
Venue says: "For over 100 years we have been serving the freshest oysters & seafood in NYC! Our Oyster Happy Hour features Bluepoint Oysters, $1.25/each"
At the legendary 96 -year-old Grand Central Oyster Bar, located in the epic and gorgeous hub that shares its name, play it classic with a reliably awe-inspiring platter of iced, just-shucked oysters (there can be a whopping three-dozen varieties to choose from at any given time, from Baja to Plymouth Rock). From Monday through Wednesday from 4:30pm to 7pm and Saturdays from 1pm to 5pm, you can enjoy Blue Points for just $1.25 each, as well as five-dollar beers.
Book now
Read more
Show more
In the mood for a burger?
The quest for the perfect burger is on! Eat your way though the city's most beloved patties.
Read more
Sponsored listing
Empire Steak House – East
For the classic New York steakhouse experience, look no further than Empire Steak House. Start with an hors d'oeuvre like jumbo shrimp cocktail ($21.95), a Maryland crab cake ($18.95) and French onion soup ($8.95). Carnivores might have a hard time deciding on a main course, though—choices include a Kobe burger ($28.95), dry-aged emperor's steak for two ($129.95) or a twelve-ounce Wagyu ribeye ($275). Chilean sea bass ($35.95) and spaghetti with lobster ($36.95) might tempt seafood lovers, too. There are plenty of steakhouse sides to go with your meat, like truffled mac and cheese ($15.95), creamed spinach ($10.95) and a jumbo baked potato ($6.95). If you somehow still have room for sweets, the dessert menu is also quite extensive, with treats like apple strudel a la mode ($13.95), chocolate lava cake ($10.95) and creme brulee ($9.95).
Venue says: "Host your private event in our upstairs mezzanine with a full bar or downstairs in our private wine room."