The best Thai restaurants in NYC
Looking for the best Thai restaurant? NYC has the top ones for regional specialties and elevated street food.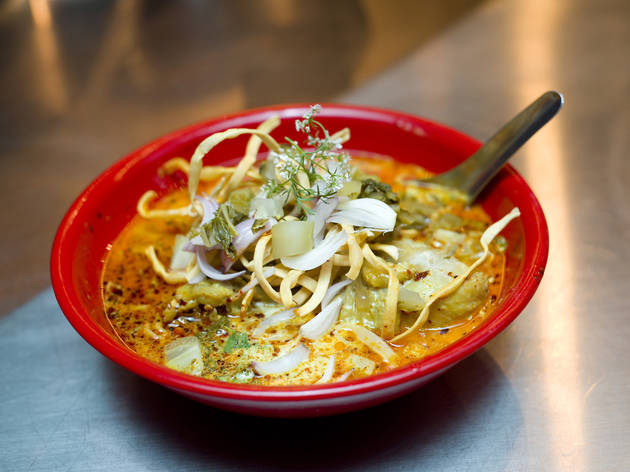 If you're craving grub from the best Thai restaurant, NYC is the perfect place to step up your takeout game. Yes, Thai joints are a dime a dozen, but there's much more to the southeast Asian cuisine than the cartons of pad thai and greasy spring rolls you might order at your go-to delivery restaurants. While getting authentic Thai is still one of the best things to do in Queens, neighborhoods like Hell's Kitchen and the East Village are home to traditional dishes and inventive new takes on regional fare. Dig into piquant bowls of khao soi from the northeastern Isan region, spicy papaya salads and some of the best dumplings in town at these Thai restaurants in NYC.
RECOMMENDED: Find more of the best restaurants in NYC
Best Thai restaurants in NYC
Looking for more great restaurants?
From white-clothed fine dining to hole-in-the-wall cheap eats, find the best new restaurants NYC has to offer
Read more
Sponsored listing
Sunken Hundred
There's more to Welsh food than cheese-clogged rarebit, a fact owner Illtyd Barrett holds dear to at this Cobble Hill spot, named for Wales' folk legend of the sunken kingdom of Cantre'r Gwaelod. Partnering with his brother Dominic and executive chef Tom Coughlan (Txikito, La Vara, Seamstress), the proud Welshman touts his home country by placing mythological artwork and photos of a petrified Welsh forest throughout the 50-seat pub, which also sports a Wales-specific lending library. In the kitchen, Coughlan borrows and tweaks recipes from Barretts' mother, such as steamed mussels with brandy-soaked pork belly, roasted hake in a tomato-butter sauce, and meatballs with peas in onion gravy. House cocktails, available at a 700-year-old hemlock-topped bar that Barrett handcrafted himself, remain on theme with options like the Seithennyn, made with house-made seaweed oil and kelp bitters.