The best Thai restaurants in NYC
Looking for the best Thai restaurant? NYC has the top ones for regional specialties and elevated street food.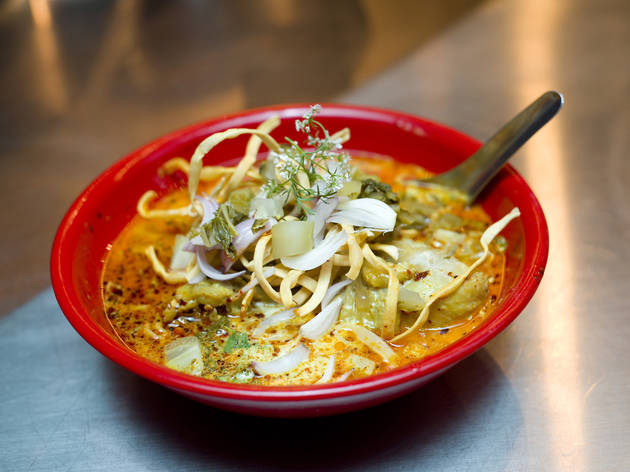 If you're craving grub from the best Thai restaurant, NYC is the perfect place to step up your takeout game. Yes, Thai joints are a dime a dozen, but there's much more to the southeast Asian cuisine than the cartons of pad thai and greasy spring rolls you might order at your go-to delivery restaurants. While getting authentic Thai is still one of the best things to do in Queens, neighborhoods like Hell's Kitchen and the East Village are home to traditional dishes and inventive new takes on regional fare. Dig into piquant bowls of khao soi from the northeastern Isan region, spicy papaya salads and some of the best dumplings in town at these Thai restaurants in NYC.
RECOMMENDED: Find more of the best restaurants in NYC
Best Thai restaurants in NYC
Looking for more great restaurants?
From white-clothed fine dining to hole-in-the-wall cheap eats, find the best new restaurants NYC has to offer
Read more
Sponsored listing
Senn: Thai Comfort Food
Sometimes even the most hardcore food adventurers need to take a break from the palate thrill-seeking that has made Elmhurst and Woodside the go-to destinations for enthusiasts of authentic Thai cuisine. For Upper West Siders looking for something a little simpler and a little closer to home, Senn Thai Comfort Food fits the bill. Located on Amsterdam Avenue next door Land Thai Kitchen, this under the radar spot is typically less crowded and more low-key than the long-time neighborhood favorite. Outfitted with corrugated metal walls, a large communal table and a shady bathroom that seems to be forever occupied, the restaurant has a rustic, unpretentious feel that is a marked contrast to the over the top glitz of many Thai establishments in Manhattan. That same simple aesthetic shows in the menu as well, which serves up unpolished home-style fare that might not be as glamorous as Chiang Mai khao soi or eye-opening as Isaan som tum, but can still please in its own way. This being a neighborhood spot in an area not otherwise known for on-trend Asian dining, you're not likely to find the type of pungent flavors that have endeared Northern Thai cooking to so many foodies, but there are a few hidden gems to be found. The crispy rice salad, yum kao tod ($8) is a must-order starter. While there were no signs of the advertised crispy fish described on the menu, the crackling sheets of deep-fried red curry-rubbed rice tossed with herbs and ginger are still an addictive symphony of spic
"We serve prix fix lunch special $9 from noon-3.30pm every day."
Upper West Side
Online booking