The top 13 Restaurant Row NYC eateries
On Restaurant Row, NYC has a surprising number of delectable restaurants serving up everything from sushi to steak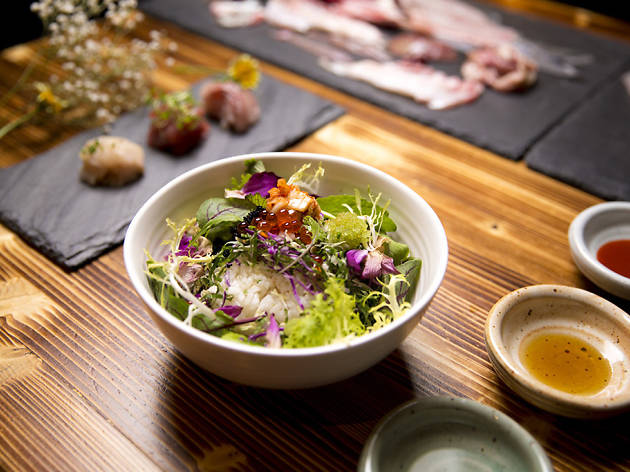 So you're going to a Broadway show, and you want to do better than the TGI Fridays across the street. And you can! At these spots on Restaurant Row, NYC offers up some of its best grub, from Creole to sushi to brasserie fare. (And an honorable mention goes to the surprisingly good restaurants and cafés in NYC theaters.) Check out our handy theater-and-dining guide that pairs a meal with one of the best Broadway shows for you, or just choose you own restaurant from this list of eateries on 46th Street between Eighth and Ninth Avenues in the theater district.
RECOMMENDED: Find more of the best restaurants in NYC
Restaurant Row NYC eateries
The antithesis of commercialized Times Square, this elegant Italian restaurant is still owned by the same family more than 100 years after it opened. The setting—gilded chandeliers and ornate furniture— is fittingly dramatic, as is the Piedmontese menu. Dishes such as diver scallops in a sweet tomato jus and rabbit, roasted and lavished with a lemony wine sauce, are best enjoyed in the back garden, an unlikely retreat in bustling Hell's Kitchen.
Read more
One of gastro-celeb Lidia Bastianich's four NYC eateries, Becco expanded from its original space into the brownstone next door to accommodate more drinkers as well as diners. In this case, the popularity is justified. Typical of a countrified Italian eatery, the warmly lit space features exposed brick and row upon row of wine bottles as decor. Those bottles also populate the extensive, reasonably priced wine list, which includes a few dozen regional beauties for $20 each.
Read more
This Big Easy eatery is so convincing, you might have to suppress the urge to flash people for beads. It has Cajun and Creole favorites like gumbo, jambalaya, crawfish étouffée, oysters, blackened catfish, fried chicken and biscuits, and it wouldn't be Mardi Gras without cocktails, of course. Their most famous one, the rum-and-passion fruit Hurricane, is a must-try, and don't stop there—it's also worth sipping the appropriately named Swamp Juice and Bourbon St. Crush.
Read more
A fair approximation of the Parisian model, this unpretentious spot serves classic French fare round the clock. It's a relative newcomer on restaurant row, but so far it's earned its keep with solid brasserie fare such as onion soup, escargots and steak tartare.
Read more
The food served at this upscale Korean fusion restaurant looks more like a work of art than something to chow down on. Unique dishes like the Galbijjim come complete with a huge bone on top as embellishment. And speaking of decorations, the rustic interior of this spot provides an extra dose of coziness.
Read more
Everything about this place oozes old-world charm. The three-story tavern is located in a renovated nineteenth-century brownstone and serves up the best kind of comfort food à la carte or as part of a three-course pre-theatre prix fixe menu. And after a show, you can come back for another round upstairs at its Bettibar. If that's not enough to make you feel all warm and fuzzy inside, the restaurant's traditional hourglasses perched on each table will. They're not meant to rush you—they were used 30 years ago to ensure theatergoers wouldn't be late.
Read more
The best bet on the strip if you want to catch sight of an off-duty star—go before or after the theater and you're bound to see any number of familiar New York showbiz faces. (Al Pacino, Rosie O'Donnell and Liam Neeson have been known to hang here.) The menu offers better-than-average club grub, including steak (frites and tartare), cheese burgers and large salads. Although surrounded by posters of major Broadway flops, regulars always have their fingers crossed for the latest crop of shows.
Read more
Well-executed Roman cuisine in a charming setting is a recipe for a long-term success. The signature artichokes deep-fried in olive oil and garlic are a Roman-Jewish classic, and another regional favorite—delicate chicken-liver pt on toast with a side of more artichokes—is even more fulfilling. The menu is packed with fish, meat and, of course, pasta; the fettuccine al rag, house-made noodles in a veal sauce, is a standout. To finish, try the crispy, custardy napoleon.
Read more
For that old-school dinner-and-a-show vibe, head to this French bistro staple that's been passed down for three generations. The cozy spot is situated smack dab in the middle of Restaurant Row and serves classic fare like chicken Cordon Bleu and frog legs from its traditional $39 prix fix pre-theater menu.
Read more
Show more
Find more restaurants in Midtown
It may not be the first area you think of when you think of fine dining, but these Midtown restaurants hold their own.
Read more