The Dyker Heights Christmas Lights 2020 guide
If you want to see spectacular holiday decorations, you must visit the Dyker Heights Christmas Lights 2020 display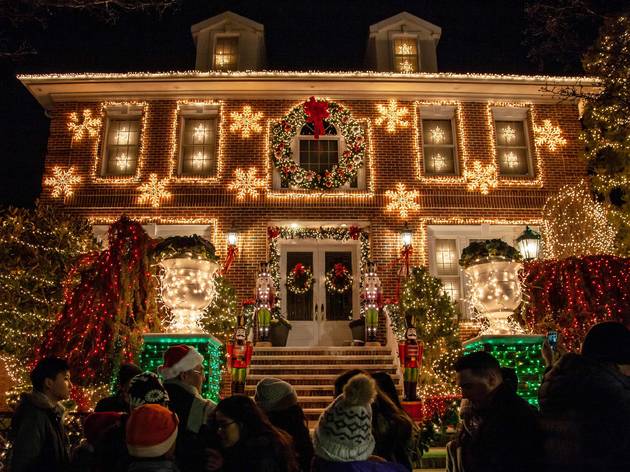 Dyker Heights Christmas Lights 2020 display has definitely earned its stripes as one of the best
New York attractions
. What's not to love about all that razzle-dazzle to get you in the Christmas spirit? The Brooklyn neighborhood is home to the most over-the-top
Christmas light decorations
with life-sized Santas, sleighs, snowmen and some houses even bump Christmas carols from loudspeakers. Crowds of all ages flock to the Kings County neighborhood to wander down the multiple blocks and avenues and experience one of the top things to do in
NYC in the winter.
RECOMMENDED: Full guide to Christmas in NYC
When can I visit the Dyker Heights Christmas Lights 2020?
Most of the homeowners—and professional decorating companies—hang their Christmas lights and decorations the weekend after Thanksgiving. However, the best time to see the lights is mid-December through New Year's Eve. We suggest going anytime between dusk and 9pm if you plan to travel by foot. Most of the houses turn their displays off after 9pm but some do leave theirs on later (depending on their bedtime).
Where are the Dyker Heights Christmas Lights 2020?
You'll see breathtaking light displays from 11th to 13th Avenues (also known as Dyker Heights Blvd) from 83rd to 86th St in Dyker Heights, Brooklyn. This year some houses won't be in full Christmas glam due to the pandemic, while others are sticking to tradition.
How do I get to the Dyker Heights Christmas Lights 2020?
If you're traveling by subway, take the D Train to 79th St and New Utrecht Ave, Brooklyn. However, you'll have to walk 15 minutes to get to the houses (and the terrain is a bit hilly). Word to the wise: Traffic as well as parking is generally lousy, so you might want to leave your car at home, or leave enough time to sort the car.
Are there tours for the Dyker Heights Christmas Lights 2020?
Usually yes, but this year, buses coming to Dyker Heights won't be allowed to traverse the main strip. Some popular tour bus companies have bowed out entirely this year, including the popular A Slice of Brooklyn Bus Tours due to health and safety concerns.
Is there anything else I should be aware of for the Dyker Heights Christmas Lights
2020?

If you are heading to Dyker Heights this year, be sure to respect the neighborhood like it's your own, starting with keeping properties clean of trash in the name of respect and sanitation. There will be extra receptacles in the area. Also, be smart! While in past years spectators often walked up the stairs of houses to get a better photo-op of the decor, this year that's a massive no-no. Many houses are putting tape across the front of their homes and entryways to avoid onlookers on their property.
Dyker Heights Christmas Lights 2020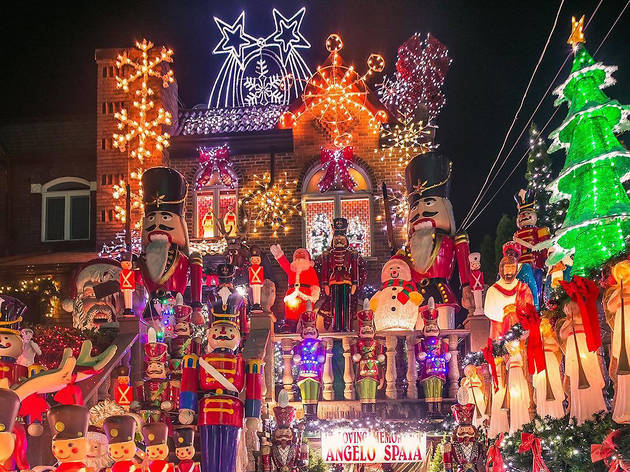 10 amazing photos of this year's Dyker Heights Christmas lights
Dyker Heights is aglow! Residents across the Kings County neighborhood are back in the holiday spirit this year, spreading joy through over-the-top decorations and life-size, illuminated Santas. During the first week of December, homes spanning three avenues and several streets in the Brooklyn nabe have already switched on their dazzling lights. Grab your parkas, mittens and masks to experience one of the best things to do this December. And even better: It's one that's both outdoors and socially distanced. While there are no official Dyker Heights rules and regulations, be respectful of the neighborhood. As crowds are a problem during the pandemic, officers will be on site to ensure masks are being worn, and social distancing guidelines are being followed. Check out some marvelous photos below of some residences that are already leaning into this New York tradition. View this post on Instagram A post shared by Wen Huang (@wenman2) View this post on Instagram A post shared by 𝗘𝗿𝗶𝗻 𝗗𝗲𝗚𝗿𝗲𝗴𝗼𝗿𝗶𝗼 (@omgerind) View this post on Instagram A post shared by @californian_beast1 View this post on Instagram A post shared by Paola Lazzarin (@paola_lazzarin) View this post on Instagram A post shared by Vinny Nicastro (@vinnyschristmasdecorators) View this post on Instagram A post shared by Mr Justin (@jts7jt) View this post on Instagram A post shared by NycToday (@nyct0day) View this post on Instagram A post shared by Ksenia Li (@ksenia_li77) View this post on Instagram A post shared by Karen Ganesh (@_kng84) View this post on Instagram A post shared by J (@upsydaisy57) Most popular on Time Out - A first look at New York City's newest park along the Hudson River- Watch a harrowing video of the Verrazzano Bridge rocking and groaning in monday's high winds- The 101 best sex scenes of all time- The Dyker Heights Christmas Lights 2020 guide- The 100 best movies of all time Want to know what's cool in the city before your friends do? Sign up to our newsletter for the latest and greatest from NYC and beyond.
See more Christmas lights around NYC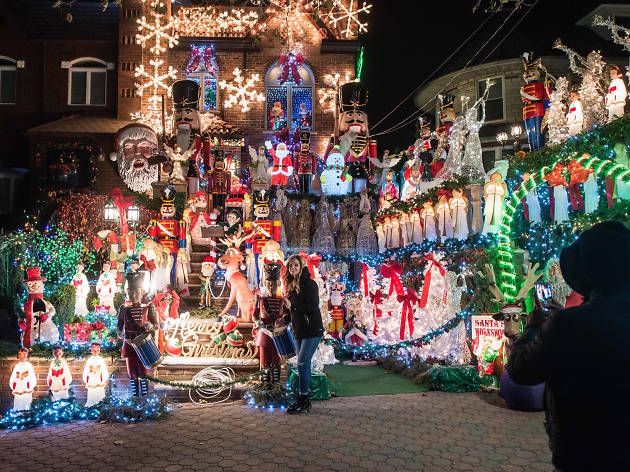 Dyker Heights Christmas Lights
On the day after Thanksgiving, the neighborhood of Dyker Heights undergoes a transformation, as residents along several blocks in the area festoon their homes with elaborate holiday decorations. And we're not talking about a Christmas tree or a simple nativity scene: Among the kitschy pieces you might see are life-size reindeer, huge inflatable Santas and snowmen, Christmas carols blaring from loudspeakers and tens of thousands of lights.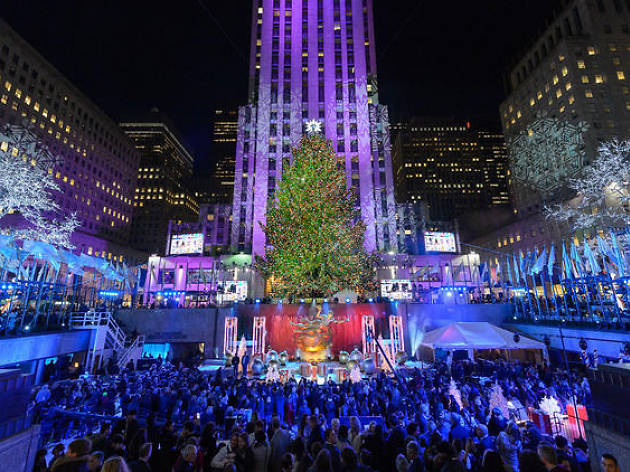 Rockefeller Center
Yes, Rockefeller Center is a major tourist trap during the holidays, but you can't deny it's beauty. (You can be a jaded New Yorker without being a total a Grinch.) Folks travel near and far to hit the slick stuff and ogle the humungous Norway Spruce covered in thousands of LED lights, as well as the golden angels and other illuminated shrubberies. Needless to say, this inviting landmark certainly brings it's A-game in terms of spreading holiday cheer.
Book online
Central Park Holiday Lighting
For more than 20 years, the Central Park Conservancy has been draping the Charles A. Dana Center in holiday lights and ringing in the season alongside a hot-cocoa-bearing Santa. This year, the lighting will be virtual—families can listen in or join in for some holiday carols, while ice carvers from Okamoto Studios carve a nutcracker and a polar bear on site. The event is scheduled for 5:15 on December 3, but the lights are illuminated all through the holiday season.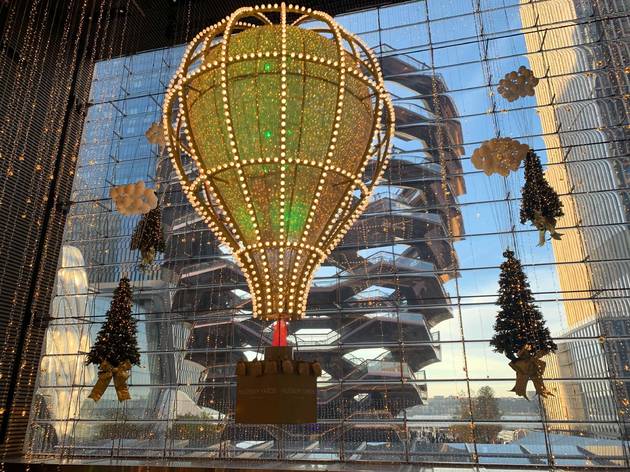 The Shops & Restaurants at Hudson Yards
Catch some dazzling set pieces and over a million lights at Hudson Yards during the "Shine Bright at Hudson Yards" event. From Christmas trees to hot air balloons, lights sparkle all around The Vessel, which is also lit on each of its tiers, as well as inside the mall area.
Saks Fifth Avenue
Saks Fifth Avenue's ten-story facade makes this department store a can't-miss stop on your Christmas lights tour. In the past, festive LED light projections included "Snowflake Spectacular," and a yeti, who according to a tie-in tale by Daily Monster creator Stefan J. Bucher, came down from Siberia to live on the roof of the department store. The usually two-minute show repeats every seven to eight minutes and ties in with the holiday display in the store's 12 windows.
Buy
Brookfield Place Winter Garden
Get your camera ready for this one! Out of all the dazzling Christmas lights in New York, one of the festive displays we can't wait to see is the Luminaries installation at Brookfield Place. The arrangement, comprising 650 LED lanterns hanging from the ceiling, is truly stunning. Check it out and enjoy free performances, sweets and make sure to pack your skates and enjoy ice-skating along the waterfront.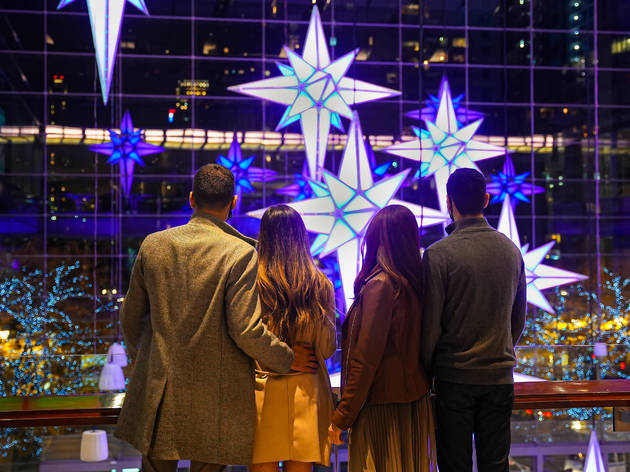 Holiday Under the Stars
Take a break from Christmas shopping and check out Time Warner Center's state-of-the-art holiday light display. The spectacle features a dozen 14-foot LED stars that do a colorful "dance," flashing more than 16.7 million color mixes in time to classic Yuletide tunes at 4pm each day. You'll be so moved, you won't even care that you maxed out your MasterCard getting Aunt Judy that back massager she's been wanting.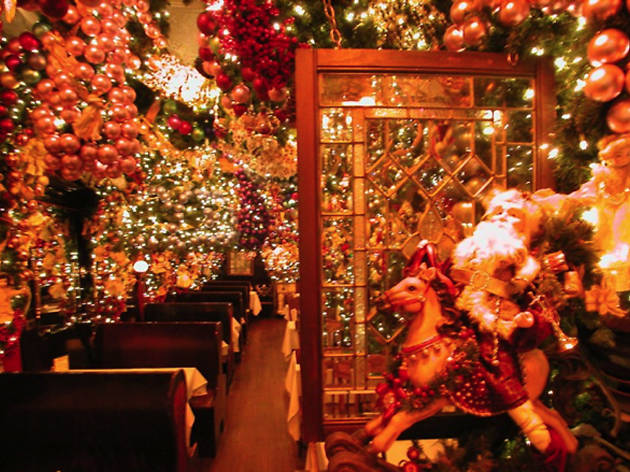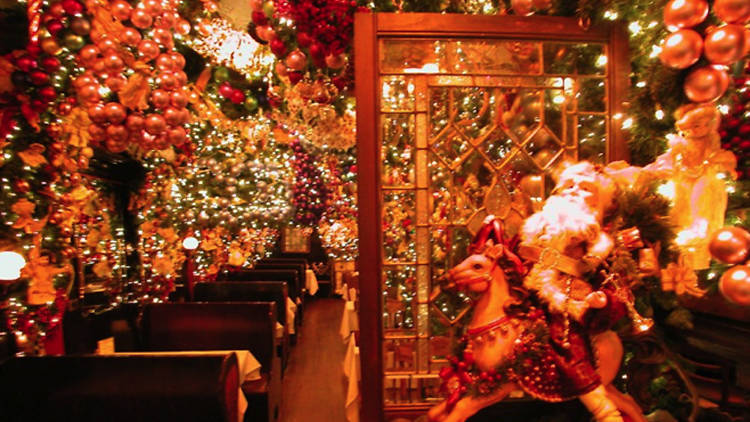 Rolf's Restaurant
This bar and grill combines traditional German food and beer with a healthy serving of kitsch, notably with its annual Christmas decorations. Year-round, you can enjoy a wide range of German dishes, especially meats and sausages, while an array of faux medieval paintings peaks out behind obsessively entwined oak branches.
Lights From Lincoln Center
Instead of a single tree this year, elements of this installation include the illumination of Josie Robertson Plaza, alternating between a warm and cool-colored light display; floating lanterns on the Paul Milstein Reflecting Pool in Hearst Plaza; and lights on trees throughout the campus. The installations become viewable around dusk and through the night, and will be on display through the New Year.
Show more