Cheap and free things to do in Singapore
Our roundup of the best cheap and free things to do in Singapore including beauty treatments and fitness classes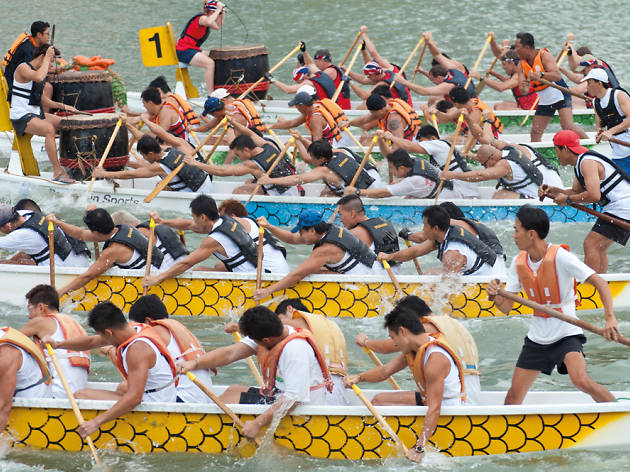 Keep fit on the cheap
Workouts
If you can't commit to a gym you've paid thousands for, ActiveSG gyms only set you back $2.50 per entry or $30 a month, and has 15 locations island-wide.
Work your core and discover muscles you didn't know existed with a free, hour-long kickboxing, Zumba, yoga or Pilloxing (that's a combination of standing Pilates, boxing and dance) session at the atrium of The Star Vista. Led by instructors from fitness and spa centre Amore, these workouts are held on Mondays to Thursdays.


For workouts around the CBD, Health Promotion Board's Get Active initiative includes a slew of free activities to take you from sluggish OL to full-on yogi – if you keep at it, of course. Fitness at Work offers Zumba, yoga, kickboxing and K-Pop-inspired morning classes on weekends, and evening classes on weekdays. Make sure to register early, because spots fill up fast. But if you're too slow to act, worry not – we've even seen CBD runners seamlessly join in after their evening runs.
Water sports
Dragon boating is kind of a big deal in Singapore, and if you only want to dip your toes in the sport, here's how to do it cheaply. The British Dragon Boat Team offers weekly lessons catered to beginners – each session lasts about 2 hours and will set you back a mere $10. See its website for locations, and turn up in your exercise gear with sandals, wetsuit booties, or anything that'll protect your feet. 


Over at the Water Sports Centre at the Singapore Sports Hub, rent a canoe or kayak and soak in all 35 hectares of the Kallang Basin or, if you feel inclined, attempt the 500-metre Regatta course (just follow the buoys). Rates start at $12 for 2 hours, but if you book a slot before 5pm on weekdays, it'll be even cheaper.
And while you're at the Singapore Sports Hub, why not have a go at lawn bowling. Granted, it's not the most adrenaline-fuelled sport around, but hey – it's free. Book a session online and head one level up from the Sports Hub Museum.
Look your best without breaking the bank
Eyebrows
Call us primitive, but threading will always be the best way to remove unwanted hairs and sculpt well-defined brows.
Gooday Beauty Parlour
in Little India offers brow-threading services for $5 – and don't let the price put you off. These folks have been around for 18 years, so you can be sure they know their stuff.
Face
Facials also needn't be expensive. At
Go60
, get glowing skin for a third of what you'd normally pay. The lifestyle boutique by beauty and wellness brand Mary Chia lives up to its name with 60-minute, $60 facials. Choose from seven options, including the Most Advanced Hydrating Facial Treatment for those with dry skin – it incorporates a Spanish technique of lymphatic draining so that toxins are removed through massage.
Nails
Ditch your atas nail parlour for Lily Nails Salon – it offers an express manicure for just $8, or the classic option for $13. That includes filing, buffing, cuticle removal, a massage for your arms, plus your choice of OPI lacquer.

If you work in the CBD, carve some time from your lunch break to visit Fingerwork. Express manicures and pedicures are $14 and $19, respectively, and include a coat of OPI nail lacquer.
Hair
When express hair salons landed in Singapore years ago, opinions were mixed: some lauded them as value-for-money, while others emerged with stories of social life-ruining haircuts. You won't know until you try, though, and
Snip Avenue
has $4.80 haircuts across 32 locations, although the end result would depend on the complexity of your request.
Rent a car for less
Renting a car is usually pricey, but Tribecar has short-term car rentals that go for $2 an hour for off-peak periods (midnight-6am; noon-4pm), and up to $6 an hour on weekday evenings and weekends. No membership is required – after registering and booking a car based on location, unlock it through the web app to begin driving.

If you're going on a trip proper, it'll work out cheaper to rent a car by the day. Drive.SG has deals starting from $50 on weekdays for its hatchback models, including the Hyundai Getz. A cash-only deposit has to be made prior to rental, and if you're driving into Malaysia, an additional fee of $30 will be levied.