The best cafes in Parramatta
Brunch addicts and bean-fiends will find a happy refuge in Parramatta's coffee houses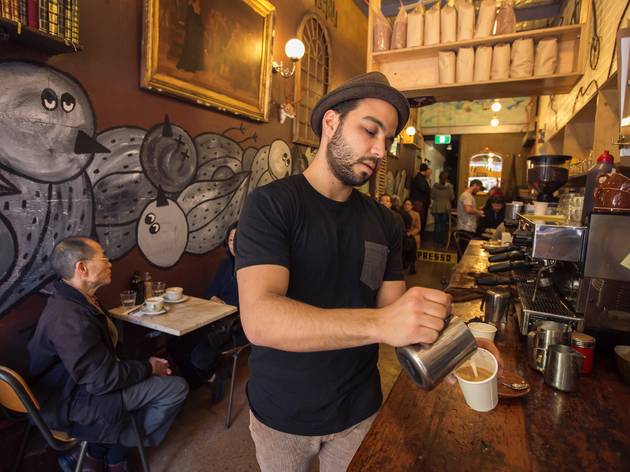 Whether you're after a sneaky chocolate treat, a coffee pick-me-up or a full-on meal at brekky or lunch, here's where to go in Parramatta, the geographical centre of this fine city.
RECOMMENDED: Our guide to the best Parramatta restaurants
Sufjan Stevens wafting from the speakers is your first clue. That big bookshelf offering F Scott Fitzgerald and Cervantes is another... Mars Hill Café is alternative with a capital A. Here, baristas take pride in their coffee-making using the house blend of organic Latin American beans called 'Jumping Llama'. Order a breakfast burrito and an iced coffee with chocolate and strawberry stripes that goes by the name of 'Embarrassed Zebra'. Mars Hill is a place where bands launch their CDs, local artists get their first break, and where a hearty lunch (lamb shanks or a schnitty) costs downward of $12.
Read more
Settle in to this skinny warehouse café and dose yourself with Little Marionette coffee and the baked eggs – creamy Danish fetta with grilled pieces of spicy Turkish sausage on top of baked eggs, tomato, baby spinach and chilli flakes. You'll get halfway through the Portobello mushrooms with hummus on sourdough before you even realise that there's no bacon. Embrace Australia's dessert heritage with a lamington to finish. Circa Espresso is bringing village vibes to Sydney's geographic centre.
Read more
The second offering from the clever lads behind Circa Espresso is a little laneway café with outdoor tables and a long bench inside beneath a rolling library ladder. The soundtrack is Bruce Springsteen and Paul Kelly, the walls are decked out in owl murals and the banter is some of the best we've found in town. Three Ropes is the first port of call for the constant stream of nine-to-fivers who need a caffeine hit from the deft baristas in order to start the day. Bread is the dominant flavour delivery system here with poached chicken, Portobello mushroom, avocado toast and bacon with boiled egg sandwiches.
Read more
The sisters behind Adora have been legends for 20 years for their vibrant handmade chocolates featuring Belgian Callebaut, Indigenous wattleseed and traditional (often gluten-free) ganaches.
Read more
A big hit on "eat street", both for indulgent sugar fixes by day or night, their churros (stretched Spanish doughnuts) come with molten Spanish caramel or white chocolate sauce.
Read more
Want more?
Aussie breakfasts are legendary the world over, and we damn well know how to do them right here in Sydney. From the best cheese toastie around to that liquorice bread, here's our list of where to go and what to order at the best cafés in Sydney.
Read more