The best cafes in Parramatta
Brunch addicts and bean-fiends will find a happy refuge in Parramatta's coffee houses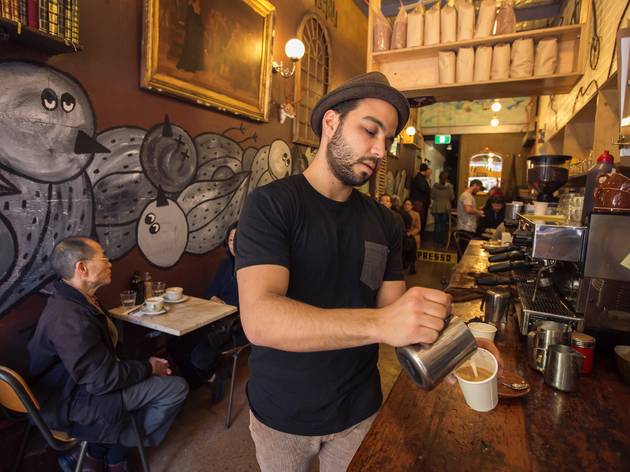 Settle in to this skinny warehouse café and dose yourself with Little Marionette coffee and the baked eggs – creamy Danish fetta with grilled pieces of spicy Turkish sausage on top of baked eggs, tomato, baby spinach and chilli flakes. You'll get halfway through the Portobello mushrooms with hummus on sourdough before you even realise that there's no bacon. Embrace Australia's dessert heritage with a lamington to finish. Circa Espresso is bringing village vibes to Sydney's geographic centre.
Much like the MIA song of the same name, Paper Planes is a little offbeat but a reliable source of energy. This is mostly thanks to brews that they are tapping out from the Inner West's much loved Little Marionette Coffee. The café's soundtrack is a little random – one minute we're listening to Alanis Morissette, the next Snakehips.
The modest café, found inside Horwood Place car park, is giving disadvantaged people a leg-up into the hospitality industry through coffee education and barista training. Darcy St Project is a social enterprise enabling students to build their confidence, improve their language skills and find long-term work in the cafés of Parramatta. "I'd love for Parramatta to become one of the coffee capitals of the world," says founder John Cafferatta, 34, who set up the project after working as a TAFE teacher for ten years.
The sisters behind Adora have been legends for 20 years for their vibrant handmade chocolates featuring Belgian Callebaut, Indigenous wattleseed and traditional (often gluten-free) ganaches.
Want more?
Aussie breakfasts are legendary the world over, and we damn well know how to do them right here in Sydney. From the best cheese toastie around to that liquorice bread, here's our list of where to go and what to order at the best cafés in Sydney.