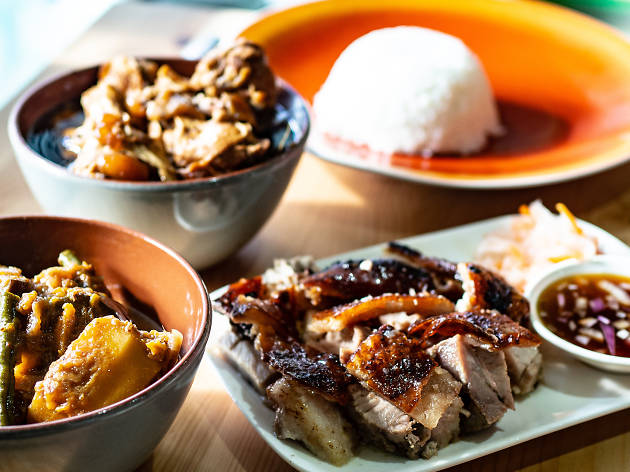 The best Filipino restaurants in Sydney
From adobo to lechon, the multicultural cooking of this colourful island nation comes alive at these top spots
Filipino food is influenced by a variety of culinary cultures from around the world, taking cues from Chinese, Japanese, and Spanish cuisine. But make no mistake, the dishes that are born and bred in the Philippines have a distinct deliciousness all their own.
For example, there's the famous adobo (meaning 'marinade' in Spanish), a dish of either chicken or pork, marinated in a mixture of soy sauce and vinegar. And then, of course, there's halo halo (meaning 'mixed together' in Filipino), a cheeky dessert containing ice shavings, evaporated milk and trimmings like sweetened beans, coconut gel and ube ice cream. And don't even get us started on crispy pata – a perfectly deep-fried pork leg, served with a soy-vinegar dipping sauce – or sinigang, a delicious sour broth of vegetables and meat of your choice. The list truly goes on and on...
Luckily, Filipino food seems to be making its way to the mainstream (and rightly so), which means if you haven't already, it might be time to jump on the jeepney and give these places a try.
On the hunt for a bargain? These are the 50 best cheap eats in Sydney.
The 9 best Filipino restaurants in Sydney
Need something sweet to finish?
Ice cream: there are a thousand places to get it – from the gummy, overly saccharine stuff, to smooth, silky excellence. Rest assured, though, that these are all in the latter category.
Best selling Time Out Offers