Things to do in New York today
The day's best things to do in New York—including free and cheap activities, concerts, screenings, shows, parties and more. It's your social emergency savior.
Keith Malley and Chemda Khalili, a.k.a. Keith and the Girl, found podcasting before almost everyone else in the comedy world. They inspired Marc Maron, have a rabid fan base and get their guests talking about some fairly personal stuff with ease. During this annual fest, they host loads of different shows; all are taped for broadcast later.
Barnard's college-radio station presents the 2014 installment of its all-day outdoor spring fling. This year's lineup features L.A. alt-R&B types inc., Brooklyn MC Ka and local indie-rock faves Darlings. Oh, and free food!
Gallerist José Freire opened this second venue of his noted Soho gallery in the spring of 2011.
47 Wooster St, between Broome and Grand Sts
More info
See more free things to do today
---
Today's best food and drink events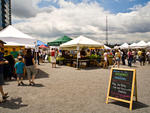 The venerable epicurean extravaganza returns the weekend of April 6, spending Saturdays in Williamsburg's East River State Park (enter at North 7th Street) and Sundays in Brooklyn Bridge Park at the walled-in, open-air Tobacco Warehouse through the summer. The 2013 iteration features returning vendors such as comfort-food maestro Buttermilk Channel, offering its beloved fried chicken and cheddar waffles. Welcome newbies like Vermont's Rockville Market Farm, peddling breakfast gorditas ($5) with farm-made sausage, eggs, butternut-squash hot sauce and Shelburne Farms cheddar wrapped in a double tortilla; they'll also be hawking farm-fresh eggs by the carton ($5 for a dozen). Last year saw the debut of Smorgasbar, an all-weather outdoor bar within the market, and though the beercentric watering hole won't open until May or June, expect an expansion of offerings from breweries beyond Kings County. Visit smorgasburg.com for more information.
Embark on an edible journey through Italy led by Murray's cheese connoisseur Jason Donnelly. The feast of regional specialties will feature Castelvetrano olives, Parma prosciutto and caciocavallo, paired with Montepulciano and Prosecco wines.
---
Last spring, American Patchwork & Quilting magazine teamed up with local store the City Quilter to host a national contest for blankets inspired by the 100-year-old terminal. The grand prize, first- and second- place winners, and 27 finalists in this display draw from the building's design elements—clocks, chandeliers and the iconic celestial ceiling—as well as each artist's connection to the historic New York landmark.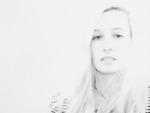 Price band: 1/4
Critics choice
Punk's not dead, and with Brooklyn trio Slothrust, it just got a lot more fun. On their Ba Da Bing debut, Of Course You Do, the three jazz musicians celebrate loudness with furiously danceable tracks (and the odd love song) that inhabit a realm of ennui and the weird. Drums, guitar and bass evoke both Sonic Youth and death metal, but front woman Leah Wellbaum's androgynously droll deadpan is the main attraction. She has the melodic melancholy of Nico, Karen O's sultry growl and the ghoulish cackle of the Cramps' Lux Interior. In "Beowulf," she muses at the literary "sick puppy" with his penchant for murder sprees and the persecution of woodland creatures. "No Eye Candy" finds her lovelorn for a sweaty man with a snake. This is not the punk of protest, or even the garage. Rather, Wellbaum and crew craft playful, tightly instrumented visions of psychic dysfunction, inflatable lovers, worm regurgitation, cat appreciation and Satan. It's music for long-haul road trips in busted cars, where the destination is a club that smells awful but the crowd is cool.—Kate Crane
Price band: 1/4
Critics choice
Visionary Alabama folk artist and arrestingly lucid songsmith Lonnie Holley brings his timeless, transporting tunes to town for a trio of gigs.
See more of today's top concerts
---
Today's best arts and culture
Price band: 2/4
Critics choice
The newest addition to AMNH's Hayden Planetarium launches you on an astronomical adventure—from Jupiter's atmosphere to the Mount Wilson Observatory in California, where Edwin Hubble first discovered other galaxies. Learn how dark matter (a.k.a. invisible matter) and dark energy (the force that accelerates the universe's expansion) shape outer space, and follow scientists on their journey to unearth cosmological mysteries. Dr. Neil deGrasse Tyson narrates.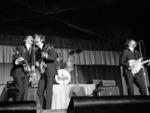 On the 50th anniversary of the Fab Four arriving stateside, the Public Library for the Performing Arts and the Grammy Museum showcase memorabilia, recordings, videos and photos of the mop-topped musicians—and the Beatlemania that followed them.
Price band: 2/4
Critics choice
Treat your eyes to some much-needed color therapy at the New York Botanical Garden's annual orchid explosion. This year's Floridian theme combines thousands of tropical blooms with modernist architecture; the display was inspired by an award-winning garden that landscape architect Raymond Jungles designed in 2005 for Judge Richard K. Eaton and MCNY president Susan Henshaw Jones. There's even a re-creation of the couple's backyard oasis for us humble apartment dwellers to envy—and admire.
See more of today's best arts and culture
---
Tonight's best comedy show
Sons of Essex's Seth Levine turns out comfort-food spins—like cheeseburger pot stickers and duck-topped pizzas—at this comedy club–restaurant hybrid. After dinner, head downstairs to the club, where you can sip cocktails designed by Minetta Tavern vets, while acts like Judah Friedlander and Artie Lange supply the belly laughs. Test your stand-up knowledge and try to name all the comedians on the wallpaper in the bathrooms.
239 Third Ave, between 19th and 20th Sts, 10003
Average main course: $12. AmEx, MC, V
Make reservation
See more of tonight's best comedy
---
Tonight's best nightlife
Price band: 2/4
Critics choice
Burlesque and variety headquarters the Slipper Room provides plenty of entertainment on the weekends, attracting the cream of the city's scene for plenty of bump-and-grind fun. Shows are at 10pm and midnight; check the club's website for the (generally awesome) lineup.
Price band: 3/4
Critics choice
Duane Park's Saturday night show features classy burlesque and old-school jazz. Irrepressible downtown impresario Murray Hill is among the rotating roster of hosts; performers Amber Ray, Medianoche, Jo "Boobs" Weldon, Peekaboo Pointe, Gal Friday, the Maine Attraction and their pals twirl the titular tassels; and swing quintet the Stiff Gimlets provides the soundtrack. The price also includes a three-course feast with your choice of dishes from the Southern-inspired menu, such as spicy Creole bouillabaisse.
Duane Park 308 Bowery, between Bleecker and E Houston Sts, 10012
Sat Apr 19 - Sat Apr 26
More info
Price band: 2/4
Critics choice
Bonnie Dunn, the MC-chanteuse behind this burlesque-circuit stalwart, presides over a lively mix of stand-up, magic, acrobatics and high-concept strip. The city's longest-running girlie revue, Le Scandal is still looking young, hot and ready to party.
See more of tonight's best nightlife
---
---
You might also like
---