Heads up! We're working hard to be accurate – but these are unusual times, so please always check before heading out.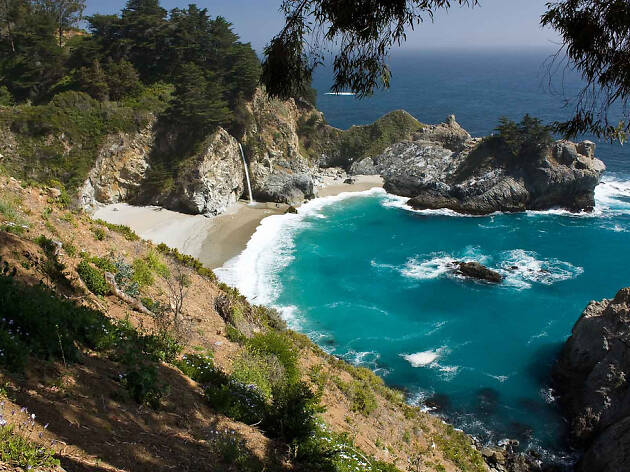 The 15 best places to visit in California
The best places to visit in California include sunny beachside towns, snowy mountain resorts and sprawling metropolises
The best places to visit in California need little introduction. Thanks to a wealth of attractions and on-screen appearances, the Golden State enjoys a prominent place in the world's collective imagination. California is more than palm trees and sunshine though; it offers a wonderfully diverse landscape of mountains, deserts, beaches, and vineyards. Plus, within each of these distinct settings, you'll discover unique pockets of vibrant culture, stylish design, and some of the best restaurants on the West Coast. California is the stuff of road trip dreams, and you can start mapping out your next adventures with the following alluring destinations.
RECOMMENDED: Full guide to the best things to do in California
Best places to visit in California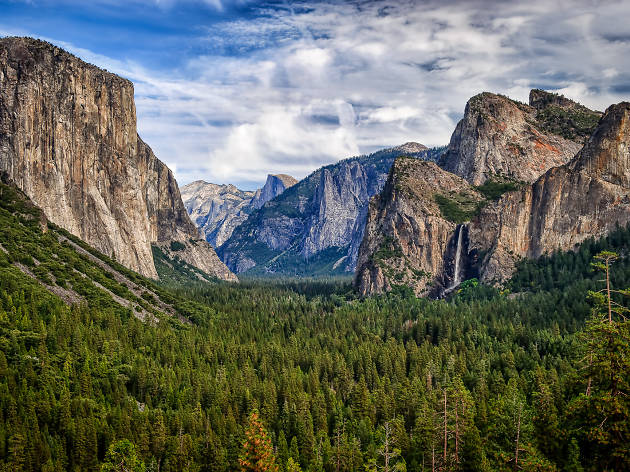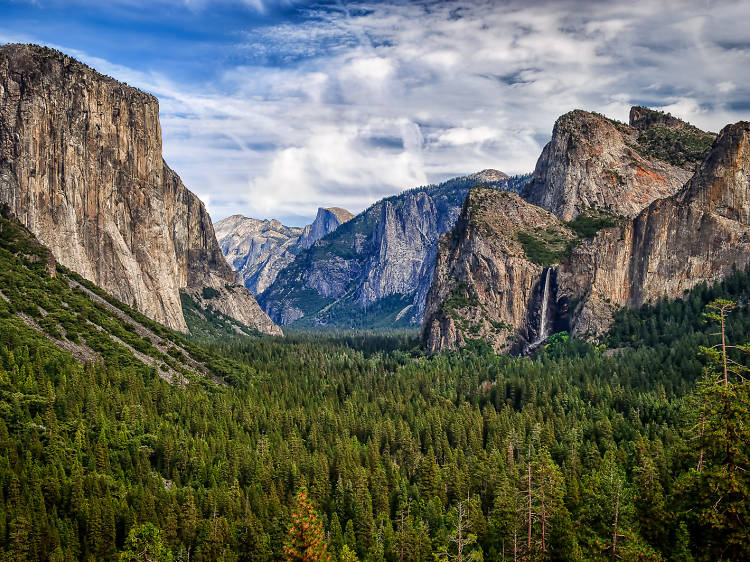 Photograph: Flickr/ Howard Ignatius
What is it? Quite possibly the most spectacular showcase of the Earth's natural beauty.
Why go? The few Californians who admit to having never visited this tourist-populated national park risk ridicule by fellow residents. Why? Because even regular visitors are left dumbstruck by Yosemite's grand-scale natural wonders. The park spans nearly 750,000 acres, but most visitors are content sticking to Yosemite Valley thanks to blockbuster attractions such as Vernal Falls, Mirror Lake, and Half Dome. For more solitude, seek out Tuolumne Meadows, Wawona, and Hetch Hetchy which once rivaled Yosemite Valley's scenery before it was dammed up to serve as a reservoir for San Francisco's drinking water.
Discover the best things to do in Yosemite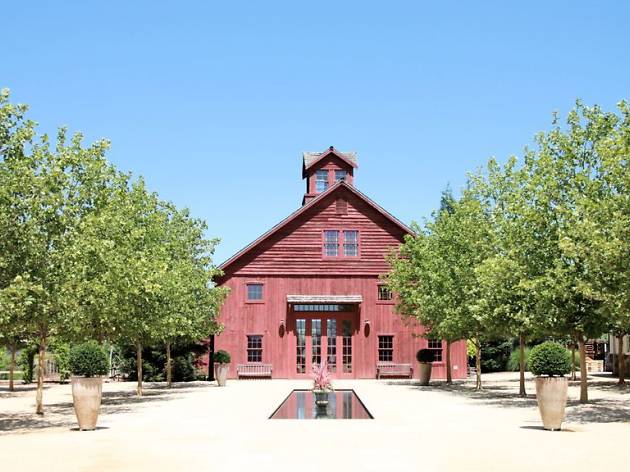 Photograph: Yelp/Wil S.
What is it? Take an especially scenic patch of California countryside, and add relaxed vibes, world-class dining, and a hell of a lot of exceptional wine.
Why go? Thanks to a balmy climate, Insta-worthy wineries, and a breathtaking setting of rolling vineyards backed by mountain peaks, even your favorite wine tastes better in Napa Valley. The region is comprised of numerous small towns with their own distinct flavor, from The French Laundry's tony home of Yountville to the laid-back, mineral springs-rich town of Calistoga. Don't pass up downtown Napa whose historic riverfront streets are currently experiencing a renaissance.
Discover the best things to do in Napa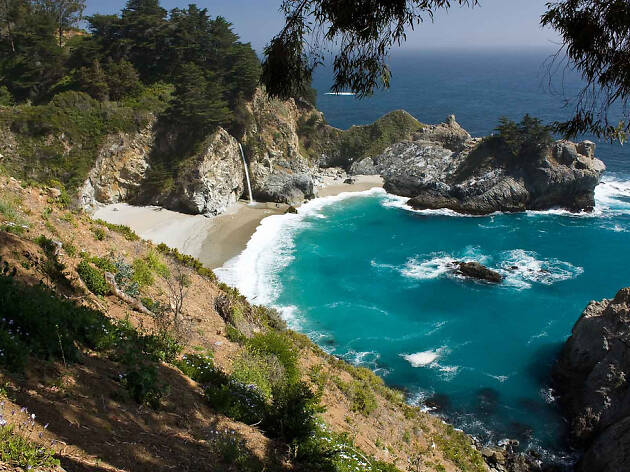 Photograph: Flickr/Rob DeGraff
What is it? Redwoods meet the sea at this nature-filled escape perched high above the Pacific.
Why go? Big Sur encompasses a wide, forested swath of California's central coast, yet you'll find most lodging, restaurants, and attractions in and around Big Sur Village. For your basecamp, pitch a tent at Pfeiffer Big Sur State Park, or bed down in one of the outdoor-chic cabins at Glen Oaks. During the day, frolic in the crystalline pools found along the Big Sur River (the best are at The Gorge in Pfeiffer Big Sur State Park), hike down to mesmerizing Partington Cove, and join the hundreds of other tourists photographing iconic McWay Falls. Cap the night with sweeping vistas and a sunset cocktail and at Nepenthe, and wake to a hearty breakfast around the wood-fired hearth at the ridiculously cozy Deetjen's restaurant.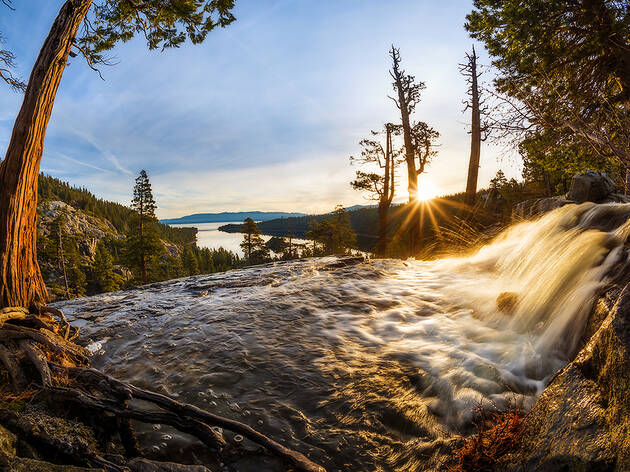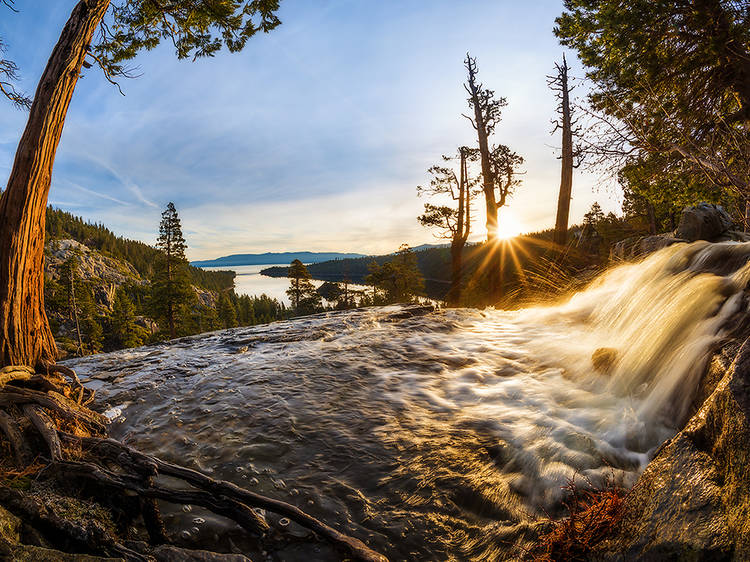 Photograph: Flickr/Tom Bricker
What is it? The second largest lake in the nation is a year-round destination for skiing, watersports, and alpine splendor.
Why go? While the U.S. abounds with famed ski resorts, only Tahoe offers those coveted bluebird days after a night of fresh powder. Yet, the region draws the most crowds during the summer when visitors can hike waterfront, cliffside trails, raft the gorgeous Truckee River, and fling themselves off granite boulders into the lake's clear, turquoise waters.
Discover the best things to do in South Lake Tahoe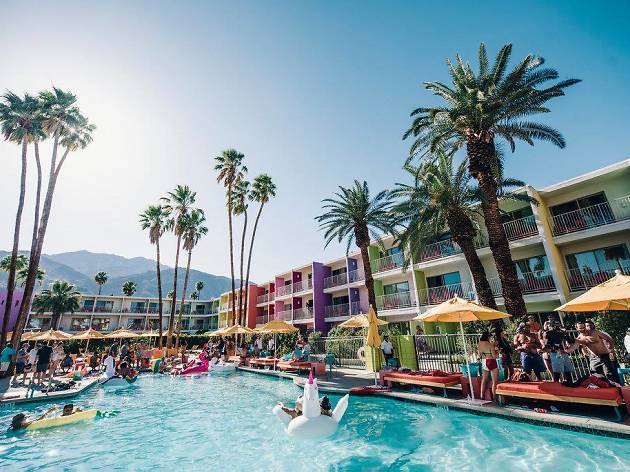 Photograph: Courtesy the Saguaro/Holy Mountain
What is it? Originally popularized by Sinatra-era celebs, this serene desert escape is finding a new audience with mid-century style and a popular music fest.
Why go? In a state renowned for blending natural beauty and stylish design, Palm Springs still stands out. It's home to the largest collection of mid-century modern structures in the world, many of which you can admire via self-guided tours (stop by the visitors center housed in a particularly striking example). Plus, half the fun of weekending in Palm Springs is the many reimagined inns and motels that serve as de facto showcases for the town's fetching, mid-century mod style. And, each spring, you'll want to don your best boho duds for the Coachella Valley Music and Arts Festival which takes place in neighboring Indio.
Discover the best things to do in Palm Springs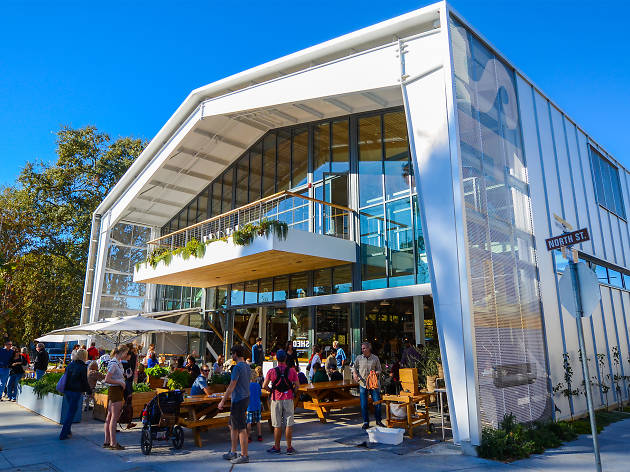 Photograph: Flickr/Markus Spiering
What is it? The chic epicenter of Sonoma County's wine and food scene.
Why go? No need to pull straws for a designated driver thanks to Healdsburg's walkable central plaza brimming with tasting rooms and upscale restaurants. Check in to one of the town's luxe hotels—Harmon Guest House, The Duchamp—and stroll to plaza hotspots such as the loungey tasting room of Banshee Wines, the lively, bocce ball-equipped patio at Campo Fina, and the exquisite dining room of the three Michelin star Single Thread.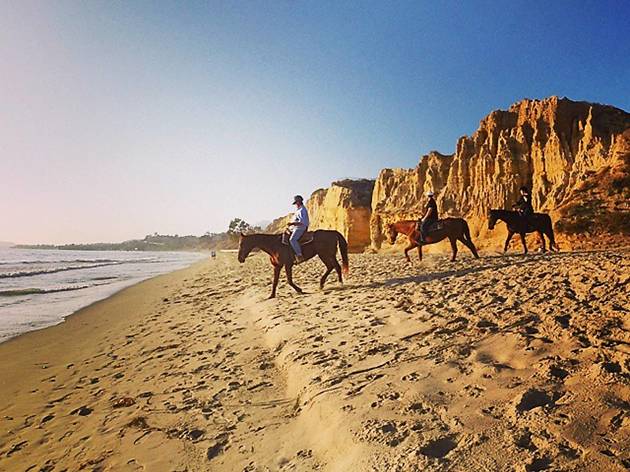 Photograph: Courtesy Santa Barbara Beach Horseback Rides
What is it? A seaside gem in Central California.
Why go? The town's slogan "The American Riviera" feels like a marketing ploy...until you visit in person. Lush, Spanish Colonial architecture from the early 20th century are tucked between the bewitching Santa Ynez Mountains and the sparkling Pacific Ocean. Stroll main drag State Street whose shops and restaurants are often situated in hidden, Spanish-style courtyards, before ending up at palm tree-lined East Beach. For more seaside splendor, hop on a rental bike, and pedal the shorefront to Butterfly Beach which fronts the spectacular—and spendy—Four Seasons Biltmore. Come evening, find drinks, eats, and a fun crowd in the lively Funk Zone. Just make sure to tour the enchanting gardens at Lotusland before you leave town.
Discover the best things to do in Santa Barbara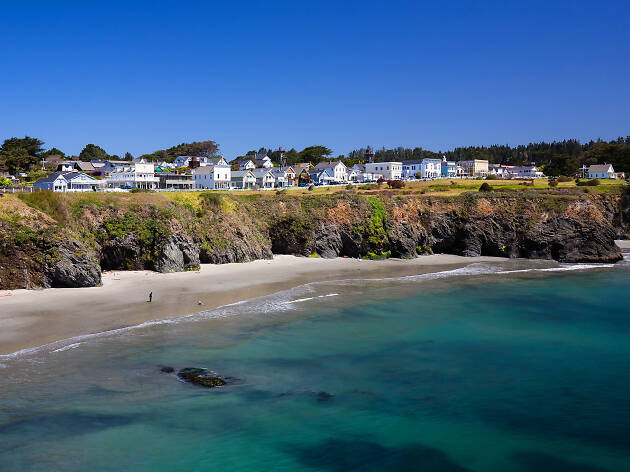 Photograph: Flickr/Mel Foody
What is it? A rugged stretch California coastline with a few nods to New England.
Why go? The Infinitely charming town situated on coastal headlands and comprised of New England style homes—thank its early settlers—has historically drawn lovestruck couples to cutesy B&Bs. Thankfully, the grandma-pleasing decor found in many inns is slowly giving way to contemporary furnishings. Plus, Mendocino isn't just for the lovey-dovey set. Outdoor adventures abound including hiking fern-laden redwood groves and dramatic coastal bluffs—check out Van Damme and Russian Gulch State Parks—and kayaking wondrous sea caves. At night, the region's exceptionally dark skies are awash in millions of stars.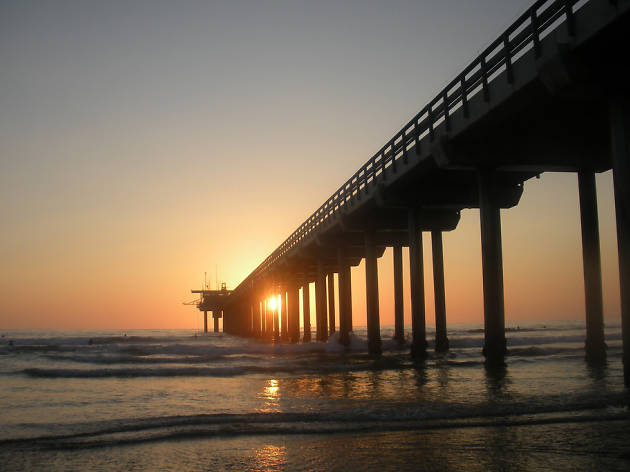 Photograph: Flickr/smilingmaya
What is it? Beaches, beer and border culture help define this sunny SoCal town.
Why go? San Diego combines the best of California's cities and beach towns with a fun, sophisticated food and drink scene and miles of sandy shores. Twenty-somethings will find no shortage of shots in party spots such as Pacific Beach and the Gaslamp District, while foodies should gravitate to Little Italy and North Park. In burgeoning Barrio Logan, find a hip Mexican-American community populated with stylish cafes, breweries, and eateries. Beachgoers will be happy in La Jolla and Coronado Island. Just don't miss a Mai Tai at one of the many tiki bars—False Idol, Grass Skirt, Fairweather, for starters—that feel right at home in the city's tropical environs.
Discover the best things to do in San Diego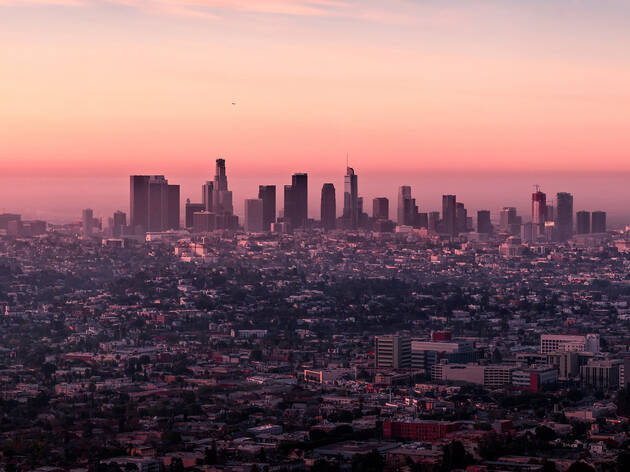 Photograph: Martin Adams
What is it? This oft-misunderstood city is the cultural hub of California (and yes, that includes insanely good tacos).
Why go? Despite what you might have heard, there are numerous ways to do this multifaceted city, most of which are not always apparent to newcomers. No doubt you've seen Santa Monica beaches and Beverly Hills boutiques portrayed on-screen, yet you'll have to seek out the Persian dishes of the westside's "Tehrangeles," the majestic architecture and nightlife of downtown LA, and the fun, hipster scenes found in Echo Park, Silver Lake and Highland Park. Plus, LA art galleries are the best in the state, exhibiting both the modern (The Broad, MOCA, LACMA) and the quirky (Museum of Jurassic Technology, Velveteria, Museum of Neon Art). As for those tacos, just walk down any street.
Discover the best things to do in Los Angeles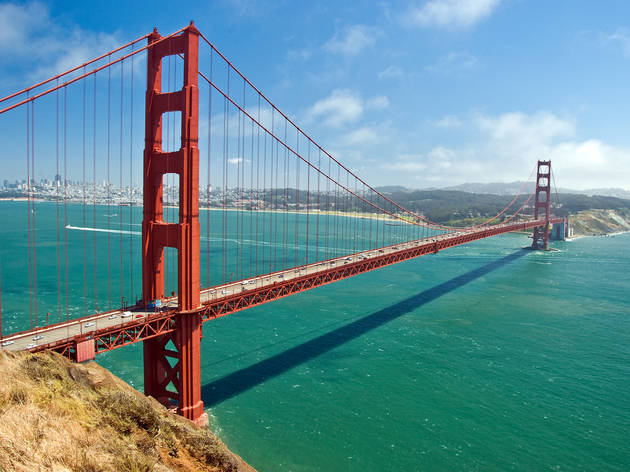 Photograph: Shutterstock
What is it? Home to more than a few California landmarks—Golden Gate Bridge, Chinatown, Alcatraz—San Francisco charms with hilltop vistas and exceptional eateries.
Why go? It's compact size and colorful street life means you can enjoy seeing the city's attractions all on foot. Plus, there's always good eats within reach as eating and drinking is considered SF residents' favorite pastime. Nosh your way through the marketplace at the waterfront Ferry Building, explore Chinatown's moody alleys, and bar hop in the Mission. Bonus points for visiting Oakland's hip boutiques and laid-back eateries across the bay.
Discover the best things to do in San Francisco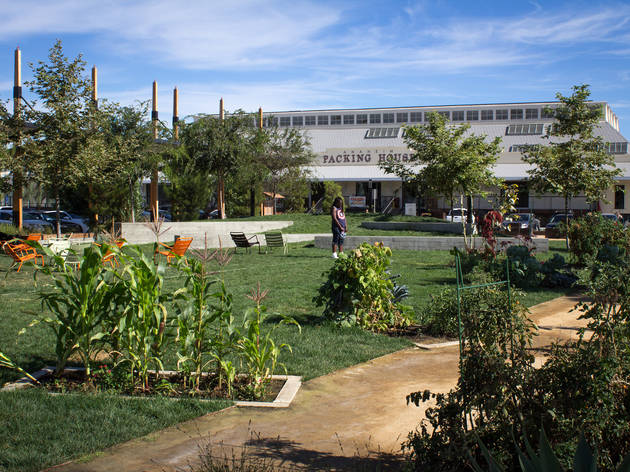 Photograph: Michael Juliano
What is it? The home of Disneyland offers more magical reasons to linger.
Why go? In Orange County, the thrills don't stop at the Dumbo ride. Anaheim bustles with innumerable craft breweries, Laguna Beach hides some of the most beautiful beaches in California, and South Coast Plaza is a shopping mecca for more than just real housewives. To see what the cool kids are up to, check out Costa Mesa and Downtown Santa Ana which features a collection of hip boutiques and the county's best nightlife.
Discover the best things to do in Orange County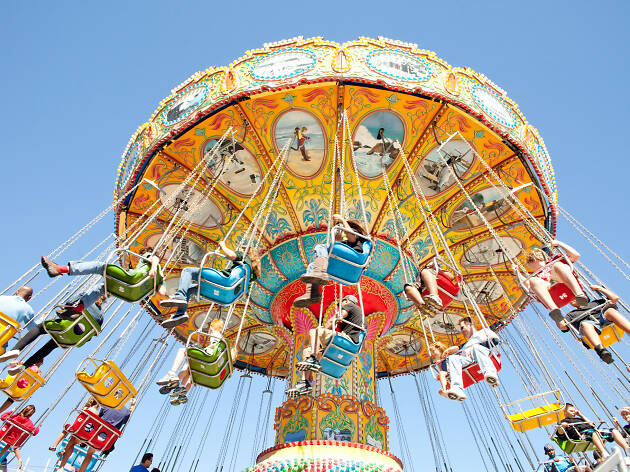 Photograph: Flickr/Thomas Hawk
What is it? The birthplace of mainland surfing is redefining the modern, California surf town.
Why go? Featured in the pioneering surf flick "The Endless Summer" and home to where surf legend Jack O'Neill invented the wetsuit, Santa Cruz has had surfing in its DNA since three Hawaiian princes introduced the sport here in the late 1880s. Yet, the city's iconic surf style has gotten an upgrade in recent years. Shop stylish, surf-inspired boutiques such as Berdel's, Sawyer Land & Sea Supply, and Home/Work, before chowing down on contemporary seaside grub—fish tacos, poke bowls—at Steamer Lane Supply.
Discover the best things to do in Santa Cruz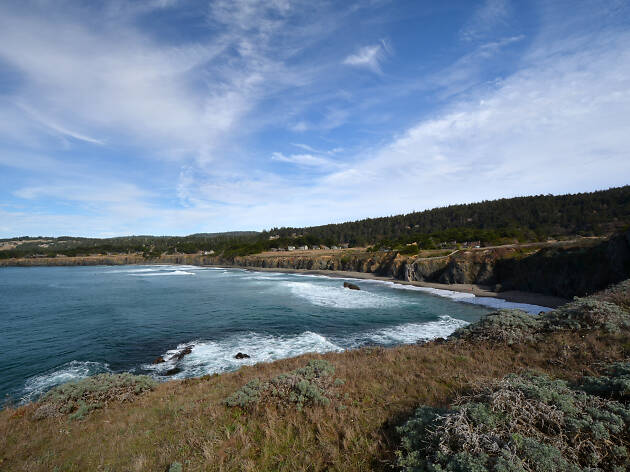 Photograph: Flickr/Omar Barcena
What is it? A Northern California coastal nirvana made even more alluring by striking, 70s-era modernism.
Why go? Watch your blood pressure drop and social media shares soar at this quiet coastal community where the primary activity is marveling at the surrounding coastal landscape. You can book a room at the waterfront Sea Ranch Lodge, yet most visitors are here to stay in one of the sleek, wood-sided modern vacation homes designed to blend into the coastal landscape. Design fans also shouldn't miss the vibrant super graphics found inside the Moonraker Athletic Center.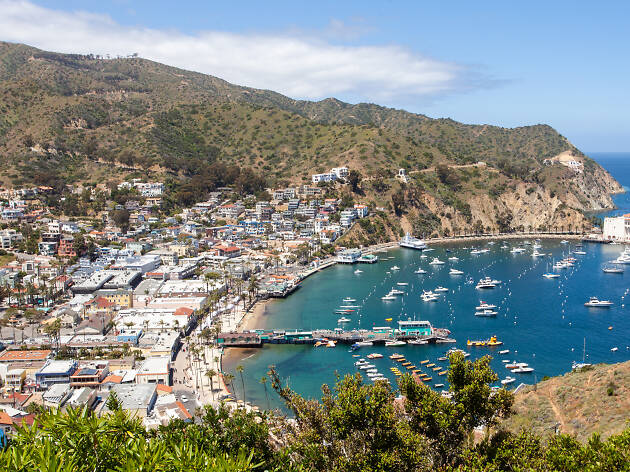 Photograph: Michael Juliano
What is it? Southern California without the freeways.
Why go? Reached by a 60-minute boat ride from Long Beach, the island escape feels surprisingly remote. A swinging destination during the 1930s, the tiny town of Avalon today offers more mellow thrills. Tour the island's Art Deco masterpiece, the Catalina Casino, kayak offshore waters, and sip seaside cocktails at the Descanso Beach Club.
Discover the best things to do on Catalina Island
Explore more of California
Whether you're planning to spend a weekend getaway under a canopy of giant Sequoias or taking a day trip to see Southern California wildflowers, we recommend making plans to see as many of these parks as possible.