22 reasons to love Time Out Market Chicago
There are tons of reasons to fall in love with Time Out Market Chicago—allow us to count the ways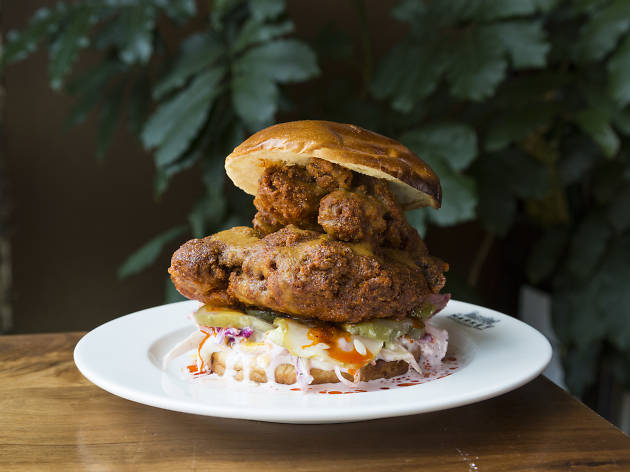 We've always prided ourselves on guiding Chicagoans to the top food and drink experiences in town, from greasy spoons and fancy-pants hot spots to PBR-slinging dive bars. Now, we're uniting the best of the city under one roof at Time Out Market Chicago (916 W Fulton Market), opening later this year in the heart of the West Loop. The 50,000-square-foot, three-floor destination is home to 18 of the best restaurants in Chicago, plus three bars, a demo kitchen, a hip event calendar and a rooftop terrace with sweeping vistas.
The idea for Time Out Market was born almost 4,000 miles away, in Lisbon, where our editors gathered the city's top restaurants into one massive venue. The food-filled epicenter has since become the city's most visited attraction, and in the past year alone, we've opened Time Out Markets in Miami, New York and Boston. (Just in case you thought we were slacking, we've got one landing in Montreal, too.) Read on for a taste of what's to come when Time Out Market Chicago opens its doors later this year. We hope you're hungry, Chicago!
How we do what we do: Every month, our editors and critics crawl the city in search of the best restaurants and bars. When we review spots, we show up unannounced and pay our own way to keep things honest. That far-reaching, in-depth knowledge has helped us to curate a dream-team lineup of chefs and bartenders for Time Out Market Chicago. We've invited the top pros to join us in our kitchens (and shake up cocktail recipes in our bars) so that you always get the best of Chicago under one roof. If it's great, it goes into the magazine; if it's unmissable, it also goes into Time Out Market Chicago.
Here's why you'll love Time Out Market Chicago
Every restaurant has a dish that takes on a life of its own, and for Bridgeport's The Duck Inn, it's their namesake hot dog. To be fair, calling it a "hot dog" doesn't quite do it justice. The sausage—a decadent blend of all-natural beef and duck fat—is grilled and topped with elevated Chicago-style ingredients: house-made relish, beer mustard, pickled serrano chilies, a fat pickle, garden-fresh tomatoes, raw onions and a dash of celery salt. For Duck Inn Dogs, his debut spin-off concept at Time Out Market, chef Kevin Hickey unleashes a full menu of weiners that are crowned with everything from creamy elotes and spicy duck chili to peanut mustard.
James Beard Award winner Abe Conlon's cooking career began when he was just 15 years old—around the same time the rest of us were just eating what we could microwave. After years of working under the world's top culinary leaders, he and Adrienne Lo opened Fat Rice in Logan Square in 2012, transporting Chicagoans to Macau, China. Here, as a tribute to Time Out Market's origins in Lisbon, Conlon creates rustic, hearty dishes inspired by his travels to the Portuguese mainland. Whatever you do, don't leave without a pair of custardy pasteis de nata (egg tarts).
Inspired by the memory of standing at the end of her driveway and waiting for the ice cream truck, pastry vet Dana Salls Cree partnered with Michael Ciapciak, owner of Bang Bang Pie & Biscuits, to open the ice-pop shop of her dreams in Logan Square. These sprinkle-coated handheld delights are as creative as they are beautiful, with imaginative flavors like peanut butter-potato chip, Thai tea and a plant-based blue-moon pop that's brimming with nostalgia. If you close your eyes, you can almost hear the ice cream truck's classic jingle from your childhood.
We like to think John Manion was a daredevil in a past life—maybe it's because he plays with fire for a living at his celebrated West Loop restaurants, El Che Steakhouse & Bar and La Sirena Clandestina. Manion's cooking is a veritable love letter to his travels through South America, with special attention paid to the cuisines of Argentina and Brazil. (Yeah, this is the place to come when empanada and chimichurri cravings strike.) The centerpiece of his eatery is a red-hot, wood-burning stove, and anything that touches those flames is sure to be dynamite.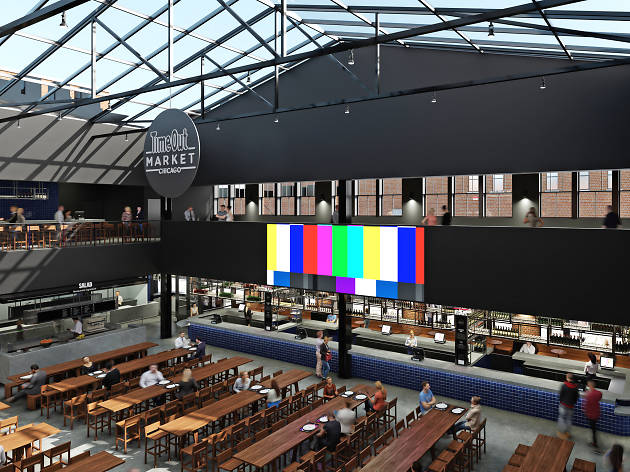 Rendering: Courtesy Time Out Market
A jam-packed events calendar
Time Out Chicago isn't all about food, and neither is Time Out Market Chicago. We're curating a fun-filled lineup of events that brings the magazine to life, from performances by up-and-coming bands and DJs to rooftop tai chi, interactive First Friday markets, and boozy tap takeovers with some of the city's best breweries and craft workshops. Hey, we're here every day, and we wanna have a good time.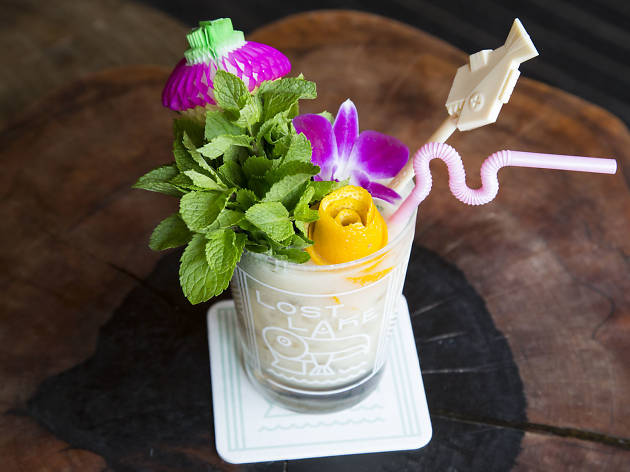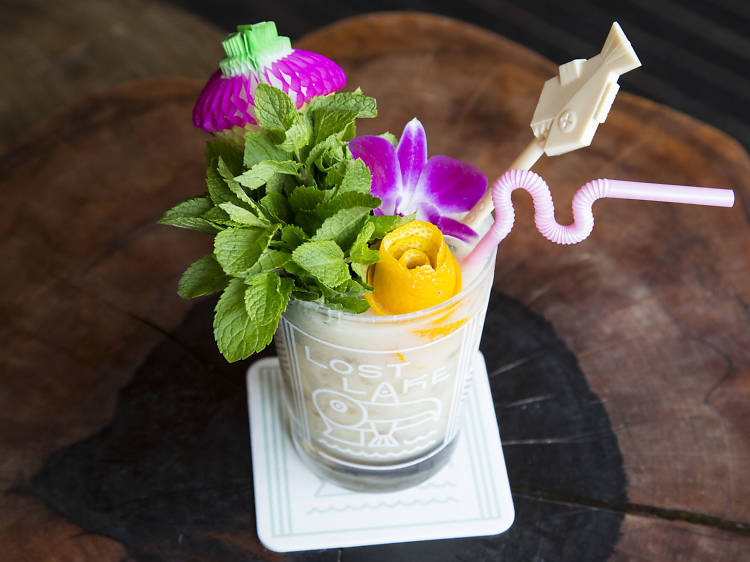 Photograph: Jaclyn Rivas
A secret speakeasy from Paul McGee and Shelby Allison of Lost Lake fame
You'll need something to wash down all these eats, and we found just the folks to help us get you tipsy: Mix masters Shelby Allison and Paul McGee are debuting Secret Sound on Time Out Market Chicago's second floor. This hidden watering hole specializes in the tropical, rum-soaked tiki drinks that earned Lost Lake the title of Best Cocktail Bar in America from Tales of the Cocktail last year.
Only in Chicago could a burger be so good that it deserved its own eatery. The story of Mini Mott's signature dish began in 2016, when the patty at parent spot Mott St was recognized as one of the nation's best. At the time, the burger was available only at the restaurant's tiny bar. Mini Mott was born to supply the demand, turning out juicy patties layered with melted American cheese, hoisin aioli, pickled jalapenos, miso butter, pickles, sautéed onions and a cloud of sweet-potato frizzles. We'll give you a second to catch your breath.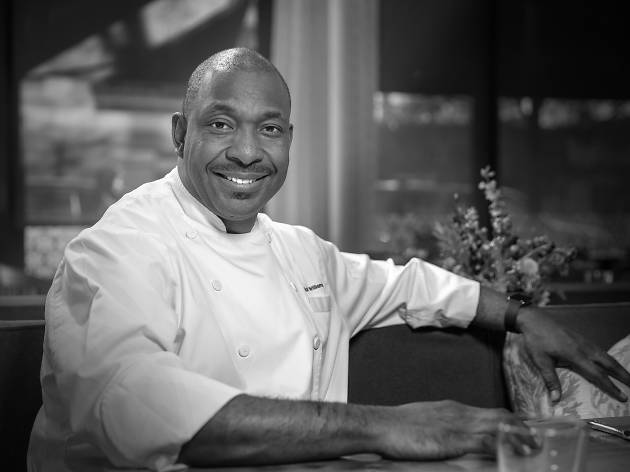 Photograph: Gary Adcock, Studio37
An enriching event series from chef Erick Williams
Throughout his celebrated career, chef Erick Williams has made it a priority to donate his time and expertise to the community. At Time Out Market Chicago, he'll host an immersive educational event series that gives Chicago youth a behind-the-scenes look at what it's like to be a chef, which will include hands-on demonstrations, an open discussion and dinner. Here's hoping we gain a few new Time Out Market chef hopefuls in the group!
Born in Seoul and raised in Chicago, chef Bill Kim's earliest food memory is standing at his mother's side, grinding sesame seeds with a mortar and pestle. Back when his career first started, Kim immersed himself in French cuisine, with guidance from industry heavyweights like Jean Banchet and Charlie Trotter. These days, he's developed a signature style all his own, dispensing a hit list of border-blending, Asian-inflected treats, such as the belly-warming udon soup and pillowy dumplings, which are so addictive, you'll wish you had ordered double—save yourself the wanting and just do it.
What makes Art Shabez's slices stand out in a bona fide pizza town like Chicago? Sure, the gooey mozzarella, fennel-flecked Italian sausage and market-fresh veggies are all stellar, but the real star of the show is the fan-favorite red sauce, which bursts with vine-ripened tomatoes, fresh oregano and basil, and a faint hint of red pepper. Luckily for us, the stuff is slathered all over every pie. The Art of Pizza has elevated itself to the status of an institution, making it an essential for anyone who claims to be a pizza aficionado or for anyone who loves pizza, which is everyone.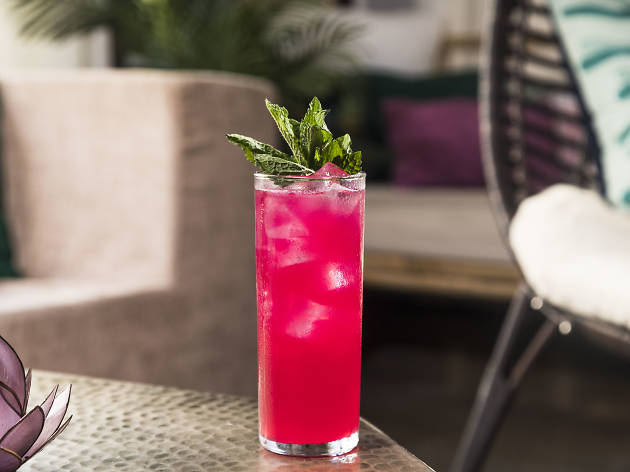 Photograph: Jaclyn Rivas
Destination-worthy drinks
We've paired our star-studded restaurants with three bars—one on the first floor, one on the second floor and one on the rooftop. Beverage director Jonathan Kahn asked the city's top bartenders to dream up specialty cocktails just for Time Out Market Chicago and then added some of his own ideas. Guests will be able to sip delicious drinks from Arbella, Best Intentions, Billy Sunday, Flora Fauna and Punch House.
James Beard Award winner Jimmy Bannos Jr. got his first taste of the restaurant industry early in life. Like, really early. When he was five years old, Bannos was busy busing tables at his father's New Orleans-focused restaurant, Heaven on Seven. Years later—after culinary school, a handful of grown-up gigs and a life-changing trip to Italy—Bannos opened the Purple Pig on Michigan Avenue. Here at Time Out Market, Bannos presents a robust collection of artisanal cheeses and house-cured meats, such as the savory duck-breast prosciutto and the tongue-tingling chorizo.
We find ourselves coming back to the same two words to describe chef Thai Dang's cooking: unapologetically authentic. Dang and his wife, Danielle, are the masterminds behind the Vietnamese kitchens HaiSous and Cà Phê Đá in Pilsen, where they present recipes that are deeply rooted in family tradition. Using fresh herbs, pristine seafood and of-the-moment produce, the Dangs invite you to join them on a sensory journey through Vietnam: You'll nosh on tamarind-glazed spareribs, a refreshing grilled-prawn salad and fried chicken wrapped in sticky rice.
Health food that doesn't leave you craving french fries at midnight? We didn't think it was possible. Founders Kasia Bednarz and Britni DeLeon have cornered the market on feel-good eats that are heavy on flavor and light on guilt. The duo met years ago while working at a Chicago steakhouse (really), where they bonded over their desire to fill the void between celery juice and cheat meals. They partner with like-minded farmers to source clean ingredients for their hearty bowls, loaded toasts and nutrient-packed smoothies.
Brian Enyart and Jennifer Jones Enyart lay claim to the ultimate Chicago love story: They met while working under storied chefs Rick Bayless and Charlie Trotter, respectively. Years later, they opened Dos Urban Cantina in Logan Square, where they use contemporary ingredients and flavors to put their own spin on Mexican staples, like the tamal tots—hunky nuggets of masa served with spicy habanero crema. The only way you can mess up your order here is by skipping Jennifer's famed chocolate cake, laced with loads of cocoa and what we're convinced must be pure magic.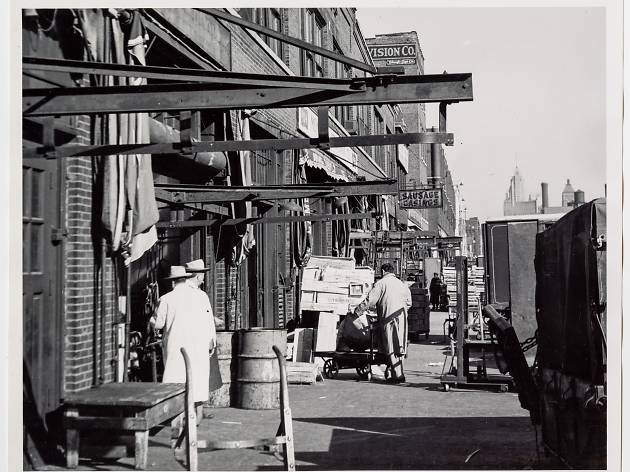 Photograph: Stephen Jensen courtesy Chicago History Museum
Way back in 1850, Fulton Market established itself as a food-distribution hub with the construction of West Market Hall on Randolph Street. In the years that followed, the area exploded with meat-packers and wholesalers who crowded the cobblestone streets with horse-drawn wagons. The block that now houses Time Out Market was first developed in 1911 by C.L. Elmer and C.W. Elmer, who worked with local architect William D. Mann to design the two-story brick structure. Time Out Market Chicago resides in a complex that doesn't look much different from when it was first erected—we purposely decided to blend into our storied environs. Though the structure had to be demolished and constructed from the ground up in 2016, crews rebuilt the facade with the original bricks.
For as long as she can remember, chef Zoe Schor has loved craggy, oil-dappled fried chicken. What started out as a crowd-pleasing recipe to bring together family and friends eventually grew into a restaurant devoted to the stuff—and it's not hard to see why. Schor's fried chicken is a study in balance: The bird-to-breading ratio is just right, and every bite shatters a crisp exterior to reveal the juicy meat within. Psst: Don't skip the buttermilk biscuit, a melt-in-your-mouth pastry that's crowned with a dollop of chili-maple butter.
So, you're new to this whole fine-dining thing, eh? This is an excellent place to start. Chef Brian Fisher drops pretension in favor of approachability, offering a menu full of familiar ingredients that have been gussied up into something extra special—no ego included. At Time Out Market Chicago, he introduces diners to an all-new lineup of Asian-inspired recipes, like flaky croissants packed with hunks of tangy Korean barbecue. But the star of the show is the juicy whole-roasted duck, available daily in incredibly limited quantities, so snag one if you can.
To really appreciate the wonders of chef-owner Bobby Schaffer's pastry, you should know that he mills his own flour and employs a tedious (but deeply worthwhile) fermentation process to craft cardamom-scented chocolate croissants, lingonberry-almond cakes and, say, flaky cinnamon rolls. Backed by a résumé that includes a stint at the three-Michelin-starred Grace, Schaffer opened Lost Larson in Andersonville to reconnect with his heritage. For example, the bakery pays homage to his grandfather's abandoned last name, Larson, which he lost when he immigrated to the U.S. and took his boss's surname.
Mark Steuer takes traditional German staples—think bratwurst, spätzle and schnitzel—and remixes them with the dishes he grew up eating in Charleston, South Carolina. For example, a monstrous schnitzel sandwich is glazed with sinus-clearing Nashville hot sauce. Anchoring the kitchen, the chef's counter offers a multi-course tasting menu that reads like a hit list of his greatest creations, including the signature Big Garlicky Pretzel accompanied by pimento-beer cheese and white Alabama BBQ sauce.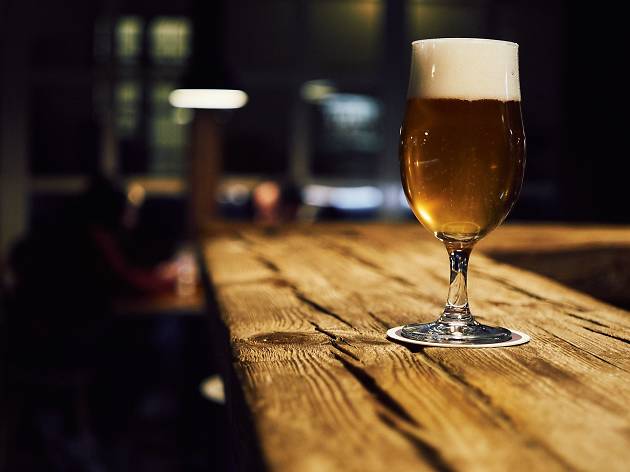 Photograph: Unsplash
An exclusive collaboration with Pipeworks
We teamed up with the mad scientists at Pipeworks Brewing Company to craft a beer that's exclusive to Time Out Market Chicago. Unicorn Time Machine is an impossibly refreshing session IPA that's loaded with mango flavor and a hint of lime. We recommend pairing it with Thai Dang's wings, which are wrapped in sticky rice and drizzled with caramelized fish sauce. It's a match made in Time Out Market heaven.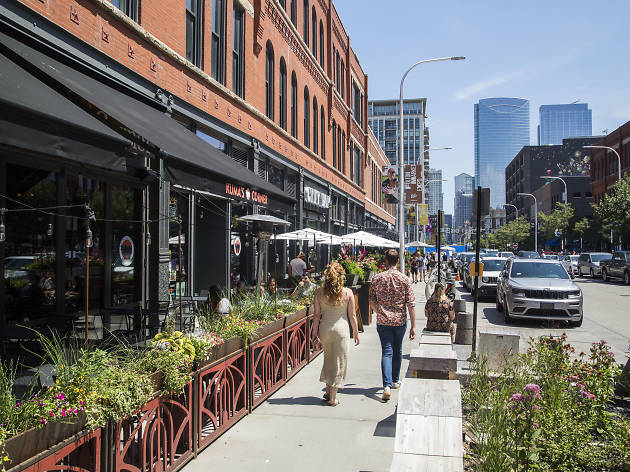 Photograph: Jaclyn Rivas
The West Loop's hottest new rooftop
After you've explored the first two floors of Time Out Market Chicago, head up to the rooftop terrace for a quaff. The indoor-outdoor space is anchored by a sprawling bar that serves a curated selection of wines, beers and signature cocktails. Once you've secured a drink, wander outside to take in the skyline views (you can easily peep Willis Tower and other architectural gems).