Heads up! We're working hard to be accurate – but these are unusual times, so please always check before heading out.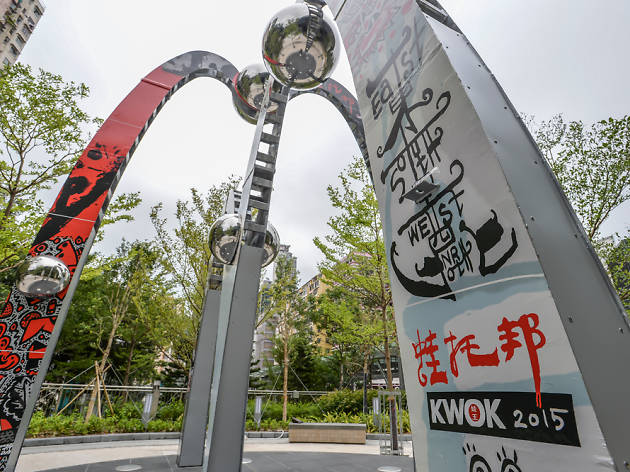 The best art in Hong Kong MTR stations
You may not notice them during your rush to and from the office, but Hong Kong's MTR stations are full of invigorating artwork. From traditional murals to massive installations, these are 10 of the best
Hongkongers are a busy bunch and we're rarely more hurried than when we're in the bowels of the MTR getting to and from work. Commuters rarely have the time, or even the inclination, to linger, which is a shame given the fantastic works of art that often go unnoticed.

Yup, there's no need to visit Hong Kong's best galleries or independent art spaces to fill up on culture. There are now 72 pieces of art by artists from across the world enriching commuters journies on the MTR. Grab your Octopus card and come with us to discover the 10 you absolutely must stop and consider... By Zabrina Lo
Best art in Hong Kong MTR stations
1. Blessings · Bridge – Ho Man Tin
In Chinese culture, bamboo is a symbol of righteousness, and fortune implies happiness. In the hope that Hongkongers might feel blessed, local artist Cheung Wai-ming decorated one of the footbridge ceilings at Ho Man Tin Station with both of these motifs to create the work Blessings · Bridge outside of exit B1.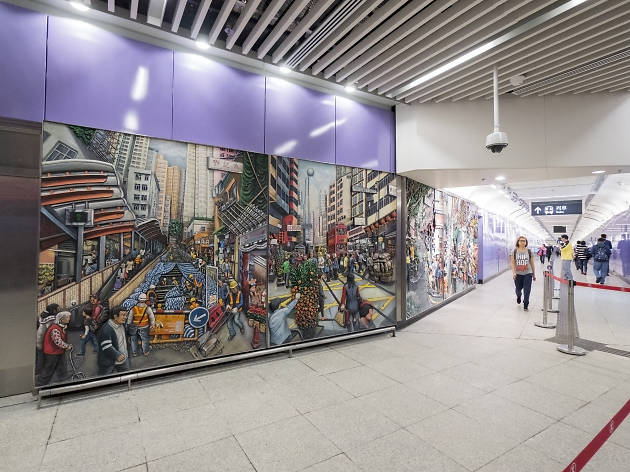 2. Inside, Outside – Sai Ying Pun
Rice sold in barrels, handmade funeral paper products and traditional family-run shops – these sights may be disappearing from rapidly gentrifying Sai Ying Pun but such scenes have been immortalised in the area's MTR station by English artist Louise Soloway Chan. Her 12 bas-reliefs – each weighing 280kg – along the way to exits B1 and B2, posed installation challenges, but the high level of detail in her dioramas has ensured the hard work has been well worthwhile.
3. Home With a View – Central
Found on the lower platform of the Island Line branch in Central, this artwork is easily missed as hoards of commuters continually walk past, obscuring it. A glass mural, Home With a View is Lucia NY Cheung's conjuring of what this city means to her. Each individual glass stone can be admired on its own but it's when one steps back, to admire the collective work, that the artwork impresses most. The same is true of Hong Kong as a whole.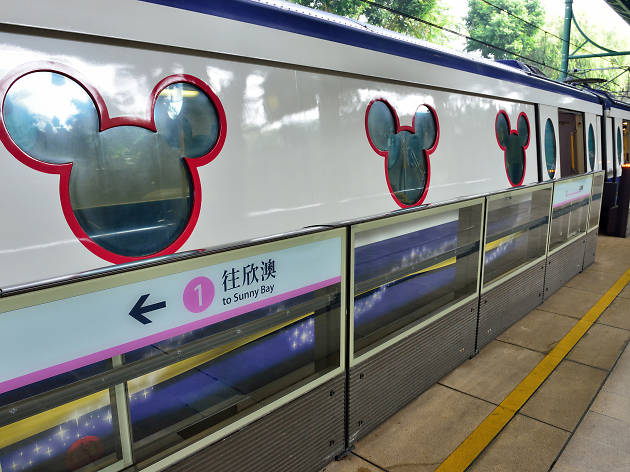 4. Disneyland Resort Line
It's not only high brow artwork that exists on the MTR. On the most magical section of the network (even the broadcasting system wishes passengers 'a magical day at Hong Kong Disneyland'), every train on the Disneyland Resort Line features Mickey Mouse windows, Disney character figurines, plush cushioned seats in royal blue and a starry ceiling. All nice design details, but it's Disneyland's 19th-century style station – built in partnership with Disney's Imagineering Team – that's the cutest touch.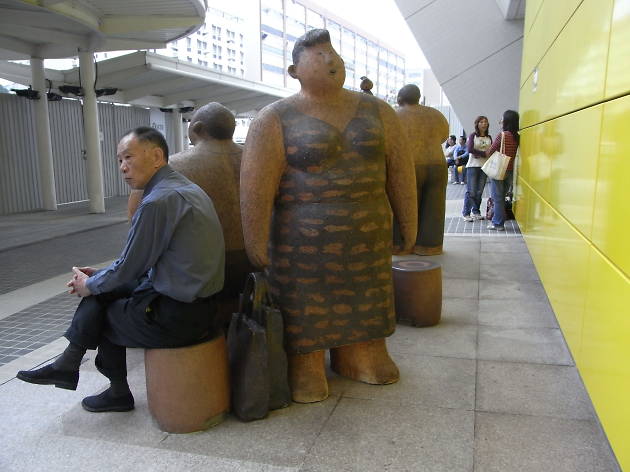 5. People Passing By, People Lazing By – Yau Tong
The sight of laid-back people is a rare thing on the MTR, except near exit A at Yau Tong Station where six life-size ceramic figures are engaged in a different activity – or inactivity. Local artist Rosanna Li Wei-han was inspired by the murals of people relaxing in the Lei Yue Mun Estate Arcade located above Yau Tong Station. Li wanted a way to remind commuters to slow down and enjoy life. To that end, she created People Passing By, People Lazing By and installed a stool and a small table among the statues to invite passers-by to sit down and take a break.
6. Soaring Horizon – South Horizons
Ap Lei Chau is famous for its mesmerising sea views and fish markets, so it's no surprise that South Horizons MTR Station, the terminus of the Southern Line, features the mosaic Soaring Horizon filled with black kites, islands surrounded by a cerulean sea and fishing boats and piers in quaint traditional Chinese styles. Karen Pow Cheuk-mei's artwork is perfect for the more relaxed vibe that continues to exist on the Southside, despite the arrival of the MTR itself. Find it along the station platform.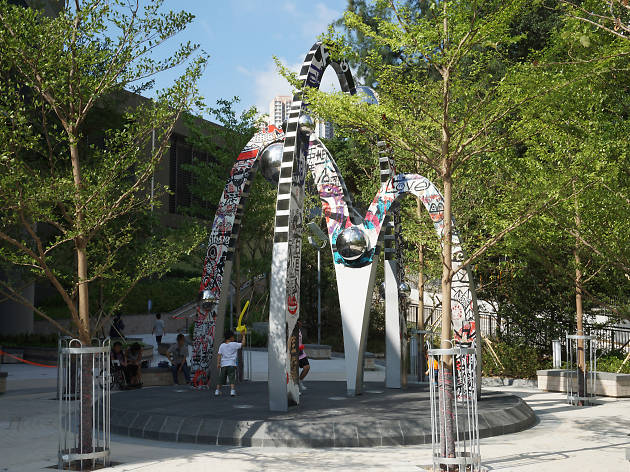 7. Frogtopia Arch – Ho Man Tin
Also outside artsy Ho Man Tin Station, in the greening area by exit B1, Frogtopia Arch, created by local artists Frog King (Kwok Mang-ho) and Frog Queen (Cho Hyun-jae), is a fusion of different art forms. Encompassing traditional Chinese painting, calligraphy, graffiti and sculpture, the arch is an embodiment of openness, harmony and happiness. Just don't mistake it for a McDonald's installation...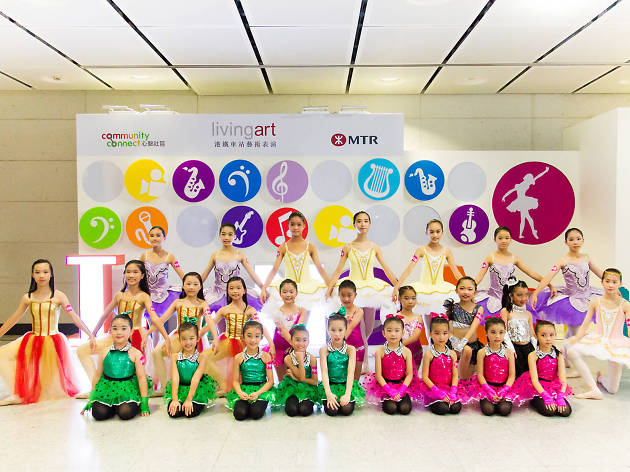 8. Living Art Stage – Hong Kong
Who said art on the MTR has to be restricted to inanimate objects? The subway between Central and Hong Kong stations is enlivened 6pm-6.45pm every Friday when the Living Art Stage takes place. Professional and amateur artists can book the stage and perform a variety of performances, whether classical music, modern hip-hop, a cappella singing or drama. The acts always enliven what is otherwise a rather dour transfer between stations.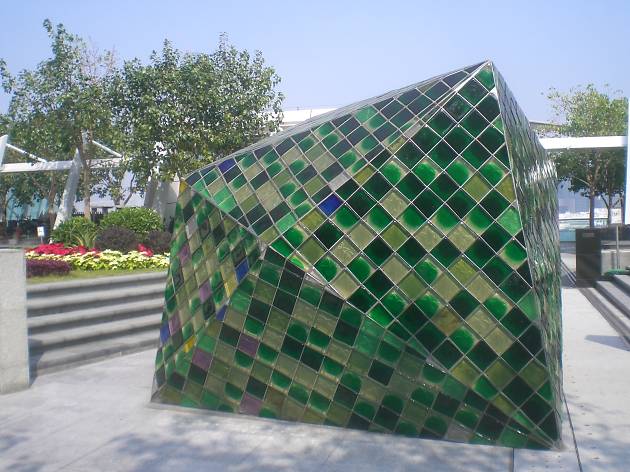 Located in IFC 2 rather than in Hong Kong MTR Station, this work was nonetheless commissioned by the MTR Corporation. Designed by South Korean artist Ahn Pil Yun, the four hexahedral boxes that comprise Flux are made of flamboyantly coloured glass that transform into different shades when viewed at different angles and according to the position of the sun during the day.
10. Birds of a Feather – Tsing Yi
Initiated in 1998, the Airport Express Artwork Programme has seen a plethora of cosmic-themed sculptures, installations and mosaics installed in stations along the Airport Express and Tung Chung lines – the supposed 'futuristic gateways' to the state-of-the-art Hong Kong International Airport. Designed by New Zealand artist Neil Dawson, Birds of a Feather is a 35m-long aluminium and stainless steel sculpture of a bird's feather that hangs afloat in Tsing Yi MTR Station's Level U4. Its kaleidoscopic colours reflect the diversity of the many species of birds that call China home.
Looking to make art of your own?