Heads up! We're working hard to be accurate – but these are unusual times, so please always check before heading out.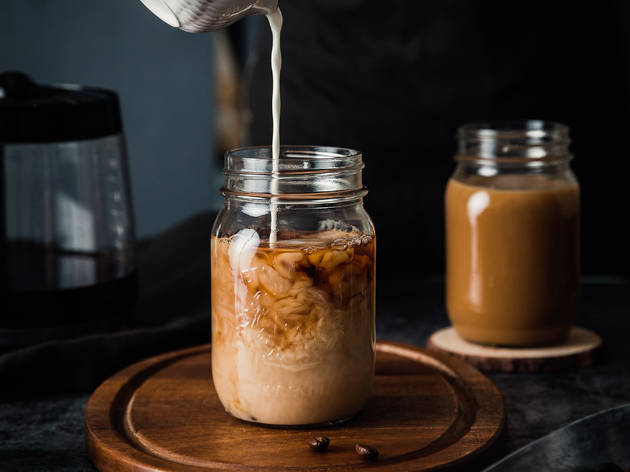 Hot cocktails to get you through the winter
Forget dry January, warm yourself up with these boozy drinks
Who says all cocktails have to be cold? A hot drink on a chilly day can be comforting. Add a splash of spirit, and you'll be well on your way to being warm and toasty. Hot cocktails are best enjoyed during the winter months when the heat from glass warms your hands, and each sip feels like a warm hug. Here's a list of simple hot cocktails to warm you up during the cold season.
RECOMMENDED: Once you prep a hot drink, curl up and watch Hong Kong's top sexy films or these Asian erotic flicks to keep you steamy this winter.
View this post on Instagram
Hot toddy is a classic that's quite simple to make. Some believe that it soothes cold symptoms but what we're sure about is that it definitely offers warmth and comfort. Usually made of dark liquor, honey, lemon, and tea, the hot toddy is open to experimentation. So it's easy to customize it to your own personal taste and what's available to you. This recipe uses brandy, but you can use rum or whisky too. For this one, we've added tea to give another layer of flavour to the drink.
What you'll need:
90ml brandy
250ml hot water
1 tea bag (any variant of your choice)
15ml honey
15ml lemon juice
lemon wedge and cinnamon sticks for garnish
How to make the drink:
1) Place the tea bag in a cup of hot water and steep for 3 to 5 minutes.
2) While you're steeping the tea, heat a serving cup by filling it with hot water.
3) Discard the water once the glass is warm and coat the bottom with honey.
4) Add the hot tea and lemon juice. Stir with a cinnamon stick. Serve.
View this post on Instagram
Butter mixed with alcohol? Yep, it's a thing, and it is one of those drinks that is hard to resist. Hot buttered rum is traditionally associated with the holiday season, but that doesn't mean you can't enjoy it any time of the year. Sweet and comforting, this drink is easy to prepare and can be customized to your preference. Use less or more butter, depending on how rich you want the drink to be. Make sure the water you're using isn't boiling hot, as that might 'burn' the flavours.
What you'll need:
60ml dark rum
15​ml brown sugar
15ml butter (softened)
1 dash ​​ground cinnamon
1 dash ​ground nutmeg
1 dash ​ground allspice
1 splash vanilla extract
250ml hot water
cinnamon stick for garnish
How to make the drink:
1) Place the sugar, butter, and spices into a glass (preferably an Irish coffee glass) or mug and mix thoroughly until all the ingredients are combined.
2) Pour the rum and hot water. Stir and garnish with a cinnamon stick.
View this post on Instagram
Mulled wine is one of those drinks that say 'holiday season.' Its deep, red hue and spicy, fruity flavours make this boozy beverage a hit during the festive season, but it's also great to have during cool weather months. It's a basic combination of red wine, oranges, brandy, sweetener, and spices, and can be tweaked depending on your mood and what's in your kitchen.
You can follow the recipe below or use the twist from Nordic chef Jaakko Sorsa's (formerly of Scandinavian restaurant Finds) glögg recipe (Nordic mulled wine) or The Old Man bartender Lucas Fialin's rendition.
What you'll need:
2 bottles red wine
1/2 cup brandy
2 oranges
honey (to taste)
1/2 cup sugar
2 cinnamon sticks
12 allspice berries or 12 cloves
4 whole star anise
1 teaspoon black peppercorns
nutmeg (grated) and cinnamon sticks for garnish
How to make the drink:
1) Juice one orange, and slice the other orange into rounds.
2) Place a saucepan in medium heat and add in all the ingredients.
3) Heat until the wine is almost simmering. Set heat to low, cover, and let the mixture simmer for at least 15 minutes. Pour into glasses and garnish with grated nutmeg and a cinnamon stick.
View this post on Instagram
This drink is a bit like mulled wine but instead uses cider blended with spices. It takes a regular apple cider and spikes it with spirit, making it a perfect warming drink on a chilly day. Mixing this up at home will make your house smell amazing too!
What you'll need:
3 cups apple cider
750ml dark rum
4 cinnamon sticks
6 whole allspice berries
10 whole cloves
1 orange (sliced)
How to make the drink:
1) Combine ingredients in a pot. Slowly bring to a boil and stir occasionally.
2) Cover the pot, lower the heat and let it simmer for an hour or two.
3) Serve in warmed mugs.
View this post on Instagram
Who doesn't love a cup of warm Irish coffee? This delicious boozy treat will warm you up and wake you up at the same time. It's basically made with coffee, Irish whiskey, and whipped cream, and is like a caffeinated dessert cocktail.
Follow the recipe below or level it up with the Irish coffee recipe by The Diplomat's John Nugent.
What you'll need:
60ml Irish whiskey
2tsp brown sugar
250ml hot brewed coffee
120ml whipped cream for topping
chocolate shavings for garnish
How to make the drink:
1) Warm the Irish coffee glass.
2) Dissolve the brown sugar in hot coffee and pour whiskey.
3) Top with whipped cream and chocolate shavings. Serve.
More cocktail recipes
If you're looking to spice up your home bar and tap into your inner bartender, we've rounded up a few cocktail recipes from some of the best mixologists in Hong Kong so you can get the ball rolling.