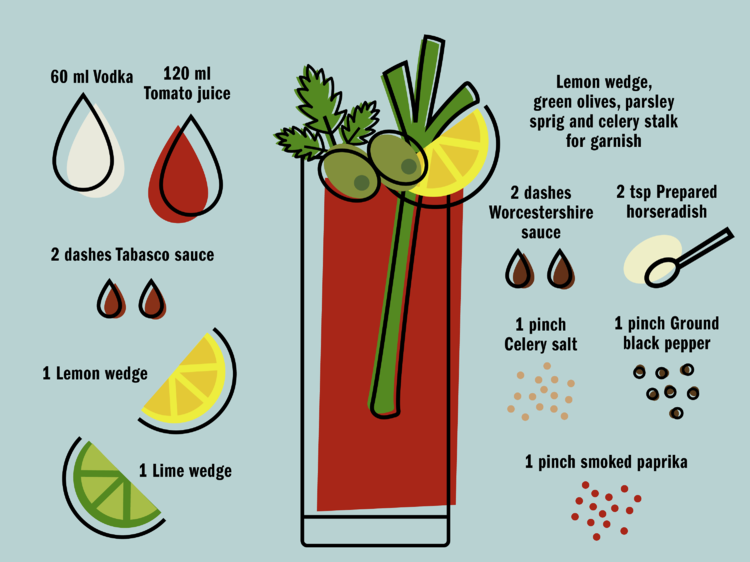 What you need to make a Bloody Mary
Bloody Mary 
Historians have debated over the origins of bloody mary cocktail. Still, one popular legend says a bartender named Fernand Petiot created the drink in the early 1920s while working at the Harry's New York Bar in Paris and then brought the recipe in Manhattan after the Prohibition. Often thought of as a hangover cure (also debatable), this heady mix of booze, tomato juice, and other condiments is easy to make at home. Just get vodka and tomato juice, and the rest check your kitchen and fridge as you might already have them lying around.
Ingredients:
1 Lemon wedge
1 Lime wedge
60ml vodka
120ml tomato juice
2 dashes Tabasco sauce
2 tsp prepared horseradish
2 dashes Worcestershire sauce
1 pinch celery salt
1 pinch ground black pepper
1 pinch smoked paprika
For garnish: lime wedge, green olives, parsley sprig, and celery stalk
How to make the drink:
1) In a mixing glass, add all of the ingredients, add ice, and stir.
2) Pour the mix into a glass and top up with fresh ice. You can adjust the taste based on your preference, if you like it extra spicy, a few more dashes of Tabasco won't hurt.
3) Get creative with your garnish!
4) Serve.
Tip: This drink is an excellent complement to steak, bbq, or other grilled meats, so try pairing it with your meal.