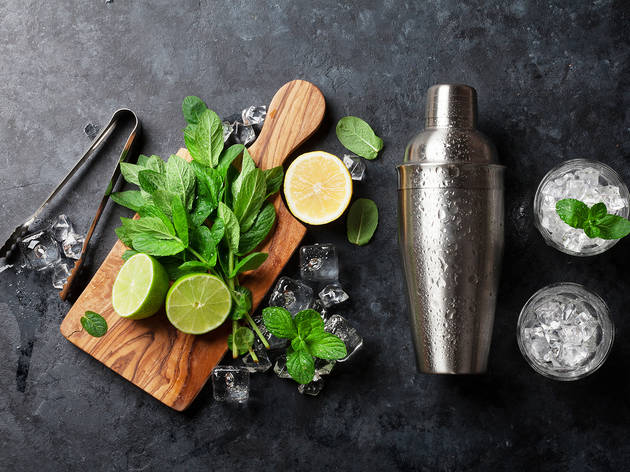 Drink This: Classic cocktail recipes to make at home
From Negroni, Margarita, to Bloody Mary, here are classic cocktail recipes you can make at home
With bars closing for two weeks, we will miss our go-to cocktails from our favourite bars in the city. While we wait, for now, turn to your kitchens to whip up some drinks to quench your thirst.
Click here for the first round-up of cocktail recipes requested by our readers. If you need supplies to make your cocktails, stock up from these liquor delivery services.
RECOMMENDED: Now that some bars and restaurants are temporary closing, find out how you can support your favourite bar or restaurant during these challenging times.
Tips: If you have no bar tools at home, you can easily use readily available tools from your kitchen.
Bar spoon = regular spoon
Shaker = use your metal water tumblers
Strainer = get your mom's kitchen strainer, it will do
Mixing glass = any glass or jars will do
Cocktail recipes you can make at home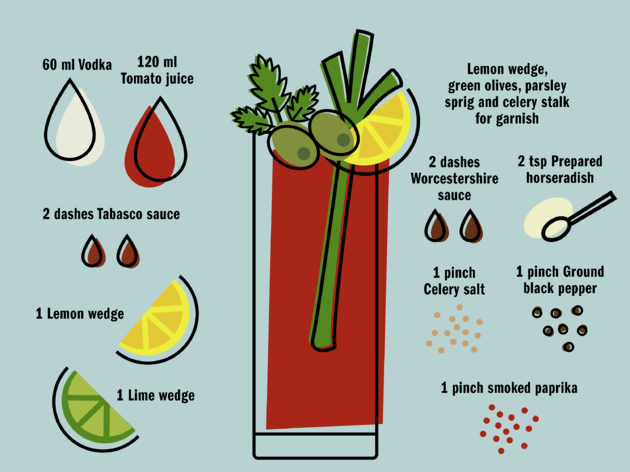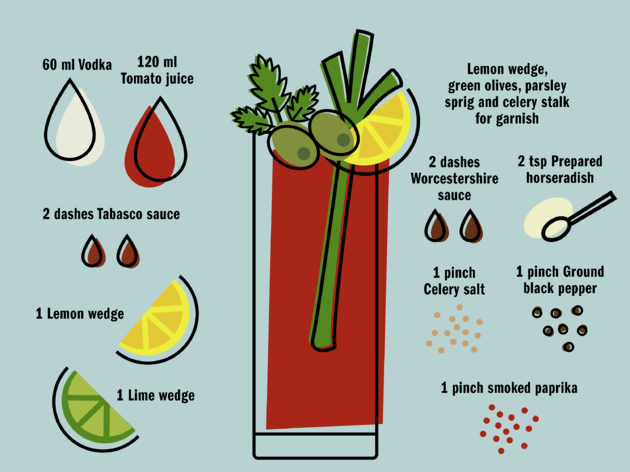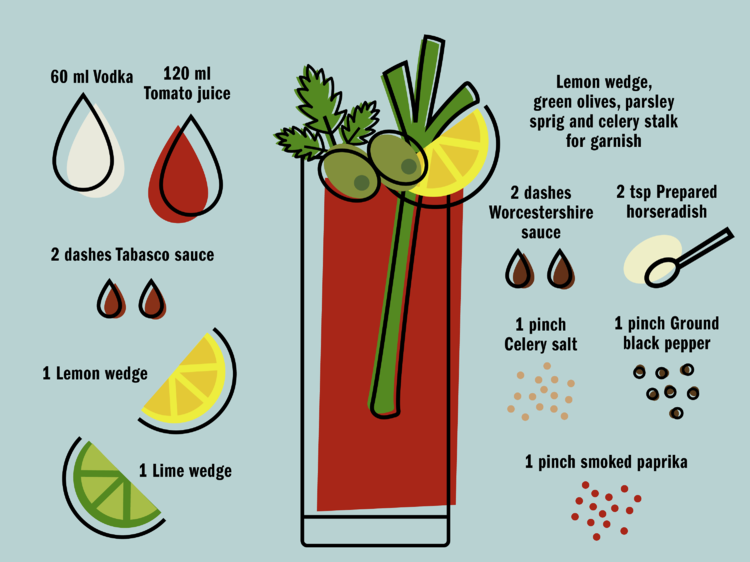 What you need to make a Bloody Mary
Historians have debated over the origins of bloody mary cocktail. Still, one popular legend says a bartender named Fernand Petiot created the drink in the early 1920s while working at the Harry's New York Bar in Paris and then brought the recipe in Manhattan after the Prohibition. Often thought of as a hangover cure (also debatable), this heady mix of booze, tomato juice, and other condiments is easy to make at home. Just get vodka and tomato juice, and the rest check your kitchen and fridge as you might already have them lying around.
Ingredients:
1 Lemon wedge
1 Lime wedge
60ml vodka
120ml tomato juice
2 dashes Tabasco sauce
2 tsp prepared horseradish
2 dashes Worcestershire sauce
1 pinch celery salt
1 pinch ground black pepper
1 pinch smoked paprika
For garnish: lime wedge, green olives, parsley sprig, and celery stalk
How to make the drink:
1) In a mixing glass, add all of the ingredients, add ice, and stir.
2) Pour the mix into a glass and top up with fresh ice. You can adjust the taste based on your preference, if you like it extra spicy, a few more dashes of Tabasco won't hurt.
3) Get creative with your garnish!
4) Serve.
Tip: This drink is an excellent complement to steak, bbq, or other grilled meats, so try pairing it with your meal.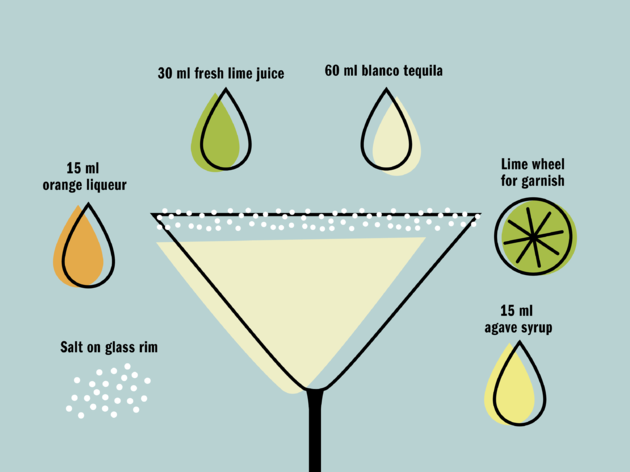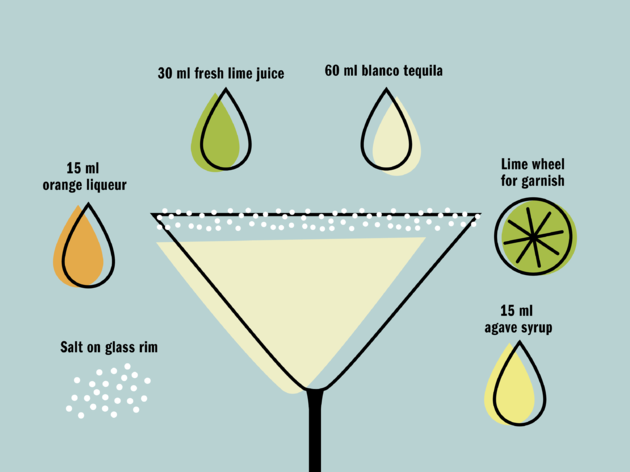 What you need to make a margarita
The margarita – often hailed as the quintessential 'Mexican' cocktail – is a classic drink that dates all the way back to 1930s. Today this classic cocktail is still a favourite and a staple in bar menus. The recipe combines tequila, lime, and triple sec (orange liqueur) in a refreshing enjoyable drink.
Ingredients:
60ml blanco tequila
30ml fresh lime juice
15ml orange liqueur
15ml agave syrup
lime wheel for garnish
salt on glass rim
How to make the drink:
1) Rub the rim of your glass with lime before rimming with salt. Set aside.
2) Add all the ingredients into a shaker, add ice, and shake until chilled.
3) Pour the drink into your salt-rimmed glass.
4) Garnish with a lime wheel and serve.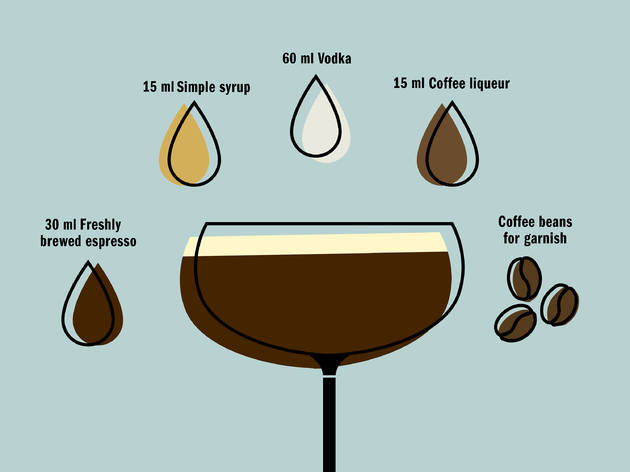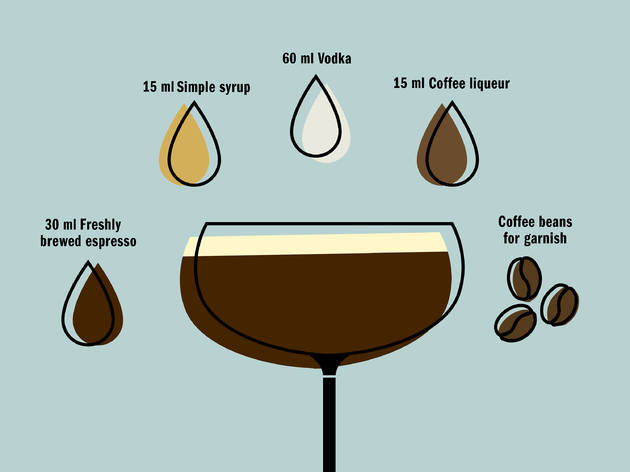 What you need to make an espresso martini 
For a pick-me-up drink, the Espresso Martini might be your best bet. In 1980, British bartender Dick Bradsell created this cocktail for then young model Kate Moss when she asked for a drink that will wake her up and f*ck her up at the same time. Today this bittersweet concoction is still served in many bars and have undergone many renditions. Here's the classic recipe you can whip up at home.
Ingredients:
60ml vodka
15ml simple syrup
15ml coffee liqueur
30ml freshly brewed espresso
coffee beans
How to make the drink:
1) Make the simple syrup. In a pan, put one cup of water and cup sugar over medium heat. Stir, and bring to the boil. Turn off the heat and set aside to cool.
2) Add in all the ingredients to a shaker and fill it with ice. Shake until the outside of the tin shaker is too cold to your touch. If you're using your closed mug, check the liquid inside if its already in your prefered temperature.
3) Strain the drink in a glass.
4) For a fancier serve, you may garnish the frothy top with a coffee bean.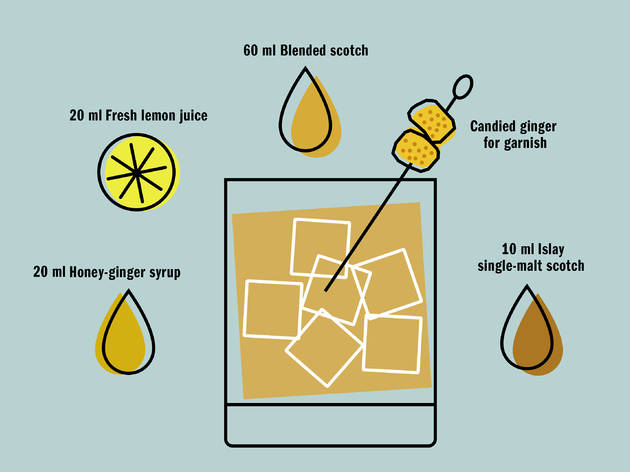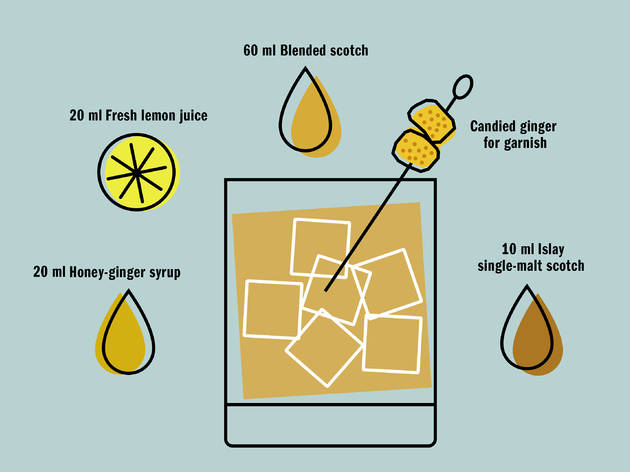 What you need to make a Penicillin
A spiked concoction guaranteed to cure your life's woes. New York bartender Sam Ross created the Penicillin cocktail in early 2000 by combining a blended and peaty Scotch, lemon juice, and honey-ginger syrup. If you've ever had a whisky sour, this version has a smoky note and spiciness from the ginger.
Ingredients:
60ml Blended scotch
20ml Fresh lemon juice
20ml honey-ginger syrup
10ml peated single-malt Scotch
candied ginger for garnish
For the honey-ginger syrup:
3/4 cup fresh ginger juice
2 cups of water
6 tablespoons honey
How to make the drink:
1) Make the honey-ginger syrup. In a pan, add the ginger, water, and honey. Bring the mixture to a boil and then reduce heat and allow to simmer for 30 to 45 minutes. Remove from the heat and set aside to cool. The syrup makes about one and a half cups; you can refrigerate the rest for later use.
2) Make your drink. In a shaker add the blended scotch, juice, and honey-ginger syrup. Fill the shaker with ice and shake until cold.
3) Strain into a glass over fresh ice then top with the 10ml peated Scotch.
4) Garnish with a piece of candied ginger. Enjoy!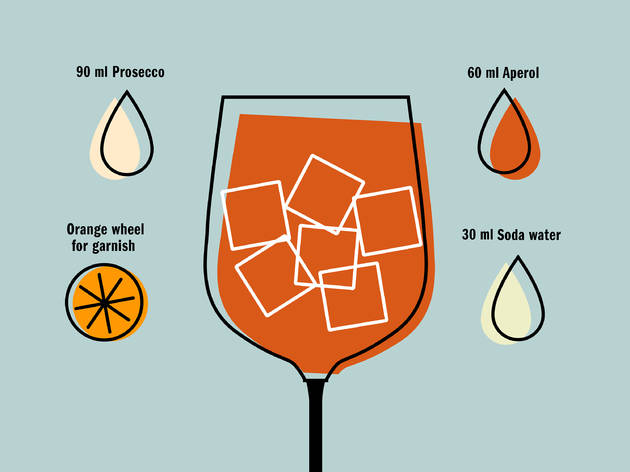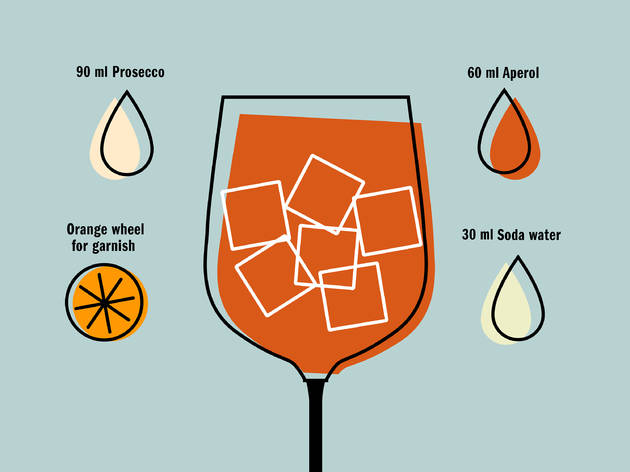 What you need to make an Aperol spritz
This cocktail tastes like summertime; it is refreshing, sweet, and bubbly. It's an all-time favourite drink during the warmer months. Made with an Aperol and fizzy Prosecco, this drink is so easy to make, it might soon be your home staple drink.
Ingredients:
60ml Aperol
90ml Prosecco
30ml soda
orange wheel for garnish
How to make the drink:
1) In a wine glass, add ice, then add Aperol, Prosecco, and soda.
2) Finish with a wedge of orange.
3) Serve!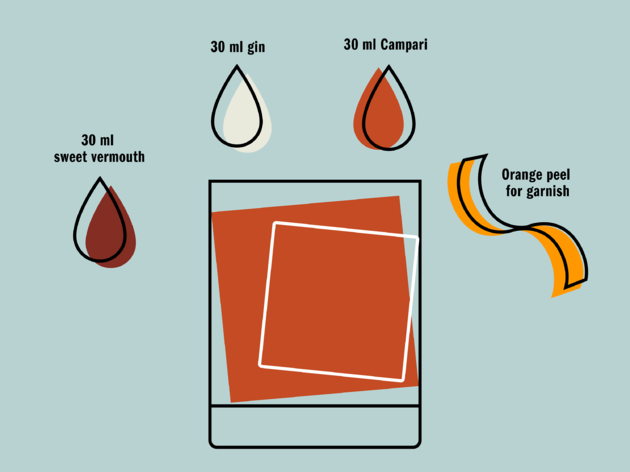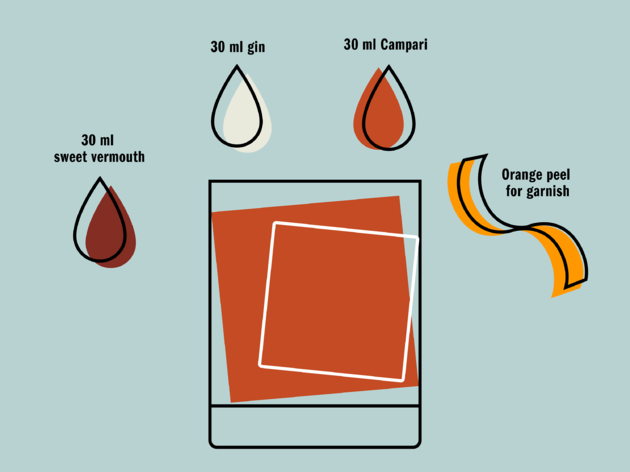 What you need to make a Negroni
The Negroni is a bittersweet spirit-forward cocktail that is great for a pre-dinner drink. The drink was born in Italy in 1919 when Count Camillo Negroni asked his bartender to replace the soda water with gin in his favourite cocktail Americano (Campari, sweet vermouth, and club soda). Today this drink will be celebrating its 101 years. A lot of our favourite bars in Hong Kong have their signature Negroni renditions, and while we wait to taste their mixes again, you can easily make it at home with the classic serving.
Ingredients:
30ml gin
30ml Campari
30ml sweet vermouth
orange peel for garnish
How to make the drink:
1) Add all the ingredients into a mixing glass, add ice, and stir until well-chilled.
2) Strain the mix into a rock glass filled with large ice.
3) Garnish with orange peel. Enjoy!
For more cocktail inspirations