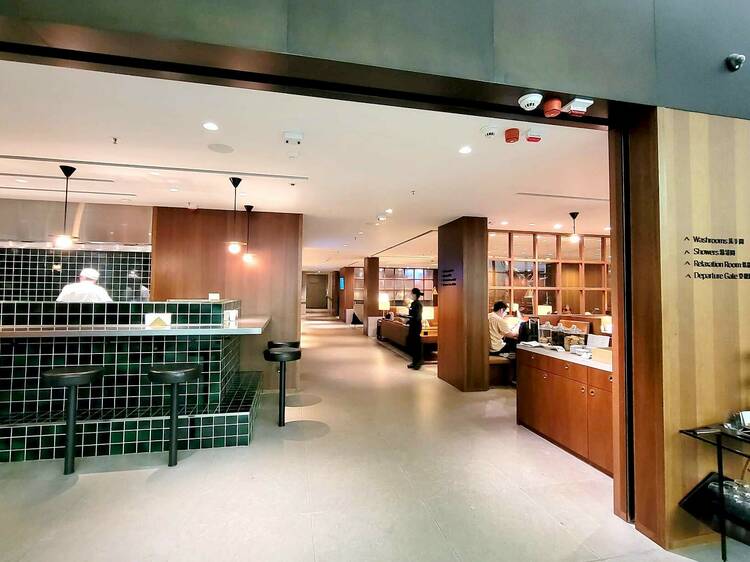 Cathay Pacific's The Deck lounge I Photograph: Tatum Ancheta
Relax, sleep, shower, and enjoy a massage
The airport has 24-hour pay-in lounges that provide access to facilities such as private resting rooms, food and drink bars, showers, and internet workstations. The Plaza Premium Lounge is the perfect place for you to kick back before a long flight, as it is situated in various parts of the airport and offers seasonal made-to-order entrees, hors d'oeuvres, and dessert delicacies. You can enjoy a glass of cocktail or a refreshing summer mocktail for you and your little one before boarding. Additionally, several airline lounges are available in the airport, so if you're flying in business or first-class cabins, check with your airline if you can use their facilities.
Cathay Pacific's The Deck lounge, located near Gate 6, can accommodate up to 180 guests and offers hot dim sum and noodles at the airline's iconic noodle bar, as well as eight shower suites where you can freshen up with Aesop toiletries. Additionally, the airline's first class lounge, The Pier, at Gate 63 recently reopened. Stay here and enjoy the contemporary dining room and bar. Get some rest at the eight suites-retreat area with comfortable daybeds complete with reading light, mirror and blinds, and a heavy curtain for added privacy. You can also avail of neck, shoulder, and foot massages and eye revitalising massages.
If you need quick showers, the airport also offers complimentary shower facilities with a hair dryer, shampoo and bath gel, and vending machines that allow you to get towels and other toiletries.
Need to stay overnight but don't want to miss your flight? Book a stay at the nearest hotels in HKIA.