Where to find the most colourful places in Hong Kong
Sometimes all you need is just a touch of rainbow...or maybe a lot.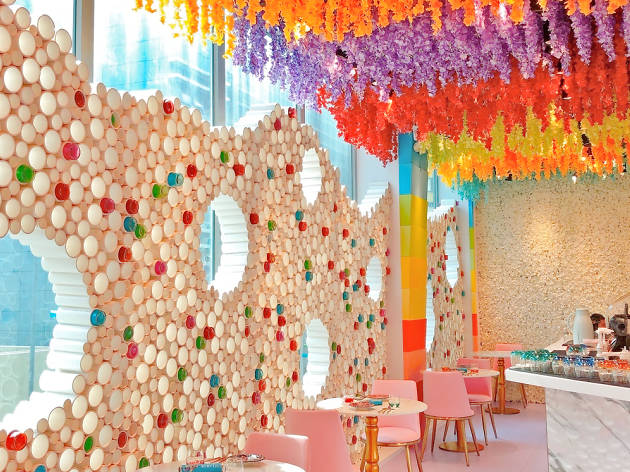 Feeling stressed? In need of a pick-me-up? While doing things like hitting up hiking trails or pigging out at one of Hong Kong's many fabulous restaurants are great options, sometimes the only thing you need to elevate your mood is just to add a splash of colour to your day.
Whether it's settling down with a good book at a beautiful coffee shop, getting up close and personal with vibrant street art or finding peace with some colourful retail therapy, there are plenty of ways to lift your spirits in multicoloured ways. Here are some of our top recommendations.
Most colourful places in Hong Kong
Gaw Capital People's Place
H.A.N.D.S basketball court
There are plenty of public basketball courts in Hong Kong but we can guarantee there are none quite as exciting as this one. As part of a collaborative revitalization project by Gaw Capital People's Place, Red Bull and art firm SWL, the H.A.N.D.S basketball court in Tuen Mun recently went under a major makeover. Designed by local street artist XEME, this stunning large-scale artwork brings street art culture to neighbourhoods and communities that may not have every day access to public art.
CHSC.hk
Sham Shui Po Government Primary School
A school where we learn about rainbows? We wish. But this is pretty cool too. If you've ever scrolled through #hongkong on Instagram, you might have seen this famous Sham Shui Po school where the outer walls of each floor are painted a different colour, creating a beautiful rainbow facade that's truly a sight for sore eyes. Head up onto the footbridge right outside the school to add some height and depth for that oh-so-grammable snap. Apart from Sham Shui Po, the Father Cucchiara Memorial School in Sha Tin and the Yan Chai Hospital Tung Chi Ying Memorial Secondary School (phew, that's a mouthful) in Tsing Yi also have similar rainbow-striped facades.
Lush Naked is just like any other Lush stores in town, except there's no plastic packaging, at all. So naturally, with all of these beautiful products exposed - or naked, if you will - this brings in an abundance of vibrant and loud colours to the store. Step inside and marvel at the Great wall of multicoloured bath bombs, before picking up a bottle-free shower gel or foundation. Afterwards, head upstairs to the green space and settle down with a cup of fair-trade coffee - retail therapy session sorted.
Bars and pubs, Sports bars
A game of miniature golf anyone? Donning a pleasing combination of pastel colours with striking neons, miniature golf has never been this cool. Located in the heart of Causeway Bay, whether you need to take out some stress and bash some buttons on an arcade game, swing a golf club around the course or just sip on a few cheeky cocktails, Strokes has got you covered. The food here is no afterthought either. Packed with plenty of health-conscious food offerings like a and b, you won't have to feel guilty about stuffing your face after a game of mini-golf. You know, because of all the 'exercising'.
Tucked away in an unassuming commercial building on the skirts of Causeway Bay, this quirky cafe is anything but "mamaday", which literally translates to 'so-so' in Cantonese. From the Secretive members-only door (to apply for membership, The applicant must be able to touch their elbows with their tongue) to the many, many bright decor and quirky quotes, there are surprises around every corner. Mamaday has also recently opened up a second location aptly named OMG Mamaday in Tsim Sha Tsui that's just as, if not more, as fun and wacky. We could go on and on all day about how much we love this place but we still wouldn't do it justice. So really, just go and check it out for yourself!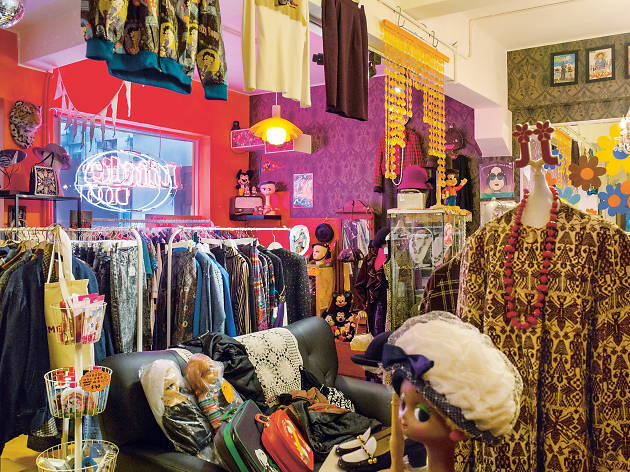 Speaking of retail therapy, you can't go wrong at Little Dot Vintage Shop. Step past the shops flashing pink neon sign, and you'll find yourself lost in a world of vintage clothes, shoes, toys and accessories reminding you of the good old days of the 50s to the 80s. All accompanied by vibrant red walls and colourful displays, Little Dot Vintage Shop is certainly an ideal shoppers haven.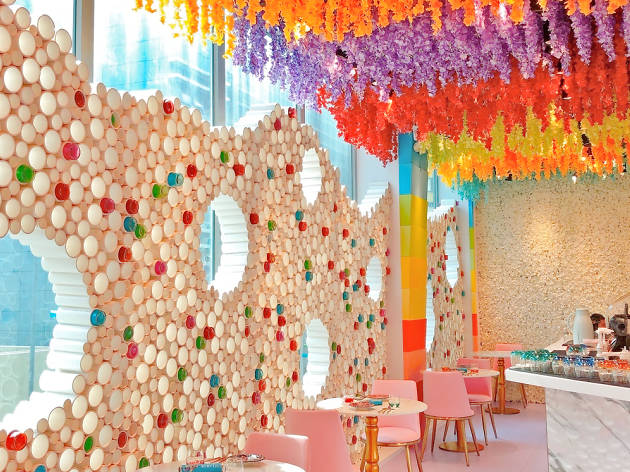 Instagram: @joeie_foodie
Sitting inside the Silka West Kowloon Hotel in Tai Kok Tsui, this restaurant is overwhelmingly colourful in every way imaginable. A sea of floral decoration hanging from the ceiling, rainbow-coloured fixtures, pink furnishing, floral tableware and even a kaleidoscope tunnel reflecting colours from every corner – think rainbow explosion, or uh, tripping on acid. Of course, the food here shouldn't go unnoticed. Serving up a selection of fine Western cuisine that not only looks good but also taste divine, this place is a definite must-go.
Instagram: @kaiiiich_
Of course, our list would not be complete this Instagram landmark. The Choi Hung Estate – that's 'Rainbow Estate' in Cantonese – is by far one of Hong Kong's most famous photoshoot locations. Yes, we know, we know. You're sick of seeing photos of girls casually striking a pose in the middle of the basketball court, but as overdone as this may be, there's no denying that it makes one hell of a snap for your gram.
Looking for more photo opts?