The best congee places in Hong Kong
Despite being a remedy for when you're sick, congee can be very appetising! Check out HK's best places for congee...
A stark contrast to typical local congee shops, this humble shop has claimed Michelin recommendations (even though we can't confirm it). They pride themselves on their MSG-free congee, which they freshly prepare daily in a fish soup base, giving it a rich, flavourful taste which is good enough to eat plain. But we do highly recommend their bestseller to date – the rabbit fish congee.
$50. 7 Heard St, Wan Chai, 2882 3268.
Positioned right in the heart of Hong Kong, this eatery is the go-to-spot for those yearning a bowl of the ultimate comfort food. The congee has a refined yet fluffy and starchy texture that literally melts in your mouth. Flavour up your congee with chewy pork meatballs and a dash of their special homemade clam sauce and you're good to go.
$40. G/F, 142 Queen's Rd C, Central, 2543 3881.
This family-run business takes their congee seriously, and they start prepping ingredients in the wee hours of the morning. Using a fish stock broth, the liquidy rice is cooked to an appetisingly oozy, thick and creamy consistency. Order a bowl of fresh fish skin garnished with ginger, soy sauce and scallion as a side that works wonders with a bowl of the steamy soft congee.
$50. Shop11-12, 4/F, Fa Yuen St Market, Mong Kok, 2789 0198.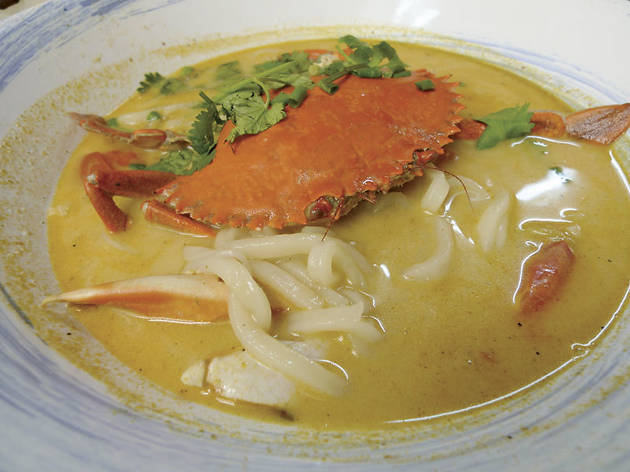 Tucked away on the streets of Sheung Wan, this congee shop has been rooted in this spot and the hearts of the community for over 40 years. The eatery's supreme bowl of liquefied rice is made using a pork bone broth which gives it a naturally sweet flavour. The fish belly congee is a must-try, featuring thick slices of fish belly that are flawlessly juicy and tender. Top it off with the condiments that come along with it and you'll be heading home with gastronomic delight.
$40. G/F, 7-9 Burd St, Sheung Wan, 2541 1099.
This hole-in-the-wall serves only two things – rice paper rolls and congee. And they do both extremely well. Served piping hot, the bowls of congee have a smooth grainy texture to them, with a wide variation of toppings to choose from. A popular favourite is the pork and preserved egg congee that has a wonderful balance of saltiness and sweetness. Be sure to order their rice paper rolls which are absolutely fantastic as well!
$40. Shop C, G/F, Man King Bldg, 26 Man Wui St, Ferry St, Jordan, 2710 7950.
For a bowl of traditional Cantonese-style congee, this is as authentic as it gets. They use only the freshest ingredients and the white starchy loveliness comes perfectly seasoned with an impeccably smooth texture. They are well-known for their signature crab congee, which features a whole crab dowsed in congee.
$60. Basement, 10-12 Stanley St, Central, 2869 1331; wongchikei.com.hk.
More to explore