The weirdest cup noodles to try in Hong Kong right now
From cheesy curry to instant hotpot, these unconventional flavours are taking cup noodles to the next level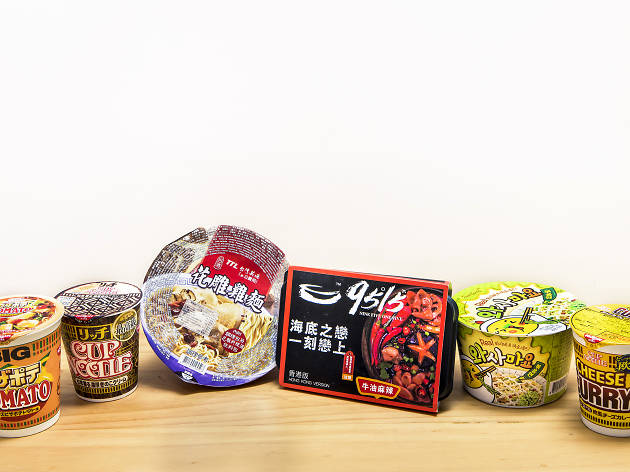 Guilt inducing though it is, we all boil up some instant noodles at some point. Whether it's when we're up late binging on the latest Netflix series or we've got the munchies after a night out or simply whenever our bank balance looks a bit depressing – speaking of which, here's our guide of some cheap eats and cheap things to do in Hong Kong to tide you over until the next payday. These bad boys are simply the fastest and most convenient way to satisfy hunger in less than three minutes of cooking. Want to make your next cheeky late-night snacking a little more interesting? We've scoured Hong Kong's different convenience stores for the weirdest and quirkiest flavours to try.

Not a fan of soup noodles? There's always street food to satisfy your cravings.
Weirdest cup noodles in Hong Kong to try right now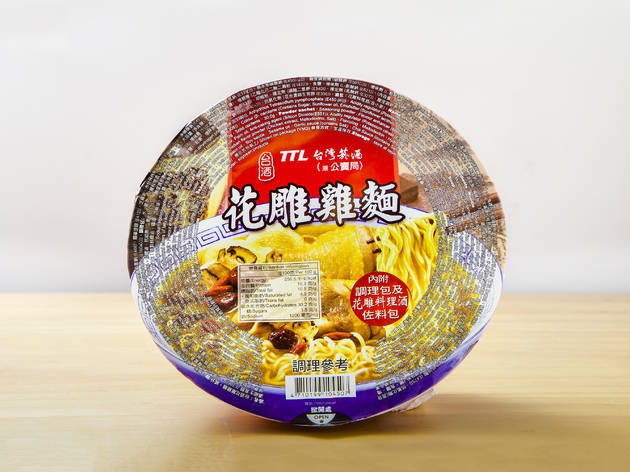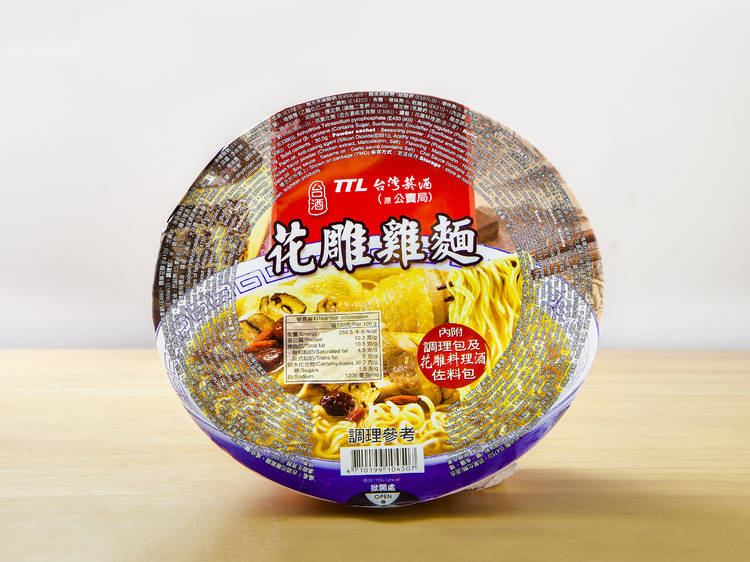 Huadiao chicken (chicken wine) noodles
Hugely popular in Taiwan, this huadiao chicken cup noodle is packed with ingredients. Each bowl comes with freeze-dried chicken, seasoning powder and a chicken wine packet. The recommended cooking method is to soak the noodles in hot water for five minutes before adding the chicken and seasoning after. Give it a stir and drain out the water. Throw in your chicken wine last then voilá, you have yourself a delicious bowl of noodles. The noods are nice and chewy while the soup base is rich without being too overpowering and has a pleasant hint of alcohol. The chicken bits are also surprisingly decent, making it a solid chicken noodle dish as a whole.
Cooking time: Eight minutes
Time Out rating:5/5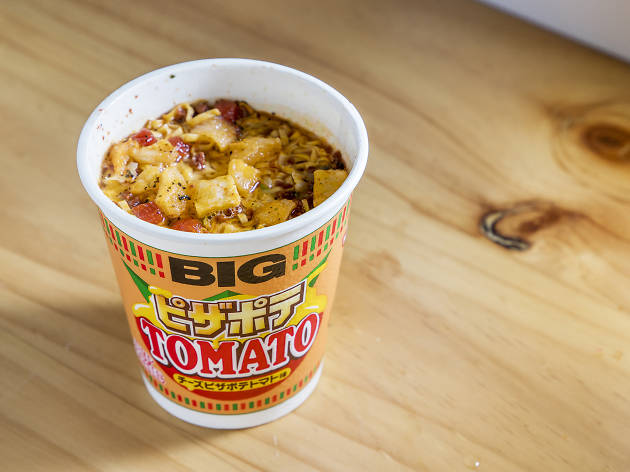 Tomato pizza big cup noodles
Ever feel torn between getting cup noodles or ordering pizza for a late-night snack? Well, these cup noodles should solve the dilemma. The ever-popular Nissan brand from Japan has rolled out a tomato pizza flavour packed with cheddar cheese, tomatoes, potatoes and cauliflower. The tomato soup base is pretty rich and you can totally slurp the soup on its own. Although the cheese is a bit bland and the noodles a bit gooey, the hearty portion earns this cup a few points. You'll definitely be full after one serving.
Cooking time: Three minutes
Time Out rating: 3/5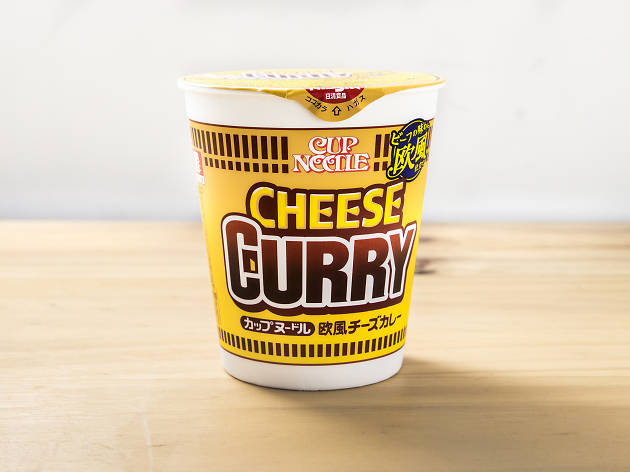 European cheese curry cup noodles
Nissan's curry cup noodles is a long-time crowd favourite. And to take it to the next level, they've introduced this European cheese curry cup noodles. Sweet with a hint of spice paired with smooth cheesy goodness, this creates wonderful layers of flavouring and texture. Once we finish, we're very tempted to mix the soup base with some rice for a second meal.
Cooking time: Three minutes
Time Out rating: 4/5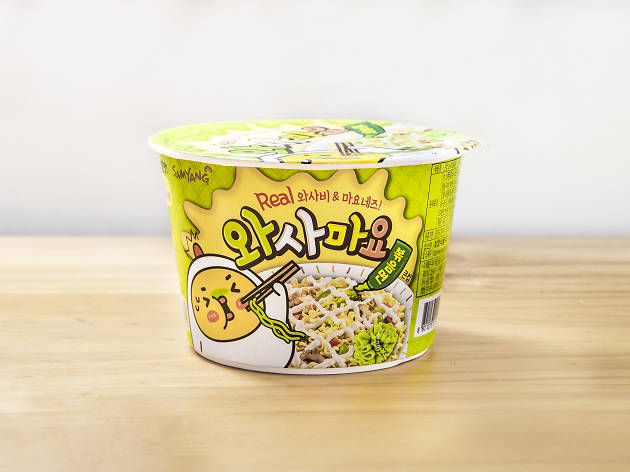 If you're not a fan of soup, why not try this wasabi mayo stir noodle option from popular Korean brand Samyang? All you need to do is to cook it in hot water for a couple of minutes, drain it and throw in the special soy sauce, wasabi and mayonnaise, then mix it all together. We reckon there's around one tablespoon worth of wasabi, meaning the noodles aren't too spicy. In fact, there's probably too much mayo and there needs to be a few more ingredients to go with the sauce. The entire cup ends up a bit bland. Try it then chuck it.
Cooking time: Three minutes
Time Out rating: 2/5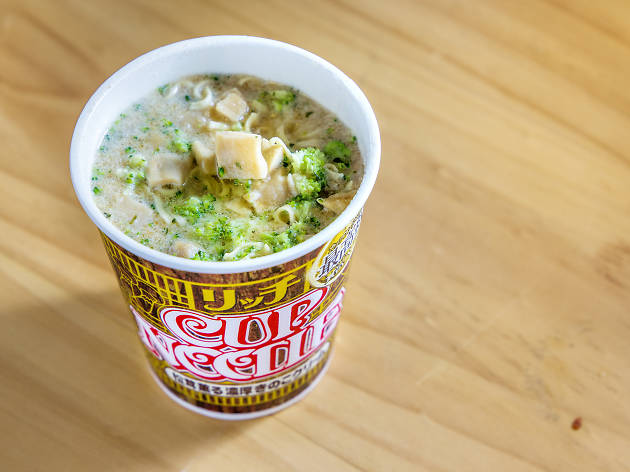 Matsutake mushroom with white cream cup noodles
The moment you add water in Nissan's matsutake mushroom with white cream cup noodles, you'll immediately be hit by a cheesy aroma thanks to its three kinds of cheese: parmesan, cheddar and Emmental. But once you start slurping, it ends up tasting more like its creamy soup base. In terms of the matsutake mushroom, it's a bit disappointing. There's only a couple of pieces, they're both tough in texture and you can barely detect any flavour. The noodles are better, being thick and soup absorbant, basically saving the entire dish.
Cooking time: Three minutes
Time Out rates: 3/5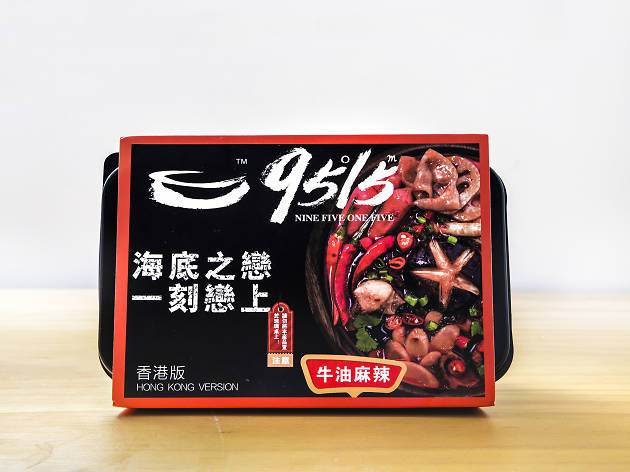 Butter and numbing spicy flavour instant hotpot
Okay, so this one isn't exactly a cup noodle. It's instant hotpot, but the intention is the same. And we Hongkongers love a good hotpot. Eliminating all the fuss of needing to prepare fresh ingredients and even having a pot, 9515 Hong Kong's butter and numbing spicy instant hotpot comes with sausages, potato noodles, vegetables, hotpot seasoning and sesame oil. Dump all the ingredients into the white box and the black box underneath, which has a built-in heating pack, will start heating up. Add a bit of cold water and it'll start steaming. (Don't ask us how the science works.) Keep the lid on for about 15 minutes and you'll be ready to go. While the soup won't be your usual boiling hot temperature, it's still got that great numbing, spicy aroma without burning your taste buds. The lotus root and fungus is nice and chewy, but the potato noodles are too tough and the sausages are a bit of a letdown. On the whole, if you're craving hotpot without a whole party to go with, it's still worth a try, even if for novelty value alone.
Cooking time: 15 minutes
Time Out rates: 3/5
Want to eat out instead?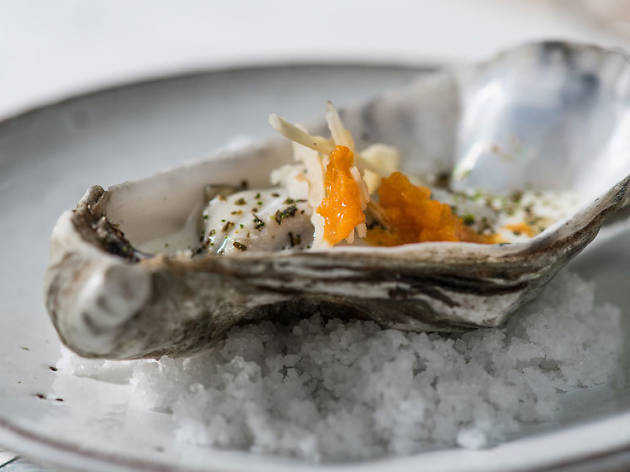 With one of the highest ratios of restaurants per head anywhere in the world, Hong Kong is a dining paradise. From longtime favourites to super newbies, we've sorted everything from restaurants in some of Hong Kong's best hotels to the city's most delectable street side cheap eats.