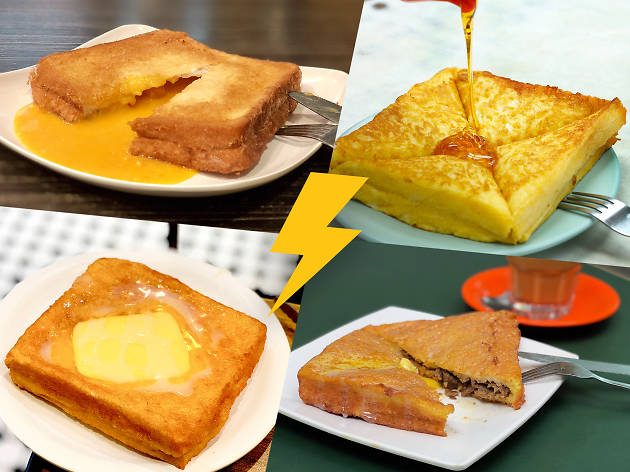 Ultimate French toast showdown
We try out four iconic HK-style French toasts with fillings to see which is the best in town
Much like the humble egg sandwich and char siu rice, Hong Kong-style French toast is a staple of local cuisine. The classic dish features two slices of bread deep fried and served covered in butter and syrup. But in recent years Hongkongers have been pushing new boundaries as local cha chaan tengs and restaurants have begun rolling out variations filled with the likes of custard lava, kaya spread and beef satay. We dig into four popular innovative versions to decide which gets to be crowned king.
Hong Kong's best French toast with fillings
Chau Kee's 'lava' french toast is legendary and people from far and wide travel to Sai Wan for a bite. There are three flavours to pick from: custard (the crowd favourite), sesame and taro. Orders take a surprisingly long time for this dish – more than 10 minutes, usually – but it's worth the wait. Slice the toast down the middle and watch as liquid gold comes flowing out like, you guessed it, lava. There's a good balance of sweet and salty, but the bread itself is over-cooked and too dry when it really should be crunchy. $35.
Time Out rating: 3/5
While the most famous dish at this Sham Shui Po noodle shop is its pig's liver noodles, its kaya toast is another big crowd pleaser. The kaya spread here is made from a homemade recipe mixed with pandan juice, eggs and coconut milk, which is slathered evenly between two slices of bread. The thickness of the toast is just right but it's not fried long enough to give it that extra crispiness. That being said, the kaya spread is seriously smooth and flavourful without being too sweet. Drown it in syrup to create a heavenly combo. $19.
Time Out rating: 4/5
Okay, true, beef satay French toast doesn't exactly sound like an appetising combo, but trust us, this unconventional pairing is actually extremely delicious. Made with fresh beef marinated in a homemade satay sauce, the bread here is fried to a beautiful golden brown and liberally topped with butter and condensed milk. The saltiness and the peanut flavour from the satay sauce balances perfectly the sweetness of the condensed milk and the toast is brilliantly crisp on the outside and gooey on the inside. A single serving is rarely enough. $29.
Time Out rating: 5/5
At first glance, the cheese French toast at Red Tea Café looks perfect with its golden brown exterior. Sadly, it's a bit of a letdown. They go overboard with the butter so that once it melts, it drowns the French toast, turning it into a soggy mess. There's no satisfaction when you start slicing up the bread as the melted cheese doesn't come oozing out. It's more like you need to pull out half-solid chunks of cheese. Flavourwise, it's a bit bland and you can't even taste much cheese. $23.
Time Out rating: 2/5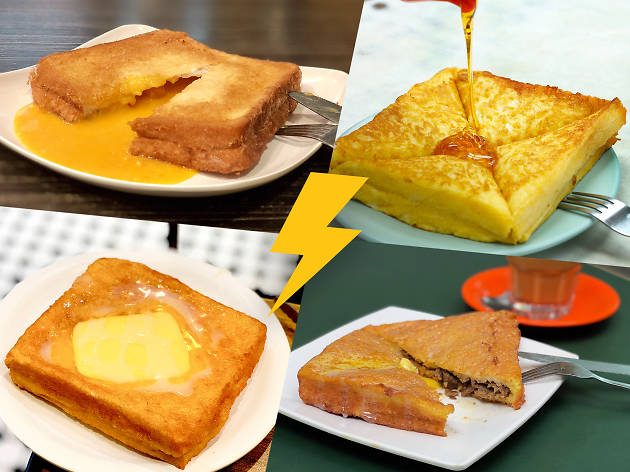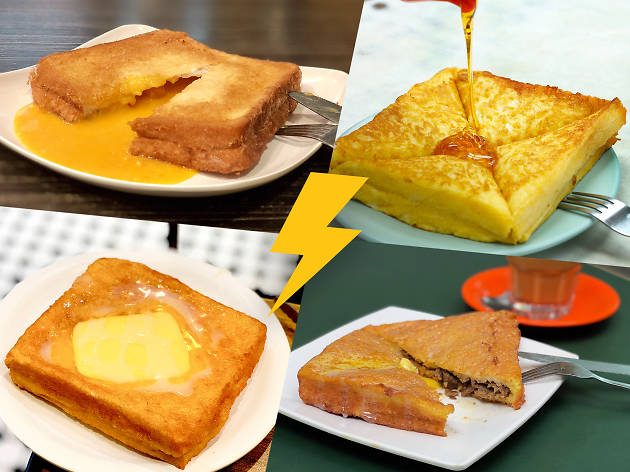 The beef satay French toast at Kowloon City's Lok Yuen is a clear winner here. The bread is beautifully deep fried to a golden brown colour and the crispiness is spot on. We love the ratio of butter and condensed milk and how it somehow comes together to work harmoniously with the satay sauce. Without a doubt, this unconventional French toast is our favourite!
Hungry for more local dishes?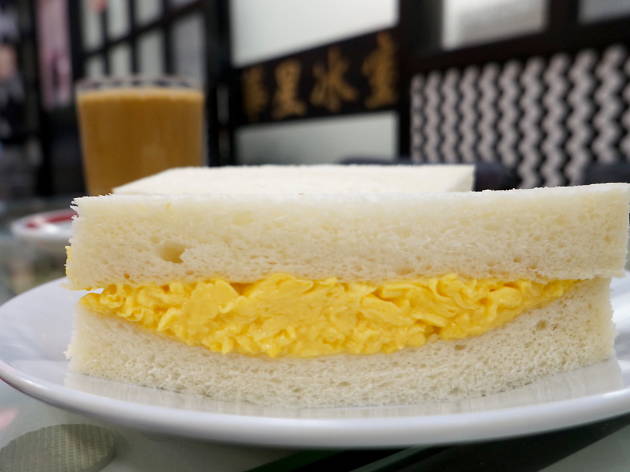 We decided to go undercover and pit four of the fluffiest, creamiest egg sammies in town against one another in the hope of crowning one bing sutt to rule them all.