Hong Kong's best chocolate shops
The best shops offering chocolate creations worth salivating over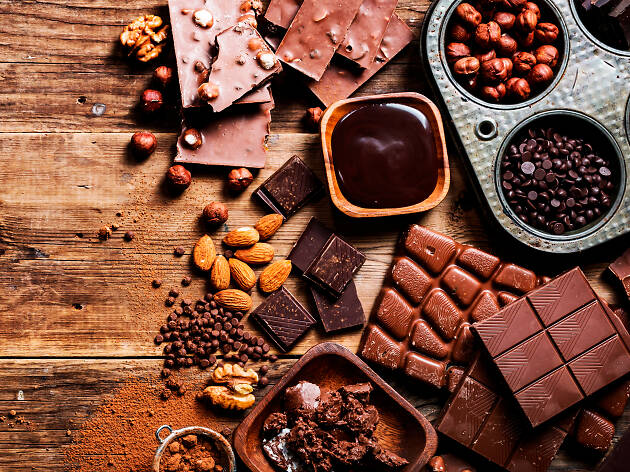 Chocolates are a must-have for any occasion. Be it a sweet treat for your boo for Valentine's Day, a Chinese New Year bai leen gift, or a stocking stuffer for Christmas. For all these special occasions, you can't just settle for any run-of-the-mill supermarket cocoa. Not when you can get fancy, top-shelf chocs that will surely impress any giftee. From Godiva's decadent truffles to La Maison du Chocolat's crunchy pralines to Japanese favourite Royce' Chocolate to the unlimited mix-and-match options you can get at Venchi, follow our guide to discover the best chocolate shops in Hong Kong.

RECOMMENDED: Need to warm up? Some of these chocolate shops also happen to serve the best hot chocolates in town.
Hong Kong's best chocolate shops
Known for locally-produced artisanal chocolates that are genuinely fresh, Bel-Zims' range of sweet treats rely on pure cocoa butter and natural ingredients imported from Belgium. Originally from Belgium, founder Jacky Vergot has dedicated more than 40 years to perfecting handcrafted chocolates in his home country. His Hong Kong outlet offers a tempting selection of more than sixty varieties of fresh chocolates, mousses, and hazelnut-chocolate spreads. Be sure to try the signature chocolate cereal collections ($78 per jar) featuring milk, dark, and white chocolate, as well as white chocolate with raspberry. Visit the store in Tsuen Wan or order online with free delivery on purchases over $600.
Shopping, Chocolate and sweets
Originating from the global chocolate capital of Belgium, Godiva is the go-to place to satisfy any sweet tooth, thanks to its wide range of chocolates and chocolate-covered snacks. Bestsellers include the signature truffles and dark assortment gift boxes. There are many stores in Hong Kong and most also offer freshly made soft serve ($50) and chocolate bevvies of the iced and hot varieties.
The French are known experts on cheese and wine, but they're also mad geniuses when it comes to chocolates. La Maison du Chocolat, the premier chocolate boutique from Paris, produces collections of luxury artisanal chocolates made with its signature silky smooth ganache and crunchy pralinés. The upmarket brand also offers authentic French macarons stuffed with decadent fillings between their delicate, shimmery shells.
Boasting more than 1,000 stores worldwide and rated as one of the best chocolatiers in Belgium, Leonidas is a world-renowned brand that produces fresh chocolates made with 100% pure cocoa butter and natural ingredients. Not only are these high-quality chocolates, but the assorted chocolate gift boxes are also a joy to look at. Unlike typical gift sets, where chocolates are arranged in separate grids all nice and neat, Leonidas gives you the satisfaction of filling the box up to the brim. Nice one, Leo.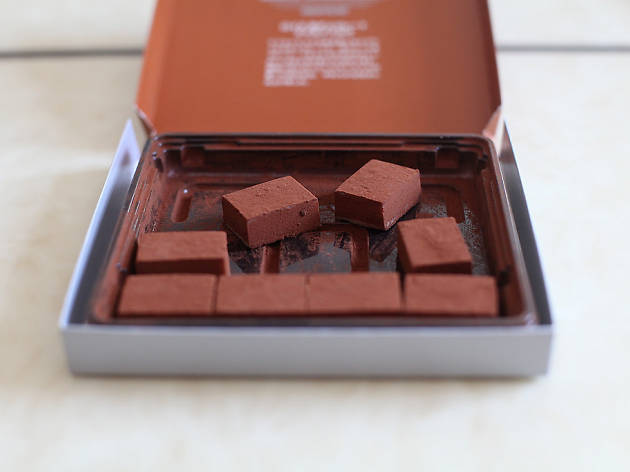 Founded in Hokkaido in 1983, Royce is a renowned Japanese brand that produces a range of chocolates and sweet treats, including chocolate-coated potato chips, wafers, and cookies. One of our favourites, the signature Nama chocolate is made with fresh cream and a hint of liquor (non-alcoholic options are also available), is incredibly rich and smooth. It melts deliciously in the mouth and comes with a sprinkling of decadent cocoa powder on top. It's available in five flavours: au lait, Champagne Pierre Mignon, bitter, white, and green tea. All Nama chocolates are freshly made and served cold.
Available in City' super for $115 each.
Shopping, Chocolate and sweets
It's hard to 'see' the sweet goodies from this chocolatier and walk away empty-handed. See's chocolates cater to all kinds of tastebuds and preferences. You're bound to find something here, whether you like your chocs with soft and gooey centres or dotted with nuts for a satisfying crunch. For gifting, there are tons of beautiful heart-shaped packaging and assortment boxes to choose from, or you can handpick and curate your own box.
Indulge your sweet tooth at this designer dessert boutique. Taking a cue from haute couture brands, the store offers seasonal collections of cakes, chocs, and macarons with flavours inspired by various cultures and traditions. Chocolates come in ganache and 'hemispheric' form, with flavours ranging from caramel salted butter to dark chocolate infused with organic coffee. Sweet Fashion House also rolls out seasonal and festive specials, so keep an eye out for those.
This premium chocolate importer and distributor is here to change how we view and taste chocolate. Led by chocolate expert Katie Chan, The Chocolate Club works with producers that use only high-quality cacao beans that naturally impart a range of flavours in their bars, from berries and raisin to hazelnut, and ditches any artificial ingredients. With such attention to detail, you know that the chocolates they stock are top-shelf quality. You can pick them out from cafés like Brew Note and Filter's Lane, supermarkets like Oliver's in Central, as well as their online store. The club often hosts some pretty interesting chocolate pairing events so keep an eye out for that.
Available at thechocolateclubhk.com
The century-old chocolatier is famed for using the finest natural ingredients imported from Italy. While it offers a collection of luxurious gift boxes, a much more popular and fun option is to pick and mix your favourite Piedmont chocolates which are wrapped individually in colourful foil. With more than forty flavours ($138 per 100g) to salivate over, Venchi is the closest we'll ever get to Willy Wonka's factory.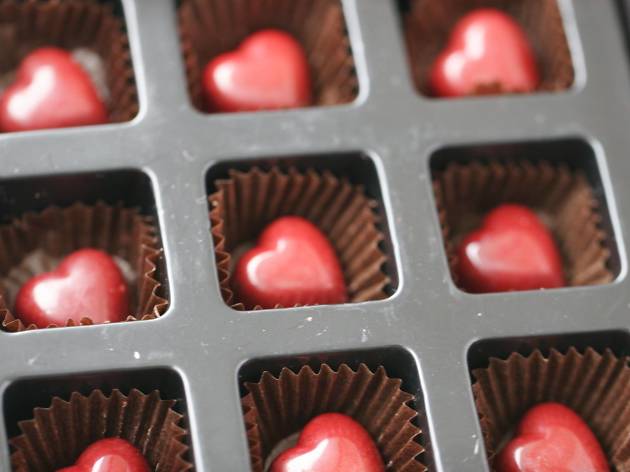 Photo: Vero
This local chocolatier handcrafts fresh chocolates every day with seasonal ingredients that are sourced globally. At Vero, you can't go wrong with any of the sweet treats, including the classic thin chocolate squares, bonbons, or moreish premium chocolates with the added texture of dried fruits and nuts. If you are looking to splurge a bit on gifts, you can go for Vero's bespoke chocolates where you can choose the flavours, logos, and even shapes using the latest 3D printing technology. Purchases can only be made online or by phone with free delivery for orders over $800.
Available at shopverochocolates.com
Craving for something sweet?