The Ultimate Guide to Chinese New Year 2021
Everything you need to know about the Lunar New Year festivities in Hong Kong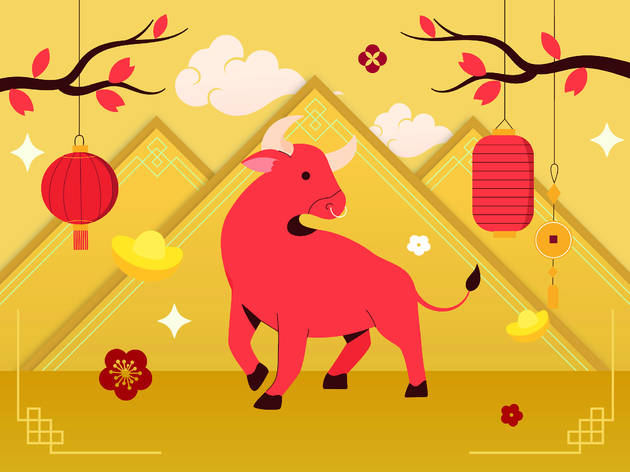 Chinese New Year in Hong Kong is the biggest celebration in the city's calendar. Yes, we get excited about Christmas too, but CNY, Spring Festival, Lunar New Year or whatever you want to call it is the real number one occasion. This year, Hong Kong prepares to welcome the Year of the Ox on February 12. Despite only having three days of public holidays to celebrate, in CNY tradition, the festivities continue until the 10th to 15th day of the Lunar New Year.
Though most of the annual festivities may not be pushing through this year due to the current situation in the city, there are still many ways to spend our Chinese New Year holidays. Read on below to learn about important Chinese New Year traditions, find out where and what to eat during the festival and check out some impressive displays in town.
Celebrate Chinese New Year in Hong Kong
Chinese New Year products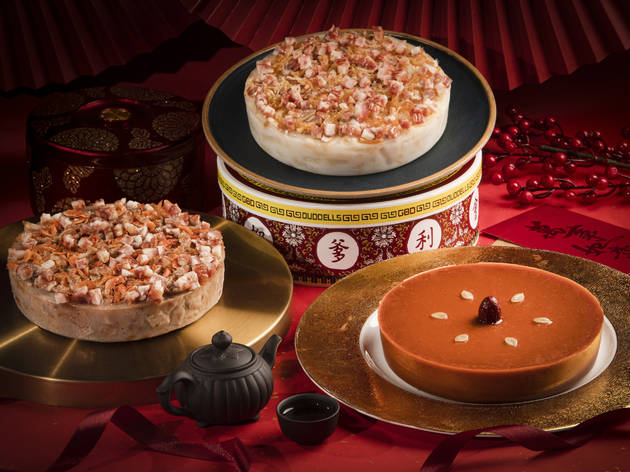 Hong Kong's best Chinese New Year puddings
As Chinese New Year peeks auspiciously into January, many Hong Kong restaurants have already launched their turnip cake and new year pudding offerings for the festive season. A traditional festive treat, eating new year pudding (or leen goh which sounds like 'a year higher' in Cantonese) is said to help you to make career advancements or reach a higher level of prosperity in the forthcoming year. And since we all would like to reach new heights in the new year, we've gathered the best CNY puddings and where to get them in the city. RECOMMENDED: Find out about other Lunar New Year traditions – and those we will miss this year – and all the lucky fruit and flowers that promise good luck and fortune. Or check out all the Chinese New Year displays at Hong Kong's shopping malls this year.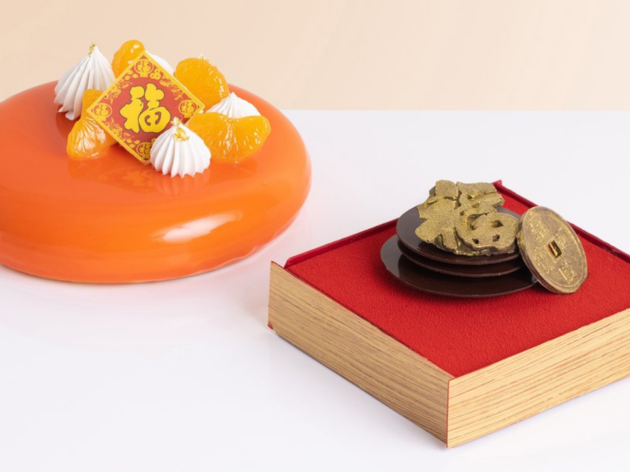 The best food and drink gifts for Chinese New Year
If there's anything that our Chinese parents have taught us, it's to make sure you never show up to someone's house empty-handed, especially when it's Chinese New Year. And while a basket of fruits or a box of biscuits is all well and good, food and drink brands are getting creative so you can come bearing gifts that are slightly more impressive. From chocolates, cookies and coffee, to generous hampers and even something for our beloved pets too, here's the list of our top food and drink gifts to gift this Chinese New Year. RECOMMENDED: Don't forget to check out our Chinese New Year guide to find out about all the traditions, meanings behind flowers and fruits, and more gifting ideas.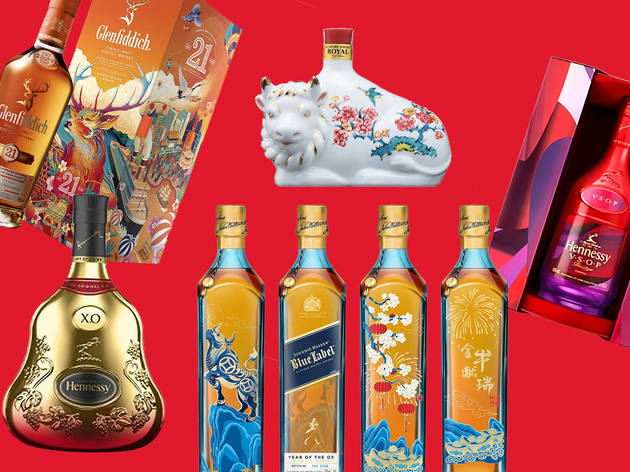 Limited-edition spirits to celebrate Chinese New Year 2021
This year's Lunar New Year celebrations will be a bit more subdued because of the current safety restrictions in place. But that doesn't mean we can't raise our glasses to celebrate. If you're looking for alcohol gifts or something to collect for yourself, some spirit brands have released special limited edition bottles to mark the start of the Year of the Metal Ox. Here's a round up of Chinese New Year 2021 limited-edition liquors to add to your shopping list. RECOMMENDED: Looking to collect 2021 CNY limited-edition products? Check out this list of unique and quirky items you can buy for CNY.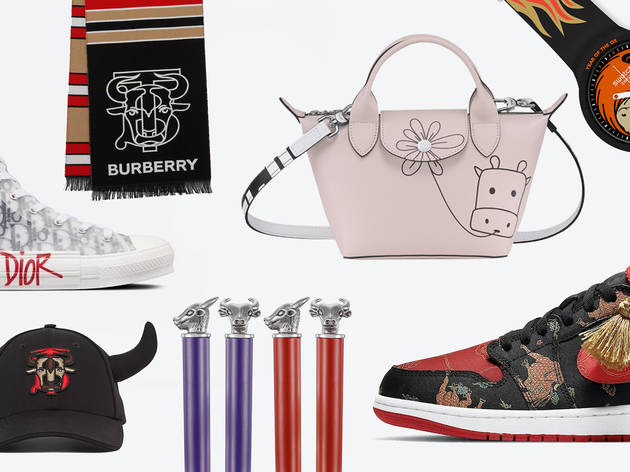 Limited-edition items you can get for Chinese New Year 2021
Chinese New Year is Hong Kong's biggest annual celebration, but due to the current social distancing restrictions, we are celebrating the occasion differently and quieter this year. Some events have already been cancelled, but family traditions will live on at home. If you're looking to collect CNY items or if you're feeling generous and looking into gifting your favourite person, you can take advantage of the newly launched limited-edition products available in the market. From bags, luxe apparel, ear pods, sneakers, mugs, accessories, and chopsticks, here's a list of the products we have our eye on this year. RECOMMENDED: For the latest on Chinese New Year 2021 festivities in Hong Kong, visit our regularly updated guide.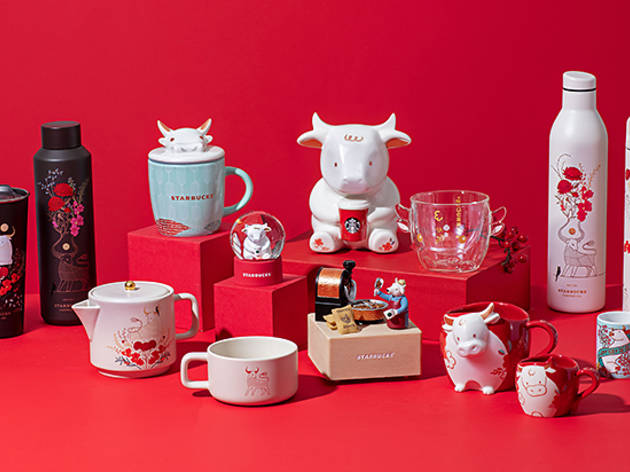 Starbucks celebrates Chinese New Year 2021 with a Year of the Ox-themed collection
Starbucks never fails to celebrate different festivities with various collectables. For 2021, they are ushering in the Year of the Ox with commemorative products specially designed for the season. Designed in red, white, gold, and black colours, with ox and flower graphics, the Starbucks Chinese New Year 2021 collection includes over 20 drinking vessels for hot and cold beverages and various knick-knacks to bring you good luck as you welcome the Lunar New Year. Teapot and cup set ($298) The collection includes a stuffed bear toy, collectable music box, and snow globe along with teapot and cup sets, mugs and tumblers, and a cute ox coin bank in which you can store all your red packet money. Coffee beans collectable music box ($388) Golden stainless steel tumbler 20oz ($228); burgundy stainless steel tumbler 16oz ($198.00) Bearista Bear ($188); double wall glass mug 8oz ($188) As a treat, each purchase of one of their CNY mugs or tumblers gets a complimentary tall handcrafted beverage coupon. Starbucks is also releasing a set of Chinese New Year gift certificates in red packets that include ten $30 gift certificates, one complimentary tall size (354mL) handcrafted beverage voucher, and one buy-one-share-one beverage voucher. Red packet GCs If you're interested in getting your hands on these quirky items, visit Starbucks' physical stores in the city or check out the Starbucks Hong Kong site.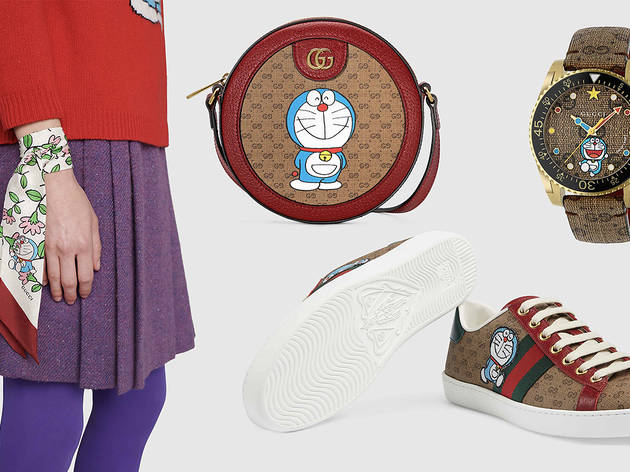 Gucci releases collection featuring Japanese manga character Doraemon
For those with a love affair for fashion and manga characters, you'd be delighted to know about Gucci's Doraemon collaboration. The collaboration was first seen during Gucci's 12-hour-long live-stream 2021 Resort Wear Epilogue collection fashion show in July 2020 featuring Doraemon designs on tote bags to commemorate the adorable cat robot's 50th anniversary. Doraemon x Gucci silk neck bow $1,600; 40mm dive watch $13,000 First introduced in the 70s in a Japanese manga series written by Fujiko Fujio, Doraemon is an earless robotic cat who travels back in time to aid a boy named Nobita Nobi. Since then this jovial robot cat has been one of the most iconic Japanese characters and was even appointed as Japan's first 'anime ambassador' in 2008 by Japan's Foreign Ministry. The Doraemon x Gucci Epilogue collection features over 50 items, including jackets, shirts, coats, track pants, sneakers, shorts, watch, sunglasses, bags, and card case, in Gucci's classic monogram pattern with Doraemon prints and accents. Doraemon x Gucci shoulder bag $9,600 Doraemon x Gucci medium suitcase $44,000 Doraemon x Gucci men's Rhyton sneaker HK$ 8,100 Items from the collections are priced at $1,600 to $48,000 depending on the product. If you're interested in getting a hold of these quirky items, the Doraemon x Gucci capsule is currently available for pre-order via Gucci's Hong Kong online store. Once you order, the delivery is estimated between January 12 to March 12, 2021. Want to hear about the latest news and learn about the most happening events in the city? Subscribe to our newsletter and be the first to get the news!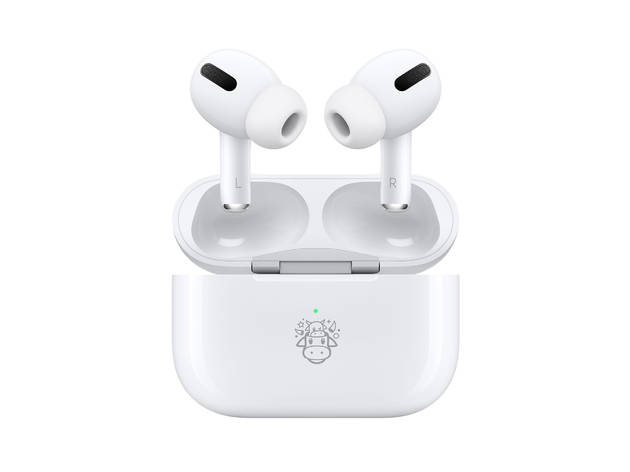 Apple launches limited edition AirPods Pro for Chinese New Year
To celebrate the coming Chinese New Year – which happens to be the Year of the Ox and begins on February 12 – Apple has launched a limited edition pair of AirPods Pro with a charging case that features a newly designed ox emoji. Exclusively available in Hong Kong, China, Singapore, Taiwan, and Malaysia, the Apple websites in these countries are also displaying a custom red apple-ox logo to commemorate the occasion. The custom Chinese New Year logo on Apple's website The ox-themed AirPods Pro, not unlike the non-ox-themed pair, is priced at $1,999 and comes in a box that has the same emoji on it. The artwork is inspired by Apple's Animoji characters and features a small ox, along with stars and shapes, popping out of a larger ox's head. Limited edition AirPods Pro for Chinese New Year You can pick up these limited edition AirPods Pro at an Apple store or order them online at apple.com. There is, however, a limit of two units per order. According to Apple, there are only 25,400 pairs of these Year of the Ox AirPods available – 11,480 will be reserved for retail stores while 13,920 will be sold online. Want to hear about the latest news and learn about the most happening events in the city? Subscribe to our newsletter and be the first to get the news!