Heads up! We're working hard to be accurate – but these are unusual times, so please always check before heading out.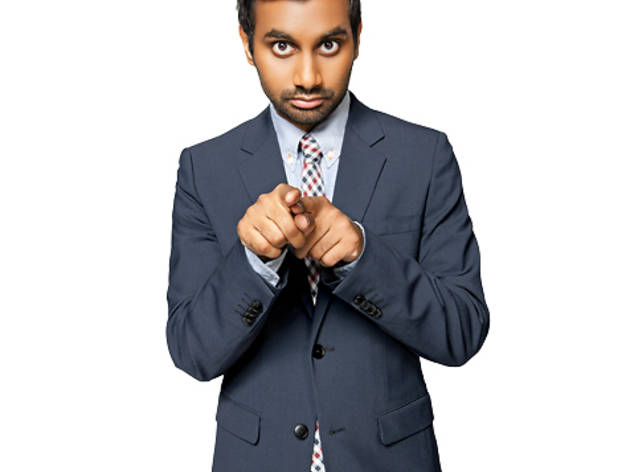 1/22
Photograph: Dale May
Aziz Ansari photographed in a suit & tie by Dale May, in New York City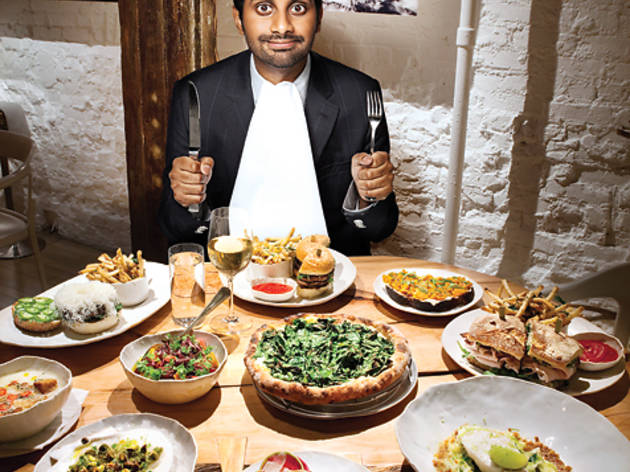 2/22
Photograph: Dale May
Aziz Ansari wearing a suit and tie, eating food at ABC Kitchen in New York City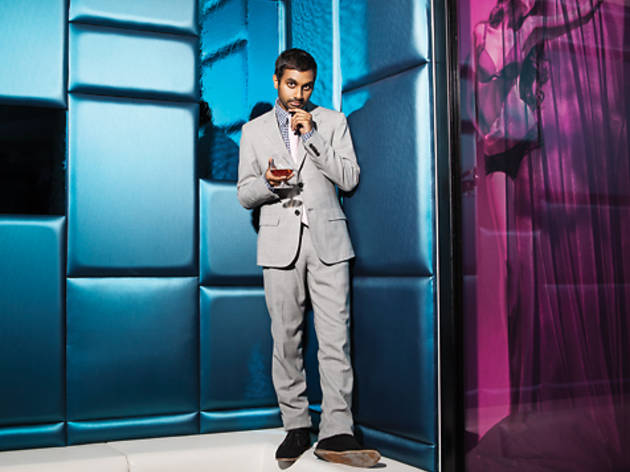 3/22
Photograph: Dale May
Aziz Ansari in a suit and tie, photographed in a lounge at the Gansevoort Hotal...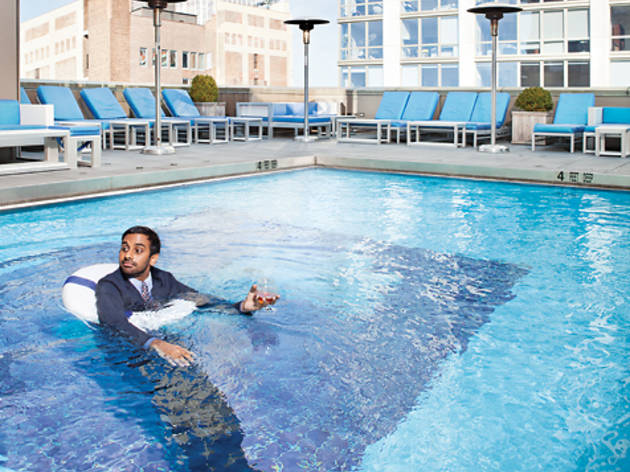 4/22
Photograph: Dale May
Aziz Ansari wearing a suit and tie, floating in a rooftop pool at the...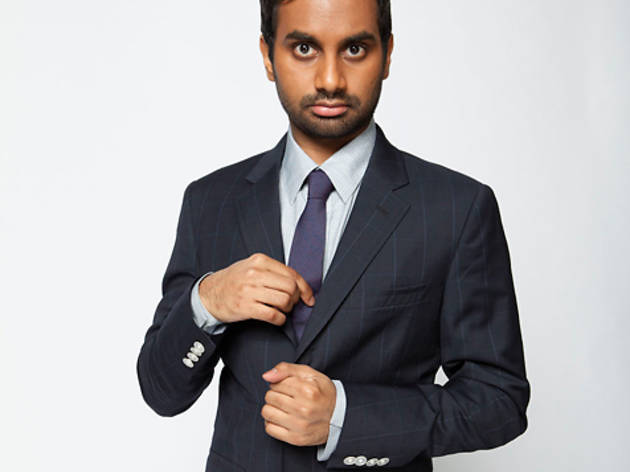 5/22
Photograph: Dale May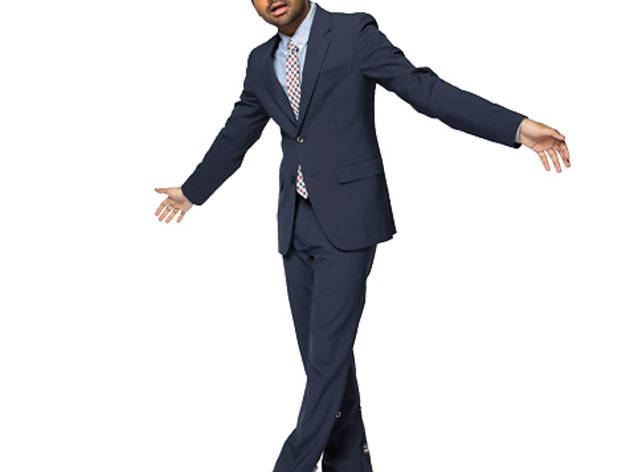 6/22
Photograph: Dale May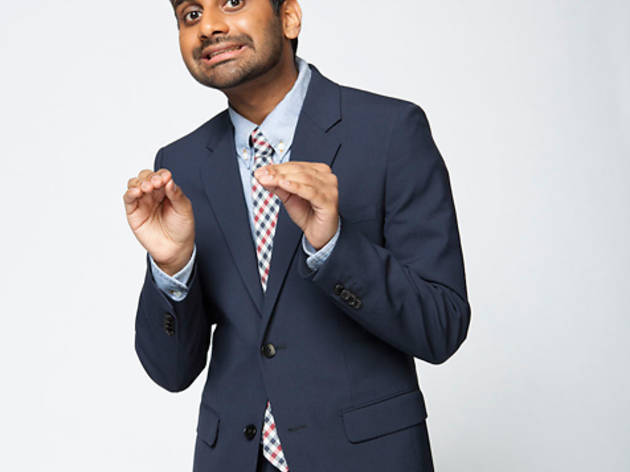 7/22
Photograph: Dale May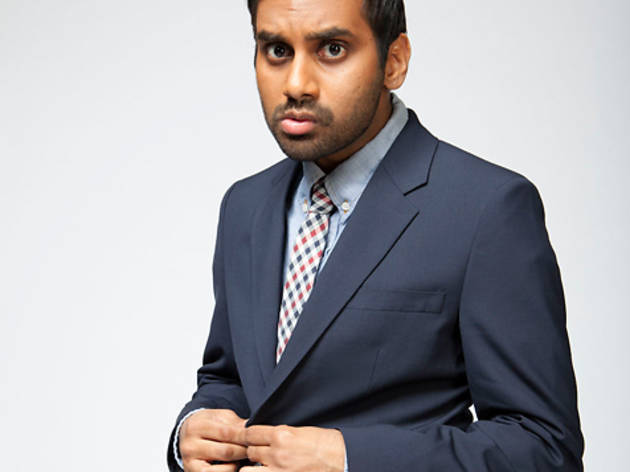 8/22
Photograph: Dale May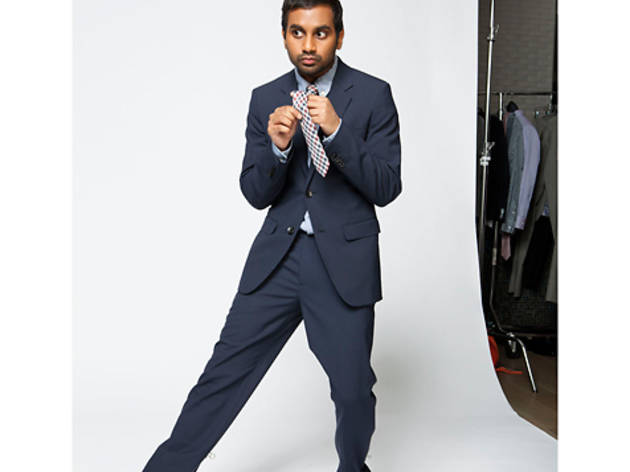 9/22
Photograph: Dale May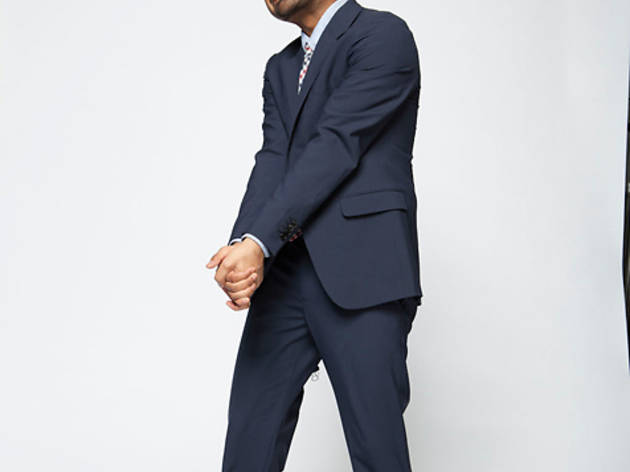 10/22
Photograph: Dale May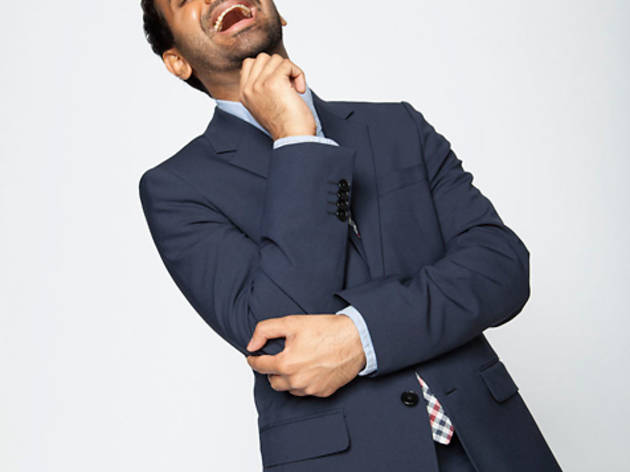 11/22
Photograph: Dale May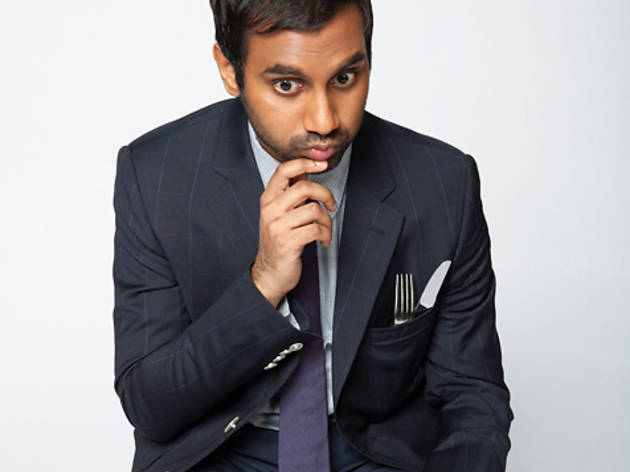 12/22
Photograph: Dale May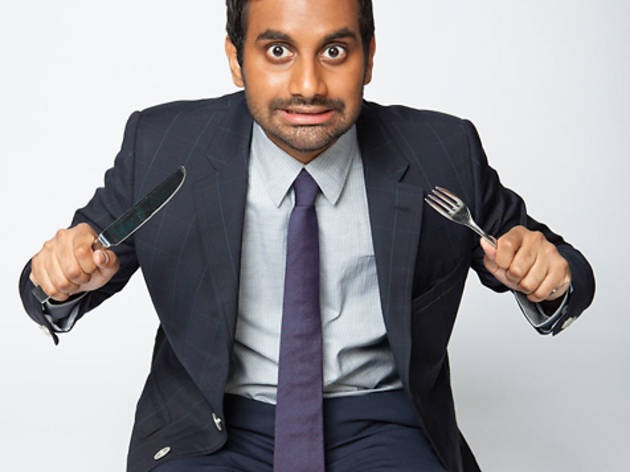 13/22
Photograph: Dale May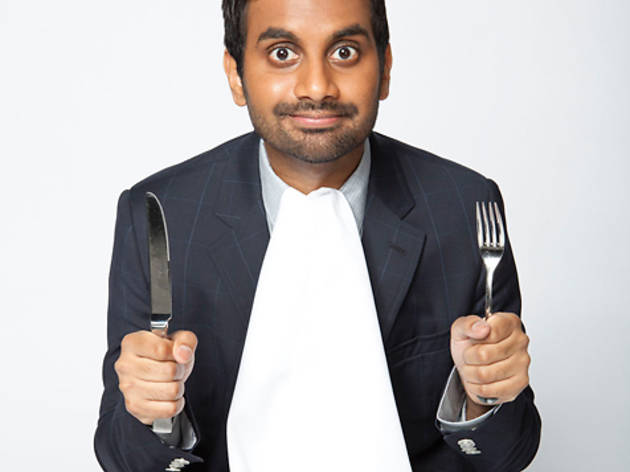 14/22
Photograph: Dale May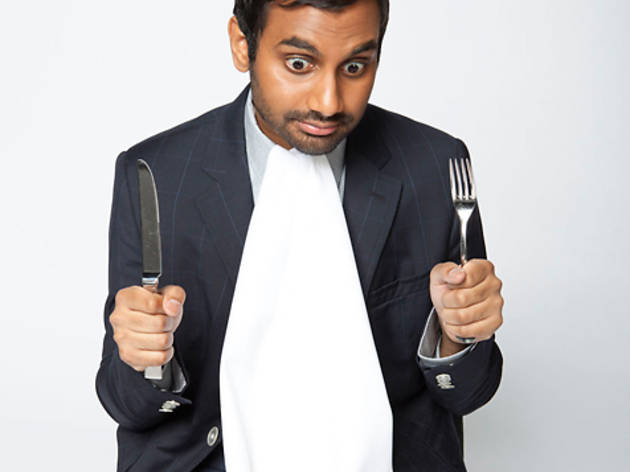 15/22
Photograph: Dale May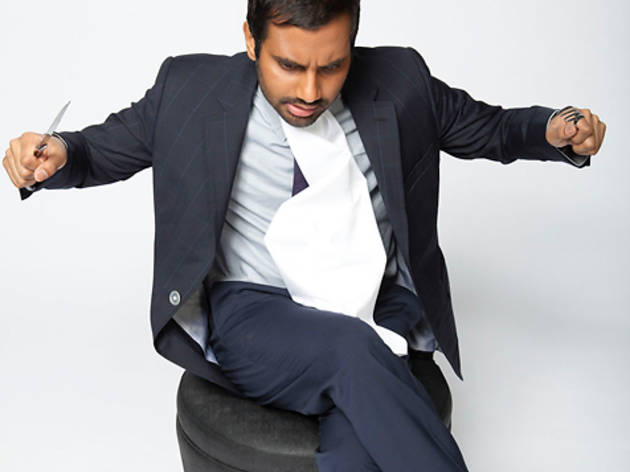 16/22
Photograph: Dale May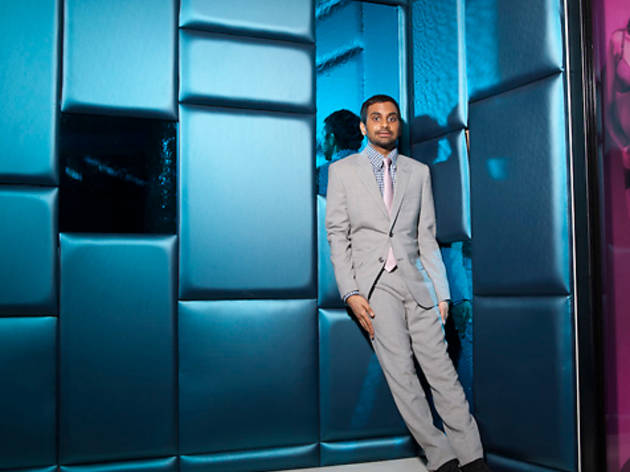 17/22
Photograph: Dale May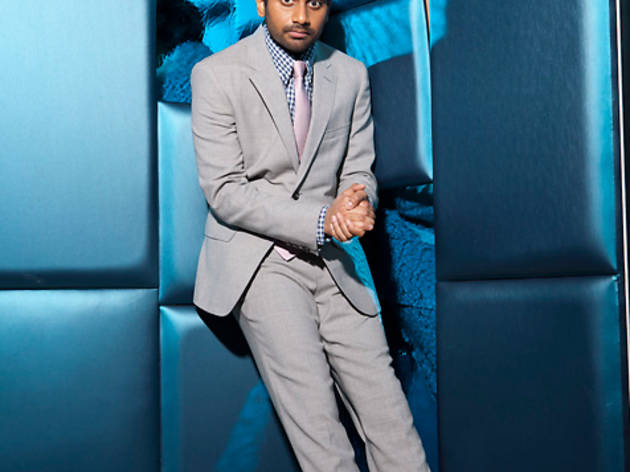 18/22
Photograph: Dale May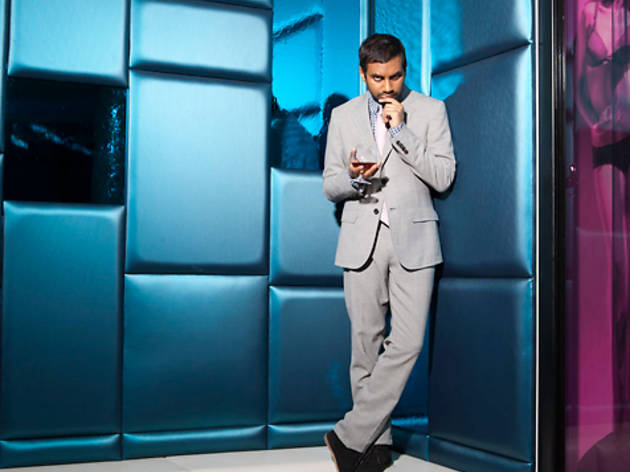 19/22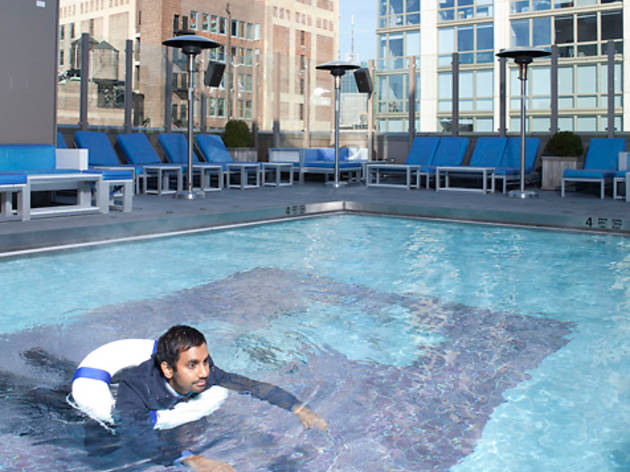 20/22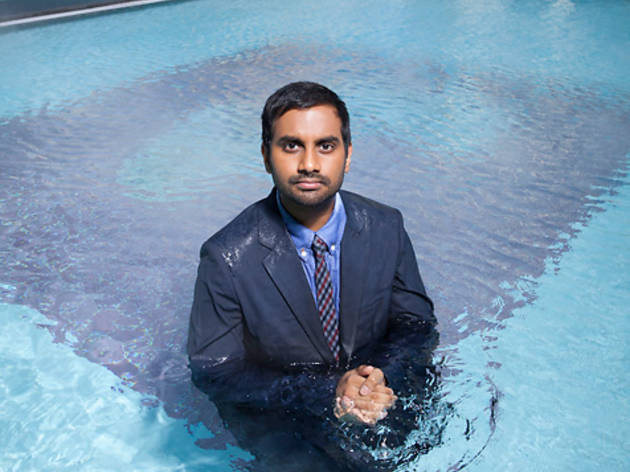 21/22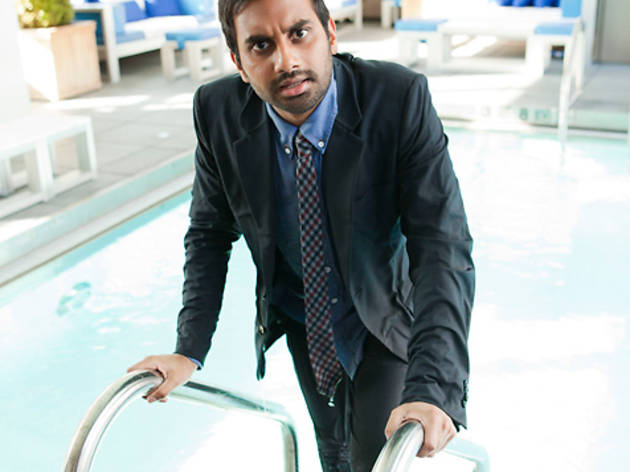 22/22
Aziz Ansari interview: 'It's hard to really get that excited about movies'
We talk love and marriage with the 'Parks and Recreation' star
'I don't even remember season two! That was so long ago!' says a shocked Aziz Ansari. I've just told the South Carolina-born stand-up that, on British telly, we're only halfway through the second series of 'Parks and Recreation', the mockumentary-style sitcom in which he plays administrator Tom Haverford. 'It's so stupid! Everyone just downloads the stuff anyway. You guys just got "The Cosby Show" too, right?'
Five series in, with a sixth just green-lit, 'Parks and Rec' is one of the most acclaimed and well-loved TV shows in the States. Now that BBC Four has picked up the rights (about time too!), UK viewers are finally falling in love with the good-natured sitcom too (unless we've been illegally streaming it for years, which we definitely haven't).
But despite his acting CV (he's also popped up in big Hollywood films, including the soon-to-be-released '
This is the End
'), stand-up remains Ansari's main focus, and he's bringing his 'Buried Alive!' show to the Hammersmith Apollo. We caught up with suavely-dressed comedian on the phone from New York.
You were the first cast member to be signed up to 'Parks and Recreation'. What made you jump on board?
'I knew it was being made by Greg Daniels and Michael Schur, two people who were working on the American version of "The Office", which I thought was a really good show. I had a feeling that those guys knew what they were doing, so if they did a show it was going to end up being good. Every character in the show is very unique, and I think all of us bring something different to it. Plus we have a really good group of writers and producers who put it all together.'
Tom Haverford was written with you in mind. Did you have much input into the character?
'Early on, I met up with Greg and Michael and talked about a few ideas of how I thought Tom Haverford should be. Any ideas we have, they'll hear them. They might not necessarily follow them all through, but every now and then, they'll go, "Oh that's cool". Sometimes they'll take elements of our real personalities and exaggerate them for comedic effect. For example, Nick Offerman, who plays Ron Swanson, does actually have a woodworking shop – he really is into that kind of stuff, just not quite as fanatical as Ron – and I do listen to rap music on occasion, and I do like suits.'
You've said that your new stand-up show, 'Buried Alive', is about 'babies, marriage and love'. Is it a soppy show?
'I think it comes more from a place of confusion and fear and wonderment. The confusion comes from the idea that I'm supposed to go do this stuff now – to find someone to spend the rest of my life with. And the wonderment is aimed at people who are able to pull that off. The fear is about making the wrong move in these huge steps in your life.'
Is the show pessimistic towards love and romance?
'Hmm… [big pause]. Well, I don't want to say yes, because pessimism is such an annoying attitude to me. I'd say it's more about being cautious and questioning of ideas about marriage and convention. Every single person, pretty much, is taught what they're supposed to do: go to school, get a job, find someone to love, get married, have kids, raise the kids, and then die. Nobody questions that. What if you want to do something different?
'The whole idea of love is scary, so is being with someone for the rest of you life, and being happy with them for the rest of your life. There's lots of research to suggest that, actually, love's not really that simple. It shows that people really crave variety and that the kind of happiness you have in your relationship, after two years, kind of fades because you're so accustomed to that person. There's a lot of weird things that people have discovered, and if you read all these things you can get a little critical about things like that.'
It does sound depressing, doing that kind of research…
'Yeah, it is a little depressing. So, I'd say the show's not so much about pessimism as it is about putting a lens up to these issues. The jokes are about things like the idea of meeting someone, knowing them for a year, and then getting married to them. Is that enough time to get to know someone? Enough to know you want to spend the rest of your life with them? But the show also looks at the beauty of love.'
What kind of beauty?
'Well, there's a joke in the show about a friend of mine who met his wife when he was leaving… hmm, in the States, it's a store call Bed, Bath & Beyond, but they don't seem to have those in London, so we'll just say Marks & Spencer… anyway, he left Marks & Spencer and bumped into someone, started talking to them, they fell in love and they got married. All those coincidences came together to bring those two people together at Marks & Spencer, and it's really beautiful that at any moment stuff like that can happen.'
You've said previously that you wish stand-up in America was treated more like it is in Britain. Do you think we treat comedy with more respect here?
'Absolutely. When I did my show in London last time, I got reviewed right next to the plays – it's treated more seriously. The reviewers discussed the ideas I was talking about. Whereas here, in the States, someone will review my show and they'll just misquote a bunch of jokes. The impression I get is that in the UK, you guys give comedy respect, which I think is cool.'
Is it useful, too? Do you find it helpful to read feedback and criticism?
'Yeah, sometimes thoughtful criticism is helpful. Even though stand-up, in a way, is kind of un-criticisable, because if I do a show and all the jokes kill and I get a standing ovation, it's hard for someone to say the show sucks. But I have my own personal standards of what I think a smart joke is, and what's a good topic to discuss. Because, look, you can get a huge laugh off of shitty jokes. But sometimes people bring up stuff that you don't normally think about, sometimes people have insightful things to say.'
Last time we interviewed you, we spoke about the three movie projects you're working on for Judd Apatow. Has there been any movement on those?
'No, they're kind of in limbo. I'm working on some different projects now, so I've put those back for a bit and we'll see what happens. It's hard to really get that excited about movies. Think about it like this: how many good comedy movies come out a year? Maybe one or two? And then, in those movies, what are the chances that there's a character that I'm the best fit to play? It's really small!
'The other option is to write your own movies, and I do that to an extent, but it's a very slow, tedious process, it's like pushing a boulder up a hill. With stand-up, I can have an idea, go down the street to a comedy club and work on it, flesh it out, book a venue, people will come, then film it. I do all that myself, I never have to answer to anybody. There's so much more artistic freedom. That's just as satisfying as putting out a movie.'