London's best Sunday lunches
If you're looking for a traditional pub roast or a cracking restaurant serving Sunday lunch in style, you've come to the right place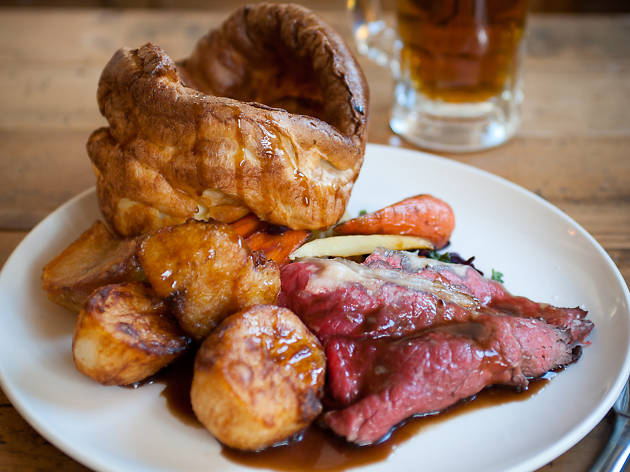 Let Time Out experts guide you through the best Sunday lunches in London – from traditional roasts in London's best pubs to meat, two veg and a whole lot more in London's best restaurants. Think we've missed a great place to have Sunday lunch? Let us know in the comment box below.
Reviews by Laura Richards, Nicola Arencibia, Tania Ballantine, Megan Carnegie, Phoebe Trimingham, Hayley Joyes, Ashleigh Arnott, Cath Clarke, Dave Calhoun, Alex Plim and Alexi Duggins.
Make the most of your Sunday
Brunch in London is bigger than ever. You can bearly set foot out your front door at the weekend without stumbling across a steaming pan of shakshuka or finding the waft of waffles in the air. So let us guide you to the best spots in town for a kick-ass weekend brunch in London, from boozy bottomless brunches to traditional Full English fry-ups and even New York-style feasts, you can start off your weekend in style.
Read more
Sponsored listing
Peninsula Restaurant
Does London really need a fine dining restaurant at The O2? It's a question you'll ask yourself more than once at The Peninsula, which is tucked inside the InterContinental Hotel and promises 'dramatic views' over Canary Wharf and Greenwich Peninsula. In truth, the best view you'll get here is of the food that's placed in front of you. The dishes are artfully put together and, quite simply, beautiful. A starter of pink and tender Iberico pork fillet combined particularly well with soft pieces of prawn ceviche and some glossy blobs of squid ink, while the other end of the meal featured a sensational vanilla parfait with sticky toffee and tonka crumble that I devoured within seconds. It's a shame, then, that nobody's here to enjoy it. Maybe it's the location. Maybe it's because the average price of a main is nearly £30. Either way, the lack of bodies gives the place a very strange, stuffy atmosphere. The waiters are outstanding and they do their best to bring some energy into the otherwise silent room, but we can't help feeling that The Peninsula needs to loosen up a little to attract The O2 masses.
Venue says: "Watching your favourite act live at The O2? Experience our wonderful pre-show menu and enjoy direct access into the arena post dinner!"