London's best Sunday lunches
If you're looking for a traditional pub roast or a cracking restaurant serving Sunday lunch in style, you've come to the right place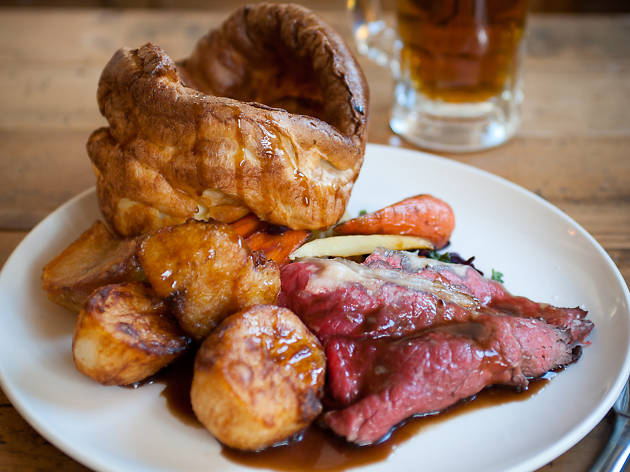 Let Time Out experts guide you through the best Sunday lunches in London – from traditional roasts in London's best pubs to meat, two veg and a whole lot more in London's best restaurants. Think we've missed a great place to have Sunday lunch? Let us know in the comment box below.
Reviews by Laura Richards, Nicola Arencibia, Tania Ballantine, Megan Carnegie, Phoebe Trimingham, Hayley Joyes, Ashleigh Arnott, Cath Clarke, Dave Calhoun, Alex Plim and Alexi Duggins.
Make the most of your Sunday
Brunch in London is bigger than ever. You can bearly set foot out your front door at the weekend without stumbling across a steaming pan of shakshuka or finding the waft of waffles in the air. So let us guide you to the best spots in town for a kick-ass weekend brunch in London, from boozy bottomless brunches to traditional Full English fry-ups and even New York-style feasts, you can start off your weekend in style.
Read more
Sponsored listing
Hanger SW6
There's a crusade happening just around the corner from Fulham Broadway: to reintroduce the masses to an almost forgotten cut of beef, the flank, or 'hanger' steak. No other cut is available at Hanger and it's the main focus of the menu, treated with almost religious reverence. Decor is equally single-minded: unfussy and minimal. Starters and desserts are distractions, really – salt beef croquettes and charred piquillo peppers were perfectly nice if not breathtaking; later, a pecan pie came in the same category. Pre-epiphany, sides appeared before the mains and excellent triple-cooked chips had almost gone by the time the meat arrived. The spiced mac and cheese had a kick but needed a stronger cheese for the base sauce. And so to Hanger's icon. They recommend serving it medium-rare, but we were assured medium is also fine and it was. I went large and received an enormous 12-inch strip, the meat sliced into thick juicy slabs. It was melt-in-the-mouth tender. Absolute heaven. I was an immediate convert. The burger – barely minced chunks of supremely good steak precariously held together by blue cheese and caramelised onions – was also 'de-flipping-licious' according to my companion. Then, when our plates were empty, we considered the sheer value for money, shook our heads in amazement and gave thanks. Here endeth the lesson. Amen.
Venue says: "Join us every Sunday for our steak Sunday roast – just £30 for two people. Carved hanger steak, with all the sides!"
Fulham Broadway
Online booking