London's best Sunday lunches
If you're looking for a traditional pub roast or a cracking restaurant serving Sunday lunch in style, you've come to the right place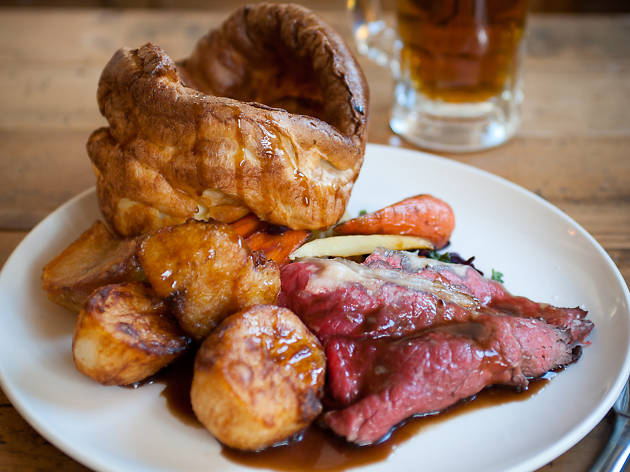 Let Time Out experts guide you through the best Sunday lunches in London – from traditional roasts in London's best pubs to meat, two veg and a whole lot more in London's best restaurants. Think we've missed a great place to have Sunday lunch? Let us know in the comment box below.
Reviews by Laura Richards, Nicola Arencibia, Tania Ballantine, Megan Carnegie, Phoebe Trimingham, Hayley Joyes, Ashleigh Arnott, Cath Clarke, Dave Calhoun, Alex Plim and Alexi Duggins.
Make the most of your Sunday
Brunch in London is bigger than ever. You can bearly set foot out your front door at the weekend without stumbling across a steaming pan of shakshuka or finding the waft of waffles in the air. So let us guide you to the best spots in town for a kick-ass weekend brunch in London, from boozy bottomless brunches to traditional Full English fry-ups and even New York-style feasts, you can start off your weekend in style.
Read more
Sponsored listing
Farmstand
For a place that sounds like it sells punnets of strawberries and fresh duck eggs, this eco-friendly salad box joint is surprisingly clean-lined and minimalist. A neat row of tables is obscured by a brightly lit fridge of salad boxes and juices. Fortunately the food, though undeniably health-conscious, is far from clinical. Tender strips of chicken that have been properly committed to a harissa marinade come in a pile so huge you'd think they were trying to get rid of it – and we're talking the fanciest of free-range varieties here. The standard serving (£7.50) allows you to add two salads (hot or cold) to your protein of choice, all of which are impressively hearty. Squidgy roasted Jerusalem artichokes with capers and parsley are a lovely alternative to the usual potato-heavy sides, and a raw romanesco cauliflower and mustard seed salad provided a good dose of colour to balance the box out. In fact, it wasn't until I cracked open a suspiciously nutritious-tasting bottle of juice that I realised everything in our box had been wheat-, gluten-, dairy- and sugar-free. Yet still felt like a proper meal. And while it's not exactly a cheap 'to-go' option, if you manage to snag one of the tables and refresh yourself on free filtered tap water (sparkling or still), Farmstand suddenly becomes a great-value, slick spot for a wholesome sit-down meal. Feast on your five-a-day, set the world to rights and go back to the office feeling good inside.
Venue says: "Delicious food. Sustainably sourced. Breakfast, lunch and dinner."