London's best Sunday lunches
If you're looking for a traditional pub roast or a cracking restaurant serving Sunday lunch in style, you've come to the right place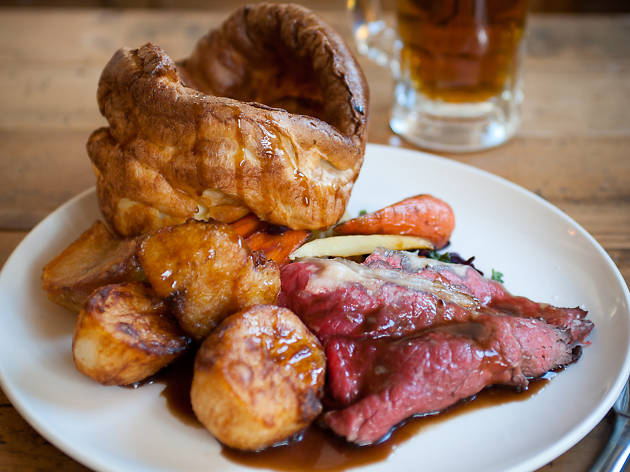 Let Time Out experts guide you through the best Sunday lunches in London – from traditional roasts in London's best pubs to meat, two veg and a whole lot more in London's best restaurants. Think we've missed a great place to have Sunday lunch? Let us know in the comment box below.
Reviews by Laura Richards, Nicola Arencibia, Tania Ballantine, Megan Carnegie, Phoebe Trimingham, Hayley Joyes, Ashleigh Arnott, Cath Clarke, Dave Calhoun, Alex Plim and Alexi Duggins.
Make the most of your Sunday
Brunch in London is bigger than ever. You can bearly set foot out your front door at the weekend without stumbling across a steaming pan of shakshuka or finding the waft of waffles in the air. So let us guide you to the best spots in town for a kick-ass weekend brunch in London, from boozy bottomless brunches to traditional Full English fry-ups and even New York-style feasts, you can start off your weekend in style.
Read more
Sponsored listing
The Delaunay
The Delaunay was Chris Corbin and Jeremy King's 2012 follow-up to the Wolseley and, like that handsome behemoth, it looks like it's been here for decades. Grand European cafés provide the inspiration, and the interior is a treat – a David Collins-designed mix of green leather banquette seating, dark wood, brass rails, antique mirrors and a black and white marble floor. The café and bar area leads through to the main dining room; next door is the Counter (a café serving savouries, cakes and coffee, with takeaway available). The menu runs from breakfast to dinner, taking in afternoon tea (a not-to-be-missed opportunity to try the Austrian-biased cakes, all made in-house). There's a dish of the day (goulash, say, or chicken curry), soups, salads and egg dishes, plus savouries (welsh and buck rarebits) and crustacea. The sandwich selection runs from croque monsieur to a brioche burger with french fries. Starters include steak tartare and smoked salmon plates; mains take in kedgeree and choucroute à l'Alsacienne. There's also a good choice of sausages, served with potato salad, sauerkraut and caramelised onions: try the käsekrainer (an Austrian meat and cheese version). In short, there's something for everyone, at prices that aren't greedy given the setting, the quality of the service and the assuredness of the menu.  
Venue says: "Join us for our new flambée menu that includes a mixed leaf salad, classic tarte flambée, a glass of wine or beer, plus tea or coffee."