Dalston restaurants and cafés
Discover our recommendations for the best restaurants in Dalston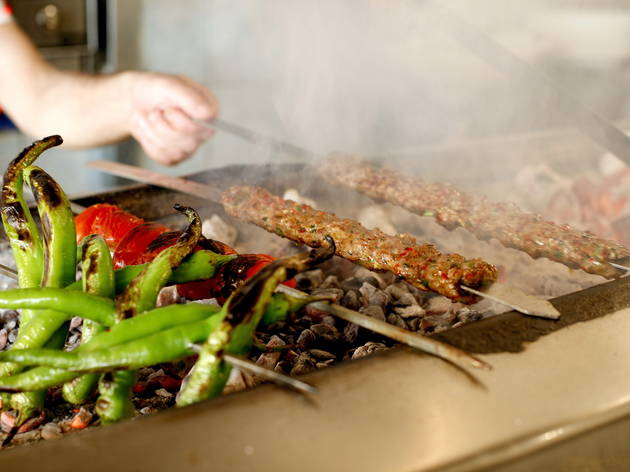 Dalston may have a reputation for amazing Turkish food (which places like 19 Numara Bos Cirrik I uphold), but there's actually a huge range of outstanding restaurants in the area now. Shanghai Dalston brings Shanghai's regional dishes to east London, whilst British food is provided by A Little of What You Fancy. And for simple, seasonal fare alongside Regent's Canal, you must go down to Towpath.

Think we've missed a great restaurant or café in Dalston? Let us know in the comment box below.
Grill: Turkish

The tang of carbonised meat that hangs in the air of Stoke Newington Road is an olfactory reminder you're in ocakbası territory.
Read more
Coffee house: European

Here, the magic comes from Square Mile beans and a shiny, top-notch La Marzocco machine. Our barista pulled the perfect shot.
Read more
Venue says: "Mega offer! Get free two bottles of Izmir beer when you spend £30 (minimum of two people)."
Grill: Turkish

There are many reasons to visit this long-standing Hackney favourite, but the decor isn't one of them...
Read more
Restaurants & cafés: British

Hackney's patterns of immigration have ensured the borough has never been short of decent dining options....
Read more
Restaurant: Shanghainese

This former pie-and-mash shop is a curious hybrid that fits right into Dalston's eclectic high street.
Read more
Café: European

So many lovely neighbourhood cafés and delis have opened in Hackney that they scarcely provoke a raised eyebrow any more...
Read more
Café: British

Barden's - better-known as a nightlife venue - also has an all-day menu including numerous breakfast and brunch options...
Read more
Find more restaurants in London
Sponsored listing
Miz En Bouche
This French restaurant in Clerkenwell takes its name from the French term for 'appetiser', though we detect a hint of poetic license at play: strictly speaking it's mise en bouche. But we're not pedants and it doesn't really matter anyway – the bistro food here goes the full three courses. Expect, then, French classics such as foie gras terrine, escargots à la Bourguignonne, hand-cut steak tartare and a cassoulet of confit duck leg, Toulouse sausage, bacon and beans. And if you fancy a burger? No problem – it's served in a brioche bun with French cheese and with French fries, of course. Each of the exclusively-French wines are available by the glass, carafe and bottle, bar one red and one white. It's close to Sadler's Wells, so there's what looks like a good-value pre-theatre menu too.
Venue says: "Pre-theatre set menu. Two courses £16, three courses £20, available all day"
You might also like