London's best sushi restaurants
Love Japanese cuisine but worried about getting a raw deal? Try these great restaurants for the best sushi and sashimi in London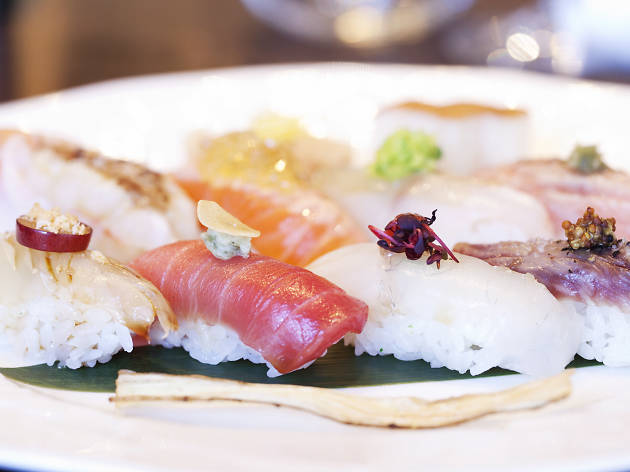 Chopsticks at the ready: we've sashimi-d our way round the best sushi in the capital and rounded up the very finest. Whether you're after the Michelin-star treatment, a healthy dinner or even a vegan option – if you're dreaming of sushi you've come to the right place.
Video: We checked out Roka, one of London's most popular sushi joints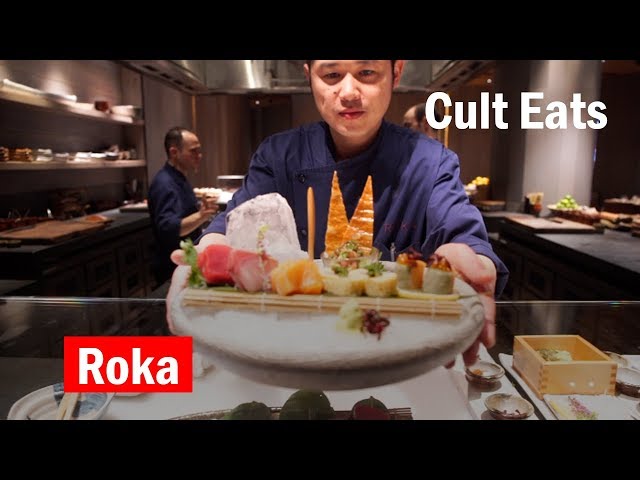 The best sushi restaurants in London
The sushi counter flanking this traditional Japanese restaurant in Mayfair takes its art seriously: expect platters of cut rolls tightly wrapped with nori or glistening slices of fish, beautifully presented with slivers of vegetables and dots of wasabi. Sushi connoisseurs are welcome to go off-menu here.
Book now
Read more
Everything about this Chelsea follow-up to Dinings in Marylebone is an improvement: from the glitzy, capacious dining room to the quietly ambitious, head-turning menu. Signatures such as the 'modern' sushi have made the trip southwest, and their complex precision-tuned flavours are a real wow.
Buy tickets
Read more
Venue says: "Located in the heart of Mayfair, Ikeda is a traditional Japanese restaurant, serving up cuisine in an exclusive, fine-dining setting."
It may be approaching its fourth decade, but old-school Ikeda, right near Bond Street tube, has still got it. An overriding commitment to quality and consistency has made it a rock-solid destination, while the sushi selection is light years ahead of your average conveyor-belt chain. A high-end, gimmick-free experience.
Book now
Read more
Japanese, vegan and organic? What's not to love – and, rest assured, we do love this cool little miracle near King's Cross station. The virtuously healthy menu offers its own spin on sushi, meticulously fashioned with various combinations of vegetables and seaweed on rice (where appropriate). Lunch specials are a draw, too, with the kakiage udon a highlight.
Read more
Japanese temaki rolls are awesome – especially at Jugemu in Soho, where they're made to order for punters sitting at the counter. Each little package is packed with super-fresh ingredients and handed over the instant it's ready. Alternatively, bag a table for full platters of sushi and sashimi.
Read more
Nobu Matsuhisa's Japanese fusion style redefined expectations when he launched the Nobu chain (remember his iconic black cod in miso), but the sushi at this Park Lane outpost (and at celeb-happy Berkeley Street) is also pretty special. The classics are excellent, the 'new-style' specials intriguing.
Book now
Read more
As a stablemate of Zuma, Roka gets the gold seal of approval from sushi aficionados. Elegantly presented platters at this Fitzrovia outpost are one of the big hits at this izakaya-that-married-well – otherwise, splash out on fancy-pants wagyu sushi with caviar or perfectly fresh yellowtail sashimi with yuzu-truffle dressing. Branches in Aldwych, Canary Wharf and Mayfair.
Read more
Venue says: "Feast on a bottomless brunch with a Japanese twist with all you can drink Champagne, house wine and Japanese bloody Marys."
Sleek, modern interiors, exquisite crockery and double-ended chopsticks strike a swish, authentic note at this Mayfair Japanese – a tone that's matched by Sakagura's beautifully presented sushi platters, decorated with edible flowers and carved vegetables. Also check out the 'ocean party' sashimi for sharing.
Book now
Read more
Venue says: "So Restaurant in Soho is contemporary Japanese dining infused with unique European flavours."
So's sushi bar in Soho gets our vote over its smart dining room, largely because we're hooked on its superbly fresh seafood. The must-try specials menu goes way beyond the usual suspects with its selection of nigiri, maki, chirashi and sashimi (including some meat-based items for distraction).
Book now
Read more
Show more
Find more sushi restaurants in London
Find more amazing Japanese food in London
From Kyushu-style tonkotsu made with long-simmered pork bone broth, to simple soy sauce based soup, you can now get your ramen fix in all sorts of forms in London.
Read more
Whether it's a steaming bowls of ramen noodles, super-fresh sushi or an up-market kaiseki meal you're after, you'll find them on our list.
Read more